Installing and running Ubuntu 10.10 Maverick Meerkat on VMware is easier than VirtualBox with current version of both products. After publishing a post recently about Ubuntu 10.10 on VirtualBox with little difficulties, I found installation on VMware is easy and straight forward. This post explains how to install Ubuntu 10.10 on VMware Player and install VMware tools successfully to get all additional features.
It's worth to try new features on  Maverick Meerkat without disturbing your existing OS. Upgrading or installing in production environment is not recommended till final version available by October 2010. VMware Player is a free desktop virtualziation software which you can use to install Ubuntu 10.10 as a virtual machine.
Steps to install Ubuntu 10.10 on VMware Player 3.1.1
1) Download the Maverick Meerkat Linux ISO file from official site here. Make sure you have latest VMPlayer 3.1.1
2) Create a new virtual machine and browse the ISO file to CD ROM. It will detect OS and version automatically.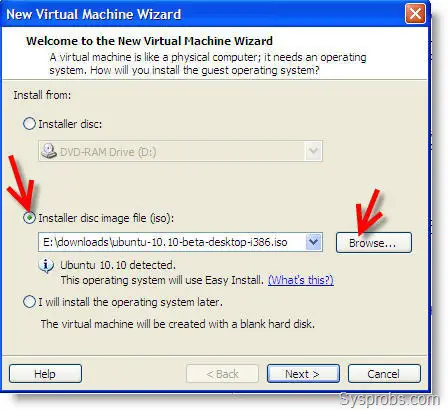 3) "Easy Install" is a cool feature which we can use to install Ubuntu 10.10 and VMware tools in unattended mode without user inputs. So fill up the user name and password in next screen which is important for further installation steps.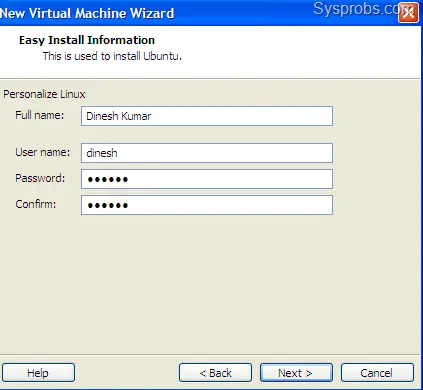 4) Configure the virtual disk size and location of VMDK file. Enable 'Accelerate 3D graphics' under display to get better video performance.
5) Start VM and be relaxed for some time. 'Easy install' will do the all steps automatically, restart and install VMware tools too.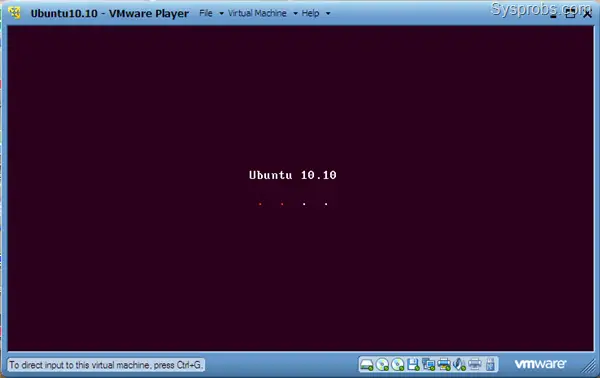 6) Successful installation of OS and VMware tools will return the login prompt for user name created during configuration.
Go to 'Virtual Machine' menu and select 'Enter Unity'. If it works that it means VM tools installed correctly.
7) Here is the multiple screen resolution sizes on Ubuntu 10.10 which is running on VMware Player. Adjusting screen resolution size, drag and drop files between windows host and Ubuntu 10.10 guest and unity mode worked well after installation.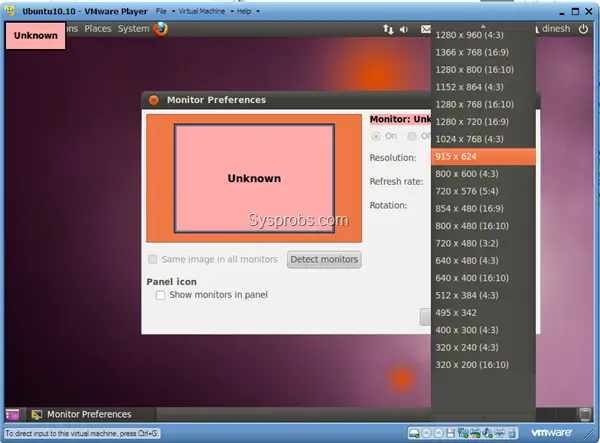 Manual Method to Install VMware Tools on Ubuntu 10.10
By any chance you want to do it in manual method, specially after upgraded existing OS, then follow the steps.
1) Go to 'Virtual Machine' in menu and press 'Install VMware Tools' option. This will mount the ISO file to CD drive as 'VMware Tools'.
2) Extract the tar.gz file to local folder.
3) Open terminal (  Application –> Accessories –> Terminal) and go to the extracted folder in above step.
4) Once you locate the vmware-install.pl script as shown below,

type
sudo ./vmware-install.pl
Provide root password and restart VM after the completion.
Now, enjoy the additional features and wide screen resolutions in Ubuntu 10.10 on VMware Player or workstation.
Have any difficulties? Share it on comments area. If you think this post is useful, then please share with others.