The connectivity of the world has been extended into the kitchen. As homes become more and more modern, we see the rise of smart refrigerators, smart ovens, smart microwaves. Each of these can be connected to a phone and set to leave your food in the optimal state for preservation and cleanliness.
Each of these devices is part of the Internet of Things (IoT). The IoT is a network of devices that each have the ability to access the internet and record and store data. This was originally limited to ATMs back in the 1980s, but in the tech age, nearly anything can be part of the IoT. Phones, computers, cars, kitchens, etc. – all part of the Internet of Things.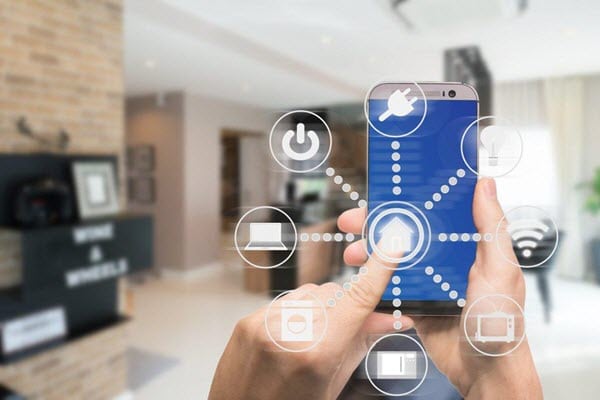 The purpose of this growth in the IoT is to make our lives easier and to enter into a process of events. What this means is that with more devices on the IoT, your life can become more organized and routine as these devices are entered into a regular schedule. Homes are becoming more and more popular playgrounds for the implementation of smart devices. Smart homes using the IoT are what we can expect in the near future and should assist in keeping our homes connected.
Keeping your Home Connected
Being able to tell your television what channel you want with your voice, setting the thermostat to your perfect temperature from wherever in the house, or raising the blind with the remote was once all it took to become a smart home. However, as the tech world grows and evolves, we begin to see so many new enhancements available to keep your home connected and part of the modern age of tech.
New methods in data collection and ease of access to specific devices have allowed homeowners to preset devices in their homes to match their preferences and standards. Whereas setting the thermostat to your ideal temperature from the other room was once enough, now, devices have the ability to sense when certain activities are occurring and counteract them with a temperature change. If you're cooking, your home could have the ability to set itself to a cooler temperature.
Devices Available Now
Already there have been great strides in implementing IoT technology to the newest smart homes. Companies like Digiteum have developed new tech and IoT devices to improve users' homes and connectivity. Improved security devices like sensor strips or smart locks have been introduced to alert you as well as law enforcement of possible intruders. Power usage monitors have been created to help watch your expended energy and alert you of overages.
New reusable energy devices like wind turbines and solar panels are being constructed to fit people's homes and provide a usable amount of clean energy. These projects can be connected to one's phone for a bit of easy access to the information they provide. Implementing IoT devices will not only make your life more convenient but will also help to lower your monthly bills through power consumption monitoring as well as food storage practices.
Digiteum's Plans for the Future
One company that is leading the way in tech development and device organization is Digiteum. This company offers clients a unique set of power monitoring systems that will help both homeowners and utility companies alike. When working with Digiteum, you can expect quality service as they connect and organize your network of devices on the IoT. As your smart home tech grows and expands, you might find yourself overwhelmed by the vast amount of information provided. With Digiteum, your devices will be organized adequately into a manageable and readable network, making your life easier, and your smart home smarter.