In this post, we will see a few basic troubleshooting tips to fix when Internet Explorer stuck, hang or takes time to respond. Most of the below steps are applicable for Windows 7 and Windows 10.  The more add-ons, third party tools, toolbars and plugins you install without any maintenance on Internet Explorer may cause issues frequently.
It is always advisable to validate and remove un-used add-ons and tools related to Internet Explorer regularly to have a properly working web browser. Also, updating the Operating System and Internet Explorer will help definitely. Restarting the computer, or running system checks or deleting Internet explorer temporary files may not help in this case.  One of the below steps will be useful to solve the Internet Explorer in Windows 10.
1) Start Internet Explorer without Add-ons in Windows 7/10
To start Internet Explorer 8 without add-ons, go to Accessories in Windows 7 start menu, then select 'System Tools'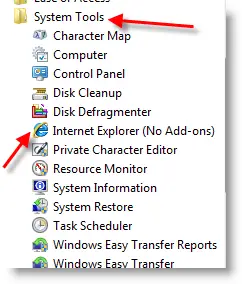 Select Internet Explorer (No Add-ons) in the list. Now internet explorer must browse and work normally without any problems if the problem was related to add-ons. You may get a warning message about internet explorer in running without add-ons, it is okay for omitting.
To use Internet Explorer without add-on in Windows 10, open the IE normally. Then type about:NoAdd-ons in the address bar.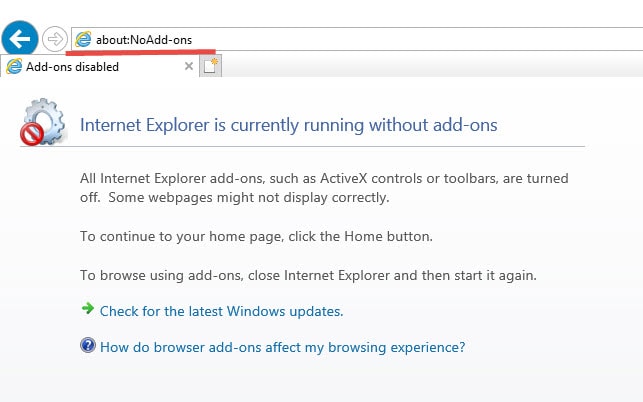 Opening IE without add-ons is to see whether existing add-ons causing the issue for IE. If browsing work well in this mode without the normal issue, then you need to disable each add-on one by one to troubleshoot.
2) Disable add-ons
To disable add-ons, go to Tools in Internet Explorer (to get Menu Bar, press Alt key in the keyboard). Select 'Manage Add-ons'.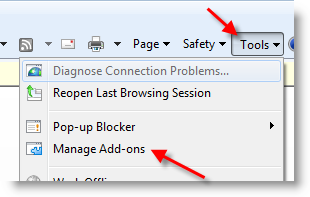 In the next screen, you can manage add-ons which are divided into four types.
a)      Toolbars and Extensions
b)      Search Providers
c)       Accelerations
d)      InPrivate Filtering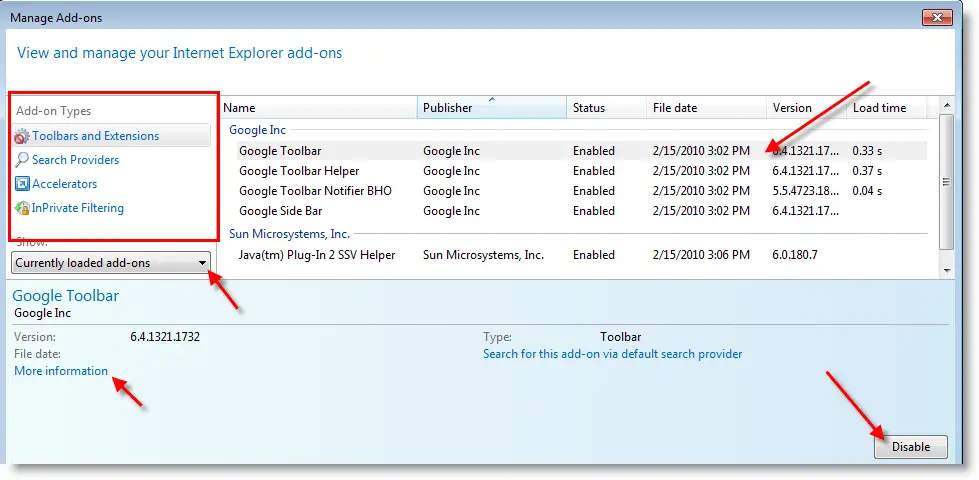 According to my experience, Toolbars and extensions mostly make problem to Internet Explorer. Select the add-ons in the right side which you think causing the problem (mostly the recent one you installed) and press disable button.  If it doesn't solve the problem, disable all add-ons and enable one by one to check.
If you find out the correct add-ons, then better uninstall it from the computer. More details about add-ons can be found by pressing the 'More Information' link.
If disabling add-ons did not help you, try the next steps.
3) Reset Internet Explorer
If you remember well, Internet explorer would have worked well initially on Windows 10 computer. It started giving trouble after installing many things top of it or allowed to gather temporary content on the PC. Therefore, we will reset Internet Explorer settings to factory default in this step.
To reset, go to Tools, then Internet Options and Advanced tab.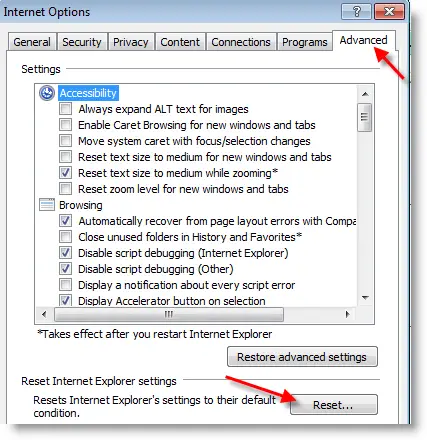 Press the Reset button.
To delete personal settings, select 'Delete Personal settings' option in the next screen. Reset confirmation message will be like below. You may need to close the all opened windows and program of Internet Explorer to reset properly.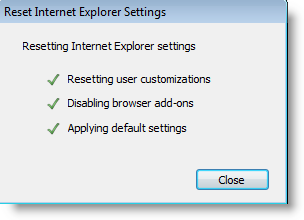 Hope this guide is useful in fixing Internet Explorer problems in Windows 10 and 7  and get back the normal browsing experience.