If you're using Apple's iCloud service to store pictures, music, videos, and documents from your iPhone, still you'll sometimes have to connect it with your PC, as well. So, if you're using a Windows 10 PC, and you're not able to connect it with your iPhone because of an error, you're not alone. We made a couple of fixes for the problem with connecting iPhone and Windows 10.
A common message which goes like "iTunes is waiting for Windows Update to install the driver for this iPhone" after you connected your iPhone to your PC.
Many times, this kind of error shows up because iTunes is apparently waiting for Windows Update to finish, which means iTunes will start again once Windows Update is done with completing the necessary updates.
Well, if you want to enjoy the seamless connectivity of your iPhone to your computer, then you must ensure these points.
On your iPhone, always select "trust your computer" option whenever you connect it to your PC.
Check the lightning cable you use for signs of damage. If you find that the connecting cable is broken or damaged, then you must replace it.
Always use the connecting cable from a certified manufacturer or Apple's official cable only to connect your iPhone to your PC.
Keep your iPhone unlocked at all times because your PC will only recognize it if your iPhone is unlocked.
Now, the real question, How to Fix the "iTunes waiting for Windows Update to install the driver for this iPhone" named error on a Windows 10 computer. It'd be best if you go through these fixes in order as they are given below. If one procedure doesn't work, you can move on to the next one
Follow these Steps
1) Update Windows
Since iTunes is prompting that it cannot proceed with its work because Windows Update is holding it back, then you can try to update Windows (as the first fix). We are not expecting much here. After the update, your computer ends up with fixes to the bugs that were responsible for iTunes error or malfunctions.
Before you follow the below steps to update Windows, we recommend that you disconnect your iPhone from your PC. You just have to a few clicks. Here are the instructions to update Windows.
Search for 'Update' in the search bar. It will open the System Settings. You can access this from Settings app also.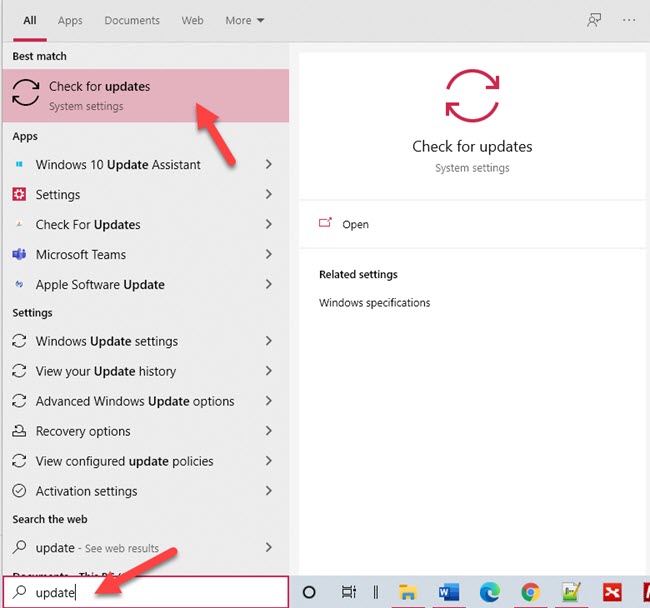 In the final step, just click on the button named 'Check for updates' under the Windows Update.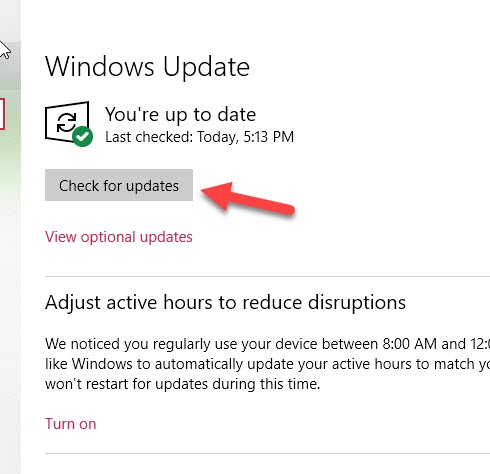 Make sure that your Windows PC has an active internet connection, Your PC will now reach the Microsoft servers to see if a new patch or update has been released for your PC. If the option named "Check for updates" button is missing, it means that updates are downloaded, then you will see the Install updates button, click on it to proceed.
After the Windows updates get completed, you'll have to restart your PC, and this will ensure the final completion.
2) Update iTunes
After the windows update is done and the error "iTunes is waiting for Windows Update to install the driver for this iPhone" still persists, then it might be possible that the iTunes software version is not the updated one. Your PC needs to have the latest iTunes version (So that it runs seamlessly), so we will guide you about how to update the iTunes application automatically.
Here are the steps to upgrade iTunes on Windows PC.
Click on the windows icon and Go to the Windows Search box.
Enter Apple Software Update into the box and press enter to start the search.
Click on the "Apple Software Update" named application, which would be the top result.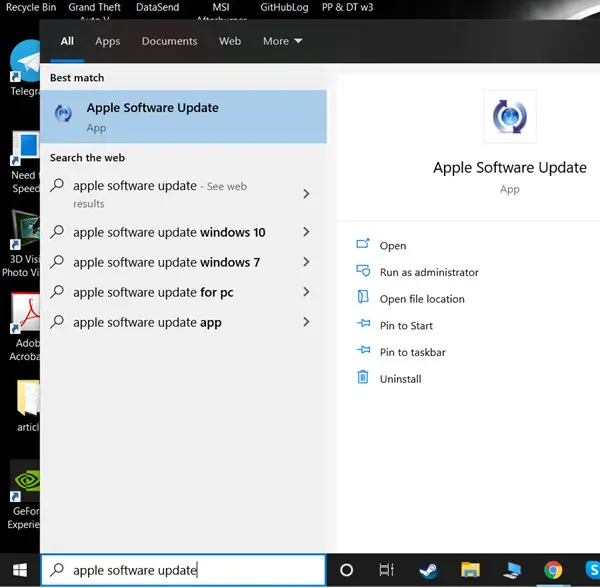 Apple Software Update app will start and show you if there is an update available.
Mark the iTunes update.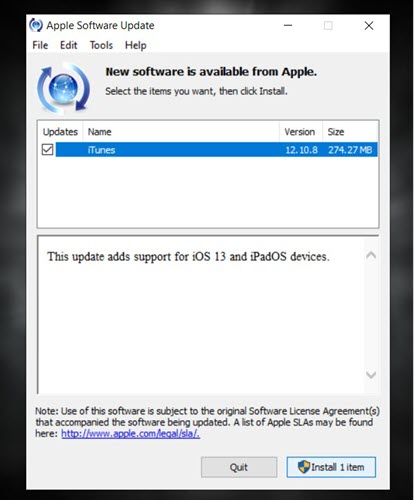 Click on the Install option at the bottom to update the iTunes, and this might solve the error we are discussing in this guide.
After iTunes is installed, it'll ask you to restart your PC; please ensure that you click on the Restart because, without Restart, the changes won't get applied. Irrespective of the iTunes app running on your computer, after the recommended Restart, you have to open iTunes again and work with it.
Then, ensure that you can now connect your iPhone to your computer without errors or issues arising.
3) Update your iPhone Driver
The "iTunes waiting for Windows Update" named error might be related to your iPhone's driver or your computer's faulty driver. The computer's driver might be corrupted, so if you reinstall, then it will likely do enough to make things right. This means you have to remove the iPhone driver and then bring it back.
The below instructions will cover everything (updating or reinstalling) that you need to do. There are two methods to update the iPhone drivers on your Windows 10 PC. The below instructions will cover everything that you need to do.
 The first method will be an easy one; we're going to try to update automatically:
Click on the Windows logo at the bottom left corner and go to Search box, type "device manager," and open it.
Find the "Apple iPhone" option under portable devices, and right-click on it. Select "Update driver."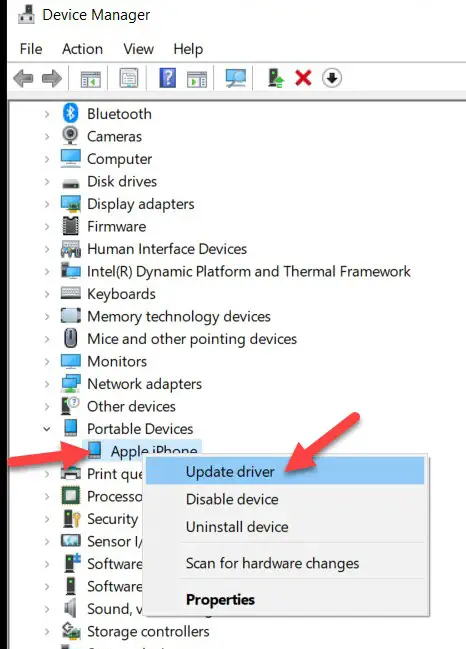 Find "Search automatically for updated driver software" option and click on it.
Windows will now start the update process by searching online for the latest driver versions released for the Apple iPhone device on your PC.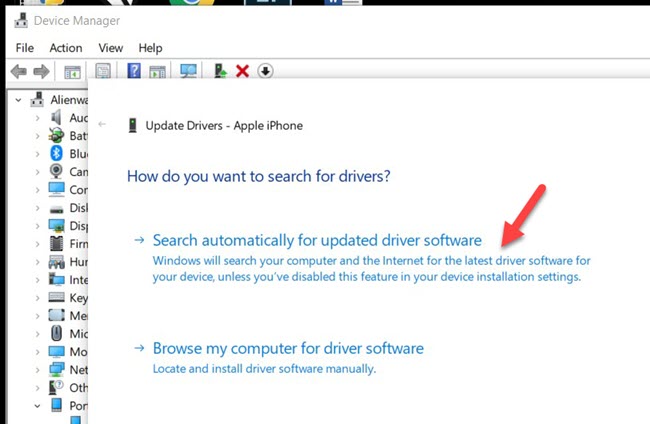 The installer will install the necessary updates if any are found.
Restart your computer.
If Windows finds no updates, then you have close the prompt. You must then skip the remaining points given below.
In the end, we reboot the PC only to ensure that Windows made the necessary changes resulting from the driver installation into account. Now, you can reconnect your iPhone to your computer to check if the error still persists.
If iTunes still shows you "iTunes is waiting for Windows Update" error, then you have to try another method to update the driver.
Connect your device to your Windows 10 computer, and wait until "Safely remove hardware and eject media icon" appears in the bottom of the screen (if the icon doesn't appear, try different USB port). Or search it in the control panel.
Right-click on that icon, and choose "Open Devices and Printers" from the list.
Below "Unspecified," search for your iPhone device.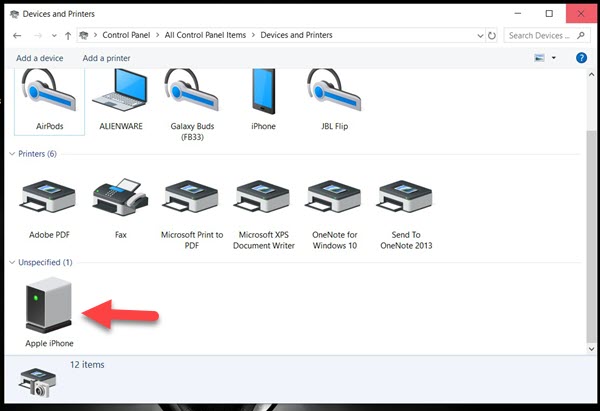 Right-click on it and select "Properties."
Navigate to Hardware > Properties > Driver.
Click the "Update Driver" option.
Now select the option named "Browse my computer for driver software."
Enter the following address "C:\Program Files\Common Files\AppleMobile Device Support" in the option named "Search for drivers in this location." Make sure that you check the "Include subfolders" option and select "Next."
The Missing drivers in your PC will now get installed automatically.
Now, your computer will finish installing the updates for all the drivers; you have to close all the ongoing programs and then restart your PC to completely ensure the installation and update of the driver. After Windows restart up and you have to connect your iPhone into your PC to see if the issue is resolved. You may need to open the iTunes app to confirm that the problems that trigger the error notification are no longer present.
If your iTunes is still prompting the "iTunes is waiting for Windows Update error," it means you need to try another way to use iTunes with your mobile device, now you have to try the fixes which are given in the final list. There's a good probability that one of them might succeed where the previous solutions failed.
4) Restart the Apple Mobile Device Service
The AppleMobileDeviceService ("AMDS") process is one of the background services installed by Apple iTunes on Windows when it is downloaded to a PC. This is the background service that enables iTunes to identify and interact with an iPhone or any Apple device when it is connected to the computer.
Hence, there is a good probability the issues might stop coming up after you restart this program service with force in its operations. Apple recommends not to disable AMDS or any other of its official background services even when iTunes is not open. However, AMDS can remain running in the background even when the Apple mobile device is not connected to the computer, it uses high CPU memory, as much as 50 percent, slows down PC performance and can cause an overheating problem in laptops.
Follow the steps below to restart AMDS:
Exit iTunes application and disconnect any iPhone, iPad, or iPod that's currently connected to the PC. 
Open the Run command box by clicking the Windows logo key + R key on your computer's keyboard.
Write "services.msc" in the command box and click Ok. The services window should open. 
Search for Apple Mobile Device Service, and right-click on it, then click Properties in the shortcut menu.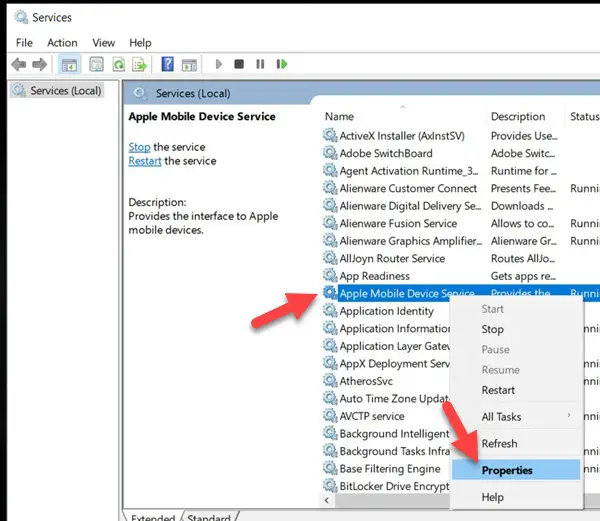 Find the Startup option and set it pop-up menu to Automatic.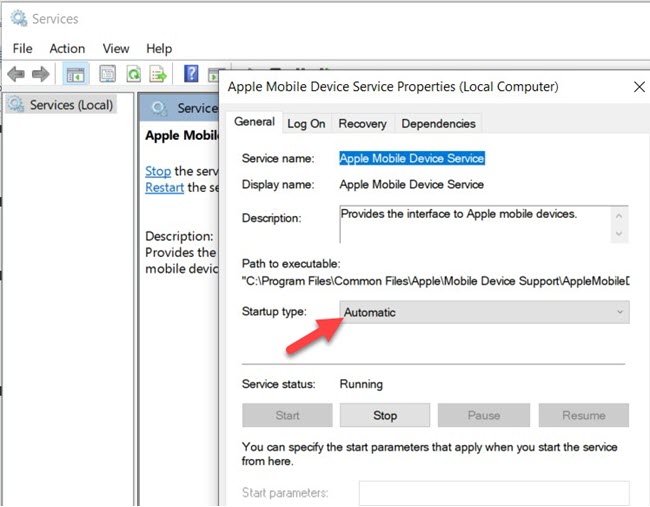 Select "Stop the service."
After you have stopped the service, click Start the service.
Select Ok.
Restart the PC.
Open the iTunes application and connect it to the Apple device.
5) Repair iTunes
iTunes can get corrupt due to any software conflict, missing or tampered files. If the iTunes application is corrupted, then the program won't launch correctly or at all. A repair install is done to restore important files of the application and ensure it works properly.
Windows PC has a built-in repair tool for the Apple iTunes application. You have to log into your Windows PC using the administrator account or profile. Then open the browser on Windows 10 PC, go to Apple's official site, and then download the iTunes installer according to your computer. Now execute the downloaded file as an administrator.
The installer will first prompt you to repair iTunes automatically if you have iTunes installed. Then you'll be given directions (as they show up) what to do as you proceed to install. After the iTunes repair is completed, you will have to close all the processes and apps which are active on your computer and then restart your computer.
Another method you can follow is:
Right-click on the windows icon.
Select Settings from the list.
Click on Apps in the options.
Select Apps & features.
Under "Apps & features," you'll find a search box, search for iTunes.
When you click on iTunes, you'll find an option to modify.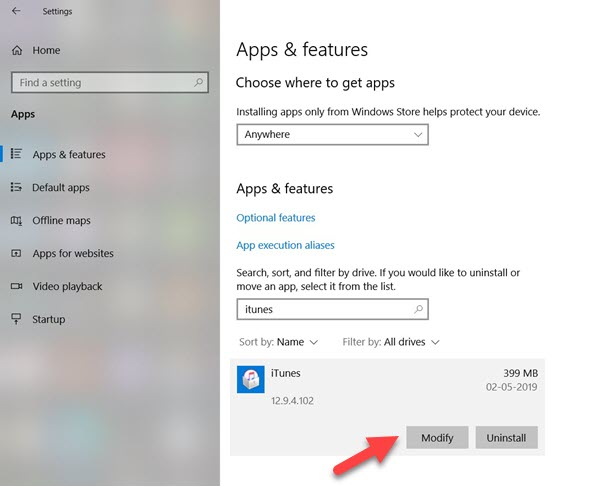 Click the "Repair" button, the installer will initialize, and repair process will start.
Restart your PC after the repair.
6) Disable Some Problem – Causing Applications
There are some background applications that are known to come into conflict with iTunes processes, while other apps just interfere with iTunes operations. You have to find these kinds of applications and disable them (Temporary solution) or uninstall them (permanent solution).
To do this fix, you will need to open the Task Manager app, look closely at the processes and tasks carefully, and then use the End task function by right-clicking on the process to end the application, which is tampering with iTunes. To remove these problematic apps, you must find a way to the Uninstall or Change a program screen in Control Panel because every app has a different procedure, and then you'll have to initiate the uninstallation.
Some other fixes are below:                                 
You can try to disable for some time or uninstall your antimalware or antivirus application; you can also disable your firewall or any other security setups or utilities.
Stop using proxies, disable or uninstall your VPN, and similar internet setups.
Remove all the iTunes filed and do a clean install again on your PC.