If you are interested in running Mac OS X Lion 10.7.5 or 10.7.4 on a Intel PC by using VMware workstation, then this guide will be helpful. Using pre installed VMware image will make the hackintosh easy on normal PCs. I have updated this guide with the links to latest Lion OS X 10.7.5 too. This guide is very similar to our earlier guide 10.7.3 VMware image
The particular pre installed image is created and uploaded by ZackehSoul. Sysprobs already wrote about most of the hackintosh guides on desktop virtualization software such as VMware and VirtualBox here at this location.
Lion OS X 10.7.5 is having several important fixes and recommended by Apple to update the current OS X version. These types of Apple updates always create trouble for hackintosh users as it modifies the kernel every time. Therefore, it is always better to go with pre installed image which is tested and patched by someone else.
Update: If you are looking for OS X 10.8.2 mountain lion VMware image, check our latest guide here.
The 10.7.5 or 10.7.4 pre installed VMware image download is having virtual machine's configuration, virtual hard disk, few tools and patches that need to be used during the installation.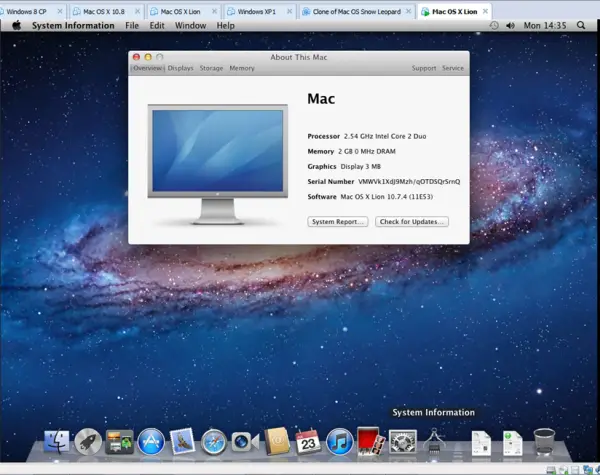 Before continue, I recommend you to check the hardware virtualization technology (VT) support on your physical computer. VT is required to run latest Mac OS X versions by VMware or VirtualBox on Intel computers. Even though this download is having VT check bypasser tool, but I'm not sure how its going to work really.
Requirement
1) Lion OS X 10.7.5  or 10.7.4 Image.  As requested by ZackehSoul, I'm pointing you to the original article where you will find the torrent and direct download links of these pre-installed images.
2) VT enabled processor. Check our earlier guide how to enable and check the VT support.
3) VMware unlocker tool to enable Mac OS X guest support on VMware workstation. The latest unlocker tool is included in this download. Check our earlier guide how to use VMware unlocker and check the OS X guest support. This unlocker works for VMware workstation 9 too.
4) VMware workstation 8 or later versions.
How to Use Lion OS X 10.7.5 (or 10.7.4) VMware Image on Intel Windows 7 Computer
As I said before the method is very similar to earlier guide, so I'm not going to repeat the same steps again here.
Here are the important steps you must follow,
1) Download and extract the content. After the extraction all files will be around 8GB.
2) Enable VT (Hardware Virtualization Technology) on BIOS and make sure the host OS is detecting it.
3) Patch the VMware workstation with unlocker and see 'Apple Mac OS X' is listed under guest operating system.
4) Open 'Mac OS X Lion.vmx' file from extracted location though VMware workstation. That should open the pre installed Lion OS X 10.7.5 (or 10.7.4) virtual machine.
You can change the settings before start the virtual machine. I have increased the RAM and number of processor cores as below.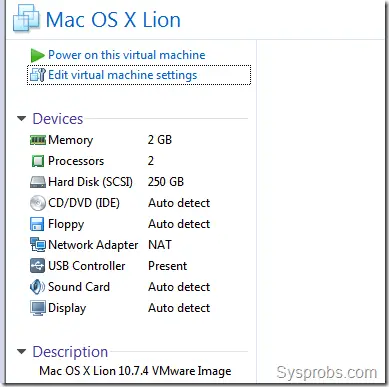 5) If VT is enabled and unlocker patch is working fine, when you power on the virtual machine it should start without any issues.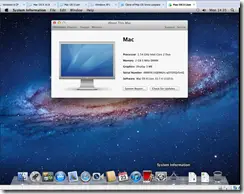 6) To get the all screen resolution sizes on Lion OS X guest machine and full screen option on VMware workstation menu, you must install VMware tools.
Mount the darwin.iso to virtual machine's CD/DVD drive and install the package. darwin.iso is located under VMware Unlocker – Mac OS X Guest\VMware 8.x Series\Tools folder at extracted folder. Read our earlier guide on how to install VMware tools on Lion OS X 10.7.3.
'Lion User' admin password is blank (nothing)
Have fun.
Here are the installation instruction videos of Lion OS X 10.7.4 and 10.7.5 vmware images.