The best monitor for designers is as important as any other part of their workstation. Designers, graphic designers, video editors, and professionals have jobs that require them to produce the best quality work. For that, they need the best equipment they can get and for that, they get picky in selecting what equipment or components in their computer system or setup works best for them. For their computer, designers usually tend to get high-end hardware and especially the best graphics card they can get to render their designs. If you are looking for a great monitor, here is the collection of the best monitor for graphic design. We have a price range of under 600, 400 even 300 dollar monitor for designers.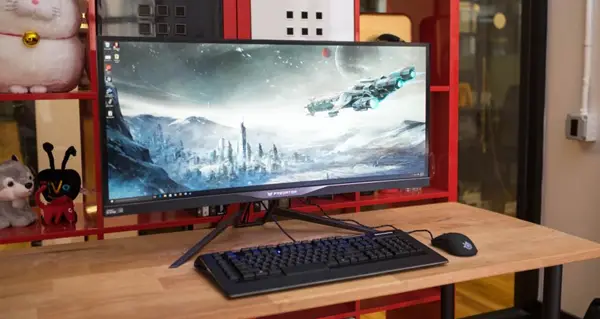 Why Designers Need Best Monitor?
Monitors for designers need to be perfect because designers work with colors and color accuracy is a strong point in deciding which monitor they want to buy.
Industry color standards like Adobe RGB and sRGB are very common among popular monitors for designers. IPS panels are considered the best monitors for graphic designers because they show the best detail and they have wide viewing angles.
Monitors for designers should also have an option for DisplayPort or HDMI connectivity, but DisplayPort is much more common since it has the ability to connect multiple monitors for a multi-monitor setup and it can deliver the required color accuracy through a graphics card.
The popular screen size for designers is 27-inches since this size is best for a multi-monitor setup as well as providing enough screen estate for working on their application of choice. But still, we have mentioned few 24-Inch monitors if you need a smaller size and less cost. In terms of ergonomics, most monitors for designers have height, swivel, and pivot adjustable stands and also wall mounting options. Designers can also set their monitors in a portrait if they are working on websites or landscape if they are working with illustrations.
Pick the Best Monitor for Graphic Design Now
| Monitor | Size-Inches | Resolution Max | Price | Check Price |
| --- | --- | --- | --- | --- |
| Apple MC914LL/B | 27 | 2560 x 1440 | $$$$ | |
| Dell UP2716D | 27 | 2560 x 1440 | $$$ | |
| Dell Ultra HD 4k | 27 | 3840 x 2160 | $$$ | |
| BenQ | 27 | 2560 x 1440 | $$$ | |
| ASUS PB278Q | 27 | 2560 x 1440 | $$ | |
| HP Pavilion | 27 | 1920 x 1080 | $ | |
Keeping these points in mind, here are some of the best monitors for designers:
Asus ProArt PA248Q LED Monitor for Graphic Design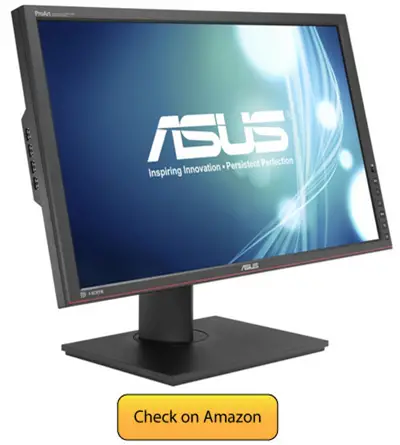 24.1-inch LED backlighting
1960×1200 resolution
Low cost
Starting with the budget-friendly monitor for graphic designers. ASUS PA248Q is with the 24 Inch IPS panel with the 1960×1200 resolution. Since this monitor is little old to the market, the configuration stays low but worth to consider with the reasonable price. It provides good color combination and clear picture for graphic designing purpose. If you do not want a larger screen size or having limited space on the table, this 24-in monitor is a great choice.
Viewing angle is maximum 178 and you get 100% sRGB color spectrum which is good for many users with this price limit. With good feedback and rating from existing customers, this is one of the affordable best monitors for graphic design.
Dell UP2717D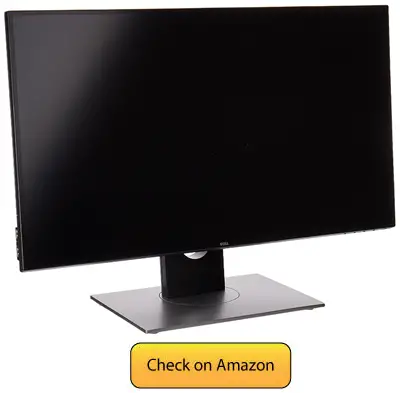 27-inch IPS panel
2560×1440 resolution
60Hz refresh rate
DisplayPort, mini DisplayPort, DVI, HDMI, and USB 3.0 ports
Dell monitors have always been highly appreciated for their simplistic design, optimization for multi-monitor setups, competitive pricing and focus on office and media production. The Dell UP2717D is a really great monitor for designers and should probably be considered the first choice if you want to buy a monitor for designing or video editing work.
Just like other Dell monitors, the Dell UP2717D has a simple design, an IPS panel with thin bezels around it which makes it easier for multi-monitor setups. The stand of this monitor is very solid and you can tilt the monitor or you can change the orientation to portrait or landscape. The IPS panel has great viewing angles and offers a wide range of industry standard colors including 100% Adobe RGB with up to 1 billion colors as Dell says. So, designers and photographers will get the accurate color results they want on their projects on Photoshop or Illustrator. You can use a Windows PC/laptop or even a MacBook Pro.
Dell 27-Inch 4K Monitor for Graphic Designer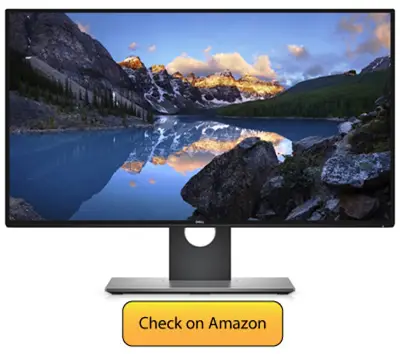 27-inch IPS panel
3840×2160 4K resolution
DisplayPort, mini DisplayPort, HDMI, USB 3.0 ports
A 27-inch display should be the minimum size for a 4K monitor because as of yet many software don't have the ability to scale their font and user interface to 4K resolution. Dell 4K monitors are probably the best monitors for graphic designers and video editors because of the high color accuracy, even higher than the 1440p panels.
The Dell P2718Q or even similar monitors for designers need a powerful graphics card in your system and connection through DisplayPort to render all that beautiful color you will be playing within your projects. The Dell P2718Q monitor supports 99% Adobe RGB and 99.9% sRGB so you will have plenty to work with colors and you will get a really good color accuracy. Even under $600, the Dell P2718Q is a highly recommended monitor for designers and media enthusiasts alike.
BenQ SW2700PT – Best Monitor for Designers Under 600 Dollars
27-inch VA panel
2560×1440 resolution
HDMI, DisplayPort, and USB 3.0 ports
BenQ monitors are very popular among gamers because of their competitive prices. But BenQ also makes good monitors for designers, video and photo editors. The BenQ SW2700T is a really good option for designers because of its wide color gamut and ergonomic design.
This monitor comes with a detachable shade hood to that fits around the display to prevent any outside light from coming onto the monitor and a height adjustable stand. The BenQ SW2700PT also come with Palette Master Element Calibration Software so that you can optimize the display to meet your need. Overall, the BenQ SW2700PT is the perfect monitor for designers working in offices.
ASUS PB278Q – Just Under 400 Dollars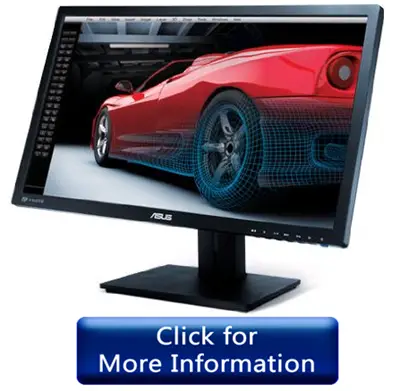 27-inch PLS panel
2560×1440 resolution
HDMI, DVI, VGA, DisplayPort, and audio ports
ASUS is popular for its gaming products and also high-end monitors for designers. The ASUS PB278Q is a relatively older model, but it is still highly recommended as the best monitor for designers. The ASUS PB278Q is designed to deliver the best ergonomics with pivot, swivel tilt and height adjustable stand and options for wall mounting as well.
The IPS panel on this monitor as a wide viewing angle and 100% sRGB color reproduction and accuracy for your designing and video editing needs. You can connect your computer through HDMI, DVI or DisplayPort, so you have enough options is one of them is not supported by your system.
HP Pavilion 27xw –  Monitor for Designers Under 300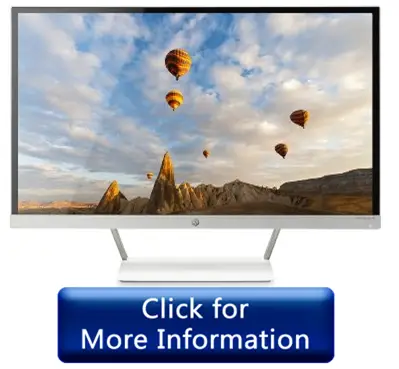 27-inch IPS panel
1920×1080 resolution
VGA and HDMI ports
If you have a tight budget and do not want to spend too much on your next monitor, then the HP Pavilion 27xw is for you. For a budget monitor for designers, the HP Pavilion 27xw delivers great color accuracy and clarity. Of course, you will get 1080p resolution on a 27-inch monitor which is enough for designers for using their preferred applications.
The IPS panel is LED backlit for delivering the best image clarity and it also has anti-glare to reduce glare from ambient light so that you can stay focused on your work. The HP Pavilion 27xw has a standard set of ports, one VGA and two HDMI to connect to different devices. The design and aesthetic of the HP Pavilion 27xw is also what appeals to designers. This monitor has a thin bezel and minimalistic design which feels good and reduces distractions while working. Overall the HP Pavilion 27xw is a great budget monitor for designers and also great for some light gaming as well.
Final Words
Designers are really picky about what equipment they need to work on, so here were the best monitors for designers. Most popular resolution among designers in 1440p with a 27-inch screen size because it has enough screen real estate so that you can focus on every pixel you are working on. You can even set up the monitors mentioned above as multi-monitors very easily since many designers prefer such setups. Hope this list will clear idea and selecting criteria to select the best monitor for graphic design.