We are living in the modern era, the 21st century where everything has started to move to the world of technology. With the advancement in technology, we get to see new products we were not even familiar with. Every time you visit the technology shopping center or visit tech websites, you will come to know how rapidly the technological world is changing. The best example of such technology is laptops. Laptops now have become our basic need. From people in business to employees and students, laptops are the necessity of life.
Just like every other person, teachers need them as well. There was a time when things were done manually, but with the advancement in technology, automation has made the work more comfortable as compared to manual processes. If you are a teacher and looking for the best laptops for teachers then you are in the right place. The below laptops well suitable for the elementary teachers and teachers program you may be going to attend.
You cannot enjoy work if the machine is slow and doesn't have enough memory. There are different companies present in the market manufacturing a variety of laptops for years. Every month a new technology and features become part of a new product. Dynamic competition is pushing the market; everyone is trying to introduce the latest technology to maintain its value in the marketplace.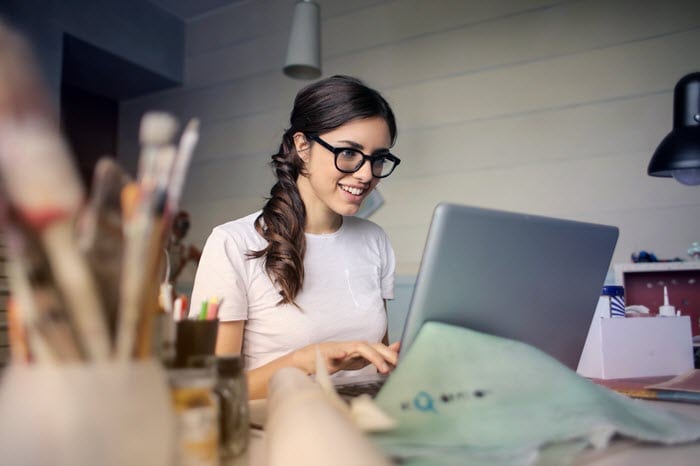 Laptop Buying Guide for Teachers
Though all laptops from our list are chosen carefully to meet the requirements of teaching professionals. But as a buyer, you should be aware of what specifications make the best teaching laptop for online or offline school.
Here are some useful things you should look for while purchasing the new laptop:
Laptop vs. Desktop: 

To choose a laptop or desktop is a huge dilemma for most teachers. Usually, the laptop wins the race as you can move it from one place to other. Often, the laptop is a lightweight product and almost comes with all the things that a desktop can provide.

Screen size & Quality matters: 

When it comes to buying a laptop for teachers, screen size does matter. Though laptops are available in various screen sizes, 13", 15" and 17" screen sizes are widely popular among users.
Out of these three different screen sizes, laptops with 15" screens are the preferred choice for teachers. It has enough space to open several windows at a time which is a useful quality to shuffle between different documents and notes. If you frequently use the laptop outside of the classroom, then you need a brighter screen. Also, if a subject that you teach demands video or photo editing, then a retina display can be a good choice, but it comes with a hefty price.
Storage Space: 

Though most of the laptop comes with enough storage capacity, it is worthwhile to see how much you will need. As a teacher, you may want to save several documents, notes, explainer videos, and images. All these files will demand good storage capacity. Usually, as a teacher, 500GB of storage will be sufficient for you.

Battery Life & Weight: These two things decide whether you can frequently carry your laptop outside or not. To carry it around, you will need a lightweight laptop with a good battery backup. Excellent

battery life will help your laptop to function longer when there is no external electricity source to plug in the machine. A laptop with 5+ hours battery life is good enough for teachers but having 8+hours battery life helps.

Processing Speed of laptop: 

You know how annoying it will be if your laptop crash or starts lagging behind in the middle of your lecture. Better speed comes with better CPU specifications.

Usually, 4GB RAM is enough for teachers, we suggest you should go for higher than that to make it function faster.
The below list of the specifications and key features will help you out in selecting the laptop that matches your expectations and budget.
10 Best Laptops for Teachers – Filtered List
1. Acer Aspire E15 E5-576-392H
Acer company is in advanced electronics technology and building the best laptops for decades. Providing pleasing aesthetics and better specifications at a low cost is the main strength of Acer. No wonder Acer Aspire E15 E5-576-392H comes with great value systems for teachers.
It comes with an 8th generation Intel Core i3 processor which makes it a powerful processing machine. A 15.6-inch screen with an LED display, 5.27-pound weight, and longer battery life make this laptop a perfect solution for every teacher.
As discussed earlier,  screen size, weight, battery life, and storage capacity plays an important role while choosing a laptop for teachers. This laptop stands true for each of these specifications. It is a lightweight laptop with a perfect screen size. Also, as per the Acer, this laptop has 13.5 hours of battery life which is way better than all other laptops in the market.
Overall, with minimum weight, good screen size, enough storage, and the best processing unit you can carry this laptop anywhere. All these specifications are sufficient to denote that the new laptops series Acer Aspire E15 E5-576-392H are specifically designed for the teachers. The unique features and reliability make it one of the correct choices on this list.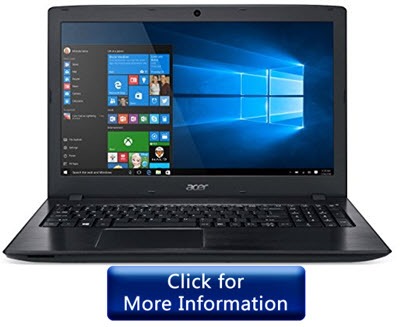 Key features:

Processor: 8th Gen Intel Core i3

RAM: 6 GB

Storage: 1TB HDD

Graphics: Intel HD Graphics 620 ( 2GB graphics RAM)

Operating System: Windows 10

Battery Life: 13.5 Hours

Weight: 5.27lbs
Pros:

Long-lasting battery life

Great storage space with the latest processing unit.

A budget laptop with great specifications
Cons:
Several users complained that it becomes slow after a few weeks of use
2. HP Envy x 360
When it comes to laptops, no need for an introduction to the company named HP. HP stands for Hewlett-Packard, founded in 1947 and is known for producing high-quality computers. The HP Envy 15 is one more best laptop from HP that carries a stylish looking sleek metal body, multi-touch enabled flexible touchscreen and a backlit keyboard. It is a budget premium laptop that comes with various useful functions but has a slightly bulky look.
It has a 15.6-inch touchscreen with 1920×1080 resolutions and comes with a multi-touch enabled display. 178° wide-viewing angles make it easier to view the content on the screen from various angles so that you are not get stuck to a certain position but can move from one place to another while teaching. 360° flip-and-fold design ensure that it can be used as a tablet.
It has an AMD Quad-Core Ryzen 5 2500 (which is more powerful than the 7th Gen i7 Intel processor) processor with a speed of 2.0GHz base frequency and up to 3.6GHz burst frequency. 8 GB RAM with 256GB SSD storage helps this machine to perform at a better speed. With 10.5 hours of battery life, 6.6 pound weight, and 15.6-inch widescreen this can be a good laptop for teachers.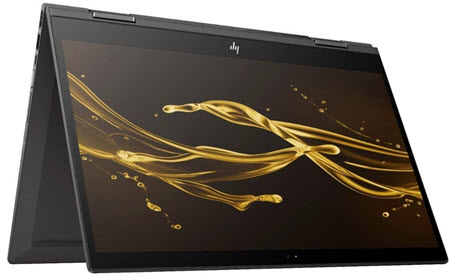 Key Features:

Processor: AMD Quad-Core Ryzen 5 2500


RAM: 8 GB

Storage: 256GB SSD

Graphics: AMD Radeon Vega 8

Operating System: Windows 10

Battery Life: 10.5 Hours

Weight: 6.6 pounds
Pros:

Powerful laptop for the price

Multi-touch enabled screen with a great viewing angle
Cons:

Some used experienced well-known 'mouse jump' bug (Which is one of the common issues for few HP laptops).

A delicate machine so needs to be handled carefully.
3. ASUS VivoBook for Teachers
Apart from Acer, Asus is another Taiwanese multinational company that deals with the manufacturing of excellent computers, phones, and other electronic gadgets. The same excellence you can find with the latest Asus Vivobook laptop. This slim, powerful laptop is built for better performance while considering the budget in mind. It is equipped with AMD Ryzen 3 3200U that turbo up to 3.5GHz. Asus nano-edge bezel helps to achieve the 80% screen-to-body ratio which becomes useful to fit the 15.6 inches wide view display into the 14-inch laptop frame.
When it comes to performance, this machine managed to handle every task seemingly. Thanks to an amazing processor that runs along with the 8GB DDR4 RAM, AMD Radeon Vega 3  & 256GB SSD Hard Drive. With 3.7 pounds of weight & good battery life, users don't need to worry about its portability. The cost of the laptop is affordable for any teacher and you get a variety of models for every price range by adjusting RAM and SSD storage.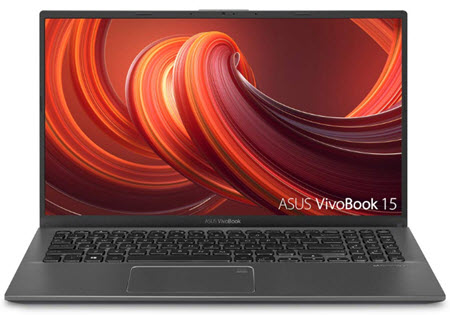 Key features:
Processor: AMD Ryzen 3 3200U up to 3.5GHz
RAM: 8 GB DDR4
Storage: 256GB SSD
Graphics: AMD Radeon Vega 3
Operating System: Windows 10
Weight: 3.7 pounds
Pros –
Thinner & lighter machine
Better display at the lower price range.
Accurate fingerprint sensor with an ergonomic chiclet keyboard.
Cons –
Cap locks come without any LED light.
Maybe not suitable for high-end usage
Overall, with an amazing processor, RAM, storage and USB 3.0, USB 2.0, and HDMI; this nano edge laptop becomes a good choice for teachers who want a slimmer and lightweight machine.
4. Microsoft Surface Laptop 3 – (
Editor's Choice

)

This is the lightweight, stylish, sleekest laptop on our list. It is a newly launched version by Microsoft that comes with better performance and improved speed. Its sleek and stylish design is sufficient to fall in love with it. It has everything that a teaching profession demands.

With this laptop, you don't need to worry about speed as it is equipped with the latest 10th gen Intel Core i5 processor, 8GB RAM, and 128GB SSD storage. Changing from dual-core to quad-core processor is the best thing that has been changed with the latest version of this laptop. It leads to enhanced performance. The 13.5-inch touch display has an interactive touchscreen feature and provides 2256×1504 pixels resolution. Not only it is best in all these specifications, but with a 3.4-pound weight, it becomes a lightweight laptop that easily fits in the bag.

Surface Laptop 3 is new in the market and already proved to be the best choice and hardware specification for teacher training. Its portability and sleek style make it commendable among other laptops. This laptop offers the latest Windows 10 which can have all Windows OS based teaching and training programs.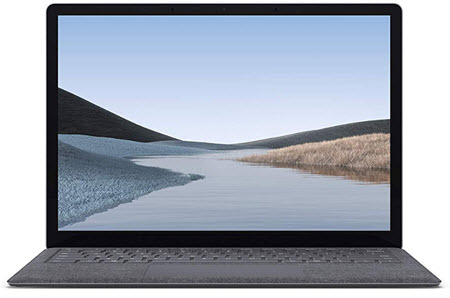 Key features –
13.5-inch touch screen with 2256×1504 pixels resolution.

RAM – 8GB LPDDR4

Storage – 128GB (Also available in 256 & 512GB)

Processor – 10th gen Intel Core i5 (Also in i7)

Battery life – Up to 11.5 hours of video playback.

Weight – 3.4 pounds
Pros –
Sleek, elegant design with possibly low weight.

A very fast machine, useful for those who travel more for business purposes.

Thin, functional keyboard covered with Signature Alcantara.

Omnisonic speakers hidden below the keyboard
Cons –
Sale
5. 
Dell Gaming Laptop G5587
Dell laptops are renowned around the globe for cost-effectiveness. The commendable features and extraordinary quality make them am an excellent machine. They have launched a special series recently and is highly recommended to the teachers due to the performance and easy to carry features.
Though it has a 'Gaming' name on the laptop model, it is suitable for any teachers and lecturers who are looking for a powerful laptop that can handle multitasking well. It comes with an 8th generation Intel Core i5 processor that can work up to 3.9GHz. 8GB RAM and 128GB SSD+ 1TB storage capacity make this laptop fast enough for teachers. The RAM can be upgraded later. The motherboard supports max up to 32GB RAM. This edition was originally built for gamers but considering its RAM, storage capacity, several ports facility we are confident enough that it is a good fit for teachers too. Also, if you are a hobby gamer, then this can be a perfect fit for you.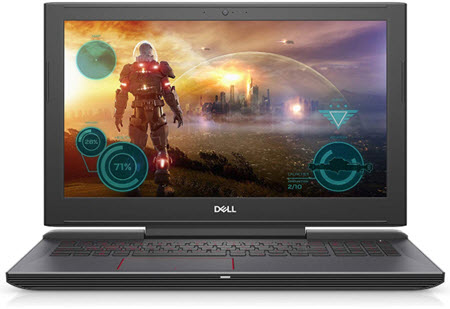 Key features:
8th gen Intel Core processor (Up to 3.9 GHz turbo boost)


15.6-inch display with anti-glare LED-backlit  & IPS technology. (1920×1080 resolution)

RAM – 8GB DDR SDRAM

Storage – 128GB SSD + 1 TB HDD

Graphics – NVIDIA GeForce GTX 1060 (with 6GB graphics card RAM)

USB Ports – 3 USB 3.0 ports
Pros:

Has an amazingly sharp & bright screen due to IPS technology.
Stylish design with front-facing speakers and a backlit keyboard.
Cons:
6. ASUS Chromebook C202SA-YS02- Under $200
Due to advancements in technology, there is a need for high-tech laptops in schools and colleges. Asus is producing the Chromebooks which are the best choice for not only students but teachers as well. The system comes with the following features: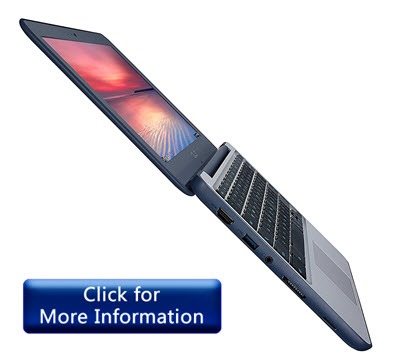 Key features:
· 4 GB RAM.
· Battery life 10 hours.
· Flash Storage 16 GB
· Intel Celeron N3060 Processor (2M Cache, up to 2.48 GHz)
· Anti-Glare Display
· Water Resistant Design
Pros:
· Affordable price and a modular design.
· Long battery timings make it a solid choice among other Chromebooks.
Cons:
· It is a bit thicker as compared to other machines.
· No CD or DVD drive
Sale
7. Lenovo Ideapad 310
Lenovo is a remarkable company known for the manufacture of the best laptops in the market. This laptop has distinctive features making it one of the best-selling products in the market. Lately, this laptop has undergone massive changes. Its previous version used to run on an Intel Core processor but this new version is working with AMD A series. Also, the new version has more RAM and increased storage capacity. Overall, this laptop is upgraded to work fast and have more space to work with.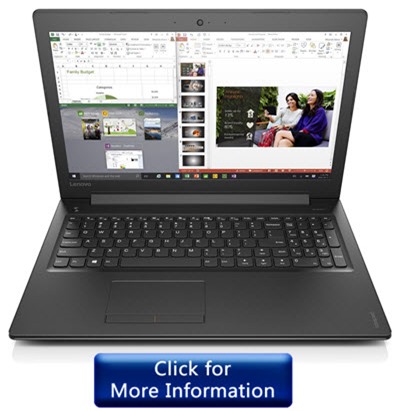 Key Features:

15.6-inch display with 1366×768 pixels resolution

RAM – 12GB

Storage – 1TB HDD

Average battery life – 5 to 6 hours

Weight – 4.84 pounds

Graphics – AMD Radeon R5
Pros:

Great buy at an affordable price
Cons:
Relatively short battery timing of 5 hours.
8. Acer Premium 2-in-1 Notebook Chromebook
Acer premium Chromebook built to handle the Google suite. If your institute extensively uses all the Google products including Google classroom, then you will thank Acer for making such a useful gadget. It runs on Chrome operating system with Intel Celeron N3150 processor and has 4GB RAM & 32 GB storage. Though the screen size is 11.6 inches, it comes with touchscreen HD LED-backlit IPS and provides 1366×768 pixels resolution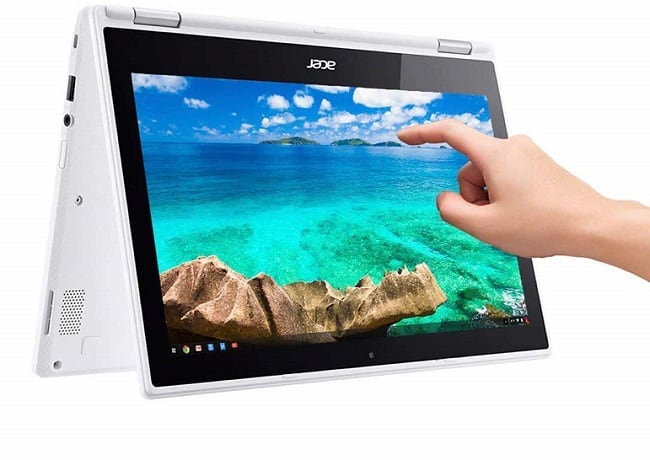 Key features:
Processor – Intel Celeron N3150

RAM – 4GB

Storage – 32GB SSD

OS – Chrome

11.6-inch display with 1366×768 pixel resolutions

Weight – 2.65 pounds

Battery life – Up to 9.5 hours.
Pros –
Best for surfing the internet and working with Google suite applications.

Lightweight and compact machine. Easy to carry.
9. Acer Aspire 1 A114-32-C1YA (

Budget Laptop

)
Acer Aspire 1 laptop is one of the best budget laptops for teachers. Carrying around the school should not be an issue as It weighs just above 3 pounds and has a classy design. It features 4GB RAM with 64 GB storage. This stylish laptop has a beautiful looking full HD screen enabled with 'BlueLightShield technology' that reduces eyestrain and extend your working hours. 
The 14-inch screen has a LED-backlit display with 1920×1080 pixels resolutions. Having Windows 10 home in S mode with Microsoft office 365 personal 1-year subscription becomes its plus point for those who extensively use the laptop for business work or presentation purposes.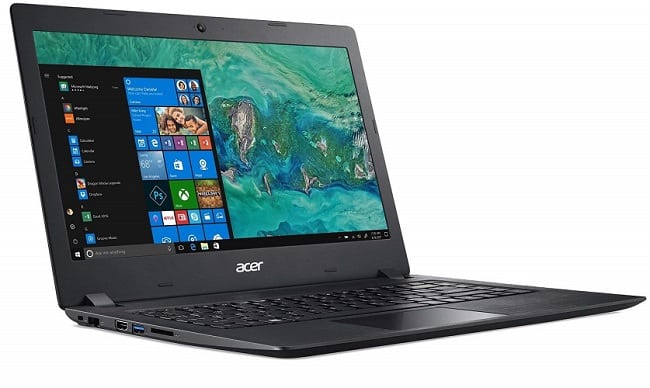 Key features:
14-inch display with LED-backlit (1920×1080 res.)

RAM – 4GB

Storage – 64GB

Processor – Intel Celeron (2.6GHz)

Weight – 3.64 pounds

Battery life – 6.5 hours

USB – 2 USB 2.0 and 1 USB 3.o ports
Pros –
BlueLightShield technology helps increase working time reducing eye strain.

An affordable laptop with better specifications.
Cons –
Battery life is relatively low.
10. New MacBook Pro by Apple
Apple is considered one of the top choices around the world. Due to its unique operating system and remarkable features, the machine makes an excellent choice for every user including teachers who teach online with Zoom, Microsoft Teams and Goog Meet. MacBook Pro laptop is one of the best laptops present in the market.
If you do not have any dependency on Windows OS for your teaching job, then you can think of the Mac laptop. Since most of the applications including Microsoft Office available for macOS, you can consider getting a powerful Apple laptop.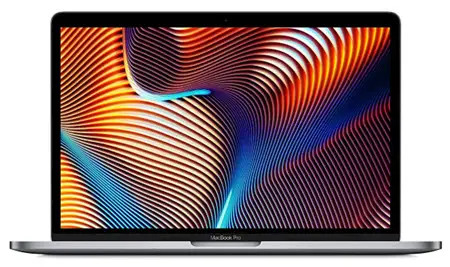 Key features:

2.4 GHz 8th Gen Quad-Core Processor
13 inch Retina display (2560×1600 resolutions)
Processor – Quad-Core Intel Core i5
RAM- 8GB
Storage – 256GB
Battery life – up to 10 hours
Two Thunderbolt 3 (USB-C) ports
Weight – 3.02 pounds
Pros:
· Excellent performance and speed
· Great display quality and power of macOS
Cons:
· The price is comparatively on a higher side
· 256GB Hard drive is not appropriate for storing a large amount of data
We have shortlisted the top and best laptops for teachers based on the users' ratings and reviews. These laptops can be used for teacher training, programs, and teaching at school or college. Plenty of options are available in the market and making the right selection is a tuff ask. You need to identify the requirements and then match the specifications of the machine. Choose the product which has the most matching features with your requirements. We hope that this article will help you in making the right choice.