If you are a laptop user who does multitasking in a bigger workplace, definitely you will love to set up dual displays and monitors. That helps to increase the productivity and multitasking across two screens without minimizing and opening screens in a single monitor.  Let's take a look about how to set up dual monitors in Windows 10 laptop and desktop PC also.
We will go through several scenarios in settings up multiple displays. Configuring dual monitors in a desktop PC is relatively easy. But I always have a few doubts or somewhat misunderstanding in this topic when it comes to laptops.
Are we going to configure two monitors? OR
Are we going to set two displays?
Do not tell me both are same on laptop computers. Because a laptop already has a screen that can be treated as one display, so, adding one more monitor to it can be considered as 2nd display (but that is the first and only one monitor in this case). For desktops, it has already one monitor so adding one more monitor will be considered as dual monitors.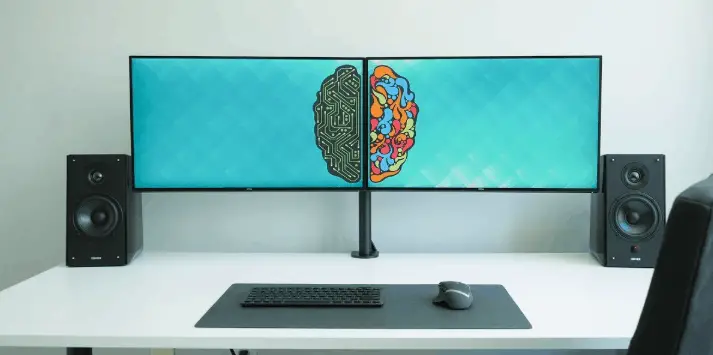 Adding one monitor to the laptop is like setting up the dual-display (because you are getting two displays of the system), but this is not the dual monitor setup according to me. If you want a dual monitor for your laptops, then you will have 3 display outputs (one in builtin laptop screen and other 2 are on external monitors).
Setup Dual Monitors/Display in Windows 10 Desktop PC
Since we already have a monitor on a desktop PC, the second display could be a monitor or projector or a TV screen. Windows 10 gives multiple options to treat the 2nd monitor. But to connect the 2nd monitor, obviously, your desktop PC should have the 2nd display output. It is physical connectivity from the display card.  Most of the latest motherboards (which has built-in display card) and external display cards have dual display outputs. Either it can be VGA, HDMI, DVI or Mini DVI. You must find the 2nd display output from the system unit and see whether it is matching your 2nd monitor input.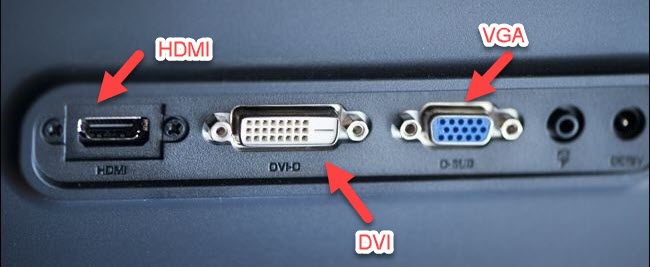 The HDMI output can connect an HDMI monitor or projector only. If it is not matching, then you need a converter. For example, HDMI to VGA converter can be used to connect the HDMI output from your PC to VGA input in the 2nd monitor (either monitor, TV or projector).
Windows 10 has the capability to detect the 2nd monitor/display when it is connected. After 2nd monitor connected physically, change the display settings to see the 2nd screen.
Press Windows Key and P together to get the projection option, here you can select how (or what) do you want to see on the 2nd monitor.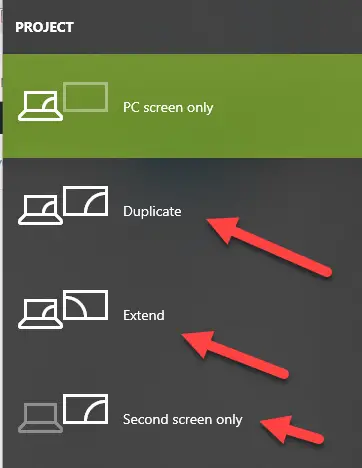 That is pretty straightforward in setting up the dual monitor on a Windows 10 desktop computer.
Dual Monitor Setup on Windows 10 Laptop
Here is the confusing part for me, are we going to consider the laptop screen as one monitor? In this case, our job becomes easy.  Most of the laptops have a VGA or HDMI output. You need to connect your 2nd monitor to one of them and adjust the display settings as we did earlier for desktop PC. Those Windows 10 display option will enable you to get duplicate, extended or only to the 2nd monitor display outputs from the laptop.
How to Connect Two Monitors in Windows 10 Laptop
This time we are going to connect two monitors to a laptop, leaving the built-in laptop screen. As mentioned earlier, most of the laptops will have single video output such as VGA or HDMI. Few laptops have two display outputs. You may find a VGA, HDMI or Mini display or even the Thunderbolt port. These ports can be used to connect multiple monitors to the laptop. Make sure that the monitors support these cable inputs; otherwise, you may need to a converter.
Once you connected the two monitors, Windows 10 will detect these monitors separately provided that the video card can handle two display outputs at the same time. You may see 3 monitors under display settings, including the built-in laptop screen. You can set different screen resolutions for each monitor you connected.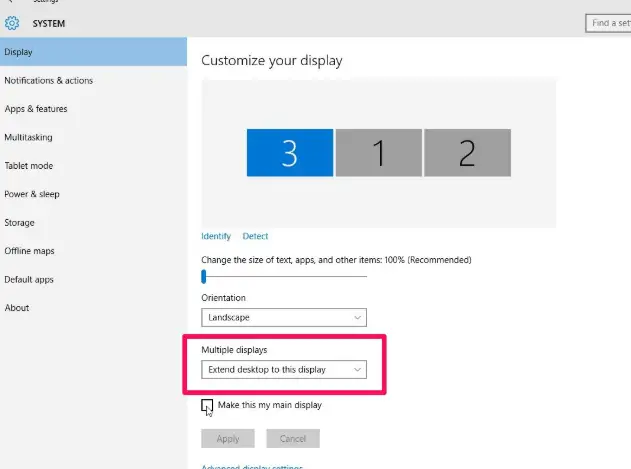 Connect Two Monitors with Single Display Port on Windows laptop
Here is the tricky part, if the laptop has only one video output, then we need to follow different steps to connect two monitors.
1) Get a display splitter
Display splitters can split single input to multiple outputs. This will do the job if you need to connect two or more monitors to a laptop which has single video-output only. You have to make sure that the splitter input and outputs are matching with the laptop output and monitor inputs.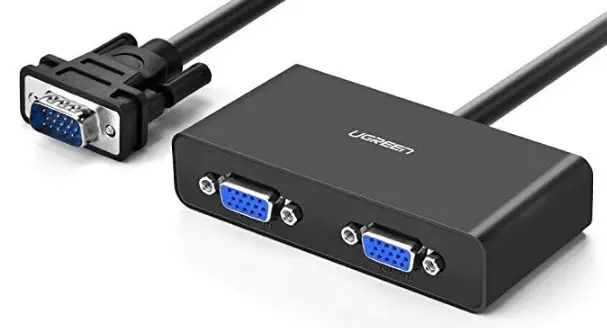 When you use display splitter, Windows 10 will not detect any of the monitors connected to the splitter. For Operating Systems, it acts as a single video output only. So, you will not get more OS-level display options to extend or duplicate or change the resolutions for every monitor.
2) USB to HDMI or VGA converters
We can still buy some USB to display converters to connect the 2nd monitor. It will work as the external VGA adapter to connect the monitor or projector. These type of USB video adapters has less powerful hardware inside. They will be using the resources of the laptop to display the graphics/video through this converter.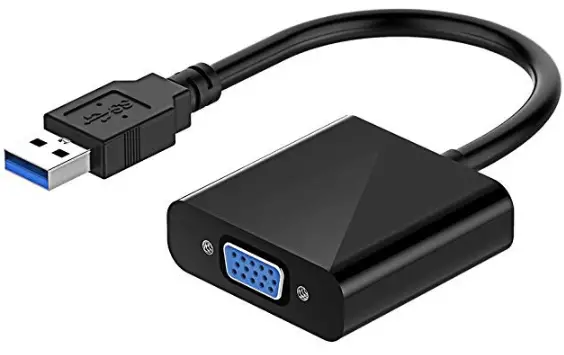 You may face glitches in pushing HD videos through this converter specially if you buy a cheaper converter.
3) Docking Station
It becomes handy at office or home to connect two or more monitors to Windows 10 laptop. The latest docking stations that can be connected via USB-C ports have several video output ports, like Dell docking station below.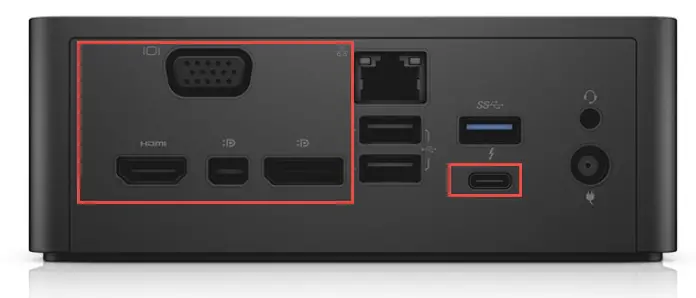 Even the older models have a minimum of 2 video outputs to connect two monitors. You must get a proper matching model of docking station for your laptop. Mostly Windows will detect each monitor individually and give all options to customize it.
Troubleshooting Tips
Make sure all cables are correct and in good condition.
The USB, display converters, and the splitters should be compatible with your setup.
Check the video card model and make sure it can support multiple displays. It is always recommended to update the VGA card driver of the laptop/desktop.
If the Windows 10 is not detecting the display outputs and monitors; connect the all cables properly, switch on the monitors then restart the computer. Because sometimes Windows OS may not recognize the additional monitors while it is working.
Hope this guide is useful in setting up the dual-display or dual monitor in Windows 10 laptop and desktop computers. If you want to connect two extra monitors, then you may need additional devices to complete this setup.
Share your ideas and setup method in your environment.