If your car's stereo system doesn't have an input for an aux cable or Bluetooth support, you're missing out on the fun of listening to your personal playlist on your car's stereo speakers. There are a variety of ways to overcome this handicap and the simplest of them is the FM Transmitter. They are small devices that connect to the 3.5mm audio jack of your iPhone and to the cigar lighter dock of your car (to draw power from) and create their own little radio station by broadcasting whatever is playing on your iPhone on a frequency set by you. You will find some useful and best  FM transmitters for iPhone (Most of the models from iPhone 5 to iPhone 12)
To play the songs on your car stereo, you just have to tune in your car's radio to the same frequency at which your transmitter is transmitting on, and voila! You can easily listen to you're the music on your iPhone via your car's speakers without having to buy a new stereo system.
The only thing to keep in mind is that you should set the transmitting frequency to that of a vacant band or otherwise, there will be interference between the music you're playing and the sound will become distorted.
Since you've probably not heard of an FM Transmitter before, it'll be quite difficult for you to go out and buy one for yourself, which is why we've taken the liberty of making a list that can help your purchasing decision.
10 Best FM Transmitters for iPhone
1. 
Nulaxy Bluetooth FM T
ransmitter 1.8″ Color Screen Wireless Receiver
 for iPhone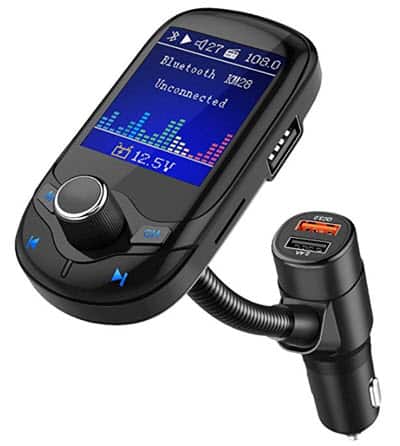 Nulaxy FM Transmitter offers multiple features which include FM Transmitter, USB Charger, and Hands-Free Calling. The Transmitter plays music from your iPhone and charges your device simultaneously. It has a built-in microphone which allows hands-free calls and is designed with the FM frequency.
It has a great 1.8-inch color screen for better display. The finishing quality of the device is excellent and nice controls you have it in to control the device and your iPhone. As the Nulaxy FM transmitters are famous on Amazon, this new model is one of the best transmitters for iPhone 11/12 (even the older models as long as Bluetooth is available)
2. 
Criacr Bluetooth FM Transmitter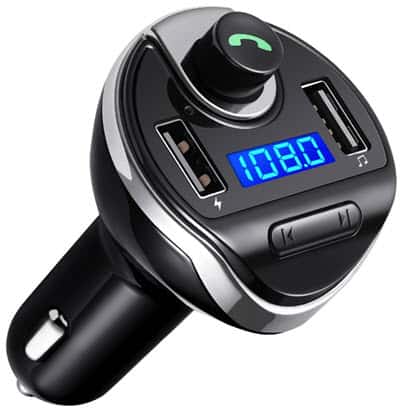 The Criacr Bluetooth FM Transmitter is another handy and stylish FM transmitter. With the stable FM signal with your car audio system and better anti-interference technology, it is going to work great with your iPhone and car audio.
The main button offers sound control and attending calls via hands-free. Dual USB ports can be used for charging purpose while streaming music. With having more than 4 stars (out of 5) from more than 1000 purchased customers, Criacr Bluetooth FM Transmitter is one of the best options under $20.
Sale
Criacr (Upgraded Version) Bluetooth FM Transmitter for Car,...
Upgraded Bluetooth FM Transmitter - More stable signal, better anti-interference performance, enhanced sound experience and built-in microphone with Echo cancellation and noise suppression (CVC) technology, offer your hands-free talking, wonderful music.
3. 
VicTsing (Upgraded Version) V4.1 Bluetooth FM Transmitter for Car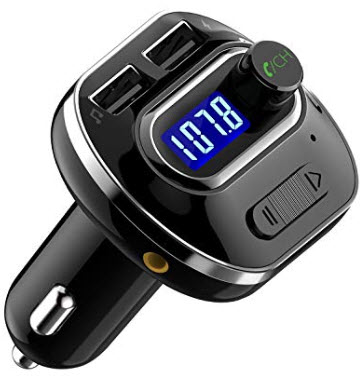 Almost similar to the earlier model, but from a different company with excellent finishing. Enjoy the convenience of driving safely with the hands-free option that the VicTsing FM transmitter offers. It stores the lastly played frequency in memory and has a back-lit LCD screen which displays the FM Station being played. The transmitter offers a full frequency range of 88.1 to 107.9MHz and is ideal for casual use.
4 music playing modes available to connect and change the source of music. With the Dual USB ports, you can charge 2 iPhones easily.  Availability of Bluetooth 4.1 can work well with the latest iPhones such as iPhone X and 8.
No products found.
4. Larger Screen
Bluetooth FM Transmitter for car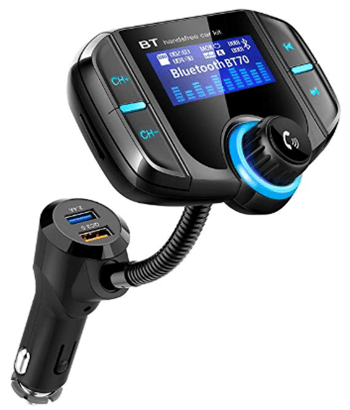 Here is one of the larger screen FM transmitter you will find under 25 dollars which work with all iPhone models. It comes with state-of-the-art FM transmission technology that allows for hands-free communication and connects to your car speakers via Bluetooth. It supports an Auto-scan function that lets you find an empty station by pressing a specific button combination.
The USB 3.0 ports enable you to charge your phones faster.  The manufacturer kept safe driving in the mind and included the 1.70 inches large LCD display that looks good to identify the song name, incoming call number and even the voltage of the car battery. Dual USB ports and Aux Input/Output available for better connectivity and flexibility.
No products found.
5.IEhotti Car Bluetooth FM Transmitter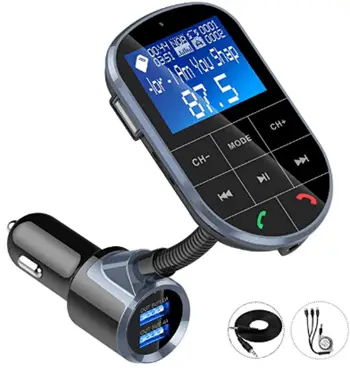 Here is another device with a larger screen and independent key control. It is a multifunctional transmitter with the great audio transmission that lets you listen to your personal favorites through car stereos.
Like most other FM Transmitters, the IEhotti FM Transmitter offers a USB Port to charge your iPhone, supports hands-free calls and track manipulation with different button combinations. It supports the full frequency range from 87.5MHz to 108MHz. You can rotate it 350 degrees to keep the screen view as per your requirement.
No products found.
6. GOgroove FlexSMART X2 Bluetooth FM Transmitter for Car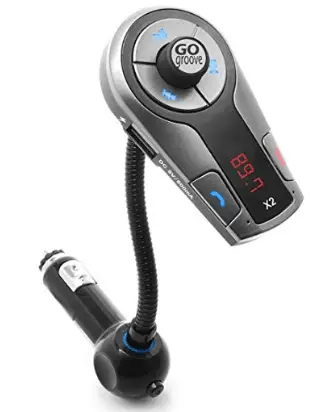 GOgroove FlexSMART X2 Transmitter is primarily built to work wirelessly through the Bluetooth. It is simple, stylish and doesn't have a big LCD screen. If you like a compact device without an LCD screen, this is the best choice. You can pair 2 iPhones simultaneously because of its Multipoint Bluetooth connectivity technology.
Like other devices, multiple ports available to charge the phones and AUX outputs. A wide range of FM frequency is covered here to connect with your Car radio. The great thing about this device is, the company provided 3 years free warranty. It is really cool for a small device.
No products found.
7. 
Nulaxy Wireless In-Car Bluetooth FM Transmitter 1.44 Inch Screen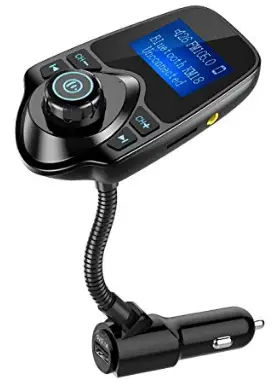 You will find plenty of customer review and more than 4.5 stars on Amazon because of its superior quality and reliability.  The FM transmitter offers High fidelity stereo. It has a user-friendly and an intuitive design along with a 1.44 LCD. Like most other FM Transmitters, this Transmitter offers hands-free calling, supports a 3.5mm audio jack.
It is compatible with most of the smartphones in the market, hence it is suitable for iPhone 7, 8 X series. The compact device has the required buttons on the device for easy usage. 12 months warranty is part of the deal.
Sale
8. 
VicTsing Bluetooth FM Transmitter for Car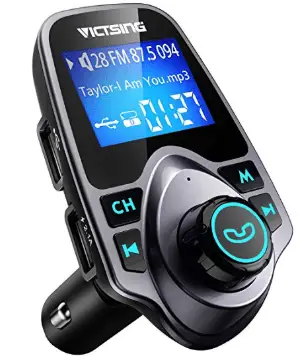 The VicTsing FM Transmitter has multi-playing modes including via Micro SD card. Like other devices, it can be paired easily with your iPhone and car radio. But, if you have songs (MP3, WMA and WAV format) ins SD card, you can play them from this transmitter. It offers more or less the same functionality as many other FM Transmitters available in the market, but its standout feature is its LCD screen, button controls, and SD card slot.
This flexible and convenient device just costs under 20 dollars. With the features and the high stereo sound quality, you must consider this device while reviewing to get one for your self.
No products found.
We hope one of the above FM transmitters will help you to connect your iPhone X, 11 or 12 to and other models which have the Bluetooth to your car stereo. You can buy them from Amazon for a cheap price.