If you are looking for the best iPhone docking stations with speakers, then it is essential to know that these docking stations come in different sizes and shapes. It is not just an easy way to sync with your PC, but there are a few docking stations that feature the most powerful speakers, memory card readers, alarm clocks, and more. With this aim, we have come up with the list of best iPhone docking station with speakers for iPhone 11 & 12.
Remember, these speaker docking stations are suitable for other iPhone models such as iPhone X, 8/7 and even the iPhone 6/S.
Let us first understand some essential things and features that you need to look in when buying an iPhone docking station. 
Important Features to Look In the iPhone Dock
The kind of docking station you choose depends upon where you are planning to use this. Docking stations are made to look best on the nightstands and tables. These have a louder output than the compact and portable stations. Most of the iPhone docks need an external power to run. 
These portable docking stations are very lightweight and can be carried away easily anywhere you want. They are light and small, and are perfect for the long tours trips and keep your whole family entertained when on holidays. 
Go with wireless features if you do not want your device to stay connected to a dock every time. The majority of the iPhone docks come with the Bluetooth capability that allows you to play music from your tab or smartphone. Some have got NFC capabilities to connect your devices by touching them with its speaker. And some docking stations support AirPlay that can connect to your house easily network and also play music from Apple devices that are connected on the network.
iPhone Docking stations are known to have the most unique & stylish designs. These portable docks are made to be lightweight and sturdy; some also have a foldable design, saving space. Most of the dock stations have simple and elegant looks, but some come in eye-catching patterns and cool colors.  
Most of the docks have got an auxiliary port that allows you to play music from various other devices like MP3 players, laptops, DVD players, and smartphones. Some docks have a video output port that can connect to your television and play videos from your iPhone and iPad. It is the number of drivers & performance that will make a huge difference in its sound.
Most of the docking stations have got two speakers, which deliver the excellent stereo sound. Suppose you are fond of bass-heavy songs, it is good to go with one that has the separate driver for such low frequencies.
Number of Controls, Clock and FM Radio
There are some additional features added to the docking station and do not have many buttons that make it simple to use. Some have got the volume controls, whereas others add more functionality with its play and pause and rewind and fast forward button. The remote controls can be seen with the high-end device. 
Besides playing your music, the audio docks support FM radios. It means you can enjoy songs from your radio stations. The display screens on these docking stations can be used as the digital clock display. And some docks have got color LED screens that will be used for playing videos.
What's the Docking Station used for?
If you are looking for an iPhone docking station to sync the music with your PC or Mac, buying them the alarm clock dock can go down well. To get a good on various types of iPhone Docking Stations available in the market, let us look at the quick summary of the highly popular iPhone Docks. Some considerations, such as compatibility, cost, speed, capacity, and safety, must be considered while making an order.
Selection of Top 10 iPhone Docking Stations with Speakers
1. Azpen D100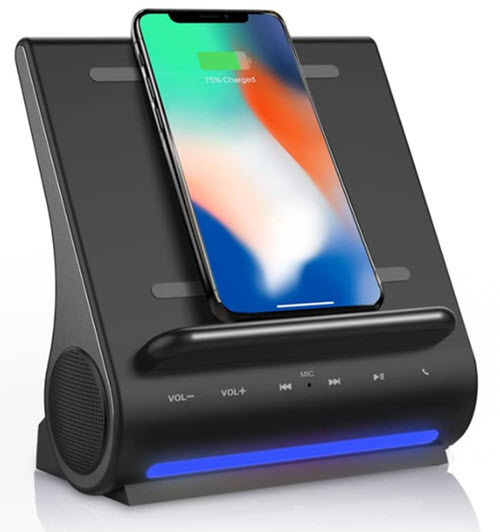 The Azpen D100 is the top-quality and best wireless charger, which comes well-equipped with high-quality speakers. The device has a brilliant design and has many useful features like universal compatibility, DockAll, and HD quality sounds and performance. Azpen D100 wireless charger is the fastest and best speakers you may buy for the store right now.
This device has three charging coils that allow its DockAll to charge any smart devices in a horizontal and vertical position. The dock provides 10W charging power that is ideal for modern phones. Its Bluetooth speakers are exceptional and give HD quality sound, and speakers create premium sound with over 5-watt tweeters & bass ports.
Specifications:
| | |
| --- | --- |
| Brand | Azpen |
| Model Name | D100 |
| Speakers Output Power | 5 Watts |
| Speaker Type | Dual Speaker |
| Product Dimensions | 7.5 x 4 x 0.4 inches |
| Mounting Type | Dock |
2. DPNAO YW-012A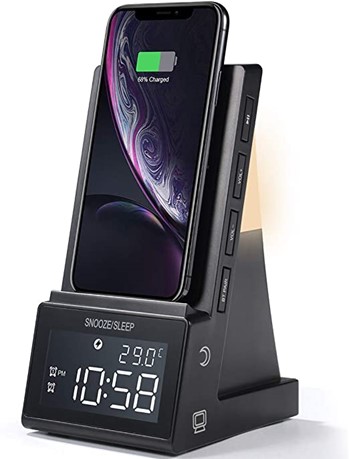 Want for a reliable iPhone docking station with a speaker that will play & charge your phone? Even when YW-012A stays in the standby mode, when the Wireless Charging-Enabled device is put on its wireless charging station, charging starts automatically.
Also, it is easy to charge the Smartphone through a USB charging port. It is the device ideal for the desks and nightstands. Even though it is small in size, the performance of the device is high-quality. You can enjoy the best quality sound from the model.
Specifications:
| | |
| --- | --- |
| DC Output | 9V,2000mA |
| AC-Input | 100-240V 50/60Hz |
| Power | AC Power |
| Wieless Charging | Fast Charging |
| Loud Speakers Spec | Inch,5 Watt,4 Ohm |
dpnao Alarm Clock with Wireless Charging, Night Light Bluetooth...
2 Ways Of Charging: ① Fast wireless charging for iPhone 13/13 Pro/13 Pro Max/13 Mini/iPhone 12/12 Pro/12 Pro Max/12 Mini/11/X/XS Max/8, Samsung S20 FE 5G/S21 Plus. (Note: Phones under the iphone 8 DO NOT support wireless charging such as iPhone 5,5S,6,6s,7) ②There is a USB charging port on the back of the speaker that plugs in your charging cable to charge your phone
3. Belkin 10W Wireless and Bluetooth Speaker Stand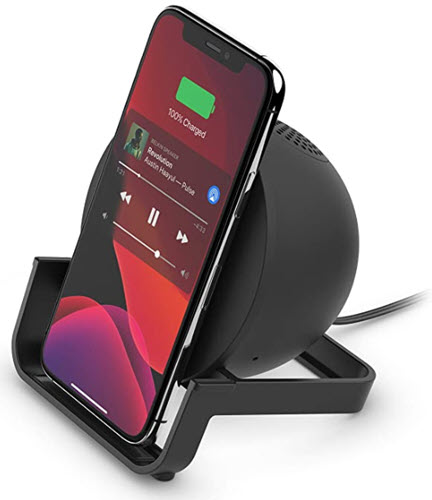 Belkin wireless charger is one of the best docking stations out there that will keep your desk and workstation clutter-free.
This docking station is a 10W Qi-compatible charger with an embedded Bluetooth speaker that allows you to dock and charges the phones in portrait and landscape mode when listening to your favorite music and taking calls.
Specifications:
| | |
| --- | --- |
| Color | Black |
| Style | 10W Stand + Speaker  |
| Item Weight | 12 ounces |
| Product Dimensions | 4.06 x 4.06 x 7.25 inches |
| Item model number | AUF001ttBK |
| Connectivity technologies | Wireless, Bluetooth |
| Additional Features | Slim Fit, and Sound Amplification |
| Wireless communication technologies | Bluetooth |
Sale
4. Bose SoundDock Series III Digital Music System with Lightning Connector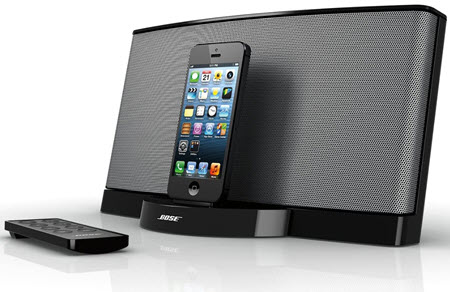 Bose SoundDock III, Series iPhone speaker, charging station caters to the modern demands of today's generation with the Bose quality audio port. Bose is a company that is quite popular for its audio quality.
Their iPhone docking station maintains the streak of success. Its high-quality and rich music can fill up the mid-sized room and can easily be accommodated in the living room and bedroom. The iPhone speaker dock from Bose offers excellent audio that will play all genres with panache.
Specifications:
| | |
| --- | --- |
| Style | Lightning Connector  |
| Product Dimensions | 12 x 6.5 x 6.63 inches |
| Item Weight | 4.65 pounds |
| Color | Black |
| Manufacturer | Bose Corporation |
| Batteries | 1 CR2 batteries required. |
| Item model number | 310583-1130 |
5. iHome iBTW39 USB Charging Port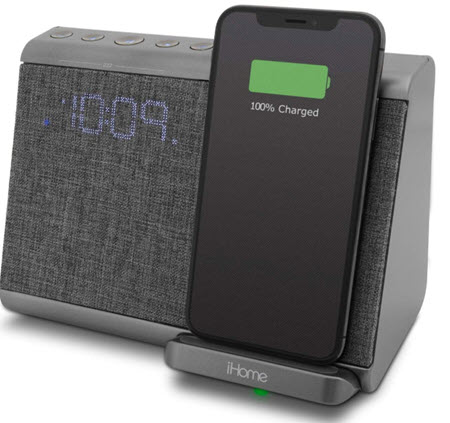 With traditional clock radio features, iBTW39 from iHome fits the modern aesthetic, one that is described in many home decorating events and shows. No more dust gathering wire, which captures the FM radio (tuner too).
It is one great device made for the wireless and streaming world—although it is not wireless. The iHome iBTW39 does need traditional power and requires a USB cable for charging various other devices through a 1A USB port over its back of the device.
Specifications:
| | |
| --- | --- |
| Item Weight | 2 pounds |
| Product Dimensions | 7.09 x 4.06 x 5 inches |
| Item model number | SG_B07JQCC88W_US |
| Brand | IHome |
| Color | Gray |
Sale
iHome iBTW39 Bluetooth Dual Alarm Clock with with USB and Qi...
Dual Alarm Clock - iHome iBTW39 Alarm Clock Features: Dual alarms to wake at separate times,7-5-2 alarm schedule to wake you every day, weekdays or weekends. Gentle Wake peacefully wakes you with gently ascending alarm volume. Sure Alarm battery backup for alarm during power interruptions - Sure Alarm battery backup for alarm during power interruptions (batteries must be installed)
6. TKOOFN Fast Wireless Charger with Bluetooth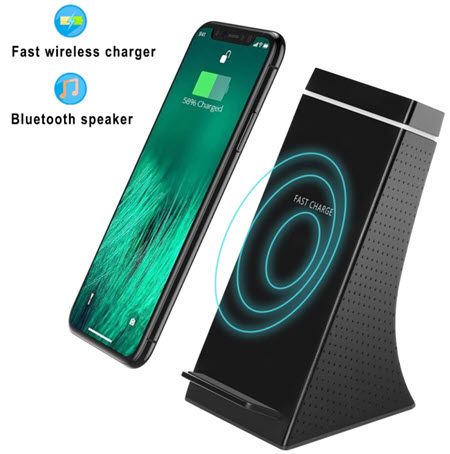 Charge your iPhone with this wonderful phone case that thickness at 6mm. You have to put your device on its charging seat, and save effort and time. In-built Bluetooth speaker, non-messy, and non-slip overall design offer you high quality and incredible sound quality, which helps to enjoy a fantastic time.
Specifications:
| | |
| --- | --- |
| Brand | TKOOFN |
| Compatible Devices | Smartphones, Tablets, Speakers |
| Current rating | 1.8 Amps |
| Item Weight | 0.19 Kilograms |
| Item Weight | 6.7 ounces |
| Product Dimensions | 2.76 x 2.56 inches |
No products found.
7. SoarOwl fast wireless charger with Bluetooth Speaker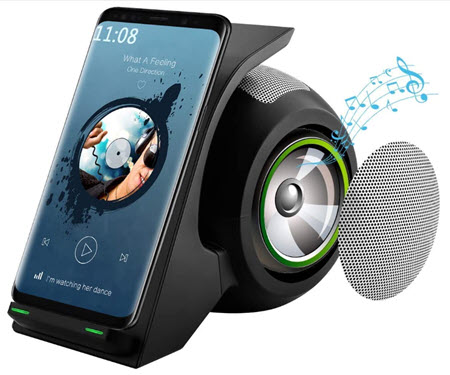 SoarOwl wireless charger with in-build Bluetooth Speaker is the wireless charger and best Bluetooth speaker. You can connect your device to its Bluetooth charger when you're doing sports and wanting to rest and listen to music and relax while your phone is charging at the same time. You can enjoy your music and won't feel bored. 
Specifications:
| | |
| --- | --- |
| Brand | DLMTHA |
| Compatible Devices | Smartphones |
| Power Source | Corded_electric |
| Color | Black |
| Current rating | 1.67 Amps |
| Item Weight | 1.03 Kilograms |
| Product Dimensions | 7 x 3 x 5.2 inches |
| Frequency Range | 150Hz-20KHz |
8. i-box Podium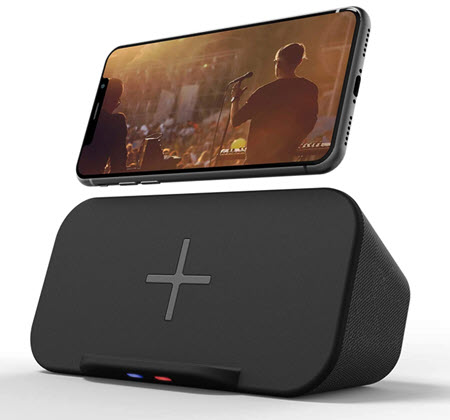 I-box Podium wireless charging dock is ideal for portable streaming. With 18hours of battery time & a wireless charging stand, it is important for the streamers on-a -go. Although it just has a 6-watt of the speaker system, its stereo sound is clear and pleasant. This i-box Podium speaker is ideal for portable streaming.
Specification:
| | |
| --- | --- |
| Item Weight | 1.08 pounds |
| Package Dimensions | 6.9 x 4.2 x 3.2 inches |
| Manufacturer | Philex Electronic Ltd |
| Battery Average Life | 18 Hours |
| Batteries | Lithium ion batteries required. (included) |
Bluetooth Speaker with Wireless Charger Stand, Premium Stereo...
✔️ WIRELESS CHARGING BLUETOOTH SPEAKER: From audio specialists i-box comes the Podium, the new Bluetooth Speaker designed around your phone. Not only is it a portable speaker with up to 18 hours battery life, it also has a built in Qi wireless charger to keep your phone powered. The Podium works as a handy stand and charging dock ideal for watching movies, following recipes, making video calls and much more.
9. I-Box wireless docking station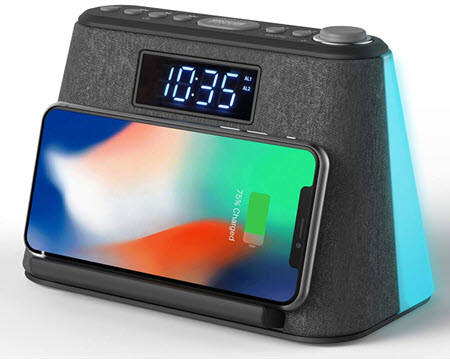 I-Box wireless docking station for iPhone gives colorful lighting with its 6 ambient RGB set-ups – that is easy to set and cycle or stay over your favorite. You can create the mood light you want, change the background light, reading light, or SAD light with brightness and color intensities to select from.
The device also features set alarm keeping in mind the safety of the backup battery, especially during the power cut at night, and wake up right on time.
Specification:
| | |
| --- | --- |
| Package Dimensions | 10.1 x 6 x 5.2 inches |
| Color | Black |
| Manufacturer | Philex Electronic Ltd |
| Item Weight | 1.65 pounds |
| Power Source | AC & Battery |
Sale
i-box Digital Alarm Clock Radio, Bedside LCD Alarm Clock with USB...
✔️ COMPLETE BEDSIDE HUB: From audio specialists i-box comes the all-in-one bedside accessory, combining a Dual Alarm Clock with a Phone Dock, Wireless QI and USB Charging, Bluetooth Speaker, FM Radio, White Noise Machine and a handy RGB Nightlight with multiple color settings - all in a stylish modern fabric finish that looks great in any room. It's slanted phone dock also makes it easy to watch movies, look at recipes or make video calls while your phone is charging.
10. Emerson Alarm Clock Radio and QI Wireless Phone Charger with Bluetooth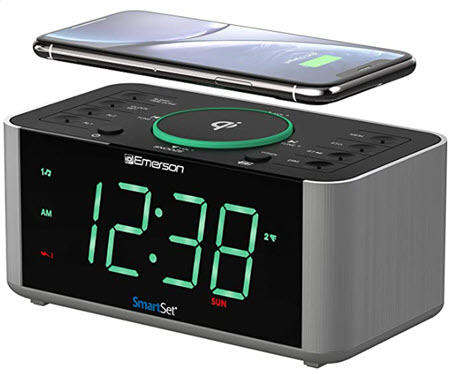 Wireless charging with an alarm clock features the large 1.4Inch high contrast LED display. It comes with a convenient USB port that offers power for the cell phone and other devices. You can charge the compatible smartphones, or other devices, without any need to plug the device in the USB port or wall charger. Some of the amazing features include a display dimmer with four settings & gradual crescendo controls.
Specification:
| | |
| --- | --- |
| Power Source | Battery |
| Style | Phone Charger |
| Radio Bands Supported | FM |
| Brand | Emerson Radio |
| Connections | Bluetooth, USB |
Conclusion
Every person has got their preference while it comes to buying the iPhone docks with speakers. It is very important to take a little time and review all the products before buying them.
When you buy the iPhone docks, it's important to think if they're compatible with the devices. Also, they must offer convenience while using it over a long period. They come in different shapes and sizes, so you should select wisely. They must fit over the desk, bedside table, countertop, and car easily. Moreover, they must save space.
You need to be a bit practical when it comes to buying the iPhone docking station. They must be affordable and satisfying. Also, they must provide unique features that can benefit you in the long run. Always make sure they come in the best quality, and won't encounter any trouble using them.