Everyone wants to buy the best available laptop on their budget. There are a lot of people with different budgets and different requirements. Some want to use their laptop for work, while others want entertainment, such as gaming.
Some would like their laptop to be as light as possible, while others prefer a full keyboard and a bigger display screen. Today, we will assemble a list of the top 10 best laptops under 700 dollars in 2023, which can be used for gaming and business/home.
$700 is the median price for a reasonable budget for a laptop. We have tried to remember various aspects of these laptops and the different needs of people with a budget of fewer than 700 dollars.
Usually, buying a laptop is like a one-time investment; you can't upgrade all hardware as you like later, unlike a desktop PC. Therefore, selecting the correct hardware options and specifications is always recommended to meet your future requirement.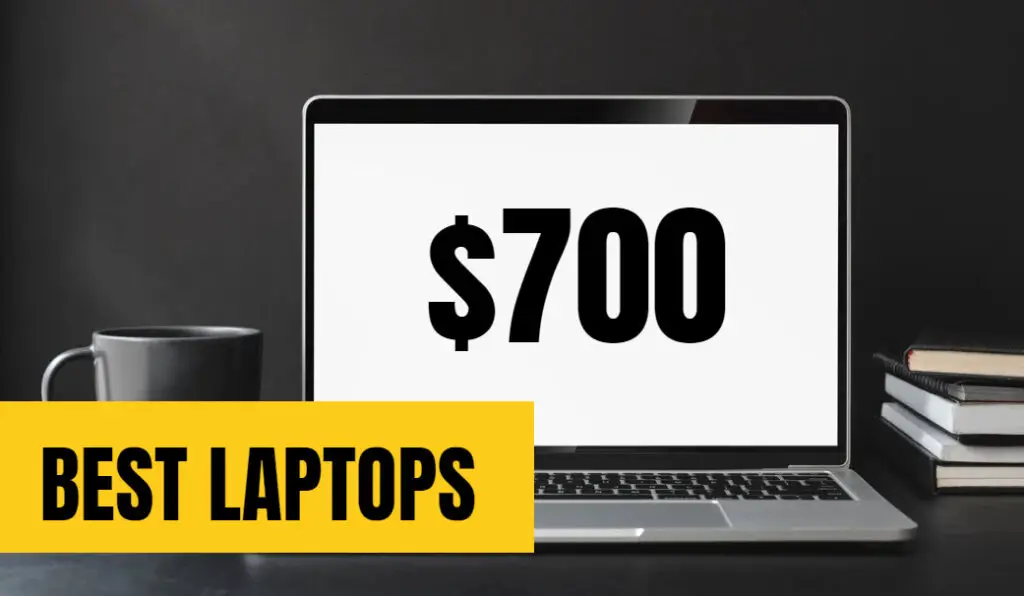 Things to Consider While Purchasing Laptop under $700
The $700 budget is not too high or low to get a quality laptop. But you need to define the purpose of why you are buying this laptop. It can fall mainly under general purposes (like studies, home/office work) or gaming (playing computer games, high-end graphical usages like animation and graphics work).
We can get the best laptop for regular usage in this budget, but we can't buy the higher-spec or the top-of-the-range model for other purposes because of the cost limitation. Here are a few suggestions to consider while purchasing a laptop under a particular budget.
a) Processor
We do not need to explain and convince you why you need to go for higher speed and the latest processor. The processor decides the speed of the laptop and how fast it can process and respond to each request.
We recommend going for an i7 processor, probably the latest 12th Gen or 11th Gen type of Intel. But if you are worried about the other significant components and your budget, then i5 can do better with good RAM and hard disk.
b) RAM
A minimum of 8GB is recommended. If you get a laptop with more than 8GB and other good hardware specifications, go for it. Each memory modules have different types and speed in MHz. Look for a higher-speed RAM type. Also, ensure the laptop has a free memory slot (usually, it comes with 2 slots), so you can upgrade it later.
c) Hard Disk
When it comes to storage, think about the speed also. Do you want a faster or higher-capacity hard disk? Buy a laptop with SSD or NVMe storage. It is highly recommended for fast OS and program response.
But you may not get higher capacity SSD storage under this budget. In this case, look for the hybrid disk type, a combination of SSD and regular HDD. If you can't find a laptop with a hybrid disk, you must settle down with SSD storage.
d) Display Card
This is another primary consideration. Whether buying for general or gaming purposes, look for laptops with dedicated display cards and RAM. It will ensure that the graphics on the laptops are handled by GPU and its memory separately, not sharing for the laptop RAM. Mostly, you will find laptops with a dedicated display for under $700.
Other features, such as screen size, sound quality, availability of ports, type of Wi-Fi, and others, can be decided by your requirements. Research and find out the latest technology before buying the laptop.
10 Best Laptops Under 700 Dollars
1. ASUS FX506HF-ES51 TUF F15 Gaming Laptop
The ASUS FX506HF-ES51 TUF Gaming F15 Gaming Laptop is an impressive, budget-friendly entry into the gaming world. Its anti-glare 15.6-inch screen, 11th Gen Core i5 CPU, 8GB RAM, and dedicated graphics card ensure immersive visuals and smooth performance. The modest 256GB hard disk strikes a balance between cost and functionality.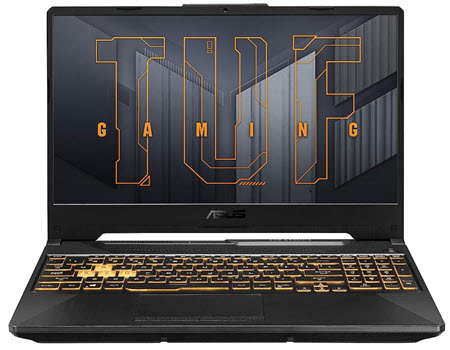 While this might require additional investment for those with an extensive gaming library, the machine's overall affordability is maintained. Running on Windows 11 Home, it provides a user-friendly interface for all levels of gamers. However, the 8GB RAM may limit performance for high-end gaming or professional graphic design tasks, suggesting a potential need for a RAM upgrade.
Despite this, the ASUS FX506HF-ES51 is a commendable choice under $700, redefining expectations from budget gaming laptops with its balance of power and affordability.
2. Lenovo IdeaPad Gaming 3 
Breaking the "acceptable" performance mold, the Lenovo IdeaPad Gaming 3 laptop commands attention within the gaming circle. Wearing a classy onyx grey, the machine's exterior belies the raw power within, powered by a potent mix of AMD Ryzen 5 and NVIDIA GeForce RTX 3050 graphics.
Equipped with a 256GB hard disk, 8GB RAM, and NVMe SSD storage options, this laptop is ready to deliver a top-tier gaming experience, making load times a thing of the past. Windows 11 Home brings familiar ease of use to the mix, and the dedicated graphics card ensures rich visuals and smooth gameplay.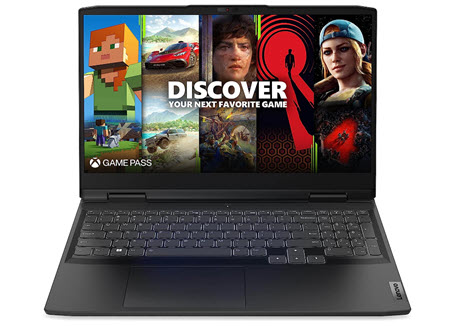 The 15.6″ FHD IPS screen, adorned with an anti-glare coating, offers a stunning 120Hz refresh rate, keeping your gaming sessions fluid and immersive. Accompanying the visual extravaganza is a powerful auditory experience delivered by 2 x 2W stereo speakers with Nahimic Audio.
The IdeaPad Gaming 3 scores high on convenience, with its smartly placed I/O ports and a built-in HD webcam, complete with a dual microphone array and physical privacy shutter. WiFi and Bluetooth capabilities ensure you stay connected, while the Lenovo gaming keyboard, designed for maximum utility, adds to the laptop's arsenal.
While the laptop packs impressive performance, its slim profile and simplicity of design are not to be overlooked. The Lenovo IdeaPad Gaming 3 – where formidable performance, elegant design, and affordable gaming converge. Don't just settle; choose the extraordinary.
Sale
3. MSI Pulse GL66 15 Gaming Laptop
Here is another great candidate for 700$ laptop. Embrace the thrill of gaming with the MSI Pulse GL66 15 Gaming Laptop – a potent combination of cutting-edge tech, stylish design, and budget-friendly pricing. This robust machine sports an Ubuntu Black exterior, making a distinct statement in the gaming landscape.
With an Intel Core i5 CPU under the hood and 8GB RAM in tow, the MSI Pulse GL66 means business. Its dedicated graphics card ensures visually stunning gameplay, bringing your virtual arenas to life. The hard disk, a generous 512GB PCIe SSD, provides ample space for all your gaming, software, and multimedia needs.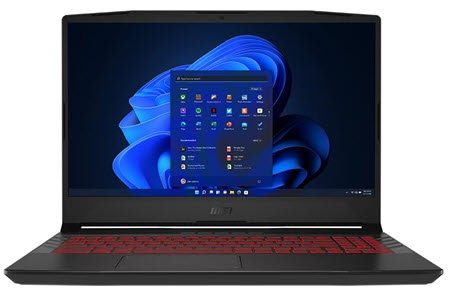 The 15.6″ screen provides a captivating visual experience, while the laptop's special feature – a backlit RGB keyboard – adds a vibrant splash of color to your gaming sessions. Offering more than just aesthetics, the keyboard ensures you never miss a key in the heat of battle, even in dimly lit environments.
Running on Windows 11 Home, this laptop guarantees a familiar and smooth user interface. The laptop doesn't just talk the talk; it walks the walk – delivering an immersive gaming experience with robust features, surpassing many of its predecessors and rivals in the sub $700 category.
Its standout performance and impressive price point make the MSI Pulse GL66 a true game-changer. If you want to elevate your gaming journey without breaking the bank, the Pulse GL66 is the power-packed, cost-effective solution you've been searching for. Your quest for affordable and superior gaming ends here.
4. HP Newest Flagship 15.6 HD (Touchscreen laptop under 700$)
Take your productivity and gaming to new heights with the HP Newest Flagship 15.6 HD Touchscreen IPS Laptop. Embodying technological brilliance at an unbeatable price, this laptop competes fiercely in the under $700 category.
Driving its high-speed performance is the 11th Gen Intel Core i5-1135G7 processor. With a base frequency of 2.4 GHz and up to 4.2 GHz with Intel Turbo Boost Technology, this powerhouse ensures a seamless experience whether you're multitasking, gaming, or creating content.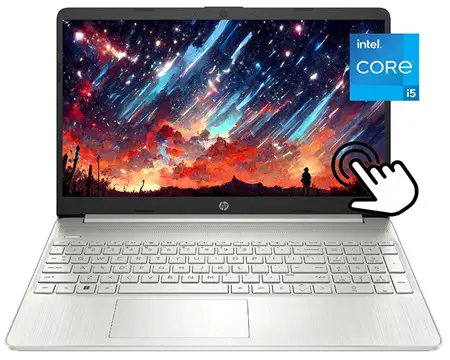 The 15.6″ HD display provides an optimal indoor visual experience. Its Brilliant BrightView panel, coupled with a resolution of 1366 x 768, guarantees bright and clear pictures, enveloping you in vibrant visuals.
Stepping up its game, HP has upgraded this model to include 16GB RAM and 1TB PCIe NVMe SSD Storage. With high-bandwidth RAM and speedy SSD storage, it efficiently runs your demanding games, video-editing applications, and multiple programs without breaking a sweat.
Intel Iris Xe graphics enhance gaming, creation, and entertainment with impressive performance. This slim laptop offers excellent visual quality for a captivating experience.
The HP Latest 15.6 HD Touchscreen Laptop is an upgraded model with powerful features, offering an unbeatable computing experience at a great price. It is perfect for multitaskers and gaming enthusiasts.
HP Newest Flagship 15.6 HD Touchscreen IPS Laptop, 4-Core...
【11th Gen Intel Core i5-1135G7】2.4 GHz base frequency, up to 4.2 GHz with Intel Turbo Boost Technology, Experience power and responsive performance to boost your productivity. Enjoy immersive entertainment and game, stream and create content with accelerated performance.
5. Acer Aspire Vero AV15-51-7617
If you are a fan of Acer brands for their maximum high configuration at an affordable price, this is for you. Power, performance, and sustainability combine to form the Acer Aspire Vero AV15-51-7617 Green PC. One of the best laptops under $700, it emerges as a force to reckon with in eco-friendly computing.
Equipped with an Intel Core i7-1195G7 processor with up to 5.0 GHz, the Acer Aspire Vero AV15 easily handles everything from everyday tasks to demanding applications. Its four cores, eight threads, and 12MB Intel Smart Cache significantly boost your computing capabilities.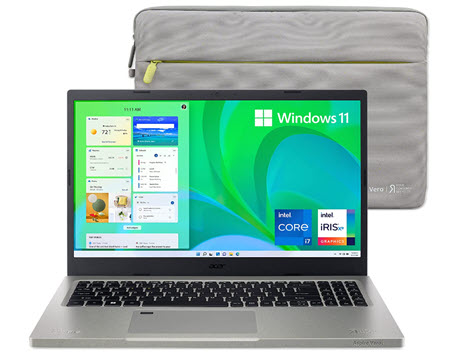 Memory and storage are ample, thanks to the 16GB DDR4 Memory and a 512GB NVMe SSD. This powerhouse guarantees seamless multitasking and faster loading times for your applications. Connectivity options include USB 3.2 Gen 1 ports, an HDMI 2.0 port with HDCP support, and an Ethernet port.
The Acer Aspire Vero AV15 enhances your laptop security with the Acer Bio-Protection Fingerprint Solution. Offering computer protection and Windows Hello Certification, it ensures your data remains secure while providing quick, biometric access.
Sale
Acer Aspire Vero AV15-51-7617 Green PC | 15.6" FHD IPS 100%...
Intel Core i7-1195G7 Processor - up to 5.0 GHz, 4 cores, 8 threads, 12 MB Intel Smart Cache 802.11ax Wi-Fi 6 | Backlit Keyboard | Up to 7.0 Hours Battery Life (MobileMark 2018) | Up to 9.5 Hours Battery Life (Video Playback) | EPEAT Silver Certified | Includes Acer Vero Protective Sleeve | Comes With Windows 11
6. ASUS VivoBook 15
Another AMD laptop is on our list. Immerse yourself in the power-packed performance and sleek design of the ASUS VivoBook 15, which stands among the best laptops under $700. This laptop brings a blend of affordability, functionality, and aesthetic appeal that will impress.
At its heart, an efficient AMD Ryzen 5 4600H Processor with 6 cores, 12 threads, and a turbo boost up to 4.0 GHz offers a dynamic power supply, ready to handle everything from daily tasks to demanding applications with utmost efficiency.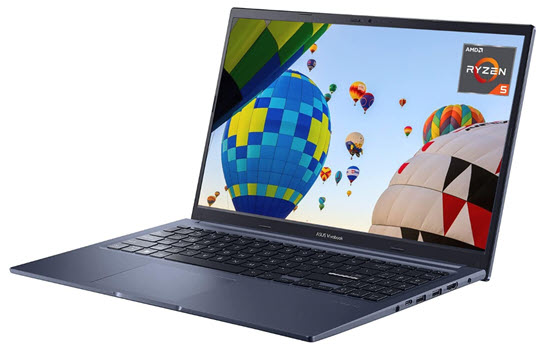 The 15.6″ FHD display, boasting a 1920 x 1080 resolution, delivers impressive color and clarity. Its ultra-slim NanoEdge bezels and 16:9 aspect ratio give you a more prominent visual space for an immersive viewing experience.
ASUS upgrades VivoBook 15 to 16GB RAM, improving multitasking capabilities. The 1TB PCIe SSD provides more storage and faster data transfer.
The ASUS VivoBook 15 doesn't compromise on connectivity options, featuring 2 USB 3.2 Gen 1 ports, a USB-C 3.2 Gen 1 port, an HDMI output, and a headphone/microphone combo. Its backlit chiclet keyboard with numeric keys ensures comfortable and efficient typing, even in low-light conditions.
The VivoBook 15 offers a powerful and affordable option for those needing a top-notch laptop in 2023.
7. Microsoft Surface Laptop Go 2
The Microsoft Surface Laptop Go 2 delivers exceptional grace for professionals seeking a compact yet potent device. Priced under $700, it combines portability with power, positioning itself as a top contender in professional laptops.
Its 12.45-inch standing screen size may seem modest, yet the Surface Laptop Go 2 impresses with a crisp screen resolution of 1536 x 1024 pixels. The compactness does not hinder its visual prowess, making it perfect for on-the-go professionals without compromising display quality.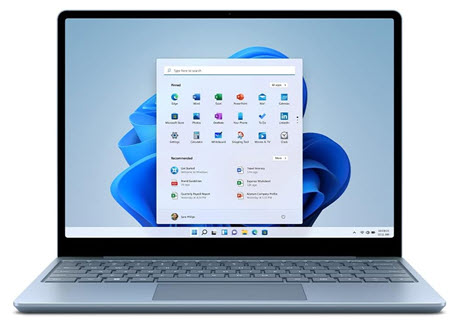 Under its hood, a 4.2 GHz processor paired with 8GB LPDDR4X RAM operates at a memory speed of 2400 MHz, ensuring smooth multitasking capabilities and swift program execution. The 128GB SSD hard drive may not match the larger capacities of previously discussed models like the ASUS VivoBook 15 or Acer Aspire Vero AV15. Yet, it offers quick, efficient storage for most professional needs.
The laptop's battery life stands out, offering an average of 13.5 hours. This longevity outshines many competitors, including the ASUS VivoBook 15, ensuring your work isn't interrupted by frequent charges.
The Microsoft Surface Laptop Go 2 outshines many of its contemporaries when comparing portability, power, and price. It's an excellent choice for professionals seeking a reliable, compact, and powerful laptop that fits snugly within their budget.
Sale
8. Newest Dell G3 Gaming Laptop
Dell G3 is the newest model from Dell as of writing this review. High hardware configuration you can get in this price range. After comparing with the other models we listed here and available on the market, we found that this is a must-check model in this list. It sports an 8th Gen Quad Core i5 processor with an average clock speed 2.3GHz.
If you want to overclock and see the maximum capability of a processor, you can boost the speed up to 4.0GHz. As usual in the price range, the Dell G3 gaming laptop comes with 8GB RAM.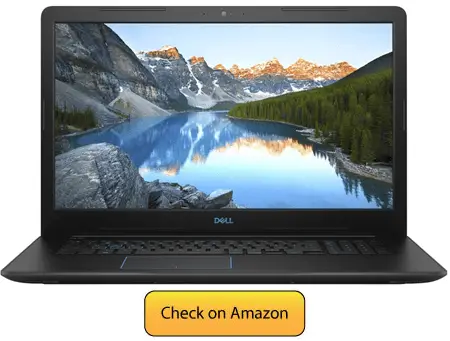 This model is the ideal choice if you are a gamer looking for larger-screen laptops under budget. The latest NVIDIA GeForce GTX with 4GB dedicated display GDDR5 memory must manage all games and 2D/3D animation workloads.
Remember, buying an 8GB RAM laptop with and without dedicated display memory makes a vast difference because the display card has a different memory and will not share the main RAM. Dell has included all the necessary connectivity ports; Bluetooth 4.2 is part of the connectivity types.
A few things may worry you, such as the 8GB RAM and no SSD storage. But you can get this as a 17.3-inch laptop with a dedicated video card.
Newest Dell G3 17.3" FHD High Performance Gaming Laptop, Intel...
The powerful 8th Generation Intel Core i5-8300H Processor @ 2.30GHz (4 Cores, 8M Cache, up to 4.00 GHz), With ultra-low-voltage platform and quad-core, eight-way processing, provides maximum high-efficiency power to go. The Intel Turbo Boost technology delivers dynamic extra power when you need it.
9. HP 15.6″ HD Touchscreen Notebook, 8th Gen Intel Core i7
The main reason for listing this HP laptop is the processor. The latest 8th Gen i7 processor can give the confidence to multitask on this budget-friendly notebook. 8th Gen i7 Processor can be boosted up to 4.0GHz on this laptop hardware.
Other hardware specifications remain standard.  But it is a great deal for 700 dollars for home or business users who need a good processor for their tasks.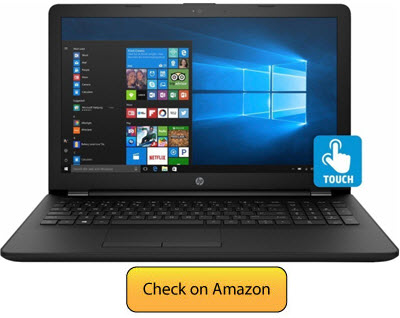 It has 8GB RAM, which is not expandable, and a 1TB mechanical hard drive. You get lots of disk space to store data but not the speed of SSD. Screen resolution is ordinary at 1366×768. But remember, this is a touchscreen laptop.  
You get a DVD drive and other required ports to carry out your daily tasks on a Windows 10 laptop. Graphics processor and screen display quality are standard and unsuitable for gaming or higher quality videos. It is well worth checking this laptop against your actual purchase requirement in this price range.
10. Lenovo Flex 4 14″ Full HD IPS Touchscreen Laptop/Tablet
Here is a convertible multi-touch laptop to conclude our list. Acer Spin 5 is a convertible laptop with a reasonable hardware specification and price. It can run Windows 10 very well thanks to its combination of hardware. The main advantage of having this device is its portability. It can act laptop cum tablet, and the battery life is around 10 hours. It is a good battery life for a Windows OS laptop. You do not need to carry the power adapter with you always.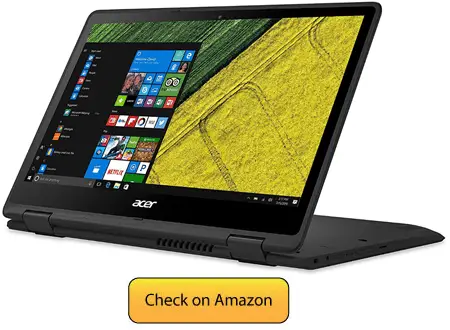 It has got a slightly older version of a processor. The 7th Gen i5 processor and 8GB DDR4 are core components of the hardware. The 256GB SSD is going to boost the performance of the laptop. It has an integrated shared display card, so you will not enjoy the high-end games on this device. Students and professionals who need a portable laptop that can work for a long time without a power adapter will love it.
The incredibly versatile 360 hinge supports four usage modes and adds more flexibility. USB 3.0, HDMI, and webcam are the main other added features of the laptop. The 13.3 Full HD IPS touch display will make you more interactive with Acer Spin 5.
We hope our latest list of 10 best laptops under 700 dollars would be helpful for gaming or business/home use, even for video editing.  Even though we keep updating the list with valuable laptops, you may find different models in this price range at different places.
As we always say, buying the best laptop for your home or office use is a kind of one-time investment for the next 3 to 5 years; hence always wisely select the best laptop and invest enough money to get the latest model.