The MacBook Pro Laptops have excellent displays but if you need a bigger display then you can consider looking for the monitors. If you are an Apple fan then you would love MacBook Pro for its style, power, and speed. The screen size of 17 inches in a laptop may not prove to be sufficient for you and in such a scenario you can look out for the best monitors for MacBook Pro in 2022.
These laptops are tech efficient in themselves and so for them, you will need monitors that are equally powerful in terms of display. While looking for the right monitors, you need to consider different factors like color range, color accuracy, viewing angle, picture quality, etc. Gamers and graphic designers will look out for the factors like speed and color range. The screen size and its maximum resolution are the two important factors that every buyer should take into account while finding monitors. Doing this can make your work easy.
In this article, we've put together a list of the suitable monitors for the MacBook Pro that you can buy right now. Ranging from $400 to $800, these monitors offer you a variety of features, screen sizes, and resolutions so you can choose the best one according to your needs.
When buying a new monitor, you should know what features you want in your device. Usually, the best product is the one that offers a balance between its spec sheet and its price. When buying a monitor, you should first determine what screen size and resolution you are most comfortable with. Once you've done that, choosing a monitor will become very easy.
Connecting your Monitor to your MacBook Pro
Before we start listing our choices, there are a couple of things we'd like you to know;
All of these monitors can connect to your MacBook Pro via either the HDMI port or DisplayPort. (The DisplayPort on your MacBook Pro is the same as the Thunderbolt Port).
The HDMI port can be used to drive your shiny new monitor but only at a refresh rate of 30Hz (normally the optimum refresh rate is 60Hz) at a resolution of 2560×1440. This is okay for text general use but not very good for video or games or any type of motion.
You must have Mac OS X Mavericks 10.9.3 or later. Prior to this, the Macbook Thunderbolt connectors weren't capable of driving any resolution higher than 2560×1440.
If you have OS X Mavericks 10.9.3, you'll need to adjust a couple of settings to get the monitor to work at 4K resolution. All MacBooks released before 2015 sport the DisplayPort 1.2 standard which can't do 4K resolution. To overcome this, a DisplayPort feature called Multi-Stream Transport (MST) is used.
MST basically combines two DisplayPort signals onto one screen. To do this, you'll need to connect your monitor to your MacBook Pro via the supplied DisplayPort Cable. Once that's done, your laptop will automatically negotiate the best resolution possible for your monitor. If in case, it doesn't automatically switch to 3840×2160, you'll need to manually switch on MST on your monitor.
Here is a video that explains how to connect external monitors to MacBook Pro or Air. Things you must know and check the compatibility of the monitor you are going to buy.
Let's Look at Top 11 Best Monitors for Macbook Pro Laptop
11. Dell Ultra HD 4k Monitor P2715Q 27-Inch Screen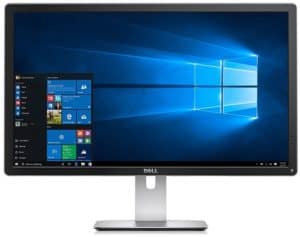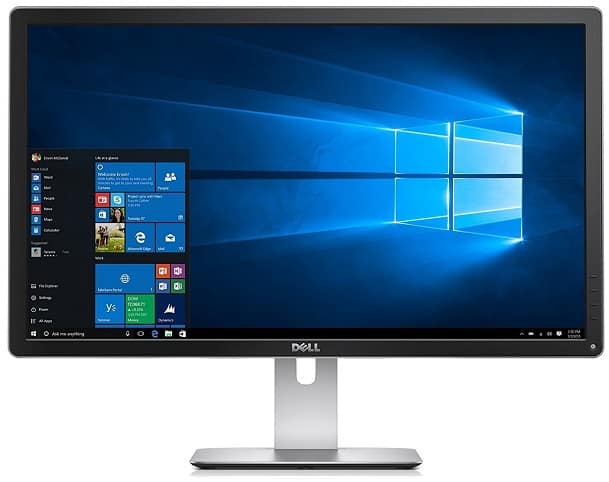 With this Dell Ultra HD monitor, you can get accurate colors on your screen and it is because of the 99% sRGB color coverage feature. This monitor can be adjusted as per the desired height. You can also tilt it to the required angle successfully. At a glance, you can see an entire page then be it in a landscape or portrait mode. The pixel density is high and it can allow you to view fine details onscreen.
Technical specifications:
The screen size of the monitor is 27 inches.
The screen resolution is 3840 x 2160 pixels.
The weight of the monitor is 16.7 pounds.
The product dimension is 25.2 x 21.2 x 8 inches.
Sale
10. LG Electronics 34UM88-P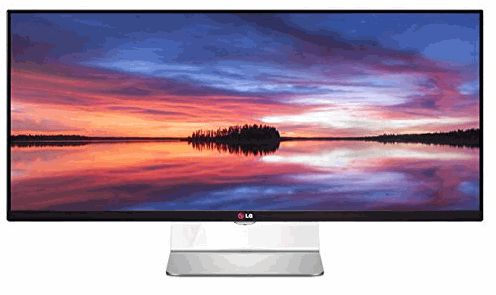 We'll begin our list of the top monitors for the MacBook Pro by introducing the LG 34UM88-P. It's a 34-inch professional desktop monitor that offers a native resolution of 3440×1440 at a refresh rate of 60Hz. It comes equipped with a multitude of ports including an HDMI port, a DisplayPort, Thunderbolt ports, and USB 3.0 ports, which allow seamless integration of the device with your laptop or desktop computer.
With wide viewing angles, high resolution, built-in speakers, and a design boasting thin bezels, this monitor is perfect for people who use their MacBooks for entertainment and gaming, and the best thing about this monitor is that, while writing this article it comes with a price tag around $500, which is I think the better price for such qualities but we don't know when this will shoot up to $700 and if this happens this may not be the monitor for you if you're on a budget.
9. BenQ PD3200U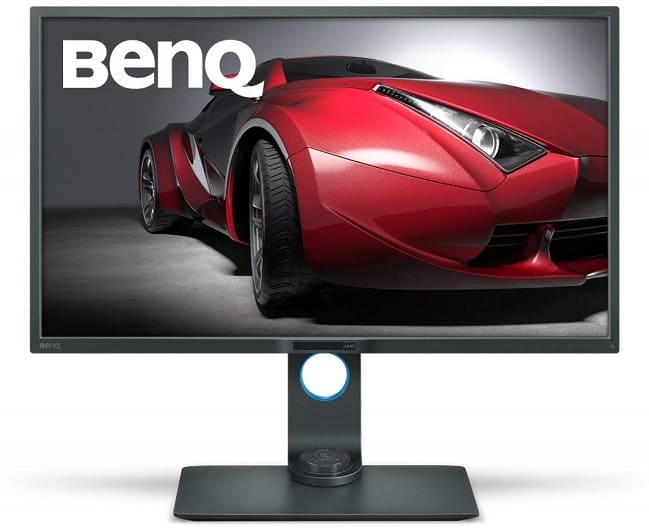 Can you pair BenQ PD3200U 32″ 4K Designer Monitor with MacBook Pro? Yes, you can definitely pair because this monitor is created by using advanced IPS technology. If you are working on the screen for long hours then you need the monitor can assist in reducing eye strain. The flicker-free technology and lower blue light present in this monitor can help in reducing eye strain.
Advanced eye care technology can reduce eye discomfort levels. The smart screen orientation detector feature can allow you to rearrange screen content without any extra effort. Depending on your usage, you can adjust the stroke, height, pivot, tilt, etc in this monitor.
Technical details:
The screen size of the monitor is 32 inches.
The screen resolution is 3840X2160 pixels.
The brightness can be adjusted.
The dual view and darkroom mode are available.
The weight of the monitor is 27.6 pounds.
The product dimension is 19.3 x 8.4 x 29.15 inches.
Sale
8. BenQ PD2700U 27-Inch 4K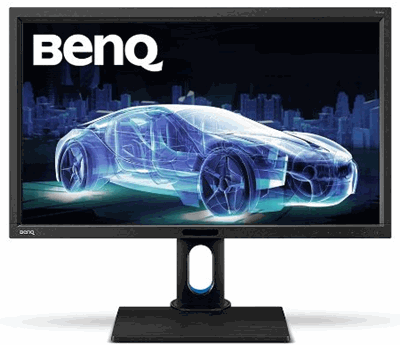 The 8th item on our list is the BenQ PD2700U 27-Inch 4k monitor. Although, not a very famous company, BenQ makes good quality, feature-rich devices aimed at the corporate market. The BL2711U is a monitor aimed at designers who work with CAD and animation software.
It supports a native resolution of 3840×2160 with a display panel size of 27-inches. With a plethora of features like CAD Mode, Animation Design, etc, and an excellent auto pivot feature, this is the best bargain for Macbook Pro users in terms of features and affordability.
7. LG 34UC98-W – IPS Monitor with Thunderbolt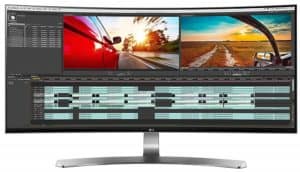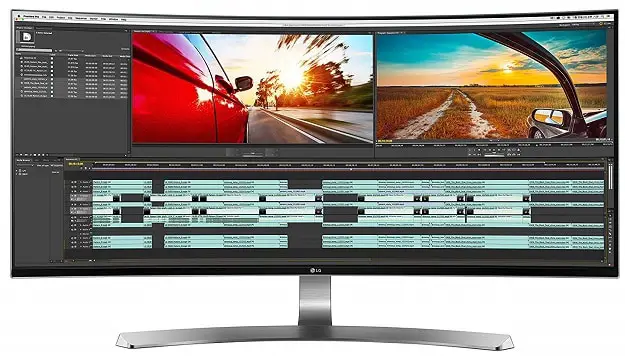 Good picture quality and overall good features make this monitor popular among MacBook Pro holders. The feature of two Thunderbolt 2.0 is superior to that of USB 2.0 when it comes to transferring data at a faster pace. The USB 3.0 port is the quick charge port that you can use to charge compatible devices.
The LG 34UC98-W 34-Inch 21:9 Curved UltraWide Monitor is such that it "fits your eyes". Even a software developer can successfully use this monitor due to features like multiple terminals, side-by-side coding, and 3-way merge.
Is it possible to create custom workstations? Yes, it can be easily done because of the "On-screen control" feature. This can allow you to carry out display settings and screen configurations in a few moves. This monitor is a good choice for photographers, graphic designers, event managers, etc. because of the sRGB feature that ensures you get color to the point.
Technical details:
The screen size of the monitor is 34 inches.
The screen resolution feature incorporates WQHD – Wide Quality High Definition.
The display type is LED.
The weight of the monitor is 17.2 pounds.
The product dimension is 32.2 x 9.1 x 17.8 inches.
6. ViewSonic VG2765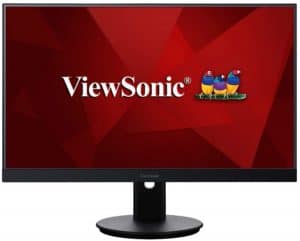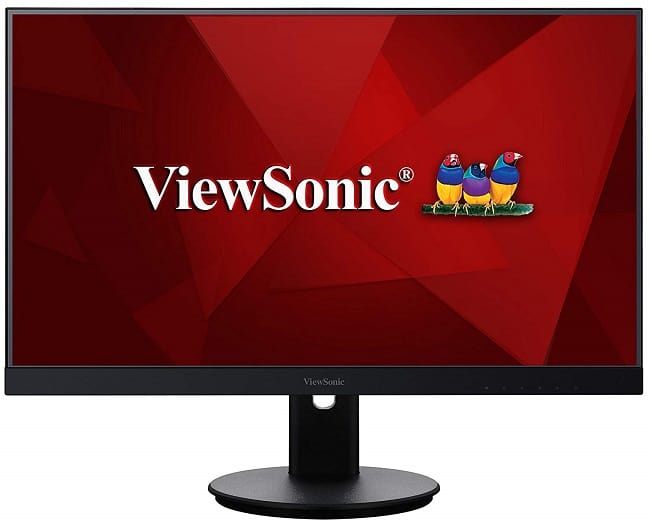 Coming up on number 6 on our list, we have the ViewSonic VG2765. It offers the same 2560×1440 resolution and has the same connectivity options which are offered by many others in this price range but it has some features that set it apart from the competition.
Sporting an IPS panel ensures a better view while the VP2770 boasts a crisp display, excellent 45-degree viewing angles, and dedicated CAD/CAM engineering modes that help justify its price point. Also, at this price range, we can say that it's a monitor with sturdy build quality and excellent ergonomic design. All these features make it a perfect fit for offices and professional work.
5. ASUS MX27AQ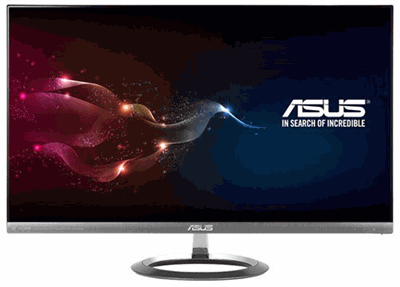 The Asus MX27AQ is probably the cheapest UHD monitor for MacBook Pro under 500 dollars you can buy at the moment. But that doesn't mean it's a slouch.
With a screen size of 27-inches and a display resolution of 2560×1440 pixels, it does what the majority of other monitors offer but at a fraction of the cost. It has excellent 178-degree viewing angles, above-average color reproduction, and eye-catching and ergonomic design. All for under $500. So, if you want a budget UHD monitor, go for the Asus MX27AQ.
No products found.
4. Acer H277HU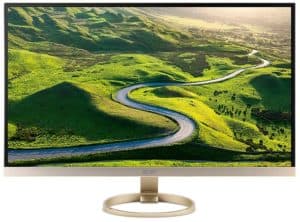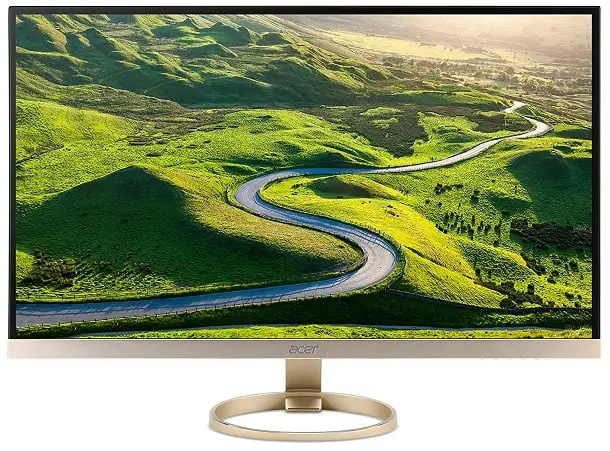 Do you need another budget-friendly monitor for your MacBook? If yes, then this Acer H7 is the right choice for you. The IPS display technology and the 27-inch widescreen can allow you to view every detail clearly without warping colors. You can enjoy playing games using this monitor and you can also effectively carry out the task of photo editing. With this monitor, streaming online videos can also become easy. The zero frame design can match properly with your home or office. The monitor looks good with its brushed hairline finish and handy magnetic base.
Your eyes won't get strained because of the good picture quality and the quality is maintained because of the high resolution and high contrast ratio. The Acer H7 monitor comes with a display port and the HDMI port. Looking at the monitor constantly can sometimes cause neck or shoulder injuries but the A-5 to 15-degree angle provided with this monitor can prevent such injuries.
Technical details:
The screen size of the monitor is 27 inches.
The screen resolution is 2560X1440.
The weight of the monitor is 9.1 pounds.
The product dimension is 23.7 x 8.6 x 17 inches.
3. Samsung LU28E570DS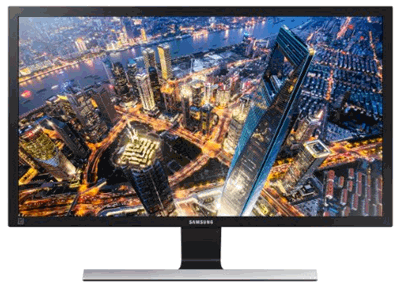 The Samsung LU28E570DS is another example of a high-quality monitor available in the market. With its 4K resolution (3480x2160pixels) and amazing color reproduction & 60Hz (DP), it is one of the best 4K models available.
The 28-inch screen with ultra HD picture quality. When it comes to PC viewing, you can get lifelike details. The screen is huge and can allow you to enjoy gaming activities to the fullest. You won't experience stutter during gaming. The AMD free sync and 1ms response time can minimize the image tearing effect and input latency.
The fine detailing can be viewed that can allow you to get realistic images. In one window you can watch your favorite movie while in another window you can work on your spreadsheet. There are 2 HDMI 2.20 ports and one display port that can support connecting multiple HD devices. The 4K ultra-high definition can offer you a new level of clarity. Now whether you want to watch, play, or read this monitor can support you efficiently.
Technical details:
The screen size of the monitor is 28 inches.
The screen resolution is 3840X2160.
The weight of the monitor is 11.64 pounds.
The product dimension is 7.4 x 26 x 18.4 inches.
2. LG 4K UHD 27UD88-W 27″ LED-Lit Monitor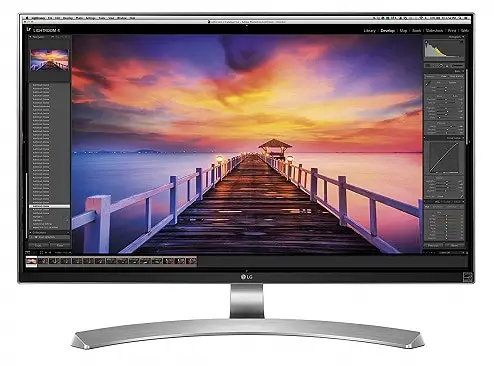 The 4K UHD 27UD88-W 27-inch LED-lit monitor from LG is affordable without compromising features and appearance. Being less expensive doesn't mean that you have to compromise on its quality. It offers sRGB coverage for more than 99 per cent and so you won't face issues related to color consistency. You can carry out activities like photo editing, graphic designing, presentations without compromising on the picture quality.
Transferring data, charging the laptop or any other device can become easy with the available USB Type-C port. Playing a game that involves dark colors can also become easy with this monitor. The screen won't strain your eyes. In other words, it can be said that the monitor senses darkness. For gamers, this monitor is suitable because it comes with three modes.
Technical details:
The screen size of the monitor is 27 inches.
The screen resolution is 3840X2160.
The weight of the monitor is 13.3 pounds.
The product dimension is 24.2 x 8.1 x 16.7 inches.
1. ViewSonic VP3268-4K 32 inch Frameless 4K Monitor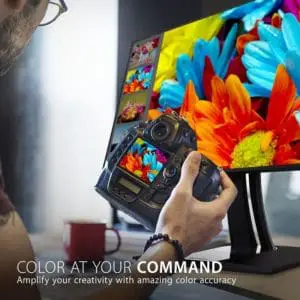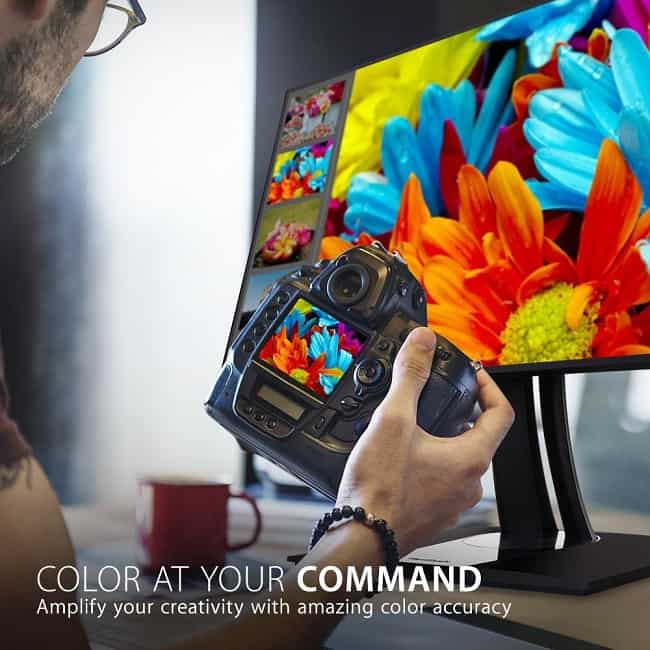 Are you a professional graphic designer? If yes, then View Sonic VP3268 4K monitor can fulfil all your expectations. You can get perfect color accuracy with this 32-inch screen that is frameless. You can enjoy working as a photo editor or video editor and graphic designer with this kind of monitor. The sRGB color uniformity and 4.39 trillion colors with widescreen will not allow you to compromise over color uniformity. There is an ultra-thin bezel on both sides that can allow you to minimize distractions.
It can allow you to create a multi-monitor set-up, which can be done on the basis of your work type. The color processing capacity of the monitor is precise for professional applications. You can easily run colour-critical applications with this kind of monitor.
Technical specification:
The screen size of the monitor is 32 inches.
The screen resolution is 3840X2160.
The weight of the monitor is 22.8 pounds.
The product dimension is 10.45 x 28.09 x 25.04 inches.
It has a total of 5 3.0 USB ports.
Summary
But whatever model you buy, we can guarantee that Dell's UltraSharp UHD Monitors are some of the best monitors available in the market for the MacBook Pro. There have been many Mac users who found Dell monitors to be exactly the same as Apple's monitor and give the sharpest of results. However, having such a monitor doesn't come at a cheap price since these monitors haven't hit the mainstream market yet just like the 1080p monitors. Hope this review would be helpful in listing and deciding the suitable monitor to select and buy.
Was this article helpful to you? Please mention your answer in the below-given comment section. We have tried to bring in the list of best external monitors for MacBook Pro among which few are expensive with distinctive features and few are affordable with reasonable features. Depending on your needs and budget you can consider buying any of the above-stated monitors.
The screen size and screen resolution are the two important things that you need to consider while buying monitors for your MacBook Pro. In this article, we have mentioned these details to make it easy for you to make the buying decision