Let's have a look at the best MSI gaming laptops in 2021. MSI is the top favorite for its range of gaming laptops. It almost seems like MSI makes nothing other than gaming PCs and hardware. The main reason for that is that MSI makes the most incredible laptops with premium builds and robust specifications which make it the top choice for many gamers who want to take their gaming portable. But powerful specs, premium build and high performance do not come cheap, so that is why most of MSI's laptops range from $1000 up to $3500. But still, that does not stop MSI from making beautiful beasts for their customer's gaming needs.
For a newbie, it's a huge task to find the right gaming laptop. In order to buy the right product, it is very important for you as a customer to determine your needs. Understanding the concept of 3P's can make it easy for you to pick up the right gaming laptop.
These 3P's are:
Price,
Performance, and
Portability
All MSI gaming laptops are different. Some are pricey but light in weight while others are reasonable but bulkier at the same time. Few machines are powerful in terms of performance but are pricey or bulkier. So your selection of machine depends on your needs. The MSI performance-based gaming laptops are definitely not cheaper and you can find them in the different price ranges from $650 to $3,500. Customers can find it easy to meet their gaming needs with these below models that have strong specifications and premium builds. If you are looking for some pocket-friendly laptop then check out our article about cheap laptops & great deals.
With this sort of price, MSI allows users to upgrade their laptops' HDD, SSD and RAM easily. Recently, they made laptops that support desktop-grade graphics. If you are in the market for a new gaming laptop, make sure to check out the laptops from MSI.
Our Top Picks of Best MSI Gaming Laptops in  2021
10. 
MSI GV62 8RD-275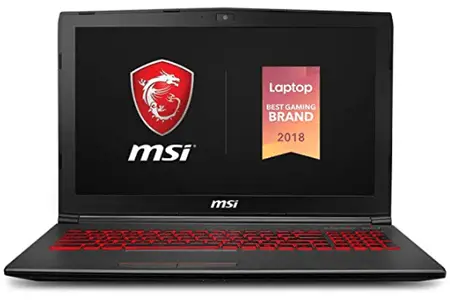 It is well suited for gaming because of the wide-screen display that provides a very immersive experience while you play. It has also been designed to provide its user with the best and fastest tactile feedback. It includes a 7.1 virtual surround sound that further works to enhance the experience.
This also supports multi-key inputs. It gives you a significant advantage over your opponent because it allows you to give better commands. It enhances your focus in the game and helps to minimize any external stimuli that may distract and affect your game.
This is a 15.6" laptop with a full HD display with 4G and has an Intel core of i5-8300H. It has a memory of 8GB with storage of up to 256 GB. This model supports Windows10 and is available in aluminum black color.
The feature that set it apart from just any other laptop is its Nahimic 3 digital 7.1 audio enhancers and the Dragon Center management app. This further adds to the reliability of your laptop. It has a customizable red black-lit keyboard that gives it style and elegance.
9. MSI GV62 8RD-200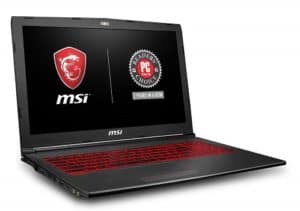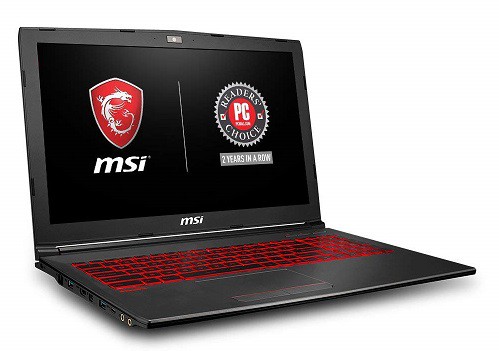 The GV62 8RD-200 is a gaming laptop that can allow you to load game levels at a faster pace. With this gaming laptop, you can find it easy to carry out everyday tasks smoothly. You can also get rid of the chaos related to opening large files with such a gaming machine. The 8th GEN 6 CORE processor can work 40% better than the 7th GEN 4 CORE processor. GTX 1050Ti powerful graphics can enhance your gaming experience.
This model fulfills the phenomenon of better cooling…better performance by adding 6 heat pipes and introducing better thermal solutions. You can easily gain command over your gaming sessions by using its multi-key inputs keyboard. The screen size of this laptop is 15.6 inches and its screen resolution is 1920X1080 pixels. RAM is 16 GB and the graphics card RAM size is 4 GB. The Hard Drive configuration is 1000 GB hybrid drive and 5400 RPM is its rational speed. The weight of the laptop is 4.8 pounds.
8. 
MSI GV62 8RD-034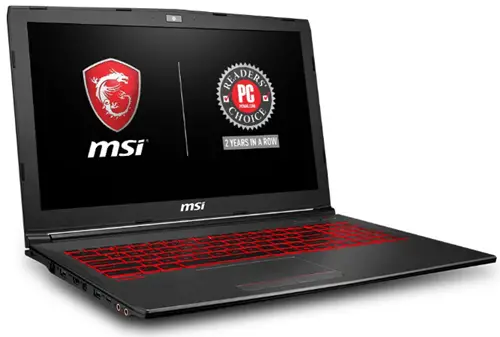 This MSI laptop features the 8th Generation technology that helps the processor deliver better performance and quality as compared to its previous counterparts. It has a 30Mark11 CPU core. This delivers faster, better and great performance all under the mantle of one laptop.
This is a laptop that's been designed specifically for gaming. Superior graphics helps to deliver a more immersive and complete experience with every game you play. This laptop utilizes NVIDIA's cutting edge technology to deliver the best features and a great quality experience. Its graphics and display technology provides you with high quality and crisp image.
This laptop has features that help to enhance its cooling during gameplay. This is due to its Cooler Burst Technology. This provides mechanisms for the removal of excess heat from the CPU and GPU with the use of a total of 6 heat pipes. This makes sure that your laptop works perfectly no matter what game you are playing.
It also features 7.1 advanced audio, this produces a surround sound effect and creates a 3D fully immersive experience. This produces masterful and sensitive tactile feedback. The RealDeal keyboard gives you better commands over your own gaming experience.
7.
MSI GE63 Raider RGB-609 (9th Gen Processor)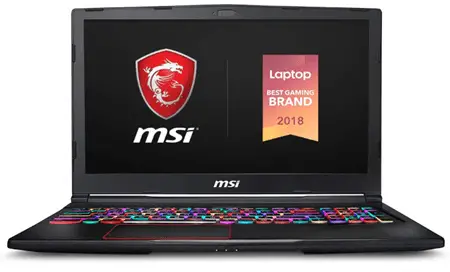 The MSI GE63 Raider features a 144Hz display and 1920×1080 pixels with a 16:9 aspect ratio that provides you with a clear and sharp image. This power is delivered with every keystroke that enhances your gaming experience.
It features the latest 9th Generation Intel 6-core processor. This increases the performance of the laptop by a whopping 10% over its 8th Gen counterparts. This also helps it handle multiple tasks and makes sure that you have a smooth and relaxing gaming experience. It has a 4.5GHz processor and 16GB RAM memory with a maximum memory of 64GB.
This laptop is lightweight and has a tactical design that further facilitates you as a gamer. It preserves the gaming feel and has the power, precision, and speed that you would want out of any gaming laptop. It has a red-backlit keyboard that further adds to the sleek and ominous feel of your laptop. Last but not least, it comes with a total of 4 USB 3.0 ports and a screen size of 15.6 inches.
6. GE63 Raider RGB-012
MSI GE63 Raider gaming laptop is good in looks as well as offers an amazing gaming experience. The Dynaudio sound system with giant speakers can allow you to feel the sound wave of every engine. The cooler boost technology offers great thermal solutions for CPU and GPU. Whatever may be the gaming scenario but with this laptop, you can always get good performance because it includes 7 heat pipes. The keyboard illumination is good because of the per-key RGB feature.
The advanced networking feature that is Killer DoubleShot Pro allows you to pick the fastest network connection. The screen size of this laptop is 15.6 inches and the screen resolution is 1920X1080. The Intel Core i7 processor offers a speed of 2.2 GHz. The RAM size of the laptop is 16 GB DDR4 and the graphics card RAM size is 6 GB. The operating system is Windows 10 and this machine has 3 USB ports. The weight of this model is 5.51 pounds.
Sale
5. 
MSI GS75 Stealth-413 17.3″ – Choice

for Gamers in 2021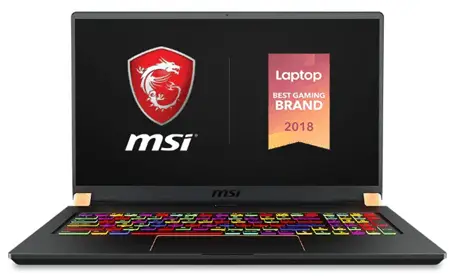 This laptop is known as the Thunderbolt and for good reason. It has multiple features like Intel Core i7-9750h that work to enhance the speed and reliability of the device. It supports transfers of 40Gbps and further has a 4K display output. What makes it even better though is that with the use of 5V/3A Power charging, it charges faster and makes it a great choice for a gaming laptop.
This laptop is powered by NVIDIA GeForce RTX 20 series which works to deliver a very believable and immersive gaming experience. The RTX graphics work to bring together the power of real-time Ray tracing, artificial intelligence, and programmable shading.
It has a 17.3" FHD display (1920 x 1080) with an aspect ratio of 16:9.
This MSI Stealth gaming laptop features a RAM memory of 16GB with a maximum memory of 64GB. It has an added storage capacity of 1TB. The keyboard is comfortable to use and the screen size and pixel density make sure that you get a clear and sharp image.
4. MSI Creator 17M Gaming Laptop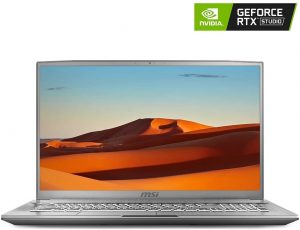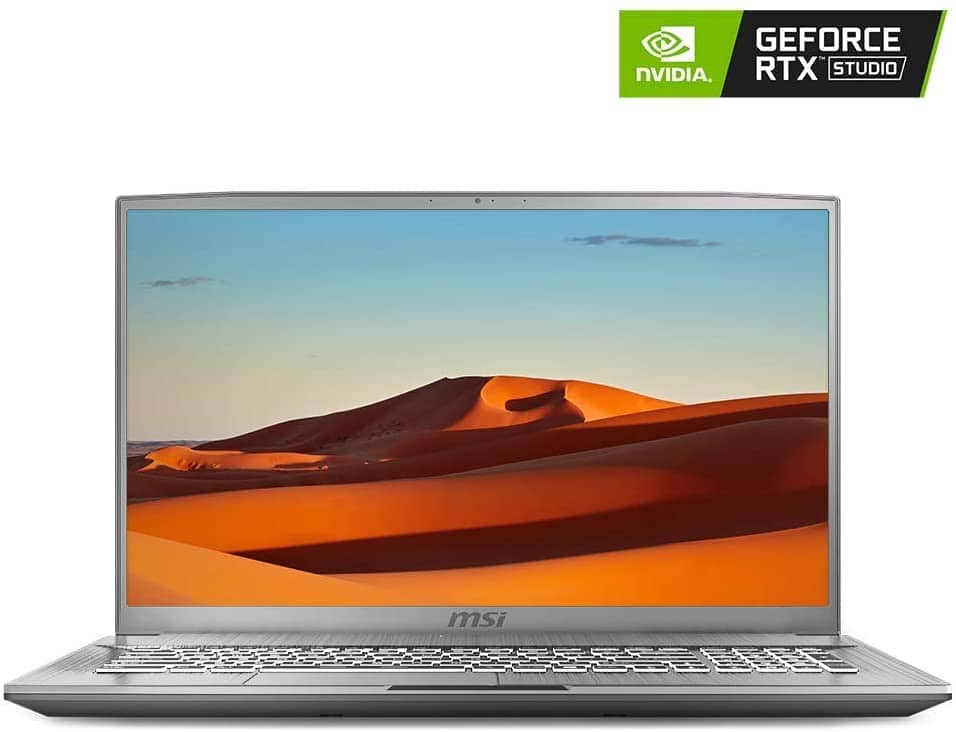 The MSI Creator 17 M is powered by the latest 9th generation Intel Core i7 processor that enables you multi-task with ease. It allows you to develop your ideas without any interruption with a battery life of 7 hours. The professional laptop is finely designed and crafted in an ultra-light chassis. The elegance is enhanced with its space-grey and aluminum finish.
The laptop is also equipped with The NVIDIA GeForce Graphics co-processor, 512 NVMe SSD, and 16 GB RAM. The 17.3 inches Full HD display is enhanced with true color technology. It allows you to get the best visual experience.
Moreover, MSI's Cooler Boost technology includes two fans and six maximized heat pipes. It keeps your laptop cool during intense use. Hence, it is a suitable option for those looking for a gaming laptop that ensures reliability and intensive use. Also, its design and style make it stand out from the rest while travelling for work purposes.
The below video review can give a better understanding of selecting the correct MSI gaming laptop in the year 2021.
3. 
GS75 Stealth-093 Gold Diamond Cut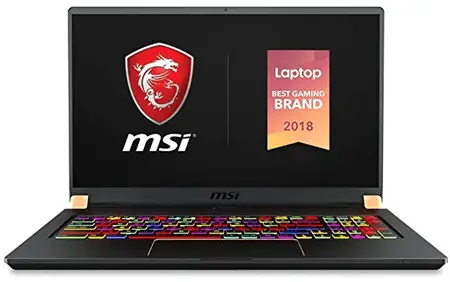 The MSI GS75 laptop gets its name because of its thickness. It is very thin and sleek yet powerful. It is powered by NVIDIA that provides the best graphics for this laptop and brings together real-time Ray tracing, artificial intelligence, and programmable shading.
It has a large screen of 17.3", which helps it deliver a very strong and immersive experience to the gamer. It features a Full HD Display and an Intel i7-8750H with 6 cores. This makes it very fast and precise. It allows the laptop to read every move almost the millisecond you make it. It further makes sure that the game is faster-paced and more intense.
The feature that makes this laptop particularly special is its silly glass touchpads that recognize more than 10 gestures. It is also 30% larger which again provides you with a better experience.
The keyboard is also customizable. What gives it a class of its own is the backlit keyboard, but you can customize the backlight of the keyboard to vary according to your choice from RGB. It works with the Windows 10 Home Operating system.
Sale
2. 
MSI GT75 TITAN-249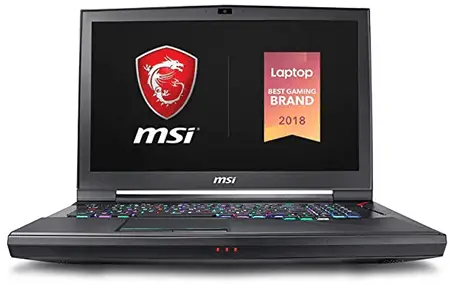 This is the ultimate extreme gaming laptop with its 17.3" screen, Full HD Display and great resolution. The graphics by NVIDIA are absolutely phenomenal and breathtaking. The display of the laptop is highly enhanced and has a resolution of 1920 x 1080, 16:9 aspect ratio.
It has a very sensitive touchpad that makes every move you make, faster, more precise and controlled. This laptop will help to give you an edge over your opponent and enhance your game. It has a 512GB NVM storage that can be expanded to 1TB.  It has a memory of 32 GB with a maximum memory of 128GB. It even has an Intel Core i7-9750H processor which makes it faster and better as a laptop. Its display features a 144GHz G-sync that makes the gaming experience more enticing. Last but not least. . . It comes with a 1-year limited warranty.
1. 
MSI GL63 9SEK-612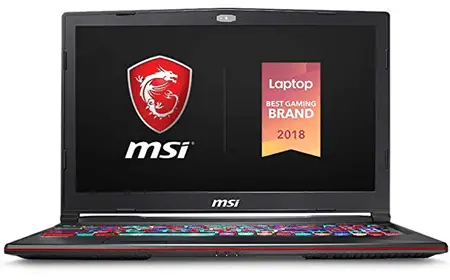 The 144GHz panel makes sure that every movement of the screen is enhanced and more lifelike than you have ever seen. This makes for a very immersive and enhanced gaming experience. It also helps to improve your game because of the intensity that is conveyed via enhanced and sharp graphics. It has a Dragon-spine look along with translucent keys and edges of the keyboard.
It comes with a 4 exhaust system that makes sure that the device never overheats, you won't have to worry about your laptop overheating and any loss of progress or interruption in your gaming binge. It has an intricate design that makes it more stylish and elegant. It even has an MSI app player that opens up the game in-app. This helps to bridge the gap between the mobile and laptop gaming experience and allows the user to experience the best of both these gaming worlds.
The 16GB memory (extendable 64GB) with a 15.6" full HD display and graphics by NVIDIA GeForce RTX makes it faster, clearer and more precise than ever.
FAQs about MSI Gaming Laptops
Are MSI gaming laptops good?
MSI laptops are excellent gaming laptops. They offer exceptional features that allow you to multitask without the fear of lag. The laptops are equipped with powerful processors and co-processors to ensure high performance. Moreover, MSI also offers free accidental damage protection for reliability.
How long do MSI gaming laptops last?
Most MSI laptop parts should last for 5 to 10 years provided that they are protected from overheating. The battery may degrade with time. However, an MSI laptop will last for 2 to 5 years easily.
Which company owns MSI?
MSI stands for Micro-Star International Co., Ltd. It is a Taiwanese multinational information technology corporation headquartered in New Taipei City in Taiwan.
What is the best MSI gaming laptop?
We recommend the following models:
GL63 9SEK-612
GT75 TITAN-249
GS75 Stealth-093 Gold Diamond Cut
Creator 17M
GS75 Stealth-413 17.3″ Gaming Laptop
GE63 Raider RGB-012
Is MSI better than Asus?
Both MSI and Asus are Taiwanese-based companies that deal with the manufacture of laptops. However, Asus is much better known than MSI even though the latter was formed a year before Asus.
MSI is more recognized in the gaming world than in the standard everyday laptops. Hence, if you are looking for a gaming laptop MSI is a leading choice.
Closing Words:
With MSI, you can find a huge lineup of notebooks that can meet your gaming needs. The company targets gamers by offering laptops with great configurations. While buying a gaming laptop, you should always check the processor, keyboard type, screen size, screen resolution, storage space, etc. You should never adjust the screen resolution if it is anything less than 1920X1080. When it comes to storage, look out for SSD for faster game installation and loading time. Talking about keyboards, you need to look out for mechanical keyboards.
If you really want to buy a gaming laptop from MSI, then you probably have a big budget and you want the best PC gaming experience. You will have enough options to choose from, and you will be getting the best gaming performance with the best build quality and enough possibilities to expand your gaming experience with external monitors and fast external storage.
What is your priority? Do you need a laptop that is portable? Do you need a laptop that offers high-end components? Depending on answers to these questions, you can select the best MSI gaming laptops for your need.