Here we list out the top 10 best speakers for iPhone 6/6s and iPhone 7 and 8 or any other models in 2020. The iPhone has always been ideal for home entertainment. The feature-rich phones provide for a rich multimedia experience, and the release of the new 6s and 6s Plus models have only improved on the legacy set by the original iPhone of 2007.
Listening and enjoying music on Apple's flagship phones has been a way of entertainment for a long time now. Usually, people use earphones to listen to music on their devices, with some music aficionados shelling out as much as $300 for a pair of good quality earphones; but if you want to share the music you love with your friends, you'll have to spring for some quality speakers. Be it a party or a small get together with friends, a decent speaker paired with your iPhone will bring it to life.
Things to Keep in Mind while Buying Speakers for iPhone
There are a lot of things you need to keep in mind before buying a speaker for yourself. The main factor that will directly affect your purchase is the amount you want to spend on your new speaker; with some of the best quality devices costing as much as $400. Besides this, you'll need to decide whether you want a wireless portable speaker or a wired one. Wired speakers connect to your iPhone via a standard 3.5mm jack while wireless speakers interface with your phone over Bluetooth or via Wi-Fi Direct.
While wired speakers are rumoured to give better sound quality, wireless speakers provide better ergonomics and are essentially easier to handle than their wired counterparts.
We know how hard it can be to buy a new speaker if you have little or no experience buying technical devices so we've put together a list of the top 10 best speakers for the iPhone that you can buy right now for a good price from Amazon.
10 Best Speakers for iPhone, 6, 6s, SE in 2020
10. AmazonBasics Portable Bluetooth Speaker Black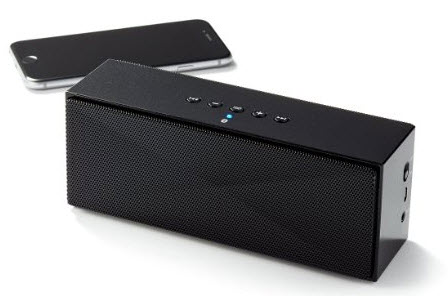 The AmazonBasics Portable Bluetooth Speaker is a low price and just under 50 dollars, high-performance Bluetooth speaker for the guy on the move. Its small size ensures portability and ergonomics and its powerful dual speaker setup provides excellent sound quality which is enough for any casual music lover. It has a built-in battery that is claimed to last up to 8 hours on a single charge (over Bluetooth) and can even play indefinitely if connected to an external power source.
9. iHome iW3 AirPlay

The iHome iW3 is a unique speaker built for iPhone users as it supports Apple's proprietary AirPlay standard. AirPlay allows you to connect your wireless speaker to your Apple device (iPhone, iPad, iPod or Mac) via Wi-Fi and stream audio and even video to compatible devices. You can use your Apple Device to play, pause, rewind and forward tracks, videos and other media contents.
The iW3 is the cheapest AirPlay-compatible speaker around and is excellent for small parties and dorm rooms because of its sound quality, power and design. And the best part; it only costs under 50 dollars as one of the best portable speakers for iPhone in 2020.
8. Philips Fidelio SoundAvia Wireless Speaker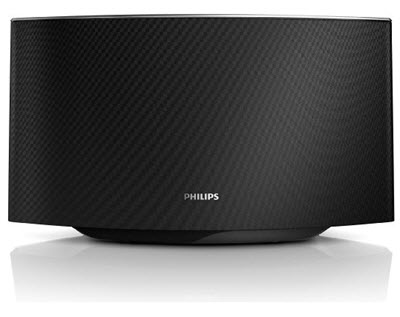 The Philips Fidelio SoundAvia is a premium wireless speaker for the masses. It connects to your iPhone via Bluetooth and offers an excellent range, decent sound and a premium design.
The Fidelio SoundAvia speaker gives you the option of hooking up a range of Apple devices so you can enjoy with the entire song library on the device. Also, when iPod touch, iPhone, or iPad connected via USB port, it can get charged while playing music. An aux-in jack is available to make an easy connection with other electronic devices, including MP3 players and stereo components.
7. 
OontZ Angle 3 Ultra : Portable Bluetooth Speaker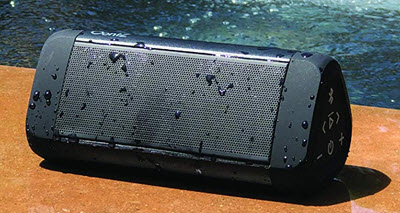 The OontZ Angle 3 Ultra-portable Speaker is one of the truly versatile speakers available on the market. It connects to a variety of streaming services, via its built-in WiFi chip, like Pandora, iHeartradio, Spotify or from your customized iTunes account.
This device, although good for your iPhone, will work with almost any media system available. It has a high-quality sound with bigger bass. Certified by IPX-6 for splashproof, so it can handle little bit out outdoor activities. It can work up to 100 feet with the Bluetooth coverage.
6. 
Anker Soundcore Motion B

The Anker Soundcore Motion B is an affordable and portable wireless speaker with Bluetooth connectivity. It has IPX7 certification for waterproof if you are person listen to music at outdoor with your iPhone 6 or 6s or even the latest models.
This model is an upgraded edition of their previously successful model. Really it is having some major upgrades such as 12+ hours playtime (battery life), 12W louder speakers inside and stronger protection.  Anker Soundcore Motion B offers rich, detailed and vibrant sound despite its size.
Read Also: Best Laptops for Graphic Designers and Music recording
5. AYL Portable Mini Capsule Speaker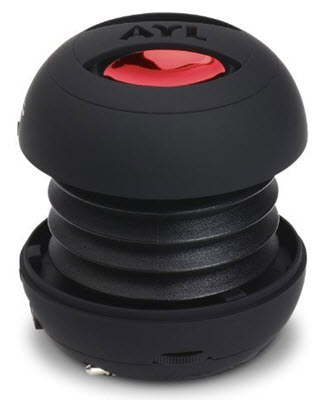 The AYL Portable Capsule Speaker is number 5 on our list of the best speakers for the iPhone 5 and 6 because of its small size that allows for it to be easily carried anywhere. It is so portable in size and weight that you can easily carry it anywhere with the included velvet pouch.
It's compatible with and connects to any audio player and multimedia device that has a standard 3.5mm Audio Jack (even to another AYL portable mini speaker); including the Apple iPhone, MP3 Players, Laptops, Desktop PC,  Android smartphones and Note 2, Tablets. Engineered for exceptional clarity of sound, it has a built-in amplifier for a surprisingly loud volume, which is powered by a high capacity battery that facilitates up to 10 hours of continuous playback on a single charge. And best of all; it costs around 15 dollars only.
4. Amazon Echo (2nd Generation)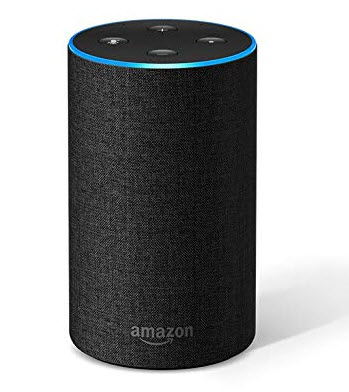 The Amazon Echo is a hands-free home entertainment solution that is also a SmartHome Hub. It offers excellent sound, voice recognition and home automation features in a nifty little package for just under 100$.
The Echo has been fine-tuned to deliver crisp vocals with dynamic bass response. Its dual downward-firing speakers produce 360° omni-directional audio to fill the room with immersive sound. It provides hands-free voice control for Amazon Music, Prime Music, Spotify, Pandora, iHeartRadio, and TuneIn. Plus, Echo is Bluetooth-enabled so you can stream other popular music services like iTunes from your iPhone or iPad.
3. 
iLuv AUD Click 2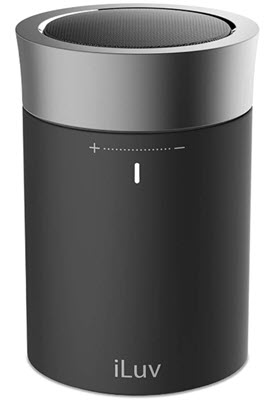 The latest iLuv AUD Click is a stylish speaker that's meant to be the centrepiece of any room. It offers a powerful, rich sound from its high fidelity speakers and passive radiator. It has Amazon Alexa built-in to listen and act your voice commands.
The superior 360-degree Omni direction sound can provide equal sound everywhere in an open place.  If you have several similar devices, it can be connected together through Wi-Fi listen to music and songs from iPhone in multiple rooms.
2. Creative Sound Blaster Roar Pro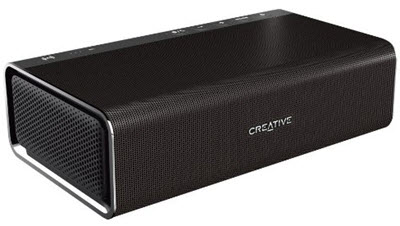 The Creative Sound Blaster Roar Pro Speaker is a high-performance audio device that offers excellent sound quality, deep bass and a lightweight design in an affordable price. It features 5 speaker drivers, including a subwoofer, that produce clear, spacious, well-balanced audio without compromising on the bass.
The Sound Blaster Roar Pro allows users to choose between three audio profiles to suit their listening preferences by simply sliding a switch. The Warm profile is suitable for soothing audio and tube amplifier-like warmth with richness in your instruments, tones and vocals. The Neutral profile delivers a well-balanced audio signature. And the Energetic profile adds brightness, life and width into music performance.
1. SONOS PLAY:1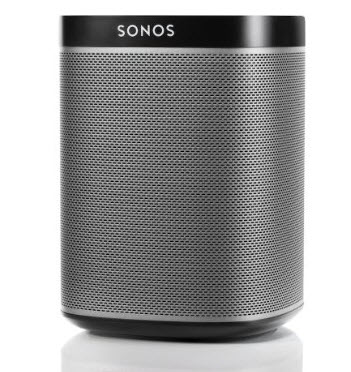 The Sonos Play:1 is number 1 on our list of the best speakers for the iPhone list, it offers a feature-rich multimedia experience at a reasonable price. The Sonos Play connects to your iPhone through your home Wi-Fi network and allows for multiple Sonos speakers to be connected for music that is in perfect sync.
It offers TruPlay Enhancement that enriches any song you're listening to and can also access your personal media library from most of the major music providers available. You can stream Apple Music, Prime Music, or other music services, and over 100,000 Internet radio stations from around the world.
Choosing a new speaker isn't easy; especially if you're on a budget, but finding one that you love at a reasonable price is the best feeling. We are sure our this list with 10 best speakers for iPhone 6/6s  or iPhone 7/8 or earlier models including portable speakers will be helpful to find the suitable product buy online.