Buying a gaming laptop is very tricky. Some people would argue that buying a gaming laptop is not as difficult as buying/building a desktop PC. But, these days, manufacturers are offering their laptops in so many variants that it becomes impossible to find the best match for your needs. For instance, there is one single laptop model which is available in 8 different configurations, depending which processor, amount of RAM and Graphics card is used in it. Then how to select the best, cheap and suitable gaming laptop online? here are the top 10 gaming laptops under 1500 dollars to buy.
Nonetheless, owning a gaming laptop means that you want portability as well as gaming wherever you go. Gaming laptops are best if you plan to play at a friend's house on LAN or if you are living in a dorm room and want to play multiplayer games with your roommates, gaming laptops come in very handy.
Now, we have already covered the low budget gaming laptops. Here, we are going to aim at the mainstream gaming laptops that cost between $1,200 to $1,500. These gaming laptops make sure that you get enough juice to play almost all the games at ultra-settings.
Best 10 Gaming Laptops under 1500 – Including i7 Processor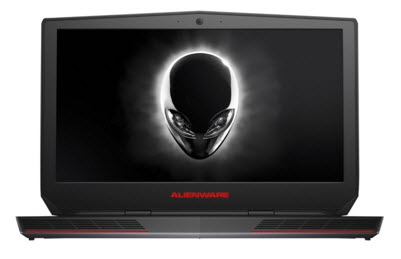 Sitting at the top position is the Alienware 15 with a 15.6" Full HD LCD screen with 1920×1080 resolution, Nvidia 965M 2GB, 8GB RAM and 4th gen i7 processor for a super gaming experience. As mentioned below the Alienware Graphics Amplifier in the Alienware 13 entry and how it increases the performance on it, the interesting bit is that the Alienware 15 also supports the Alienware Graphics Amplifier which increases the performance of the laptop substantially. A great gaming laptop you can have in this price range compared to other models. As you aware, Alienware made for pure gaming.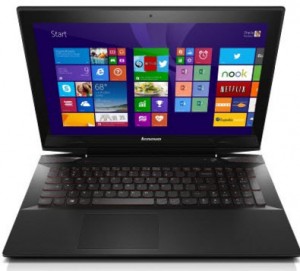 Went through the whole list but still, are considering one of the first laptops you've seen so far? Check out Lenovo Y50, the predecessor of the Lenovo Y50, featuring 15.6" 4K LCD screen with 3840×2460 resolution, Nvidia 860M 2GB, 16GB RAM, 4th gen Core i7, 256GB SSD and a Blu Ray player depending on which model you choose.  SSD is going to make this gaming laptop under 1500 dollars as great with higher I/O of system files. If 256GB storage is not enough, then you can go for 500GB SSD or any other external storage devices to store your non-important files.
With 5 hours of battery life similar to the Lenovo Y70, the Lenovo Y50 is the best choice for the occasional/casual gamer or movie buff. There is fairly less benchmark/performance difference between the Lenovo Y70 and Lenovo Y50 so there's no need to think much about which one to buy; unless you want a laptop with a Touchscreen.
Read Also: Best printers for Apple users that compatible with Mac OS X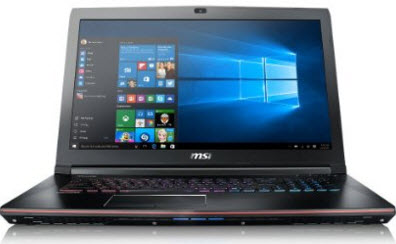 If you think Asus ROG G751JT-DB73 which is in this list looks like the best but the price is just too much. Check out its rival; the MSI GE72 Apache, featuring 17.3" Full HD LCD with 1920×1080 resolution, Nvidia GTX 965M 3GB, 16GB RAM 4th gen Core i7, 1TB HDD, customizable fully-lit Steelseries keyboard like the one in MSI GS60. The larger screen will be an added advantage for game lovers.
As far as benchmarks are concerned, the MSI GE72 Apache is shy only 4-5% from the Asus ROG G751JT-DB73 benchmarks but given its price, the MSI GE72 Apache is the real winner in the competition, possibly even against MSI GS60 were it not for the lower HDD Space and the 5th Gen Core i7 Processor.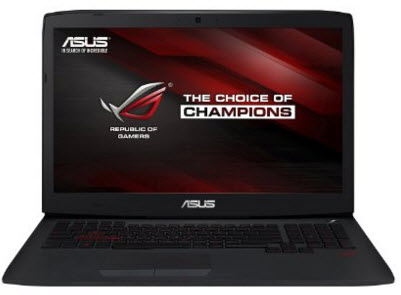 Asus and Gigabyte are two brands I have personally used and recommended the most. Products of both these brands have fairly low failure rates and tend to last longer than other brands I have used. The Asus ROG G751JT-DB73 features 17.3" Full HD LCD screen with 1920×1080 resolution, Nvidia GTX 970M 3GB, 16GB RAM, 4th gen Core i7, 1TB HDD which is matching with the all gaming laptop models we have mentioned in this list. Again this larger screen size with 16GB RAM will satisfy the most the gaming and video editing requirements.
In terms of Hardware, the Asus ROG G751JT-DB73 is not that impressive but it makes up with features like the Nvidia Gsync which reduces Stutter, Lag, and Screen Tearing to give the best performance, easy Overclocking capabilities, the GamerFirst 3 prioritizes Online Video game data transfer for smoother online experience and the best of all a Full Ultra HD/4K output support; allowing you to plug the Asus ROG G751JT-DB73 to a 4K HDTV.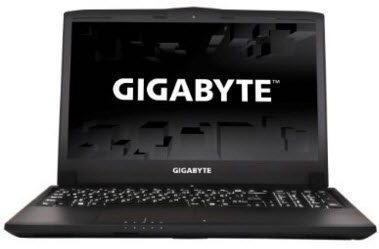 Did the MSI GS60 get your attention but the price wasn't agreeable? Try the Gigabyte P55W-BW1. Featuring similar 15.6 Full HD LCD screen with 1920×1080 resolution with a wide viewing angle and Matte Finish that prevents Glare/Reflection on the screen, Nvidia GTX 970M 3GB, 8GB RAM, 4th gen Core i7, 1TB HDD or 128GB SSD.  The RAM capacity may look less compared few other top models with 16 GB RAM, but you have the option to upgrade the hardware any time.
Granted it loses the Hard Drive space competition against MSI GS60 but it makes up with a Blu Ray player, depending on which model you choose. It may not appeal to some people if they compare the Gigabyte P55W-BW1 with the MSI GS60 but if you were to compare it with the other laptops, you might appreciate this laptop a little more.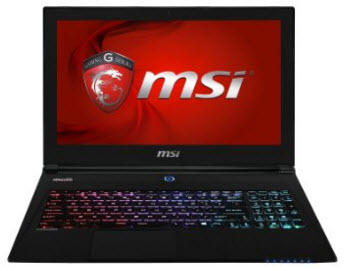 The MSI GS60 features 15.6 Full HD LCD screen with 1920×1080 resolution has a wide view angle, Nvidia GTX 965M 2GB, 16GB RAM, 5th generation Core i7 processor and a 1TB HDD + 128GB SSD combo. If you're the kind of guy who does a lot of downloading or needs lots and lots of hard drive then the MSI GS60 is for you. The 5th generation i7 processor for a gaming laptop under 1500 with HDD and SSD combo internal storage system are the key features in this laptop.
Another feature worth noting is the Steelseries Keyboard with fully customizable backlights, SteelSeries is the preferred brand when it comes to keyboards by gamer all over the world. The MSI GS60 is the slimmest and lightest laptop in the list, so far. As usual, MSI built this best laptop by keeping all requirements from gamers!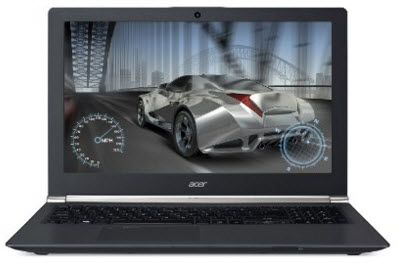 Want a gaming laptop that is not only good for playing games but also great for watching movies? The Acer Aspire V15 has you covered, boasting a 15.6" 4K LCD with crisp video at 3840 x 2160 resolution, Nvidia GTX 960M 4GB, Core i7, 16GB RAM and 1TB HDD. As I said, the Acer Aspire V15 is also great for watching movies thanks to the 4 built-in speakers and Dolby Digital Plus Home Theater Surround Sound.
With built-in Bluetooth 4, you can even connect the Dualshock 4 or Xbox One Controller without the need to purchase a separate dongle. 4K display, Surround Sound, GTX 960M, this laptop is great for hardcore gamers and movie buffs. The only negative point is the 4-hour battery life.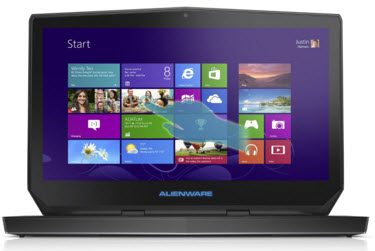 If you're looking for a Gaming Laptop that spells badass then look no further than the Alienware 13.
Sure it may not have a bigger screen size compared to the other laptops we listed with its 13.3" Full HD Touch LCD-Screen but it makes up with its 3200×1800 resolution. How many laptops do you know of that feature a hardware expansion?
With Nvidia GTX 860M 2GB, Core i7 processor and 16GB RAM, the Alienware 13 can achieve the same benchmarks as the laptops covered before it, but with "Alienware Graphics Amplifier" you can achieve over 100% increase in performance. Note: The Alienware Graphics Amplifier is sold separately and costs around 260$ as of the writing of this article.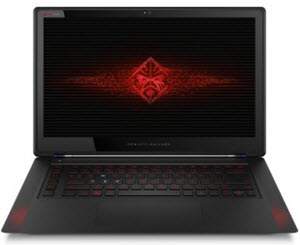 The HP Omen is no different from the Lenovo Y70; sporting the same 4th gen Core i7, Nvidia GTX 860M 2GB minus the 16GB RAM, but what makes it different is its design. Focusing on Hardcore gamers, the HP Omen features dedicated game keys with the fully backlit keyboard with customizable key zones as well as visualization capabilities; the user can set the LEDs to react to the sound.
The Full HD webcam goes hand in hand with the 15.6" Full HD touch LCD screen at 1920×1080 resolution, allowing for 1080p of viewing and recording. The sleek design is not only good on the outside but also has optimized thermals; better heat dissipation for heavy video gaming.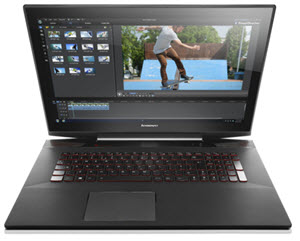 The Lenovo Y70 features a 17.3" Full HD Touch LCD-Screen at 1920×1080 resolution, built-in Nvidia GTX 860M, 16GB Ram, 4th gen Core i7 processor and 256GB SSD. Now the first thing every gamer looks for is the GPU, well you can rest easy because if you decide to go for the Lenovo Y70 containing Nvidia GTX 860M 2GB you won't be disappointed; it averaged between 35-50FPS on max settings in Skyrim and Battlefield 4.
Other than that the Lenovo Y70 has an expansive Hard Drive capabilities other than its default 1tb HDD +8/16GB SSD setup. With a backup power of 5 hours, the Lenovo Y70 is a great and affordable gaming laptop under 1500 for casual as well as hardcore gamers.
Final Words on Selecting the Best Gaming Laptop under 1500 Dollars
Depending on your choice you can choose between a Full HD Display model or a 4K Display with Touch model. If you had decided on Alienware 13 + Alienware Graphics Amplifier combo, then you should consider getting Alienware 15 instead as you will be saving money as well as getting the latest Nvidia GPU. Note: The Alienware Graphics Amplifier is sold separately and costs around 260$ as of the writing of this article.