Nowadays, the top gaming laptops available are not only for gaming and portability. Though the idea remains the same– and it is to game everywhere you go – these laptops have come a very long way when it comes to performance and capability.
With many impressive gaming laptops available in different range, choosing the top Asus gaming laptops will be a complete challenge. However, they offer a wide range of affordable options without compromising quality and performance and offer you strong builds and fast displays and give gamers a wonderful experience.
Whether you like playing the most popular PC games or older and classic titles, the top Asus gaming laptops can help you fight your opponents and take you high on the leaderboards. Thus, in this post, we have gathered the list of the best Asus gaming laptops that will help you to find the right one for your gaming needs. No matter which one you select from the list, it is going to be worth an investment. Without wasting any time, let us start:
Why Choose Asus Laptop For Your Gaming Needs?
Asus is a laptop brand that offers exclusive reasons to choose their gaming laptops. Find out the top reasons that people go for Asus over other models out there.
Asus upgrades their hardware regularly
Almost all of the Asus gaming laptop includes Asus Exclusive Technology.
Asus IceCool Technology comes with a dual-fan system & an intelligent thermal design
Intuitive touchpad & ergonomic keyboard
Asus laptop comes with a 2-year warranty on every laptop they sell
Factors to Consider When Buying Gaming Laptops 
Because of the enormous amount of features and specifications in every gaming laptop's description, selecting the best model will be very daunting. Let us look at some essential components that you would like to know about.
CPU: Make sure you compare component specs like clock speed and core count and check any benchmarks to compare various product lines. It is recommended to go for Intel Core i9 and i7 for gaming purposes.
RAM: There must not be less than 8GB of RAM when choosing the gaming laptop, though 16GB is recommended for avid game users.
Resolution: This has an essential impact on the visuals of your gameplay. If you go for a higher resolution, the image will be crisper and sharper. The resolution of 1920×1080 will be the right choice and best for gaming laptops.
Design: The lighter laptops are better for traveling, but powerful hardware will be your top priority when playing high-end games.
Storage: The majority of the laptops have 500 GB to 3 TB. The former is enough for the beginner gamer; however, most have 1 or 2 TB better for an average gamer.
Top 7 Best Asus Gaming Laptops in 2021:
1) Asus ROG Zephyrus G14
Asus ROG Zephyrus G14 comes first on our list, and the reason is that the laptop comes with AMD's Ryzen 4000 processors and manages to pack an 8-core 16T CPU with Nvidia GeForce 2060 Max-Q all in this 14" chassis.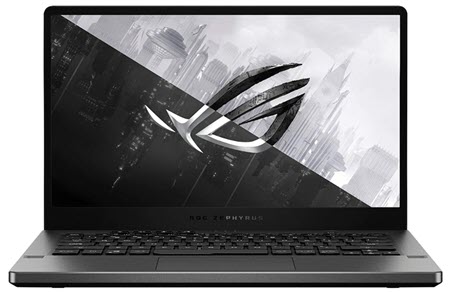 Asus Zephyrus G14 is the best in this range in terms of power combination and specifications. With ROG Armoury Crate brings you necessary settings in one single space from better controls to unique system requirements.
Start personalizing your profiles that will adjust whenever you start playing your most liked gaming titles. To get a full gaming blast, additional display connectivity of the USB-C port and DisplayPort 1.4 will not go wrong. Packed in this thin and light gaming laptop is the ROG's Cooling philosophy that mixes the best combination of software and hardware and gives you better gaming performance.
Specifications:
CPU: AMD Ryzen 7 4800HS – 9 4900HS
Graphics: NVIDIA GeForce RTX 2060
RAM: Up to 32GB
Screen: 14-inch Non-glare Full HD (1920 x 1080) IPS-level panel, 120Hz – 14-inch Non-glare WQHD (2560 x 1440) IPS-level panel, 60Hz
Storage: 512GB / 1TB M.2 NVMe PCIe 3.0
| | |
| --- | --- |
|   Pros | Cons |
| Best battery life | No webcam |
| Amazing performance | Fans get loud |
| Thin & light |   |
2) Asus TUF FX505GT Gaming Laptop
ASUS TUF Gaming FX505GT has changed the entire way we look at various gaming laptops. With an IPS-level NanoEdge screen display and refresh rate 120Hz, the laptop comes armed with a 9th Gen Intel® Core™ processor & NVIDIA GeForce GTX 1650. So, what to wait for? ASUS TUF FX505GT delivers the best performance gaming at an excellent range.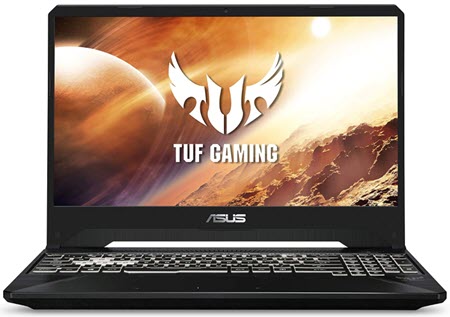 The new NanoEdge design of FX505's features a thinner and lighter bezel to create a fantastic immersion feeling. Even if it is viewed from a distant place, its large viewing angle makes sure vivid color. It is certified and tested to MIL-STD-810G; hence you are assured durability and toughness.
Specifications:
CPU: Intel Core i7-9750H
Graphics: NVIDIA Geforce GTX 1650
RAM: 8 GB DDR4
Screen: 15.6 Inch HD 144Hz IPS
Storage: 512 GB SSD
| | |
| --- | --- |
|  PROS | CONS |
| Fair gaming and editing performance | The outer lid & keyboard have a little flex |
| Easy to upgrade | No multi-zone lighting |
| Immersive and accurate display |   |
3) Asus X512DA-BTS2020RL
Asus X512DA is an innovative budget gaming laptop. The laptop has some fantastic innovations and cost-cutting measurements too. Without any doubt, this gaming laptop from Asus bears important features that you can find in any other series (excluding ScreenPad) and is also affordable.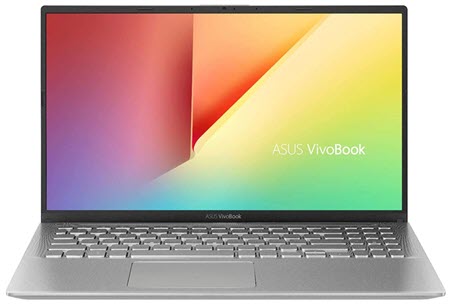 One of the primary features of ASUS is its NanoEdge display that results in over 88% screen-to-body scale. Though not easy to find in other laptops, and this is possible with the ErgoLift hinge that lifts the backside of its base to cover the bottom bezel. It does not matter how you look at it, but it is the best and neat invention.
Specifications:
CPU: AMD Ryzen 5 3500U
RAM: 8GB DDR4, 2400 MHz
Graphics: AMD Radeon Vega 8
Screen: 15.6", Full HD (1920 x 1080), TN
Storage: 512GB SSD
Pros
Cons
Sleek design
Plastic build
Impressive battery life
Not enough IPS options
Plenty of input devices
4) Asus TUF FX505DT
Asus TUF FX505DT comes fourth on our list of the best Asus gaming laptop in 2021. Still, it is one of the most stylish and robust Gaming Laptop and comes powered by the AMD Ryzen 5 processor & has 15.6"FHD with a resolution of 2160×1080 pixels will get the detailed and crisp picture quality.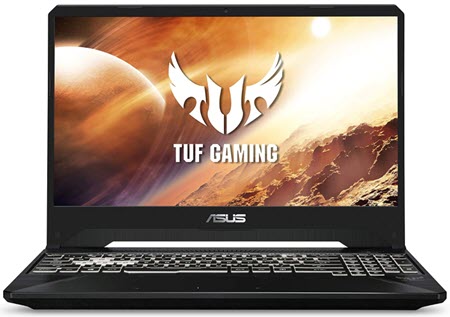 The screen size of Asus TUF FX505DT is large enough for better surfing, gaming, and video watching experience. At its memory front, this laptop comes well-equipped with 256GB SSD and 1TB SSHD, and RAM of 32 DDR4; thus, you can store plenty of data. After checking the features and specs, you will find it easy to complete your tasks throughout the day.
Specifications 
CPU: Quad-Core AMD Ryzen 5 3550H
Graphics: Nvidia GeForce GTX 160 Ti 4GB
RAM: 8GB DDR4
Screen: 15.6″ full HD (1920×1080)
Storage: 256GB SSD + 1TB SSHD SSD + SSHD/32GB DDR4
| | |
| --- | --- |
|  PROS | CONS |
| Improved gaming performance | No Webcam |
| 16.5" widescreen | Poor battery life |
| Huge storage capacity |   |
5) ASUS 15.6″ TUF Gaming A15 Series TUF506IV Gaming Laptop
Now travel becomes easy with ASUS 15.6″ TUF Gaming Laptop. Designed for durability, Asus TUF laptops undergo a few more durability tests that will face a little more than your daily usage. As per its specifications, the laptop comes well-equipped with a 2.9GHz AMD Ryzen 4800H 8core processor, 16GB DDR4 memory, 1TB NVMe M.2SSD, and graphics of GeForce RTX 2060.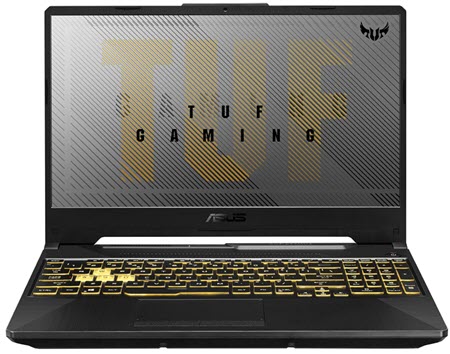 When you combine all the features, this system can boot applications quickly and run graphically designed games very well. The 15.6-inch display comes with an IPS panel featuring 1920×1080 HD resolution to give clear details & a fast 144Hz refresh rate for the reduced blur.
With personalized RGB lighting, and other vital functions like webcam, Bluetooth 5.0, Wi-Fi, USB A & C ports, speakers, and audio jack. The laptop runs on Windows 10 operating system.
Specifications
CPU: 2.9 GHz AMD Ryzen 7 4800H Eight-Core
Graphics: NVIDIA GeForce RTX 2060
RAM: 8GB
Screen: 15.6″ 1920 x 1080 Full HD 144 Hz
Storage: 16GB DDR4
| | |
| --- | --- |
| Pros | Cons |
| Amazing specs for a reasonable price | A bit heavier |
| Great performance | Fans get loud |
| Study design |   |
6) ASUS ROG Strix G15 (2020)
On the list of gaming laptops, Asus added two more laptops in the ROG Strix versions with 10th gen Core chipsets. Both ROG Strix G15 & G17 has 10th Intel Core i7 & graphics NVIDIA's GeForce 2060. We will look at Asus ROG G15; the model is quite eye-catching like another gaming laptop out there but more for the light strip.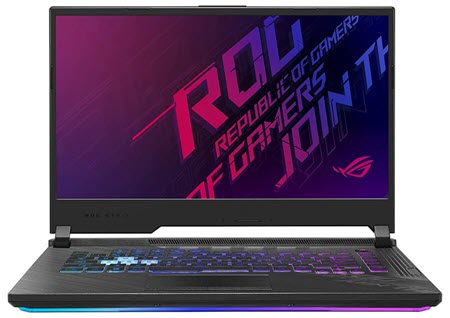 The laptop comes wrapped with RGB LEDs around the laptop sides. There're a lot of new options to modify the LEDs from Aura Creator. Also, users can keep their light static, strobing, breathing, or release a rainbow glow. Hence, you can play over with LEDs that appear very cool.
ASUS ROG Strix G15 comes in 3 different color options Original Black, Glacier Blue & Electro Punk; get your favorite one now. If you are crazy about the pink color you will not want to let go of the Electro Punk Asus model as its logo is in the pink and pink strip on the lid. I find it cool!
Specifications
CPU: 10th gen Intel Core i7
Graphics: NVIDIA GeForce GTX 1650
RAM: 8GB RAM
Screen: 15.6-inch Full HD display
| | |
| --- | --- |
|  Pros | Cons |
| Strong performance & graphics | Average battery life |
| Sleek design | Dismal display |
| Punchy keyboard |   |
7) Asus TUF505GT-AH73
When it comes to the best gaming laptops, the ASUS TUF FX505GT series provides a perfect blend of performance and features, though sacrificing on a few areas such as portability and build quality to keep the price under control. Compromises are made just to make the devices easily available and attractive to the users.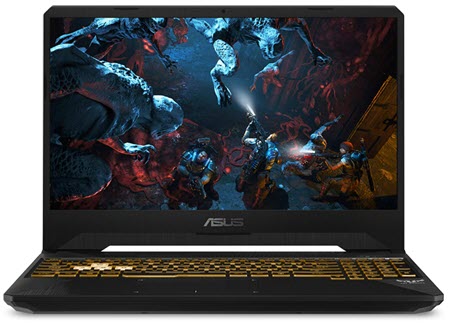 ASUS TUF FX505FT features all-plastic built, it has aluminum lid cover & is much sturdier than the cheaper alternatives. The laptop appears rather nice when looking for a budget gaming laptop. Design-wise, it looks stunning like you would expect from Asus. It has cut corners & a trapezoid cut lid that gives it a unique look.
 Specifications
CPU: Hexa-core Intel Core i7-9750h
Graphics: Nvidia GeForce GTX 1650 4GB GDDR5
RAM: 8GB
Screen: 15.6″ IPS FHD slim bezel display
Storage: 512GB
| | |
| --- | --- |
| Pros | Cons |
| Consistent performance | Poor battery life |
| Strong build quality | Thick profile |
| Ultra-smooth display |   |
FAQs
How much is storage good to play games?
The 256GB SSD storage is pretty decent but not sufficient to play HD games, and it might need 512SSD or higher system storage.
How long does a gaming laptop last?
Most of the gaming laptop has self-picked and robust features that can last around 5-6 years, providing it is used with proper care. Different things can influence your gaming laptop lifespan.
Do Graphic Cards improve your gaming performance?
Yes, graphic cards are responsible for improving gaming performance with their better HD graphics and higher per second rate.
To Sum Up:
If you are in the market to buy the best gaming laptop, then Asus is one of the best brands that has dominated the entire gaming market, right from the best gaming PCs to supreme gaming laptops and other gaming accessories. Till now, they have succeeded well. They remain one trendy gaming laptop across the world.
Gamers, both beginner and hardcore, would love the top Asus gaming laptops has to offer. The gaming laptops balance affordability, power, and, above all, portability –stylishly thin & light ROG Zephyrus Asus lineup offering gamers the best alternatives to the bulky and heavy machines that we are so used to.
Quality, at an affordable range, keeps its customers to come back again and again.