ASUS is a very popular company for their gaming laptops. Many of their gaming laptops have been received very positively and are recommended by gamers worldwide. From the build quality to the latest hardware in their laptops gives you the best gaming experience as well as a gaming aesthetic for their consumers. Following are the top 10 best ASUS gaming laptops any gamer should buy.
Most of the gaming laptops from ASUS start from around $900 and go up to a premium price range. ASUS designs their laptops to run very coolly with their dual fan system which allows cooling the CPU and GPU separately so that you don't have to worry about overheating problems. Some of their top tier gaming laptops also include dust removing mechanism to keep the laptop clean from the inside.
Amazon has a huge variety of ASUS gaming laptops and they also have multiple options like RAM, HDD, and SSD. The design of their gaming laptops also allows users to add or upgrade RAM, HDD, and SSD very easily just by removing a panel below most of the laptops. If you want to buy an ASUS brand gaming laptop, make sure you do consider these options we have collected for you.
Best Asus Gaming Laptops for the Money
10. ASUS ROG GL552VW
(Under 1000 Dollars)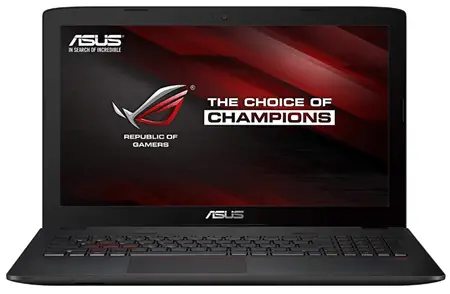 The ASUS ROG GL552VW features an impressive metallic finish with a Full HD 15.6-inch display for gaming in high frame rates. The ASUS ROG GL552VW comes with an Intel Core i7-6700HQ processor, 16GB DDR4 RAM, 1TB HDD and NVIDIA GeForce GTX 960M with 2GB VRAM. This laptop is very lightweight and runs relatively cool even with its powerful specifications.
The keyboard is backlit and the keys are very durable. The 15.6-inch display Full HD display has an IPS panel with a non-reflective matte finish. The ASUS ROG GL552VW is built as to be easily upgradable with options for upgrading the HDD, m.2 SSD and RAM.
9. ASUS VivoBook Thin and Lightweight FHD

(Under $600)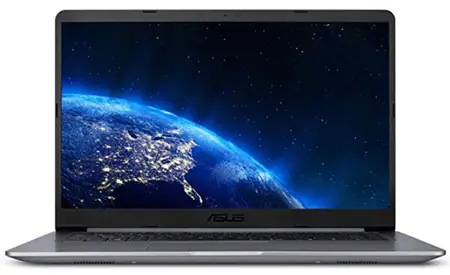 The Asus VivoBook is one the best gaming laptop in this list because it has a WideView FHD screen that will provide you with the gaming experience like never before. It boasts the 8th Gen 1.6 GHz Intel Core i5 8250U processor that you can turbo to 3.4 GHz.
It is equipped with a 15.6-inch FHD display and Asus also provides you with its splendid enhancement application. The footprint of this laptop is 14.2-inch wide and it is only 0.8-inch thin. Asus has also equipped this laptop with 0.3-inch NanoEdge bezel. This means that you will get an amazing screen to body ratio which turns out to be 80%.
It is equipped with a storage combination of 8GB DDR4-RAM along with 128GB SSD & 1TB HDD. This means that you have plenty of storage at your disposal. The laptop also has an ergonomic keyboard boasting fingerprint sensor. Its graphics coprocessor is Intel UHD Graphics 620.
The average battery time of this laptop is five hours, so you can have fun playing your favorite game on it! The laptop also features a number of connectivity options. These include HDMI, USB 2.0, 3.0 and 3.1 Type C (Gen 1) and you also get to use lightning-fast Wi-Fi (802.11ac).
8. 
ASUS ROG Strix Scar Edition 17.3"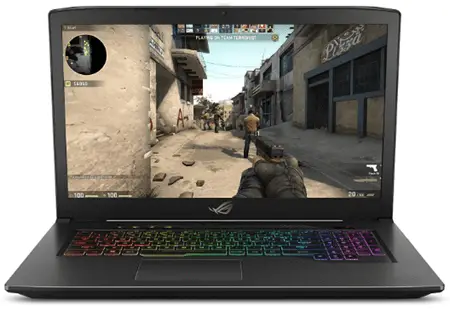 ASUS ROG Strix Scar Edition is the bigger version of the ROG Strix series and is the best option in this list if your budget is just around $1000. This ASUS gaming laptop has a 17.3-inch Full HD display laptop with incredible hardware that is fit for your gaming needs. This Asus gaming laptop comes with an 8th Gen Intel Core i7-8750H processor, 16GB DDR4 RAM, 128GB+1TB HDD, and NVIDIA GeForce GTX 1050 Ti with 4GB VRAM.
It will be able to run any game on high settings and deliver you the best performance for gaming and multi-tasking. The bigger size and sleek design of this laptop let it stay cool. The RAM, HDD, and m.2 SSD are easy to upgrade through the removable panel below the laptop.
7. ASUS K501UW Gaming Laptop Under 800 Dollars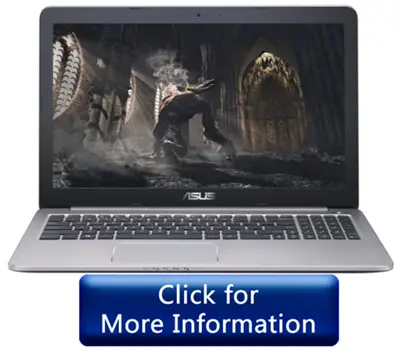 The ASUS K501UW is the slimmest ASUS gaming laptop in this list with very good specifications at a reasonable price. While not a part of the ROG series of ASUS gaming laptop, this laptop is good for gaming, video editing, and photo editing. The fan design keeps the laptop cool and allows longer usage. The ASUS K501UW comes with an Intel Core i7-6700HQ processor, 8GB DDR4 RAM, 512GB SSD, and NVIDIA GeForce GTX 960M.
Running the latest games on high settings will be no problem and the 15.6-inch Full HD display shows sharp colors on a matte non-reflective panel with pre-set modes suiting to your needs. You can easily upgrade RAM and SSD or you could use external storage by using the USB 3.0 ports. 
6. ASUS ROG STRIX GL502VT – Good looking laptop under $1200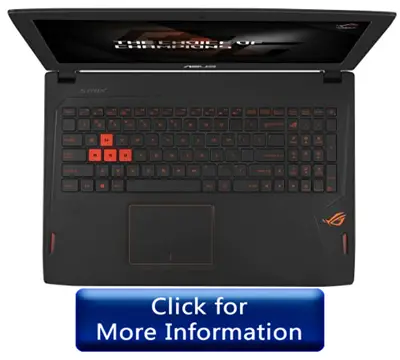 The ASUS ROG STRIX GL502VT is the best laptop in this list if you are looking for a beast in a very slim build. This ASUS gaming laptop features the traditional ROG build with a brushed aluminum finish and the latest hardware available yet. The ASUS ROG STRIX GL502VT comes with an Intel Core i7-6700HQ processor, 16GB DDR4 RAM, 1TB HDD, and NVIDIA GeForce GTX 970M with 3GB VRAM (6GB VRAM option also available).
A dual fan system keeps the CPU and GPU cooled separately so you don't need to worry about getting this laptop getting overheated. This ASUS gaming laptop contains 3x USB 3.0 ports and 1x USB Type-C port for the fastest external storage transfer speeds. You can also connect to an external display with the HDMI port and DisplayPort.
5. 
ASUS ROG Strix Scar II (Hexa-Core)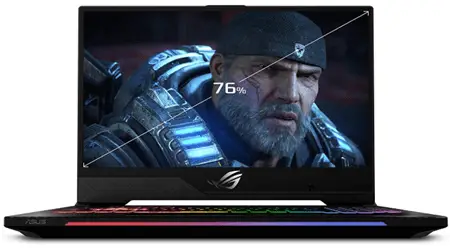 Another one of the best options that you can explore from Asus is their latest ROG Scar II gaming laptop. The 8th Gen Hexa-Core computer is equipped with 3.9 GHz Intel Core i7 8750H Hexa-Core processor that has the great speed and cache memory. It also features discrete NVIDIA GeForce RTX 2070 with dedicated 8GB GDDR6 graphics.
The screen of this laptop is 15.6-inch wide and is FHD. It has a 1-inch slim profile and the laptop only weighs slightly less than five and a half pounds. The matte panel finishing looks pretty classy too. It is equipped with 16GB DDR4-DRAM as well as 512GB SSD. It gives enough space to store and access your games and other data much faster than the traditional hard disk.
The price may look bit higher, but the hardware specification you get in this laptop unmatched with others. Most of the games should run smoothly on this laptop. This is one of the suitable Asus gaming laptops you can get under 2000 dollars.
The most ironic thing about this laptop is its backlit keyboard and it also comes with anti-ghosting technology. There is a 1.8mm of key travel distance and you will also have access to its NKey Rollover. The laptop also provides you with a comprehensive set of connectivity solutions. Gigabit wave 2 Wi-Fi adapter available for better and faster connectivity.
4. 
ASUS FX504 Thin & Light TUF Gaming Laptop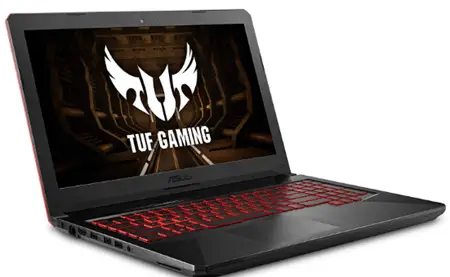 The TUF gaming laptop from Asus also comes with a lightweight and thin construction. This 8th Gen mumbo jumbo features Intel Core i7 8750H 2.45 GHz processor that you can turbo charge to 3.9 GHz. The value that this laptop has to offer is that it comes with Age of Empires and Gears of War 4 Definitive Editions. The backlit keyboard of this laptop not only looks great but also comes with the durability of 20-million keystrokes.
For superior performance, this laptop also features GeForce 4GB GTX1050 Ti. It also contributes to improving the multitasking capabilities of this laptop. It has a 0.98-inch thin profile design and only weighs slightly over five pounds. As for the storage, this laptop boasts a combination of 256GB M2 SSD along with 8GB DDR4 so that you can enjoy the best of both worlds in terms of storage as well as OD functioning. The laptop also offers WI-Fi connectivity of 802.11a/b/g/n/ac, a port for USB 2.0 and a couple of ports for USB 3.0.
3. 
ASUS Vivobook S15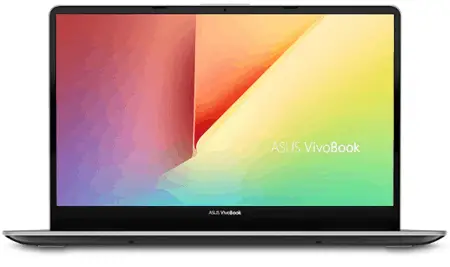 Technically this is not a dedicated gaming laptop, but it can handle mid-range games and your daily computing tasks easily. In terms of looks, this is a pretty classy design as it features an expressive and bold chassis of gunmetal gray color. There are some accents of light colored gray tone as well. Under the hood, this laptop comes with a 1.6 GHz processor with Intel Core i5 8265u chipset.
You can turbo-charge it to 3.9 GHz. It graphics coprocessor is the UHD Graphics 630 card from Intel. This laptop also boasts a Wi-Fi port of 802.11a/b/g/n/ac. Bluetooth is also available for the users and there are a couple of ports for USB 2.0 as well as USB 3.0.
The laptop boasts 15.6-inch FHD screen which is by now pretty much a standard. The WideView display of this laptop comes equipped with NanoEdge bezel. In the storage department, this laptop is pretty impressive as well. It comes with a combination of 8GB DDR4 RAM along with 256GB M2 SSD. This is a solid combination if you want to enjoy good storage with excellent OS performance.
2. 
ASUS ROG Zephyrus S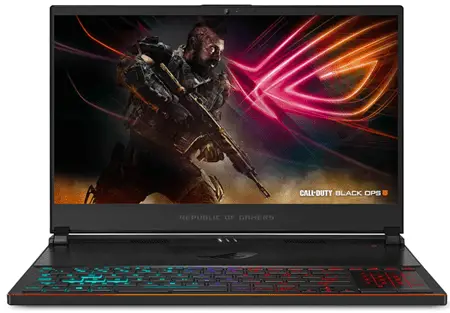 Here is another dedicated gaming laptop from Asus for a reasonable price. With the excellent hardware specification and active cooling system, you should definitely consider this laptop while making the purchase. This laptop has a 15.6-inch 144Hz IPS display. This means that you are in for an exceptional gaming experience if you use this unit. The 8th Gen processor of this laptop comes with an Intel Core i7 8750H. Its 1920 x 1080 pixel resolution produces an astounding picture with superior clarity. The screen is also equipped with IPS technology that assists in wide angles of viewing. The backlight of this screen is also energy efficient.
The 16GB DDR4-RAM works pretty well to handle the heavy graphics of any game on your PC and it is equally great for video editing purposes. The laptop runs NVIDIA GeForce GTX1070 that is amped with 8GB GDDR5. It is a dedicated memory for the video to advance the performance of your GPU to reignite your gaming experience.  Moreover, the 512GB SSD comes in handy for saving files and add more data and provide you with a facility of massive storage. The PCI-e SSDs are excellent for different large scale gaming experiences. They can work well with multiple servers as well as daily backups.
1. 
ASUS VivoBook Pro 17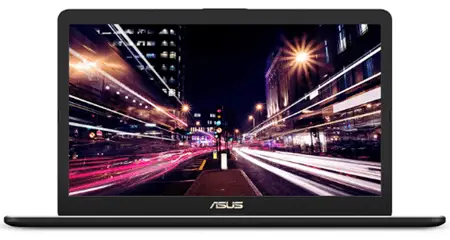 This 8th Generation (8M cache and up to 4.6 GHz) comes with an Intel Core i7 8550U processor. It will enable you to experience a smoother 4K Ultra HD encoding and playback. It comes with a massive screen if 17.3-inch size with wide viewing display. The laptop is also equipped with 72% color gamut NTSC.
Additionally, your laptop will also come with graphics coprocessor of NVIDIA GeForce 4GB GTX1050 for a flawless display. The slim design construction of this laptop is 16.2-inch wide and 0.8-inch thin. All-in-all it has a very portable footprint. The laptop also comes with power-packed memory storage as well. It is equipped with 16GB DDR4-RAM along with 256GB SSD as well as 1TB HDD storage capacity. Moreover, you can also enjoy its ergonomically designed backlit keyboard along with number pad. This superior machine is not only good for your gaming experiences but it can also serve well as your work laptop. T also comes with 802.11ac Wi-Fi type and a couple of ports for USB 3.0 and USB 2.0.
Final Words
These were the top 10 best ASUS gaming laptops under a few price categories. ASUS makes some of the world's best gaming laptops and if you are buying one, you should consider getting one from ASUS. ASUS has a ton of variety in their gaming laptops as well as different RAM and storage options for each laptop on Amazon. You can also upgrade the RAM, SSD and m.2 SSD yourself since it is very easy to upgrade these laptops.