PC gaming doesn't always need to be expensive. We sure do like the expensive $2000 gaming PCs, but not everyone can buy those gaming PCs. When you buy the best gaming PC in the budget, you can save money for gaming gear, like a headset, a keyboard or a mouse. Even in cheaper gaming builds, you can find powerful processors paired with a decent RAM and a low or mid-range graphics card, which is more than enough for casual gaming. Most people don't want to get into the trouble of selecting components and building a PC themselves because they either don't know how to or just don't want to. This is why pre-built gaming PCs are the best for these type of people. If you want to buy the nice and best gaming PC under 500 dollars with Intel and AMD processors, we've got you covered.
Whenever the idea of gaming PC comes in our mind, we always think of a powerful machine that is beyond our budget something near to 2000$-3000$. A gaming PC is not always that expensive. There are some economic offers of PCs. These have comparatively powerful processors paired with faster RAM and decent graphics cards that let you enjoy some casual gaming. Most people do not bother with selecting the components and building them to make the PC. They prefer going for built-in gaming PCs.
Top 10 Gaming PCs under 500 Dollars
1. CybertronPC Gaming Desktop Electrum QS-A6
Electrum Gaming Desktop QS-A6 has always succeeded in providing low-range, mid-range and high range PCs to their customers. This PC is surely possessed with some of the very amazing functions and can be called as best gaming PC under 500. The computer includes the fastest of AMD A6-7400K 3.50GHz Dual-Core processor. A fascinating thing about this PC is the fastest RAM of 16GB DDR3 that won't let any hinder to come on your PC and disappoint you in any way. The PC also has enough built-in storage options that won't force you later to go for any upgrading options for your hard disk. The sleek and powerful tower has genuine windows 10 home that is absolutely free from 3rd party software and bloatware, the PC supports a 64-bit operating system. CybertronPC is always admired for providing the lifetime tech supports to its customers.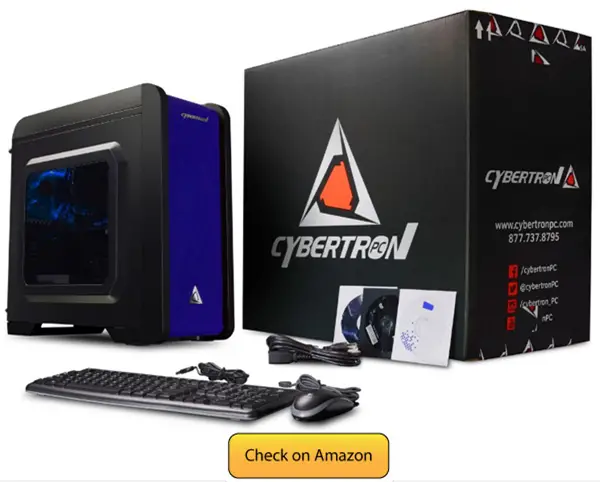 Electrum QS-A6 is equipped with the AMD Radeon R5 graphics to make your experience towards this PC somewhat more enjoyable and gamey. The built-in graphics card enables to enjoy some of your favourite games more immersive like Minecraft, League of Legends, CS: GO.
2. CybertronPC Gaming Desktop Borg-Q (Above the budget, but Worth it)
CybertonPC Gaming Desktop Borq-Q is certainly one of the best choice here. It is powerful yet economical and has always impressed by the performance. This laptop has everything a gamer needs for playing heavy as well as casual games. The PC is built with the fastest AMD FX-4300 3.80 GHz Quad-Core Processor. The RAM is also 8GB DDR3. Moreover, this PC also gives you large storage option of 1TB that allows you to store thousands of your favourite games.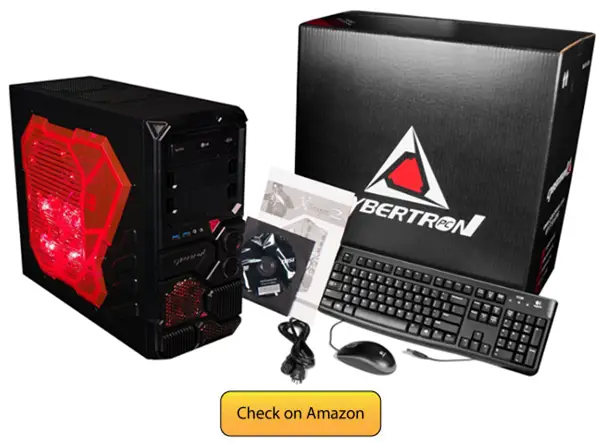 A game lover always wants a clear and vibrant graphics in its PC that doubles its experience of playing the game. This PC has GeForce NVIDIA GT 710 graphics card that makes your experience more alluring while playing games or running your favourite applications. Moreover, the PC also equips with the super drive that helps you in installing the software of your choice and using it for backup purposes. This red colour PC has built-in Windows 10 and possesses the 64-bit operating system. This PC includes one-year parts and labour warranty and lifetime tech supports to their customers.
3. CyberpowerPC Gaming Desktop GUA880
Gamer Ultra PC is a top product and is same as of its older versions. However, with more impressive and powerful features, you will surely love it. After analyzing and experiencing its performance, you can rate this machine as the best gaming PC in the budget. The PC is equipped with all the necessary features that would make you realize your right and best purchasing. The PC has the fastest processor of AMD FX-4300 3.80GHZ Quad-Core processing power that is paired with the reasonably faster-functioning RAM of 8 GB DDR3. This machine has enough storing option of 1TB that never let you stop from installing your favourite games.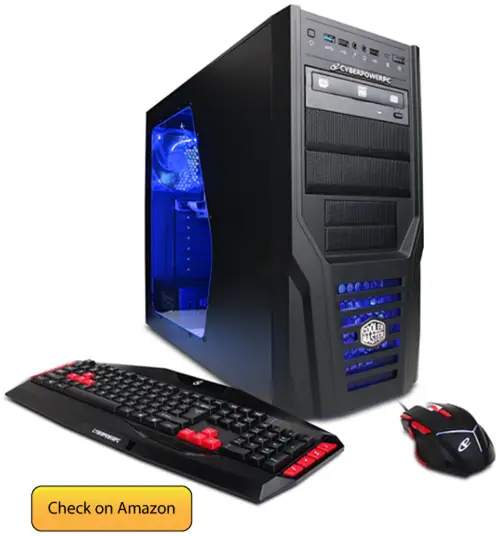 To boost up your gaming experience, it also has NVidia GeForce GT 720 graphics compressor and 1GB video card. The PC also includes all the other accessories like keyboard and mouse and Gigabit LAN etc. Moreover, the PC also has an optical drive option that allows you to install your favourite software and or using the machine as a backup PC. It also gives one year warranty on parts and lifetime any technical support to their customers.
4. Lenovo X315 Gaming Desktop (Around $600 Gaming PC)
The Lenovo is one of the most renowned brands in the PC world as it always has given priority to its stakeholders especially to its customers. Gaming PC of Lenovo that is equipped with so many wonderful features is really like a dream come true. The PC has the fastest has AMD A8-7600 3.1 GHz the fastest Processing power. Moreover, the 8GB RAM adds more in the speed of your PC. The storage option is also somewhat very great and encouraging that is 1TB or 1000GB and additional 8GB SATA drive that allows you to download or save every application or game of your choice.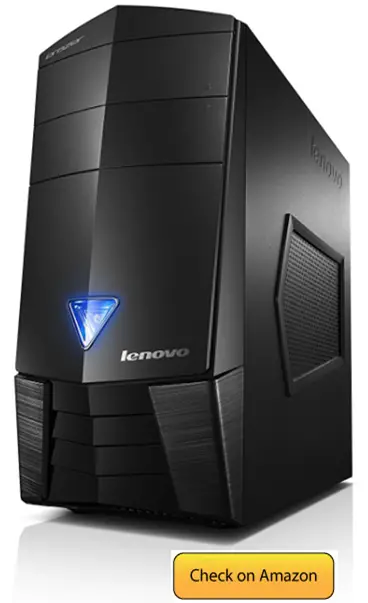 This PC is also equipped with the high performing graphic card of AMD Radeon R9 360 Graphics that will surely make your experience more enjoyable. The PC has built-in windows 10. Moreover, the system runs on the 64-bit operating system. This PC can surely win the race for being the best selection in the year 2020.
5. CYBERPOWERPC Gaming Desktop GUA882
Gamer Ultra AUA882 desktop is an ideal machine. It has a rugged and fascinating white tower that makes you more engaged with your machine. The PC has everything a gamer may wish for. It includes the Fastest AMD FX-4300 3.8GHz Quad-Core processor and the faster RAM of 8 GB DDR3. The large storing option of 1TB makes this machine more desirable for those who love to store their things. The PC can performs all the functions greatly for the gaming purpose and as an office system as well. It has Windows 10 home that is a genuine Window having no third party software. Before going to purchase a gaming machine we always look for the graphics card capacity.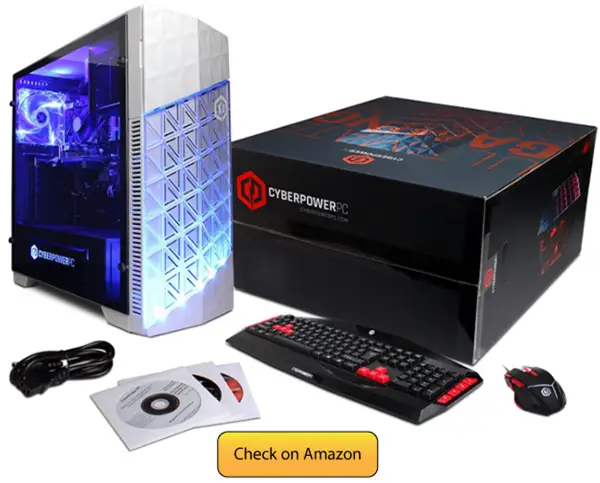 The PC has an impressive AMD 760G Chipset graphics processor that will make the images more vibrant and clear. Moreover, the fastest machine also has a raw optical drive for better installation of your favourite items. This compact PC is affordable and provide its customer with very satisfactory and unexceptional performance. Moreover, this is the reason it can surely win the title of the best gaming laptop for it.
6. Alienware Gaming Desktop Alpha ASM100-3000BLK
Alienware is always known for its powerful and gaming laptops and PCs. This machine is also a small yet powerful PC. The PC has Intel Core i3-4170T, up to 3.2 GHz processor. While with the GeForce NVIDIA GTX GPU is enough for boosting your gaming experience. This PC has impressed us with its RAM capacity as it is something that must be praised. It has the fastest dazzling RAM of 2GB GDDR5 fast performance with 16GB DDR4. Moreover, it has also long lists of some impressive features like its largest storing capacity in this price range of 2000GB hard disk and 128GB SSD option.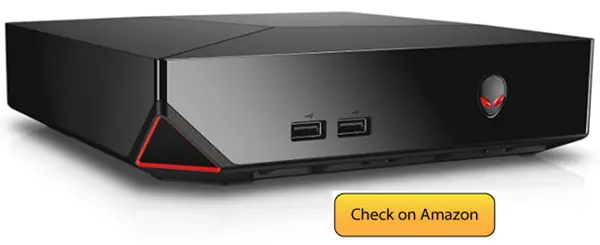 The PC is equipped with NVIDIA GTX 980 4GB GDDR5 graphic that helps it for astonishing visualization. It has built-in Windows 10 genuine and 64-bit operating system. Moreover, the PC includes a mouse and one keyboard as well.
7. CybertronPC Gaming Desktop Electrum QS-A4
This PC is the most adorable and fancy machine. It is having all the required and demanding function of a gaming PC. The machine is powerful, compact, solid, and economical as well. The specifications of this PC are great. It has AMD A4-7300 3.80GHz Dual-Core faster processor with the RAM of 8 GB DDR3. The larger storage option has always been the quality of the CybertronPC, so they have given 1TB to this stylish system. Moreover, the graphics at this price range are also fascinating and admirable.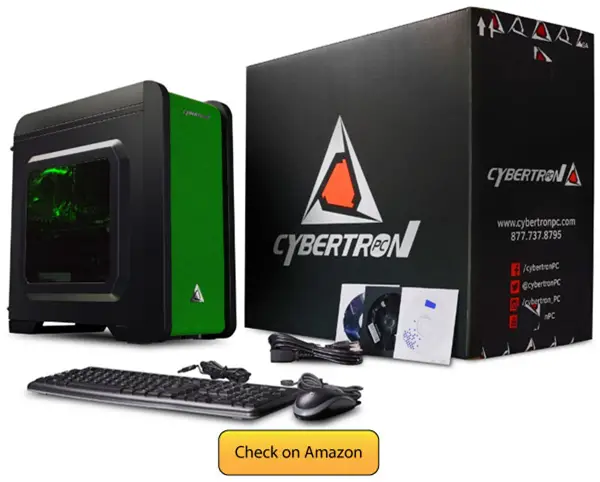 With AMD Radeon HD 8470D Graphics you can surely enhance the gaming experience, and your PC will more mesmerize you by its performance. The PC does not have an optical drive but comes with a mouse and keyboard. The CybertronPC gives their user one-year repairing warranty and lifetime tech support.
8. HP Pavilion Gaming PC
The HP is a brand that is at the top for providing the most affordable laptop and PCs series to the customers. It is the reason it has been liked and encouraged by many of us. This PC is a stylish, durable, reliable and compact product that makes all your work done with high efficiency. The PC has elegant look amazing features that can force us to say this laptop the best gaming PC under 500.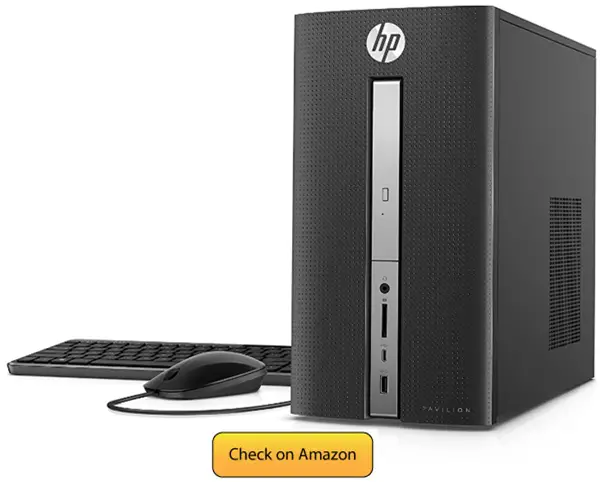 The gaming PC has 7th Generation Intel(R) Core(TM) i3-7100 Processor, Dual-Core, 3.90GHz processor and 4k video streaming capabilities. The PC has 8GB DDR3 the fastest RAM and enough storing capacity for your favourite items that is 1000GB. The gaming PC has Windows 10 home running in it. The PC comes with an optical mouse and USB wired keyboard.
9. CybertronPC Gaming Desktop QS-RR7
The Gaming Desktop CybertronPC comes with some impressive feature that will surely fascinate the person. Moreover, force him to buy this machine. It is economical and powerful and will not leave you disappointed by its performance and features. The CybertronPC always remain ahead in providing affordable PCs to their customer. CybertonPC QS-RR7 would surely accelerate your gaming experience as it has the hyperthreaded processor. Moreover, with the fastest blazing 8GB RAM on this PC.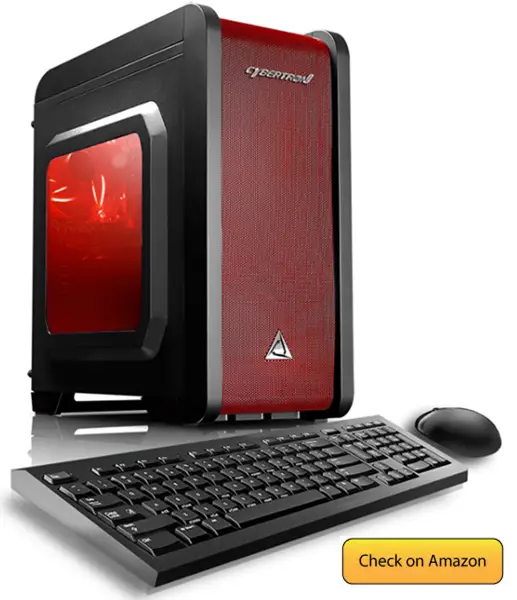 Furthermore, the PC has genuine 64-bit Windows OS. Moreover, most importantly it has an impressive hard drive capacity of 1TB or 100GB. This PC has 500 Watt Power Supply and no optical drive. Last but not the least the manufacturing company provides its end user with one-year parts warranty and lifetime tech support.
10. CybertronPC Gaming Desktop Rhodium 240
A high performing gaming pc from Rhodium 240 by CyberpronePc. Gaming lovers have rated this machine as the best computer PC for gaming due to some of its feature and remarkably fast performance. The Cyberprone PC remain successful for providing their end customers high to mid-range PCs with the guarantee of the marvellous performance.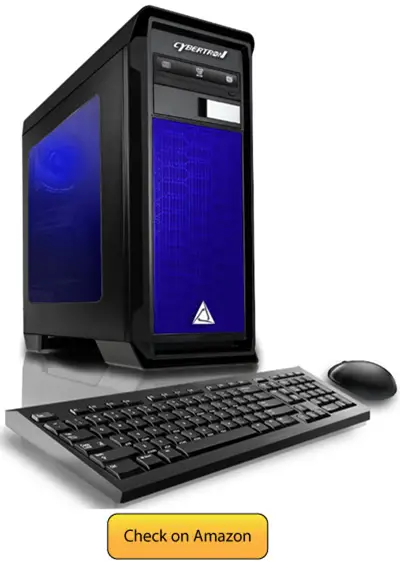 This PC has the super fastest processor of AMD FX-4300 3.80GHz Quad-Core that will be surely enough to accelerate your gaming experience. AMD Radeon R7 240 2GB GDDR3 Video Card is sufficient for making the graphics of your favourite games more alluring and hypnotizing. The PC has 8GB fastest RAM and with the super amazing storing option. The PC has 1000GB storage that is more than enough for storing limitless things to your PC. It has built-in genuine Windows 10 that means no other 3rd party software will be there. The PC does have a warranty of one year with the lifetime tech support by the manufacturing company. The additional features are it has mouse and keyboard with the optical drive option that will add more flexibility in the usage of this machine.
Wrap up:
We have selected some top-rated and best gaming PCs. That will meet your needs effectively. Certainly, the best gaming PC under 500 will never challenge the performance of a gaming PC that comes under 2000$. However, these entry-level PCs come up with upgrading options for RAM, Graphics cards, and hard drives that will enhance the performance of your gaming PC. If you buy a gaming PC in $500, you might not be able to get a very powerful PC, but you will be able to get an entry-level PC in which you can upgrade some items like the hard drive or the graphics card or the power supply.