The latest 11th Generation Intel i7 Processor laptops are the most powerful laptops that ensure efficient and smooth performance at all times. These laptop models are suitable for gaming, film and video editing, audio production, CAD, etc. They easily replace high-end laptops because of their affordable price range, functionality, speed, and performance. In this article, we will discuss the top 10 Intel 11th (and a few older versions) Generation i7 Processor laptops that are designed to meet your requirements.
Intel Corporation is a leading American multinational corporation and technology company that deals with the manufacture of computer hardware. It is known for its Intel i9 and i7 processors that offer ultra-fast and powerful performance. The Intel Processor laptops are designed to suit the needs of gaming enthusiasts, videographers, and engineers. There are various Intel i7 processor laptop models available in the market. These laptops are known for their high-class performance and power-saving capability.
Intel i7 is one of the most powerful and high-end processors that suits for majority of laptop users due to its speed and top performance.  We tried to match all price ranges that suit your budget.  They are termed multitasking laptops because they are built with higher numbers of cores, turbo boost, hyperthreading technology and bigger caches.
Should I Really Buy an i7 Laptop?
Basically, it depends on your budget and the purpose of the laptop. If you have landed on this page looking for the best i7 laptops, then definitely you have decided to go with an Intel i7 processor laptop. We are not going to convince you to consider the i5 processor laptop. You must be knowing the difference between i5 and i7 processors. Mainly i7 processors are powerful and capable of doing many tasks at one time and of course, it is expensive too.  As we always say, a laptop purchase is a kind of one-time investment for the next 3 to 5 years. Processors can't be upgraded, you can't buy an i5 processor laptop now and upgrade the processor to i7 after a year. So, think wisely, keep some budget and get the latest i7 processor laptop if you are really ready for that.
List of Best 10 Intel Core i7 (11th Gen) Laptops
1) Asus Zenbook 13 Ultra-Slim Laptop
The ASUS ZenBook 13 Ultra-Slim lives up to its name and has an incredibly sleek and stylish design. With a 13.3-inch display, you will enjoy watching content on such a screen. The Zenbook sports an Intel Processor 2.8 GHz Core i7-1165G7 with four cores.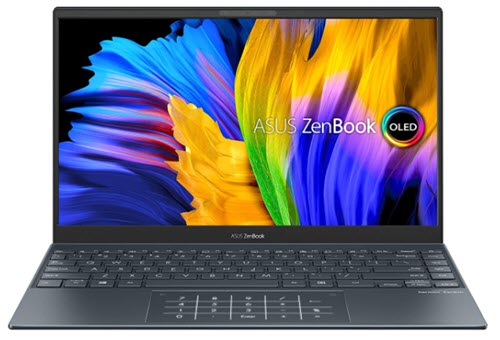 It also comes with an in-built Windows 10 option to upgrade to Windows 11 whenever it becomes available. It has a fast storage feature with 512GB storage.
This new generation laptop has a built-in camera that allows facial recognition to sign you in whenever needed. It has an impressive four-processor count built into the software, too! Ideal for doing heavy-duty work, this is a great choice if you are searching for a reliable laptop. The new ZenBook display brings you visuals you've never dreamed of before. Its size and weight make it more portable as it weighs only 2.45 pounds with a 13.9 mm-thin profile.
Though this laptop is thinner and lighter to hold, it does not compromise on features. It includes an HDMI, Thunderbolt 4 USB-C, USB Type-A, and a microSD card reader for every kind of device. A few negative features have been highlighters by consumers and critics alike. The battery life is not as optimum as it could be, and the webcam quality is satisfactory.
The keypad is also not as smooth and buttery as one would hope for it to be. However, in terms of the specs that matter, this laptop tries to come close in many ways. This is a solid choice if you are looking for a versatile and reliable new laptop!
Key Features:
Display:  Full HD 13.3"
Processor: Intel Processor 2.8 GHz Core i7-1165G7
RAM: 16 GB
Storage SSD: 512 GB.
Weight: 2.45 pounds
Battery Life: 13 hours
Ports: USB-A and USB-C
Pros –
The battery has a charging mode that prevents harm to battery health
Ultra-lightweight
Good battery life
Touchpad is good
Cons –
2) Dell G5 15 Gaming Laptop
One more laptop was built using a 9th generation i7 Intel Core processor. It is a reasonably priced machine with some great specs that allow gamers to play the game smoothly. Dell  G5 15 flaunts the best design, wide full HD screen and various high-end components that are useful to consider as one of the best mid-level gaming laptops in the market.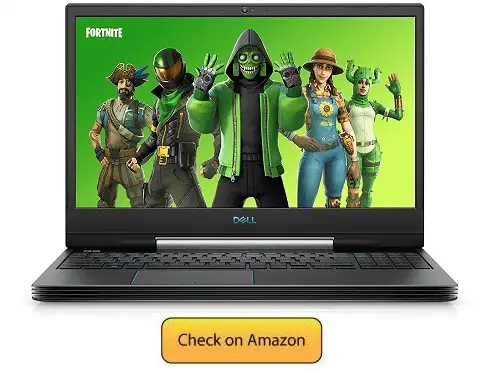 If you are looking for a laptop that ensures an immersive and realistic gaming experience with a built-in audio system for audio and voice controls, then the Dell G5 15 is for you. It is powered by the 9th Gen Intel Core i7-9750h processor and the NVIDIA GeForce GTX 1650 graphics game processor. The model comes with a 15.6 inch Full HD display with anti-glare for a stunning viewing experience.
The innovative fan cooling system with advanced thermal design keeps your laptop cool when the action heats up. Hence, you can play games for hours without the fear of lag. It features a premium metal finish with eye-catching blue accents, making it an elegant and attractive under-budget gaming laptop.
Key features:
Processor: 9th Gen Intel Core i7-9750h (12MB Cache, up to 4. 5 GHz, 6 Cores)
Graphics Processor: NVIDIA GeForce GTX 1650 with 4GB GDDR5
RAM: 16GB DDR4 2666MHz
Storage: 256GB M.2 PCIe NVMe SSD and 1TB 5400 rpm SATA
Hard Drive. Weight: 8.65 pounds
Battery Life: Quick charge with 60 WHr 4 cell battery.
Ports: 1 USB 2.0, 2 USB 3.0
Pros –
It ensures realistic and immersive graphics.

It comes with an improved and stable WiFi connection.

The laptop does not have a shortage of storage.

It enables customized gameplay with its blue-backlit WASD keyboard.

The dual built-in speakers and Nahimic Sound Center provide intuitive audio and voice controls.
Cons –
The battery life is average.
The laptop is heavy and bulky.
3) Acer Aspire 5 A515
Acer laptops are usually known for their long battery life, with the Aspire 5 model being no exception. The Intel Core i7 processor is known to deliver strong performance and is highly responsive. The 15.6" Full HD display is also a treat supported by an IPS Widescreen LED-backlit display. It also hosts a wide variety of ports that connect any device possible.
This laptop has a super slim design and looks classy and sophisticated when carried in one's hand. Showcasing 8.5 hours of battery life after a single charge, you never have to worry about your laptop dying during an important Zoom meeting again!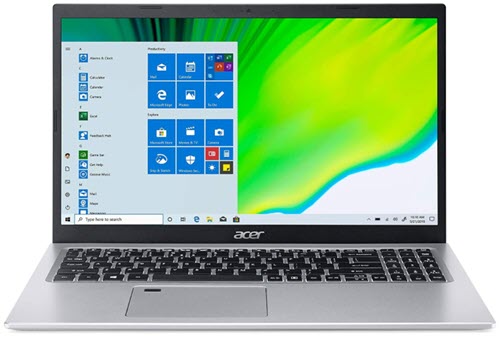 The keyboard on the laptop is also backlit and adds a luxurious, high-end effect to this Acer model. It sports a hinge design with the screen opening to a maximum 130-degree angle.
The carefully thought-out thermal design means you never have to worry about your laptop heating up again!
Do you know what the best part is? Asus believes in beating its competition in all areas. Price is no exception to this rule. This new, cutting-edge technology comes in an extremely competitive price range!
The exterior is sleek and silver, and the overall feel of the laptop is light and thin. It is excellent for carrying around with you and encourages a mobile lifestyle. Furthermore, the fingerprint sensor present in the keyboard and the excellent battery life makes this model an exceptionally good choice to be your next trusty laptop!
This is no easy feat, but ASUS pulls it off well. There is a noticeably better performance in this model when it comes to everyday tasks, too. This model is a part of an extensive budget line-up from the company, and in all the major areas, it does not disappoint.
A criticism of this model is that the overall feel of the built is mediocre and could be more refined, considering the price point. There is also no touch screen option that many new and sturdy laptops now support. Furthermore, the touchpad itself has some trouble in terms of imprecision sometimes.
Key Features:
Display:  Full HD 15.6"
Processor: Intel Processor 4.7 GHz Core i7-1165G7
RAM: 16 GB
Storage SSD: 512 GB
Weight: 3.63 pounds
Battery Life: 8.5 hours
Ports: USB-A and USB-C
Pros –
Fingerprint reader
Aluminum case
Clear screen
Super-fast
Cons –
Will not take charge of the USB-C port
Sale
4) LG Gram 16z90p
The brand new model of LG laptops known as the LG Gram 16 is quite an impressive laptop. It has a 16" IPS display and is great for people looking for portable, easy-to-carry laptops.
The screen resolution is 2560×1600 pixels, run by a 4.7 GHz processor. The Intel chip works wonders in speed and is great for heavy-duty files. There are three separate USB ports in the LG Gram 16.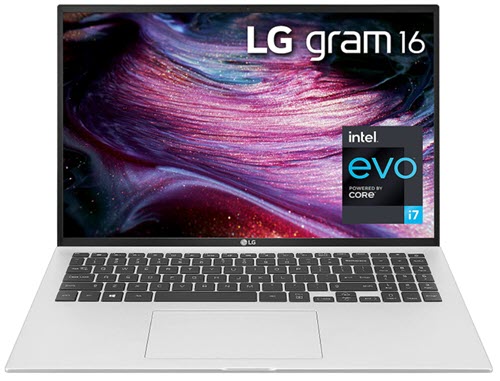 LG has not compromised battery life and boasts 22 hours of screen time for the new model! That is not even the best part…
The build and design of the laptop are compact, durable, and lightweight. Such a combination is ideal for those people who must carry around their laptops for work all day.
The Intel 11th Gen Core i7-1165G7 CPU and the Iris Xe Graphics and 16GB of RAM ensure speed is a top priority for this model. The Thunderbolt 4 connectivity on the laptop allows for faster data transfer.
Also, 4K and 5K resolution videos which are all the rage these days, play smoother due to these specs. It is advertised as being "ultra-lightweight" and not without good reason. Even though the laptop's build is solid, it still feels light and not hefty.
Overall, the laptop has strong tech specs and a big screen 16:10 display to enjoy. The ports are well-rounded, and the laptop appears exceptionally thin and compact than other laptop models.
There are a few when it comes to things that could have been done or done better. There is no touch screen option for the screen, which hinders its accessibility. The quality of the webcam is just average if one is honest. Performance upgrades are also lacking, which can classify as a major shortcoming.
However, the lightweight built and thin booklet, like the feel of the LG laptop, is sure to intrigue you and spark interest. LG promises to give its customers a glimpse of the future of laptops, and this model does a fairly decent job!
Key Features:
Display:  Full HD 16"
Processor: Intel Processor 4.7 GHz Core i7-1165G7
RAM: 16 GB
Storage SSD: 1 TB
Weight: 2.6 pounds
Battery Life: 22 hours
Ports: USB-C Thunderbolt 4 support
Pros –
New design of trackpad
The sound system is good
Highly portable due to its slim design
Great for college
Cons –
It gets warm during charging
Screen is reflective
Sale
5) NEW Microsoft Surface Pro 7 Laptop
It is an improved version of the earlier Microsoft Pro series. This 2-in-1 ultraportable machine comes without a keyboard which you can buy separately. Use it as a tablet, studio or laptop, Microsoft Surface Pro 7 comes in a sleek, stylish shell and is available in platinum and black color. The most striking feature of this laptop is an amazingly slim body with a competitively lower weight that gives Microsoft an edge to market this beast.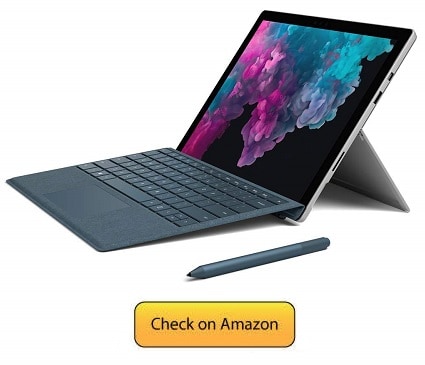 The New Microsoft Surface Pro 7 has everything that users dream of, from the thin, lower weight body to all day running battery with a powerful 9th-gen Intel Pentium Gold Processor the Intel Iris Plus Graphics. It has a 10-inch touchscreen display and a pen input for easy operation. The versatile and portable model can also be used as a tablet. It comes with an all-day battery life of up to 10.5 hours. Hence, it allows you to multi-task even while travelling. The model is available in two colors for you to choose from- matte black and platinum.
Key features –
Processor: Intel Pentium Gold 4415Y (1.1 GHz)
Graphics Processor: Intel Iris Plus Graphics, Intel HD Graphics 615
RAM: 8 GB/4 GB
Storage: 128GB SSD or 64 GB
Weight: 5 pounds
Battery Life: up to 10.5 hours.
Ports: USB-C and USB-A
Pros –
It can be used as a tablet, making it highly portable.
The laptop comes with long battery life.
It comes with built-in, enhanced studio mics.
You can store your photos and files securely in the cloud with an integrated One Drive.
Cons –
There were issues related to WiFi connectivity.
The display is not durable.
6) HP High-Performance Pavilion 15
The new HP Pavilion 15 has a few impressive specs that make it a worthy candidate for this list. It has a 15.6" display that also happens to be a touchscreen. This is an advantage that HP Pavilion has over its competitors.
The maximum brightness the screen displays is 250 nits. With 512GB SSD of storage and a 6GB DDR4-3200 SDRAM, this laptop is perfect for heavy-duty gaming and designing.
The Intel Wi-Fi 6 combined with the Bluetooth 5 creates a high-end technological experience. There is one multi-format SD card reader with four different types of USB ports.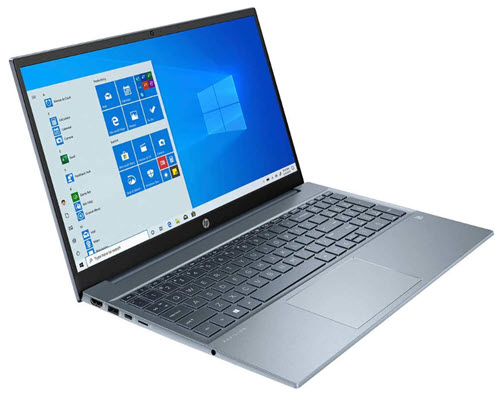 These ports also include a USB-C option which is extremely useful. The webcam is a 720p Wide Vision HD camera which is quite decent for the most part. This laptop comes in fog blue and operates on Windows 10 software. There are other options for choosing a color of your choice.
The keyboard is a sky-blue color that adds a stark contrast to the laptop's body. This keyboard also happens to be backlit, which gives off a classy look.
This laptop can easily support heavy files, downloads, and apps best suited for multimedia usage and gaming. The task of getting your work done becomes easier due to the processor's speed.
It is a sleek, slender, and sophisticated choice for anyone settling down in their career. It has a better look with an elevated keyboard and extremely narrow and thin bezels. Every little detail of the HP Pavilion has been created to optimize comfort, mobility, and durability. Perhaps the best feature is the Audio system built into the laptop.
Due to the modern Hp speakers and audio boost, you'll experience clear and rich audio. With such a powerhouse of audio, it becomes easy to let the sounds coming from this laptop move your soul.
In terms of cons, the 720p webcam proves to be a bit grainy and unclear compared to other webcams. Both identification aids are missing from this laptop too. There is no face recognition or fingerprint sensor, which proves to be a challenge for users who have had previous laptops with these features.
Key Features:
Display:  Full HD 15.6"
Processor: Intel Processor 2.8 GHz Core i7-1165G7
RAM: 8 GB
Storage SSD: 512 GB
Weight: 3.8 pounds
Ports: USB-C
Pros –
The touch screen works perfectly
comes with an American keyboard
Graphics Iris XE
High-speed processor
Cons –
Sale
HP High Performance Pavilion 15 15.6" FHD Touchscreen Laptop,...
15.6" diagonal, FHD (1920 x 1080), touch, IPS, micro-edge, BrightView, 250 nits, 45% NTSC, Intel Core i7-1165G7 (up to 4.7 GHz with Intel Turbo Boost Technology, 12 MB L3 cache, 4 cores)
7) MSI GL66 Gaming Laptop:
The 15.6" MSI display with 144 Hz will please any consumer who opts for this choice. It delivers in-depth, authentic images onto the screen. The i7 Intel processor is powerful and lets you download files and efficiently operate apps.
The MSI GL66 is powered by NVIDIA GeForce RTX and does justice to today's most popular games with these performance graphics.
It is thin and light for gamers to carry around every day for gaming, studying, and working. This model showcases advanced heat pipes and fans to get the airflow you need for gaming.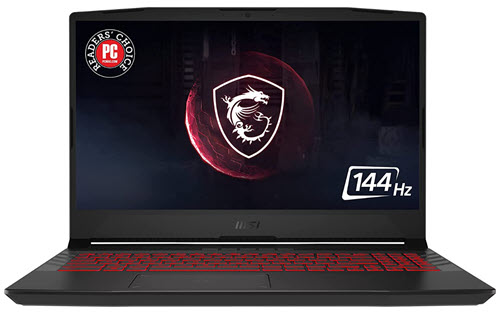 There are customizable keys on the keyboard. You can customize each key to your liking and receive real-time alerts during gaming in the form of varied keyboard lighting. There is even the option of having the lights dance to the beat of some of your favorite tunes.
Some of the faults in this laptop model are listed below:
It runs warm for a longer period. The battery life is poor, and it performs below average. The build is mostly out of plastic, and hence the laptop does not have a premium look or feel. The sound system and sound quality are below average.
This laptop may be for you if you are on a budget for a cost-effective choice. However, certain features could have been designed with more care and attention to detail.
Key Features:
Display:  Full HD 15.6"
Processor: Intel Processor 2.8 GHz Core i7-11800H
RAM: 16 GB
Storage SSD: 512 GB
Weight: 4.6 pounds
Battery life: 3.5 hours
Ports: USB-C
Pros –
Backlit keyboard
Suitable for gamers
Handles Office 365, databases, and Zoom at one time
Clear display
Cons –
Sale
8) LG Gram 17z90n:
This laptop promotes the concept of portability. Some strong specifications on the new 2020 LG gram are worth noting. It has a gigantic 17-Inches (2560×1600) WQXGA IPS display.
Light and slim enough to take everywhere at any time. With weighing three pounds and delivering a battery life of 17 hours, this LG gram is wonderful to carry around for a full day of demanding work.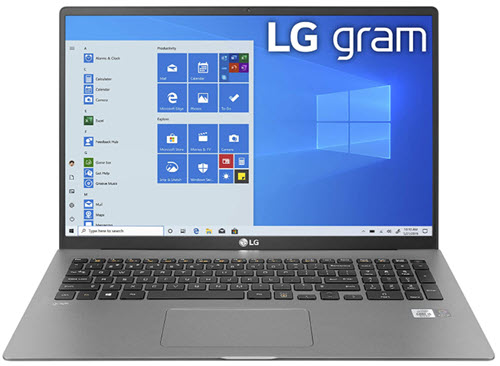 The 17Z90N also showcases the speed and efficiency of the Intel 10th Generation Iris Plus graphics, 16GB RAM, and i7-1065G7 CPU.
Moreover, USB Type-C connectivity and a 1 Terabyte M 2 NMVe SSD makes this laptop technologically superior in many ways. The Performance level on the LG Gram is impressive, and this choice stands out from its competitors in several ways.
The fingerprint sensor ensures that security is just one swipe or imprint away, and ultra-portability has been given due importance during the designing process. The body mass of the laptop is lightweight overall and supports this very idea of portability.
In terms of faults, the centered keypad has been criticized for being the reason accidental touches and clicks occur. The screen surface is reflective, which can sometimes irritate a consumer. While the laptop is lightweight, the feel is sometimes dense and rigid. This gives the laptop a less-than-premium feel.
Finally, the price point is steep considering many features could use improving. Overall, the plus points in screen size, portability, and exceptional battery life make this laptop a worthy model to consider!
Key Features:
Display:  Full HD 17"
Processor: Intel Processor 1.3 GHz Core i7-1065G7
RAM: 16 GB
Storage SSD: 1 TB
Weight: 4.6 pounds
Battery life: 17 hours
Ports: USB-C
Pros –
Lightweight
Large screen and crisp display
Trackpad gives a good feel
Long battery backup
Cons –
Sale
9) Lenovo Think book 13s Business Notebook
The Lenovo Think book 13s is a powerful 2nd Generation Think book laptop that can bring visuals from any scene to life. It has a WUXGA (2560×1600) resolution accompanied by 4 million pixels.
This laptop is best suited for graphic designers, digital artists, and animators. Among the reasons you should consider this powerful laptop is the Dolby Vision it supports.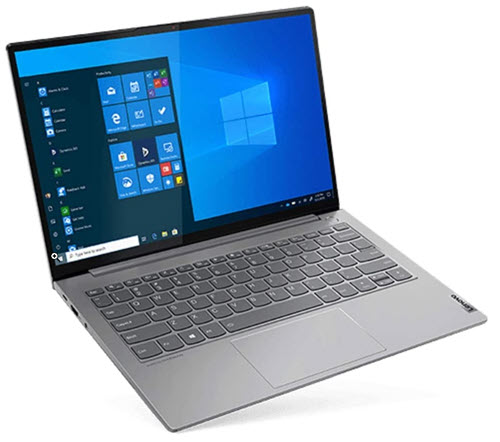 With 100% sRGB color, which means a large range of colors, the images this laptop can produce are extraordinary. Great for gamers who prefer to play games with captivating graphics, this laptop packs a lot of great features in its slim body.
This new Lenovo model has an ultra-thin bezel that provides a 90% screen-to-body ratio, perfect for watching High-Resolution films and documentaries. Such a ratio also provides a sleek and classy look that appeals to the aesthetic consumer.
This laptop suits someone who is looking for unmatchable specs as well as sturdiness. The Lenovo Think book 13s supports the noise cancellation feature with a form of special audio, which is great for filmmakers, designers, and gamers. The noise cancellation technology runs on an AI-based noise cancellation algorithm that blocks background noises such as people yelling, loud music, and crying infants.
An ultra-fast WiFi 6 allows for increased bandwidth and the ability to download large files almost instantly. It also includes a Thunderbolt 4 port which is ideal for transferring up to 40 GBs of data at high speeds.There is a wide selection of ports, including USB 4 Type-C, 2 USB-A 3.2 ports Gen 1, and an HDMI 2.0 port. This makes it easier to connect a variety of different devices which may use only specific ports.
This laptop is not perfect, though. It contains a 256GB SSD card where there could be a 512GB card instead. There is no SD or microSD port on the laptop.
There is also feedback from the tech community, which suggests that the keypad of the latest model is not up to par with the quality of keyboards previously produced in the ThinkPad collection.
Key Features:
Display:  Full HD 13.3"
Processor: Intel Processor 2.8 GHz Core i7-1165G7
RAM: 16 GB
Storage SSD: 512 GB
Weight: 2.8 pounds
Battery life: 12.1 hours
Ports: USB-C and USB-A
Pros –
Suitable for business and student use
Backlit Keyboard
Less eye fatigue
Noise-canceling mic
Cons –
10) Acer Predator Helios 300 Gaming Laptop
The Acer Predator Helios 300 Gaming Laptop is a suitable choice for gamers. It is powered by the 9th Generation Intel Core i7 and GeForce GTX Ti GPU. Thus, it ensures a powerful performance with smooth and fast gaming experiences.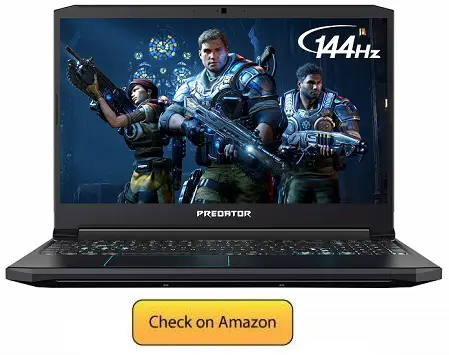 The 15.6 inches Full HD widescreen LED IPS display with a 144 Hz refresh rate and 3 m response time offers the best visual gaming experience. The stunning visual is enhanced with the surround sound effect for an immersive feel. You can also connect your VR headset to your laptop for realistic gameplay.
Key features –
Processor:

9th Generation Intel Core i7 9750H 6 Core Processor (up to 4.5 GHz)

Graphics Processor:

NVIDIA GeForce GTX 1660 Ti Graphics 6 GB GDDR6 VRAM

RAM: 16 GB

 

DDR4 2666MHz

Storage:

256GB PCIe NVMe SSD

 

Weight: 5.07 pounds 

Battery life: 3720 mAH lithium polymer battery, up to 6 hours

Ports: 4 USB 3.0 ports, 1 HDMI
Pros –
It provides the ultimate and customizable gaming experience.

The laptop supports a VR headset.

It ensures immersive surround sound during gameplay.

The 4

th

Generation AeroBlade 3 D fan technology keeps the laptop cool and ensures high performance.
Cons –
The fans create noise during heavy loads

.
The blue backlight on

the keyboard is not suitable for use in dim-lighting.
Frequently Asked Questions:
What is the best laptop with an i7 processor?
The best laptops with i7 processors are:
Dell G5 15 Gaming Laptop
MSI GL66 Gaming laptop
Asus ZenBook 13 Ultra
LG Gram 16z90p
Which is the most trusted laptop brand?
The most trusted laptop brands are:
Acer
Dell
Asus
Apple
Lenovo
Microsoft
Razer
How much RAM do I need?
If you are looking for a lightweight system go for a laptop with 4 GB RAM. Laptops with 8 GB or 16 GB RAM provide plenty of space for current and future applications. On the other hand, anything over 16 GB is suitable for video editing and audio post-production.
What is a good processor speed?
A good processor speed of 3.5 to 4.0 GHz is suitable for gaming. The speed ensures that the CPU does a great job understanding and completing tasks.
Conclusion
There are a number of great options for gamers, designers, executives, students, and travellers that are based on a 9th generation Intel Core i7 processor. It is up to you to choose the right one from this list of the 10 best i7 laptops. If you have any further queries regarding i7 processing, you can post them in the comment section.