Due to novel COVID-19, lockdown professionals working across the globe are using different applications to connect with their counterpart and deliver work, attend a meeting or sharing a file. In this same context, business applications like Skype, Zoom, Cisco WebEx and Microsoft Teams are being widely used during this global lockdown, and these applications perform excellently in terms of quality and connectivity.  In this post, we will talk more about one such app called Microsoft Teams, and we'll dig more into its features and understand do's and don'ts.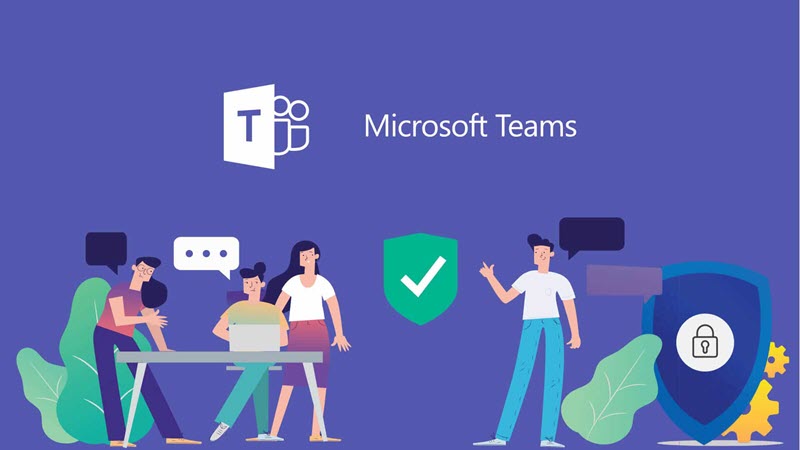 Introduction to Microsoft Teams:
Microsoft Teams is a collaboration software designed by Microsoft to provide secure connectivity, file sharing and group interactions. It is a part of Microsoft Office 365 suite and offers multiple applications under its umbrella.
Microsoft Teams not just provides secure interactions like Skype or Zoom meeting, but it offers file sharing, group chats, bot support, collaboration feature, slash commands and many more.
Features of Microsoft Teams:
Full integration with Office 365 Suite: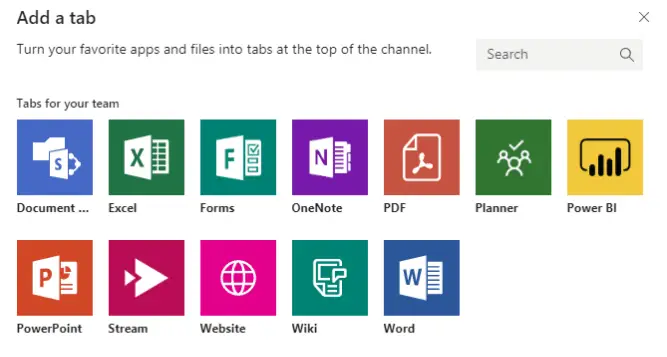 Microsoft Teams is a part of Office 365 cloud suite; hence it offers features like SharePoint, Microsoft Office applications etc. Therefore, when a user is using Teams, he/she can use SharePoint link to share file and can be accessed directly from Teams user-interface without ever navigating away from the Teams interface.  Same goes for Microsoft Office applications like Excel, PowerPoint, Word etc. which can be directly accessed from the interface.
As Microsoft developed Teams to make it a one-stop hub for a collaboration software hence features like Bot implementation makes more sense in this AI and ML world. Organization admin can set custom questions and answers, and it can be automated to answer questions and answer those are commonly asked.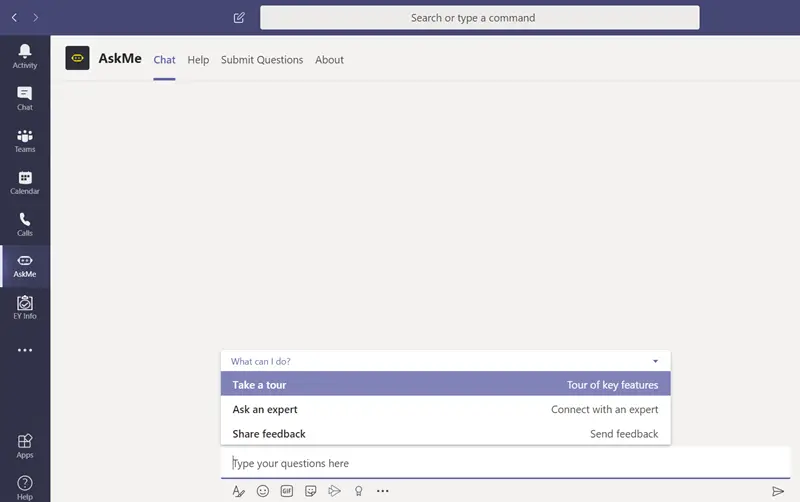 Microsoft does provide a bot framework that can be used further and make Bot more intelligent by using Artificial Intelligence and Machine learning algorithms.
Slash commands work like short commands to automate or speed up everyday functions quick and easy. The command starts with (/) and after that a slash command that can complete the task without using a mouse.
Here is a list of few commands used often in Teams.
| | |
| --- | --- |
| Command | What it does |
| /activity | See someone's activity. |
| /available | Set your status to available |
| /away | Set your status to away. |
| /busy | Set your status to busy |
| /call | Call a phone number or Teams contact. |
| /dnd | Set your status to do not disturb. |
| /files | See your recent files |
| /goto | Go right to a team or channel |
| /join | Join a team |
| /keys | See keyboard shortcuts |
| /mentions | See all your @mentions |
| /org | See someone's org chart |
| /saved | See your saved messages |
| /testcall | Check your call quality |
| /unread | See all your unread activity |
| /whatsnew | See what's new in Teams |
| /who | Ask who a question about someone |
| /wiki | Add a quick note |
User notification feature lets to keep track of all notification directed to you. It keeps track of all mentions with @ mention in the Teams chat pane. Usually, when @ is mentioned, an email is also sent to the user notifying him or her about important alerts. This email alert option can also be disabled, and only a chat notification in Teams chat pane can be displayed.
As Microsoft developed Teams keeping in mind the collaboration feature that was missing in Skype for Business. Hence, third party integration feature would be there for organizations to add or remove features and option that they need to be based on your business requirement.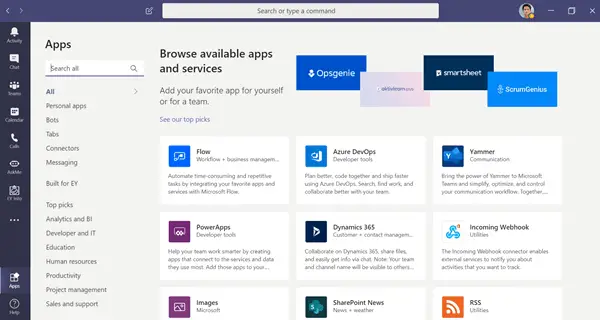 Just like Skype for Business, Microsoft Teams offer a very easy user friendly to record and share meetings at one place. By just pressing a single option in the chat screen, a session can be recorded and shared across all meeting participants.
Easy meeting recording option records the whole conversation with high video & audio quality. It stores them in Microsoft Cloud (Azure) thus makes the recording accessible across all types of device mobile, laptop or PC with faster access.
Easy collaboration support:
Easy collaboration feature makes Teams very user friendly when compared to its counterpart application. Clients can add or invite vendor or prospective client to Teams meeting with the click of a button. This feature makes sharing critical meeting discussion between a client or vendor easy.
This feature helps those users with a disability, Microsoft Teams inbuilt feature makes easy access to view, translate and hear individual messages by enlarging the words on the screen in a synthesized voice.
In today's world, when everything is running on cloud & more and more companies are opting for tools that offer a real-time feature to converse easily with people from different geographical location.
The built-in translator helps users to convert any conversation from a set of languages.
Whiteboard in collaboration tools like Teams works differently when compared with sharing screen. In whiteboard meeting, participants have an option to draw or can be creative to add visual details and make real use of collaboration tools to share an idea with other participants.
Notify when available feature is used to notify a user when they are available, i.e. when a user wants to track another user when he/she comes online and or busy to share a meeting update. The user can set "Notify when available" option and when that user Teams status turns "Available" user will be notified.
Analytics Dashboard for Admin:
The Microsoft Teams admin is provided with Analytics dashboard where they can see and understand what features of Teams are used most by the organisation. He can add or remove features and can tweak in further to improve collaboration tool usage for users within the company.
Best Practises for Microsoft Teams:
It is always a best practise to share a common name for a file shared in Teams with smooth and clear to understand names. This small step makes finding related data for the end-user comfortable and fast.
Utilize Teams Mobile App:
Microsoft Teams offer mobile applications for iOS and Android devices, and these applications can be used to achieve almost the same experience when compared to a desktop version. Mobile App also comes handy in case of connectivity required while on the go.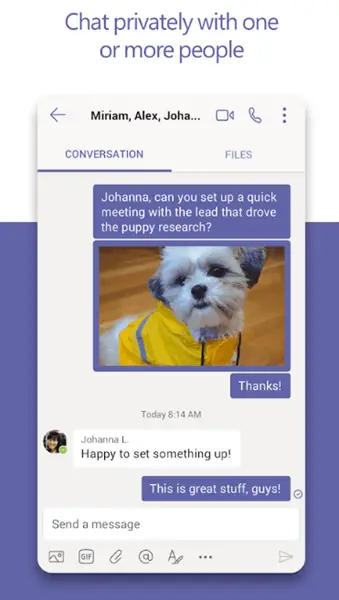 Maximize Microsoft Planner Integration:
The calendar sharing feature makes meeting schedule easy and clean. It also brings in transparency within the team and hence enhances productivity.
Title all Chat Exchanges:
In Microsoft Teams, all interactions done via channels can be saved under an easy to remember the name to look back later and make changes or refer when required.
For example, a group chat new product launches this summer could be named as "XYZ Product Launch-Summer", and all interactions did under that header can sit underneath.
Start using keyboard shortcuts in Teams:
Accessing an item either by using a mouse or keyboard depends upon the individual who is interested in using one of the two to make things a lot quicker and more comfortable. For example, keyboard shortcuts like Alt+A will allow individuals to share a file using file attachment, by pressing "R" key on the keyboard lets you reply to a conversation.
Use Office 365 Collaboration Feature:
An individual should make use of Office 365 applications those can be accessed using Teams. For example, to share file user should always use either SharePoint or OneDrive in place of any third-party apps like Google Drive or Dropbox.
Rules are set by Microsoft Teams admin that needs to be followed by an individual in the organization. Use of emoticons need to be restricted by users, and they should be careful while they are interacting with others over Teams. As these conversations are recorded and can be accessed by Teams admin in case of any concern/questions/issues.
One should be very careful while using interacting with others via chat or collaboration applications like Microsoft Teams; individual should always keep in mind the company culture, ethics and its rules and regulations.
Have you used Microsoft Teams? Which feature did you like the most? Do let us know in your comments below.