Do you want to try desktop virtualization at your home or office? Read this post to decide which desktop virtualization software is best. Small comparison about VirtualBox 3.1.6 vs VMware Player 3, according to my knowledge and experience.
This VirtualBox 3.1.6 vs VMware Player 3 comparison is not done by any benchmarking software and statistics. This is just a human recognizable comparison with few technical things. Because, if you are new to desktop virtualization and looking for information about these two products, then this basic comparison will be useful.
I'm using VMware workstation 7, VirtualBox 3.1.6 and VMware Player 3 in Windows 7 and Windows XP (earlier in Windows Vista) computers. This comparison is from my working experience with these products.  VMware workstation is not included in this because it's not a free product.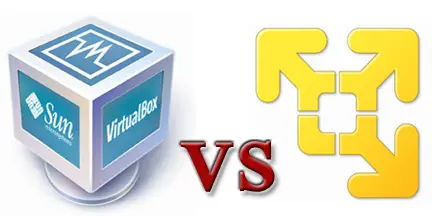 VirtualBox 3.1.6 vs VMware Player, Basic Comparison
1) Speed of Guest Virtual machines
Guest is a virtual machine installed inside desktop virtualization software. Host is your physical computer having desktop virtualization software.
Sun VirtualBox 3.1.6 wins in this topic since it allows guest machine to work faster. It got high input and output disk access. Starting a virtual machine, working with it and shutting down speeds are considerably faster than VMware player in VirtualBox.
Winner – VirtualBox
2) Speed of Host Machine
When you run any desktop virtualization software, it should not disturb your host computer, correct?  So, always it's better to go for software which consumes less memory, processor and hard disk activity from your host. VirtualBox is having big advantage on this because it consumes fewer resources from host. It's a light weight desktop virtualization software compare to others.  I was able to run 3 Windows 2008 R2 servers, two Windows XPs and one Windows Vista virtual machines in my 3GB Windows XP host with Sun VirtualBox.
Winner – VirtualBox
3) Networking and Networking Options
Both have reasonable networking features.  VirtualBox recently started to allow network changes while virtual machine is on, but still there are some problems exist. VMware had same option from very early and networking is very simple in VMware Player 3 than VirtualBox. Performance of network also better in VMware Player3 specially after install VMware tools.
Winner – VMware Player.
4) Snapshots
Snapshots help to save virtual machine's specific state and allow going back later. This feature is very useful to recover virtual machine if anything goes wrong. Sun VirtualBox got this feature and recently (with version 3.1) they introduced branched snapshots which is a nice feature. Read more here about branched snapshots. Unfortunately, snapshot feature is missing in VMware Player 3.
Winner – VirtualBox
5) USB Support and Transfer Speed.
USB device support for guest is available in both products. I feel, VMware Player got better feature to manage USB devices between host and guest. Also data transfer between guest and USB devices are slightly better than VirtualBox in VMware Player 3.
Winner – VMware Player
6) Other File Formats
If you want to open pre created virtual machines from different virtualization software, then the file format support will be an issue. VirtualBox Supports major virtualization software file formats such as VMware and Microsoft Virtual PC. VMware Player Supports Microsoft VirtualPC, Symantec backup files, Acronis true image files and some, except VirtualBox. Funny, isn't it? There are converting tools available to convert any file types to required format.
Winner- Both
7) Mouse Integration and Full view, Unity and Seamless mode.
Mouse integration between host and guest and full view of virtual machines work fair enough in both products. VMware Tools for VMware Player and VirtualBox Additions for VirtualBox should be installed on Virtual Machines for this feature. Unity mode and Seamless mode which allow working in guest from host's desktop is a good feature in both products.
Read more about converting VMDK to VDI
Read more about converting VDI to VMDK
Winner – Both
8) 64 Bit and Virtualization Support.
If you like to run any operating systems which require 64 Bit architecture or hardware virtualization support, then better go for VMware Player. VMware support these functions better than VirtualBox.
Winner – VMware Player
9) Windows Aero Support
VirtualBox is lacking in this feature. Windows Vista and Windows 7 Aero features nicely work in VMware Player. VirtualBox doesn't support aero feature.
Winner – VMware Player
10) Free Product
Yes, both products are completely free to use at home. For production environment, you have to purchase Sun VirtualBox license.
Here is the summary of above facts.
Though, both got same advantages and disadvantages but VirtualBox is the final winner. Sun VirtualBox wins in three major factors including, Guest Speed, Host Speed and Snapshots.
I might have missed some good or bad features on above products. Share your experience and correct me if I'm wrong on any points.
This comparison is completely upon my experience.