VMware, VirtualBox, Hyper-V on Windows 10 and other desktop virtualization software are well known for most of the tech people, but some of the normal users do not aware of these products. So they are missing all the advantages of these desktop virtualization software products. If you are new to the virtualization environment or thinking about why to use these products or what are the advantages of them, this article explains them with basic points.
Desktop virtualization software such as VMware (VMware Player), Oracle VirtualBox and Hyper-V on Windows 10 are freely available for home users. So, these applications can be used by everyone without any cost. Before going further, let me clear a myth which is 'more technical knowledge required to use desktop virtualization products'. Believe me! it is very easy and simple. As long as you do not require high-end complicated setup in a virtual environment, these products can be used well by all computer users.
The Purpose of Desktop Virtualization Software
Desktop virtualization software gives the ability to install and run multiple Operating Systems on your desktop or laptop computer in a virtual environment without disturbing the host OS. You can have Windows XP, Linux OS and even macOS on your latest Windows 10 laptop. In this case, your laptop will be the 'host' and virtual machines will be the 'Guest's.
Creating and configuring virtual machines is very similar to assembling a physical computer with a processor, memory, hard disk, VGA…etc. So it is basically to utilize the unused resources on a physical computer to run multiple Operating Systems on it.  Even though 'Dual Boot' is another option to have multiple Operating Systems on a computer, but you have to reboot the computer every time to use other Operating Systems. But with the desktop virtualization software, you can run and work on multiple Operating Systems simultaneously without a reboot
The main and basic purpose of Desktop virtualization software like VMware, VirtualBox, and Hyper-V is to allow users to run different types of Operating Systems simultaneously in completely isolated virtual environment on a single physical computer.
The below screenshot was taken while I was using Windows 8 as a guest virtual machine in VMware Player on my Windows XP computer (Though it was taken a pretty long time ago). Now you will see plenty of recent guides in this blog to install and use different types of Operating Systems as virtual machines.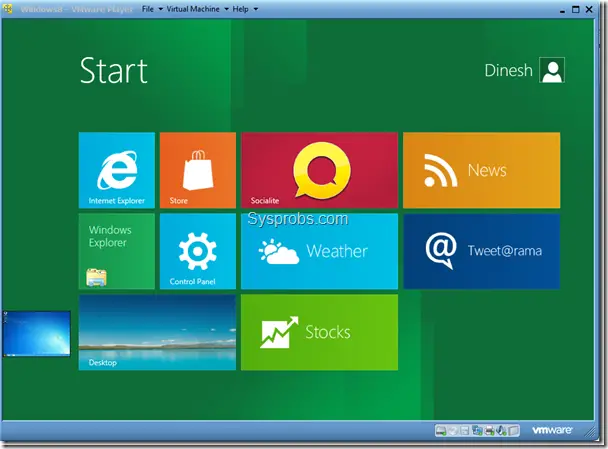 Advantages of Virtualization Software on PC
1) Multiple Operating Systems at the same time without restarting the computer.
2) The completely isolated virtual environment from host OS. Therefore no risk involved in virus, malware or any kind of threat spreading from guests to host machines, except thorough network or USB flash drive transfer. It can be used as a sandbox to test any known/unknown threats.
3) You can run your old legacy applications and Operating systems on your latest computer. Let's say you bought the latest Windows 10 laptop recently and now you like to run your old important legacy application which will not work on Windows 10. Here comes the main advantage of virtualization. Just set up a Windows XP or older versions of OS by VMware/VirtualBox/Hyper-V PC then install your legacy application and use it.
4) Snapshot Feature, which helps to restore the virtual machine back and forth to a specific date/time. For example, today you can take a snapshot of a virtual machine and if tomorrow something goes wrong with that particular virtual machine, you can restore the virtual machine to the previous day's state by snapshot feature.
Even though there are more advantages to desktop virtualization software, I think the above four points will give a good understanding for beginners about desktop virtualization software.
How to Use Them?
As I said earlier, it is not as complicated as you think. Once you understand the interface and the features of the software you use, then it will be like a cakewalk.
Find out some existing articles on Sysprobs to install different types of Operating Systems as guest virtual machines. The below guides show the steps to create and configure guest virtual machines on the host computer.
Install Windows 8 on VMware Workstation/Player
Install Windows 8 on VirtualBox
More useful guide available under the virtualization category here.
Using desktop virtualization is the ideal way to set up your test lab or environment with different types of Operating Systems on the same computer without any additional hardware.