It seems like Microsoft is planning to release Windows 11 OS very soon. It was expected from Microsoft that after Windows 10 there would be no further Windows OS would be released. As Windows 10 was advertised as WAAS (Windows as a Service) and would periodically receive updates via Windows Update and new features will be added. But, seems like as per rumour which stands invalid, lets drill down further in this post what were the pros and cons of Windows 10 and why Microsoft re-think to release new Windows version, catch us after the jump!
Before we begin talking about Windows 11, lets first understand why users are no more interested in Windows 10.
The top reason for this is, bi-annual updates released by Microsoft, which is buggy and adds more issue to existing Windows 10.
Even if they are trying to make Windows 10 more user-friendly, but all such efforts will go in vain reason is the base code. The base code created for Windows 10 will be only able to accept or add more features till it supports and at last we need another version which is built on current ecosystem thus to make it more sustainable.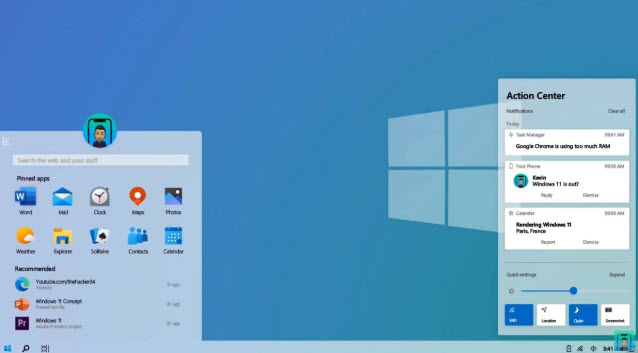 Windows 11 Features
According to Hackers34 & Avdan, below are the features we can expect in Windows 11 when it will be released.
Till the current version of Windows 10, we get standard login background screen, which changes after a specific duration of time when connected to the Internet.
In Windows 11, it is expected to have floating login screen was a live video or gif can be set for it to load while on the login screen. It can be customized from Windows control panel about its duration of a refresh, floating wallpaper settings etc.
The notification tray on the right side of the screen is also customized. Now it offers real-time notification from different social media account like, Facebook, Twitter and also provides other useful information's like weather, different time zone, new email notification alert and many more.
Till current Windows 10 build, we do not get instant search feature, i.e. we don't get an option to see the result as we enter search query term in the "Type here to search" bar at the bottom left-hand corner.
Insta-search would be the next big thing which makes the searching query more exciting and fun. Users will be able to see the result as they type their query thus provides result from which best option can be selected.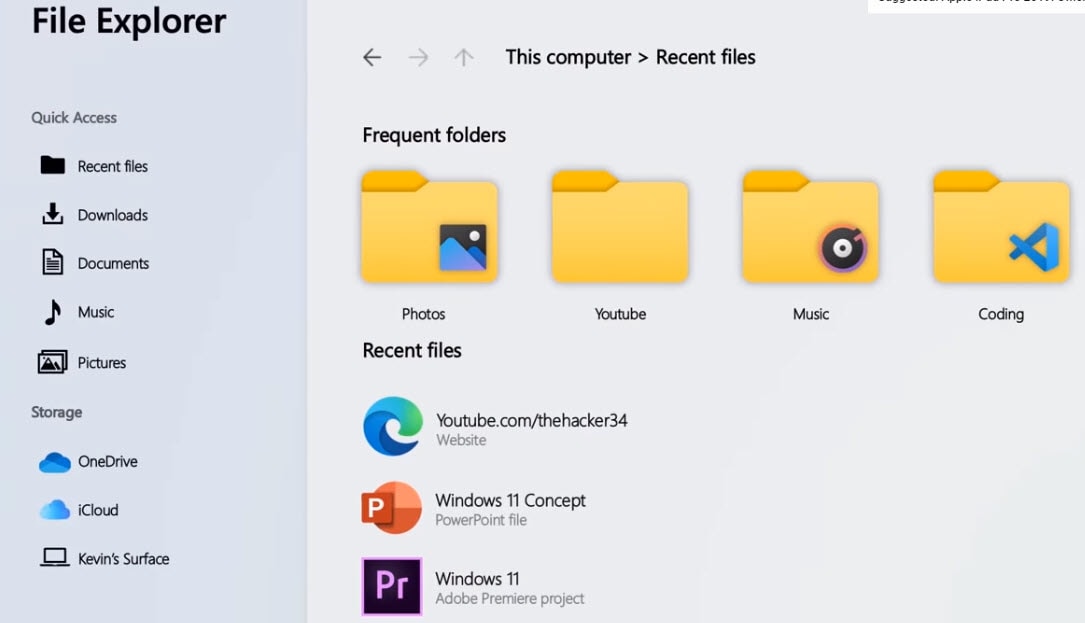 The adaptive cursor is something new in a complete Windows ecosystem; the newly designed mouse cursor will offer a different look and feel and will change colour depends upon the Windows panel.
Freshly build icons and system tray:
The symbols and system tray buttons will get a new look; it will bring in more transparency and look to different icons. The options in the system tray are also newly built; it now offers more options and settings.
The user interface in Windows 11 is not going to be the same; it is completely changed. The newly designed user interface will offer redesigned Window panel, options in control panel will be much cleaner, will offer different modes for different purpose or time, example; Dark mode will be beneficial during night use, the light style can be used during the day.
The new user interface also comes with a clean Windows XP theme or classical theme, that will offer Windows XP look and feel but with more robust functionality and features.
Also, Windows logo is redesigned, it offers more different shades of Windows 11 icon, that can be used as a desktop wallpaper, screensaver etc.
As Windows 11 will be built on a new platform, there will be completely new collections of wallpaper and screensaver, which will run in conjunction with new UI.
Action centre now offers more information about computer and connected devices, like resources used by the application running on the computer and will show an alert.
Any new notification linked to connected devices, calendar, mail updates will also appear under the action centre.
The curves around the corner of the window are gentle all over Windows 11. Those curvy curves go along with new designed Windows panel and add value to it.
The taskbar on Windows 11 will offer a more clean and vivid look, apart from look it will add more options/shortcut on the first launch.
It also offers recommendation based on application usage, that user is most likely to open. This will be designed based on the AI technique, which will analyze system usages and offers such a recommendation.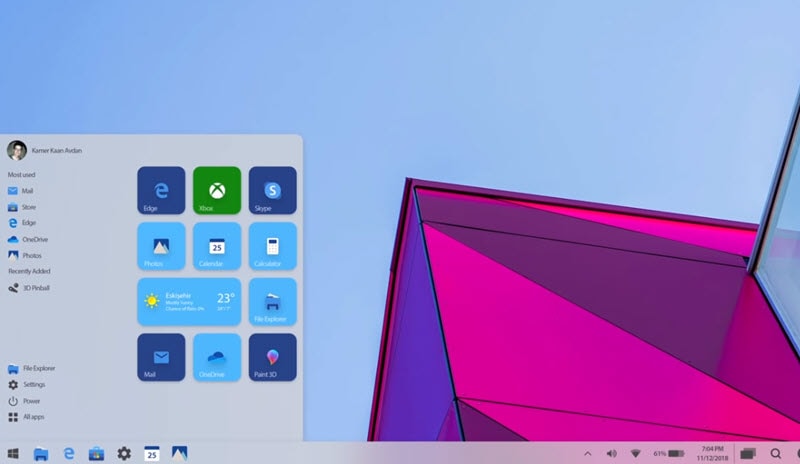 The design all over Windows 11 is going to be of cohesive design, i.e. all icons, different windows in the system will come with the same colour, font layout, i.e. uniform layout all over.
Now, tiles that were first launched with Windows 8 can be pinned to desktop home screen along with other application and system icons.
Till earlier build, only application and or system icons were possible to add as a shortcut, but now it is possible with Windows 11.
These tiles will operate just like those widgets in Windows Vista but with more control and cleaner look.
System Requirements for Windows 11:
As far as we know, the system requirements for Windows 11 will be on the higher side as compared to previous generations of Windows.
Processor: Minimum 1 GHz or faster SoC
RAM: 1 GB for x86 and 2GB for a 64-bit version
Hard disk: Minimum 16 GB for 32 bit and 20 GB for a 64-bit version
Screen resolution: 800x 600 pixels
Graphics: Microsoft Direct X 9 or later version with WDDM 1.0 driver
Windows 11 Release Date:
As per the latest leak, there is no official date known to us, but it is expected that Microsoft is going to bring in Windows 11 in the year 2020 or 2021 starting.