Windows 10 freezes randomly; this issue started when Microsoft offered an upgrade from Windows Vista to 7 and 8, then to 10 & 11. Due to incompatibility issues with pre-existing hardware or software, freezing started to occur.
This article will discuss different options and solutions for Windows 10 freezes or stuck randomly issue. The below steps are applicable for Windows 11 too. We provided enough steps and screenshots that anyone can easily follow to fix this problem.
Top 20 Methods to Resolve Windows 10 Freezes Randomly Issues:
1) Restart Computer:
Restarting the device is one of the easiest ways to fix any system related issue. It helps to delete cached files and broken kernel and boots devices with the best Last Known Good Configuration settings helping to unclog broken system issues.
To restart the Windows 10/11, go to Start -> Power -> Restart
Wait for the system to boot up completely
Check connected device performance; is it working correctly or not
If not, unplug the device, plug it back, and check again.
If the restarting device doesn't resolve Windows 10 freezes randomly issue, and then we will move next step.
2) Run Virus Scan:
Due to system files getting infected by a virus or malware attack, core Windows 10/11 files stop functioning correctly.
This affects computer performance; running a deep virus scan using the inbuilt Windows Defender antivirus program should solve the problem. But, in case of critical system issues using a dedicated antivirus program such as Malwarebytes, or Kaspersky is recommended.  
3) Disconnect all Peripheral Devices:
Usually connected devices to PC, like mouse, keyboard, printer, speaker causes system freeze.
Via Windows Update, Windows 10/11 system files remain UpToDate. However, the connected device driver remains on the older build.
Hence to find if any connected device is causing the issue, it is recommended to unplug devices, restart the machine -> check -> and plug it back to narrow down the issue.  
4) Update Disk Firmware:
Due to outdated drivers on SSD/HDD based PC, the Windows 10 PC may freeze randomly.
If there was any major Windows Update or upgrade performed in those cases. Updating the Disk Firmware for SSD and HDD is recommended.
Go to search -> Type "Task Manager" -> enter
In the Task Manager -> Performance -> look for SSD/HDD name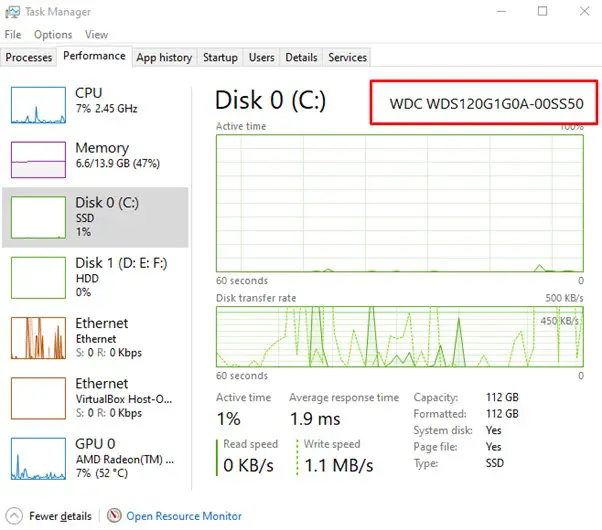 Go to the disk manufacturer's website and look for firmware
Download and install
Restart the computer and check PC performance
Read Also: How to change the font in sticky notes – Windows OS
5) Disk Cleanup:
Disk Cleanup is the easiest and quickest way to clean Windows residues, be it downloaded program files, registry entries, temp internet files or Windows cache. All can be cleared using on click in Disk Clean up.
To fix broken registry items using Disk Clean up, here are the steps below:
Go to search -> key in "Disk Clean up" -> enter
Disk Clean up window will open; look for "Clean up system files."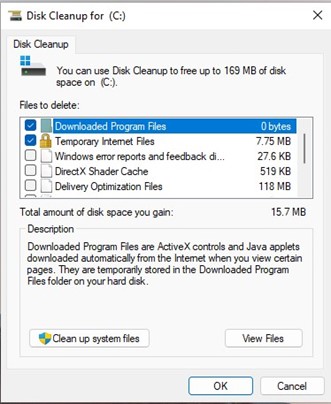 When selected "Clean up system files", it will perform a deep scan for system files, including any previous Windows log
Once the scan is complete, Disk Clean up window will open again; this screen will have all old files -> select all -> ok
A window will pop up asking for confirmation to delete; select ok, and old system files, including registry entries, will be deleted
6) Update Outdated Drivers:
The device driver acts as a bridge between Host OS, i.e., Windows and Hardware, and helps quickly transfer data and/or information.
To update device driver -> go to Start -> In the search box enter: Device Manager -> enter
The Device Manager window will open on the screen, locate the problematic device
Right-click on the device -> Select Update driver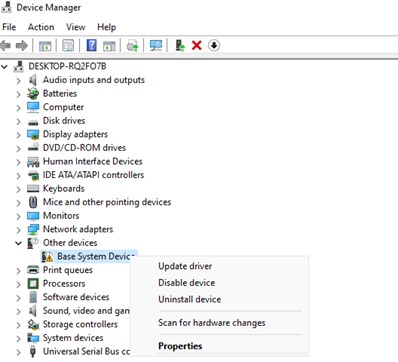 On the next screen, select "Search automatically for drivers."
Let Windows look for a compatible driver for the device and install it on its own
If the program cannot find a compatible driver copy, move to the second option, "Browse my computer for drivers."
Under this section, a copy (old version) of the device driver is present that will get installed and works with limited features. This can be further enhanced by installing the latest version of the driver from the manufacturer's website
Select "let me pick from a list of available drivers on my computer" -> Select available driver -> Next
Wait for the driver to get installed, and it will display "Windows has successfully updated your drivers" once it is installed correctly. 
7) Perform Mem Check:
A memory check helps to find any RAM related issues.
Go to search -> Type "Windows Memory Diagnostic."
Select the "Restart now and check for problems" option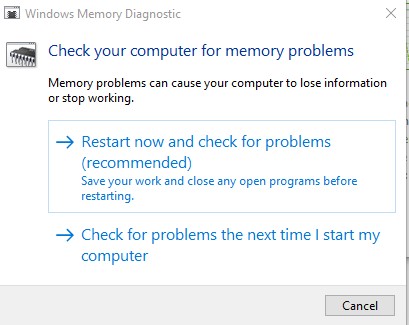 The system will restart and boot into Memory Diagnostic mode and the scan will begin automatically
Wait for the scan to complete; the system will boot back after the process is completed
To check what is the result of the mem check test, go to Event Viewer
On Event Viewer -> Windows logs -> System
From the right pane, select "Find" and search for "Memory Diagnostic" -> Find Next
The Find selection will help to locate those events that have Memory Diagnostic mentioned
Look for the message in the log that says "The Windows Memory Diagnostic tested the computer's memory and detected no error" or any specific message that talks about error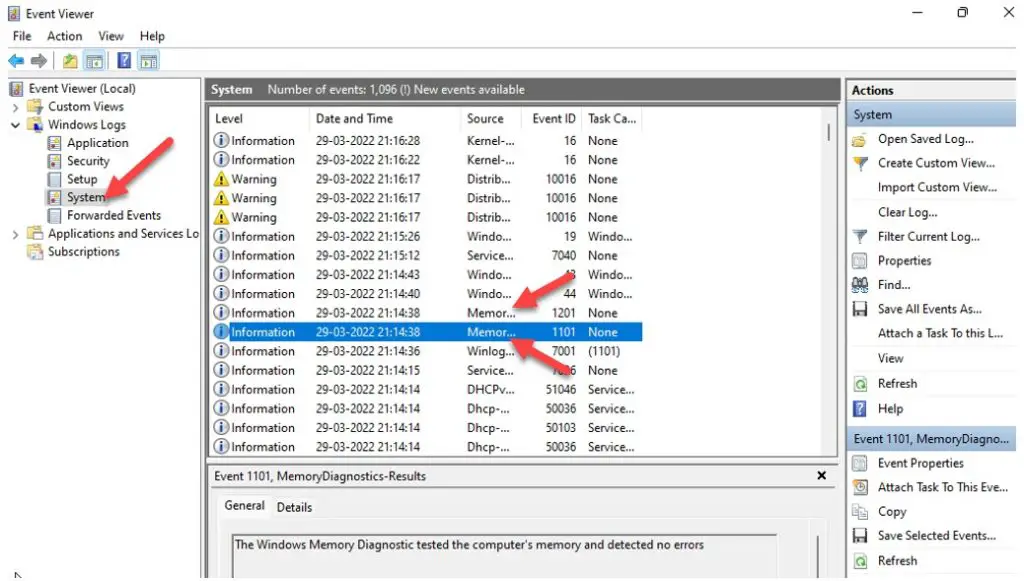 If the scan cannot detect any issues related to memory, then it's a good sign. In case of issues, the RAM stick needs to be changed.
8) Disk Error Checking:
In this step, we will check for any problem in our Windows OS, and we'll look for where it is failing.
The primary purpose of this step is to see if there is an issue present in our system.
Go to start -> In the search box, type "command prompt" -> right click -> run as administrator
In the command prompt window, type: chkdsk /F /R -> enter -> select "Yes"

Now, restart the computer, and the system will check for any integrity issue in the computer OS.
In this step, we will be able to find whether there is an issue in our System OS or not.  
9) Turn off Fast Start-up:
This option is usually available on Laptops or portable devices, and the Fast Start-up feature helps the features and functionality of the portable device to function more efficiently. But in the process, it impacts some other functionality or slows down.
In the same line, we have noticed that the Fast Start-up feature impacts mouse performance and cause windows ten mouse lag issue.
To disable permanent or temporarily, head over to the below steps:
Go to start -> In the search bar type: "Control Panel" -> enter
Now select Power Options -> Choose what the power buttons do
Unavailable change settings -> uncheck Turn on Fast Start-up -> Save changes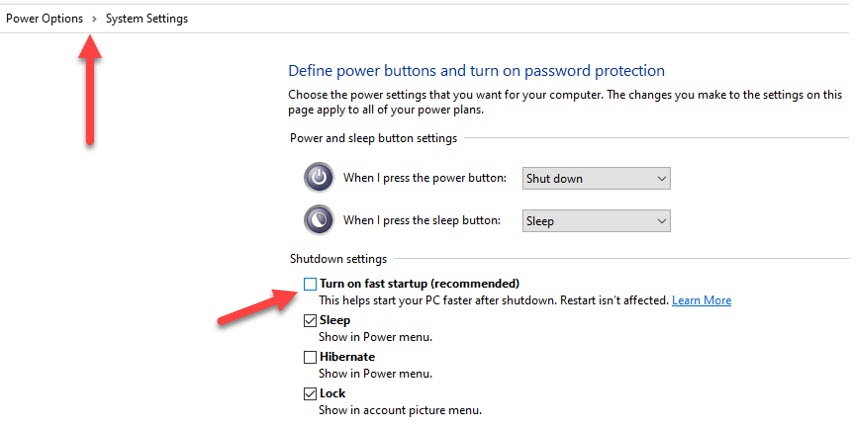 10) Disable Start-up apps:
It adds a service to Windows Startup and keeps running in the background when installing any application.
Sometimes due to third party application or service conflict Windows 10/11 freezes randomly.
To check if disabling start-up services solve the problem, we will follow the below step:
Go to Start -> Type "Task Manager" -> enter
Navigate to Startup tab-> under "status", look for enabled program-> select and click on "Disable" button at the bottom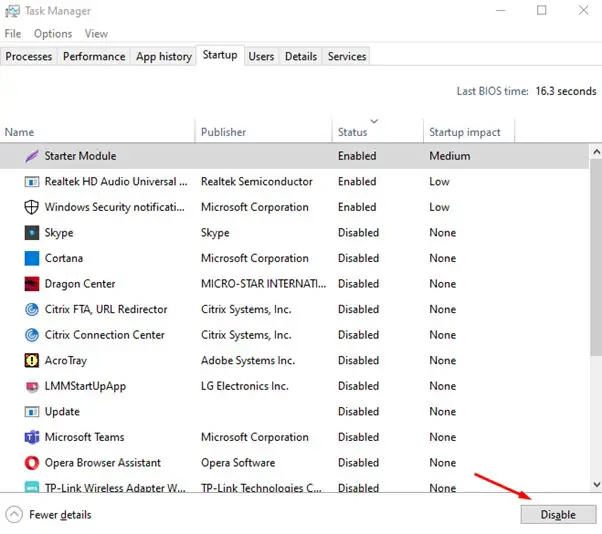 Repeat the above step for all programs and restart the PC
Check system performance after system restart
11) Run SFC Scan now:
SFC Scan is now a built-in command prompt in Windows OS; this helps find and rectify small registry or system-related issues more quickly.
The SFC Scan now scans the primary drive on which Windows is installed, looks for abnormalities and tries to repair it to make the system work flawless.
To run SFC Scan now, the user must have admin privileges to execute the command. Here are the steps below:
Go to Start -> Type "Command Prompt" -> select "Run as administrator" from right panel
The system will ask the user to select "Yes" or "No" to open a command prompt with admin privileges; select "Yes."
In the Administrator: Command Prompt screen, type SFC /scannow -> enter
The system will start the scanning process, and this will take a while to complete the process
Once the scan process completes, it will display the message Windows Resource Protection found corrupt files and successfully repaired them. Windows Resource Protection did not find any integrity violations.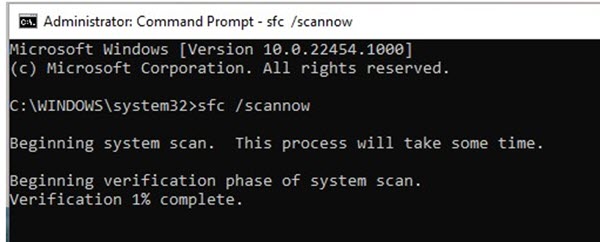 12) Run DISM Tool:
The DISM tool is an inbuilt feature in Windows 10/11 that stores a copy of original Windows core files and tries to restore any corrupt file when it is executed.
Go to the search bar on the bottom left-hand side of the Windows 10/11 screen, Type in the search box as "command prompt", -> click on the run as admin
In the command prompt screen, key in the below command
DISM /Online /Cleanup-Image /CheckHealth
The above command will scan to locate and repair damaged or corrupt files. This process will take a while as it examines the whole Windows directory, and based on the applications installed on the computer, the execution time will vary.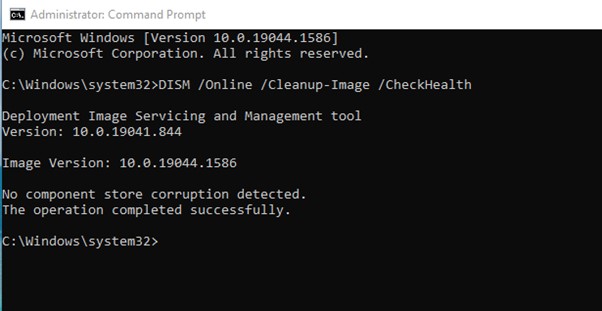 A restart is required after the DISM command finds the issue and fixes the problem.
Restart the device for the changes to reflect and check for updates.
13) Using Winsock Settings:
We will reset the Winsock settings using a command prompt in this method. Users can use this method if another method doesn't help clear DNS flush.
Go to Start -> Search for "command prompt."
Right-click on "command prompt" and select "Run as administrator."
In the command prompt screen, type "netsh winsock reset" -> enter

Windows will clear the DNS flush.
14) Boot into Safe Mode:
Restarting the computer in Safe Mode helps narrow down the Windows 10 freeze randomly issue problem.  
All third-party programs and their drivers don't load in safe mode, and Windows 10/11 runs on bare minimum settings.
Restart the PC -> press the F8 key until the system boots into the Advance boot option
Select Safe Mode from the list
Once on the home screen, start using the PC to check windows 10 freezes randomly issue
In case everything works as expected, then its time to look at third party devices and their driver settings
15) Turn off GPS Location Services:
There are a few reported issues by Windows 10 and 11 users on the Microsoft forum. They observed high CPU usage when Windows sends location data to the Microsoft server and then causes a system freeze.
The reason could be low internet bandwidth, location services or system configuration that doesn't hold PC performance and send location data.
To disable location services, search for "Location privacy settings" -> enter
Under "Allow access to location on this device" -> change -> swap to turn to set off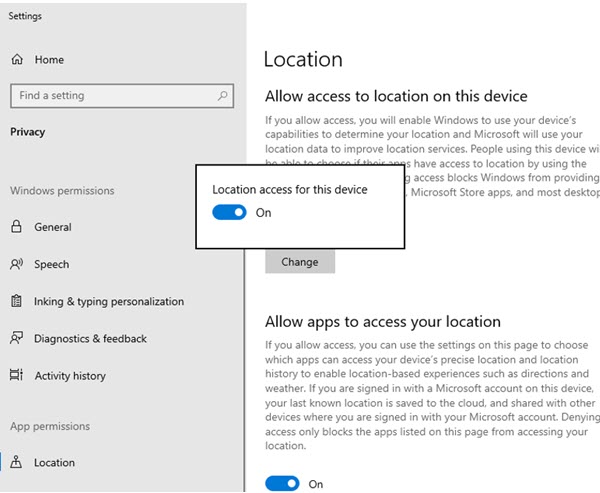 Restart the PC and check system performance
16) Clean System Temp files:
When the PC is running, it creates many caches and dumps files stored in a different folder.
After some time, due to repeated usages of the same application, the existing cache files start to create a problem and, in a few cases, cause Windows 10 system freeze randomly issues.
Press the CTRL+R key together on the keyboard; in the Run window, type "temp" -> enter
A Temp window will open, select all and delete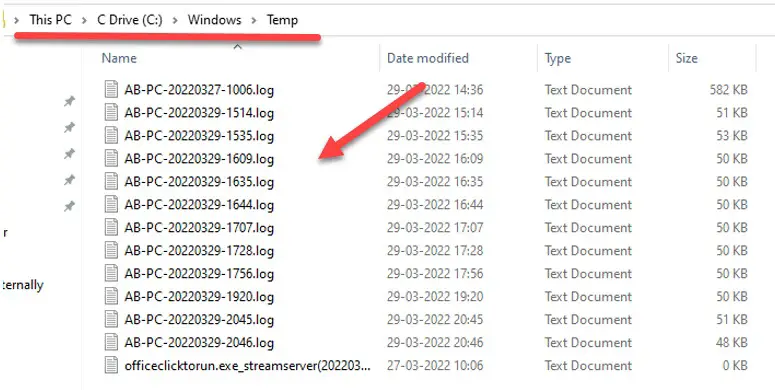 Repeat the same for the "Prefetch" and "%temp%" folders
Restart the computer and check system performance
17) Perform System Restore:
When any new update or application is installed on Windows, it creates a restore point. This restore point comes in handy if something goes off, and a revert is required to recover the system.
Go to the search bar on the bottom left-hand side of the Windows 10/11 screen; type in the search box as "Create a Restore Point" -> enter
The System Properties window will open on the screen -> select "System Restore."
In the System Restore window -> Next
From the list of the restore point, select the latest RP and click Next to Finish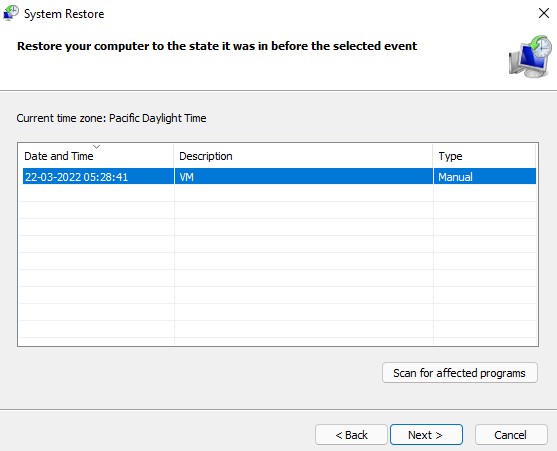 Windows will restore the PC to an earlier date after the system restart
After the system restore is completed, go back to Device Manager -> select device -> Right-click -> Update driver
18) Reset Windows:
If nothing works and a Windows OS reinstallation is required in some cases. In such issues, resetting Windows is one of the options users can do before formatting the complete drive.
Go to the search bar on the bottom left-hand side of the Windows 10/11 screen; type in the search box as "Reset this PC" -> enter
Under settings -> Recovery -> select "Reset PC"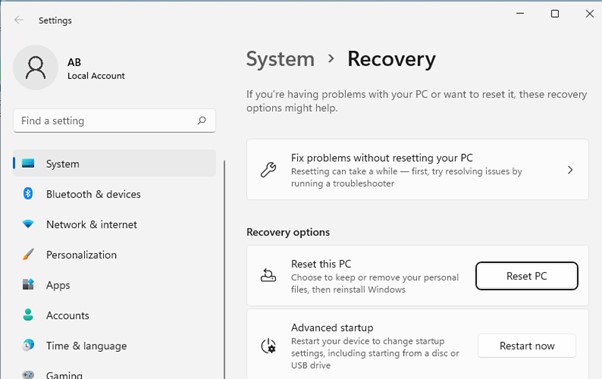 Select "Keep my files" or "Remove everything."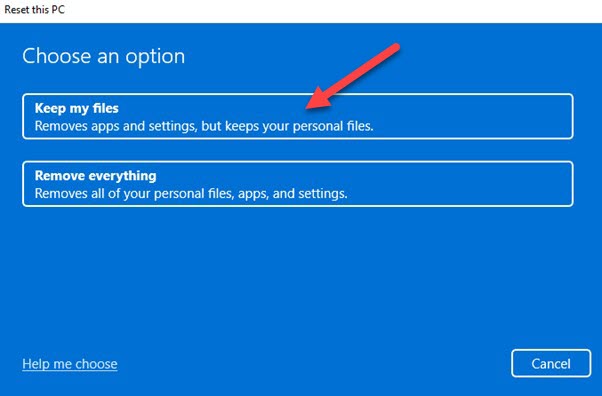 Once one of the above options is selected, the system will perform the task and boot back as a fresh Windows OS
Users can now connect external devices, reinstall the device driver and check its performance.
19) Reinstall Windows:
This is the last option a user can go for if none of the above options works.
To reinstall Windows, users can go to Microsoft Windows 10/11 official website -> download a fresh copy of Windows and install it directly or create a Media file.
After installing Windows, connect back to the hardware and see how the device works.
20) Replace Hardware:
This is the last step to resolve the Windows 10 freeze randomly issue; when all the software-related troubleshooting is completed, the user needs to check all the PC peripherals by unplugging, checking on another PC, and replacing it with new.
Conclusion:
We have tried to cover almost all different options available at our disposal that we can use to fix the Window 10/11 freezes randomly issue. We hope one option might help you fix an issue with your PC. Do let us know your thoughts in the comment section below.