By any chance, after you logged on your Windows computer if desktop icons are missing, there could be several reasons for that. The solutions depended on the types of icons missing on your Windows 8.1 or 7 computer. For example, if the default icons (like Recycle Bin, My Computer) available but your personalized icons are missing, then it is related to user profile issue. If none of the icons show up on the desktop and it is blank, then there is another reason for it.
Here we will be showing the possible ways to fix and get back the missing icons from Windows desktop or laptop computer.
If Your Personalized Icons are Missing
Let's assume that you can view the normal My Computer and Recycle Bin icons, but not other icons, shortcuts, folders, and files on the desktop. Don't panic, you can fix it easily. It's related to user profile issue. You have not been logged in properly with your user profile, instead, it is a temporary profile and loaded as a fresh profile on your computer. We have mentioned the ways to fix Temp profile issue on Windows OS here.  To recap the steps and make it easy for you, follow the below steps to fix Windows desktop icons missing issue.
1) You must be a member of local administrators group. Go to registry editor, by typing ' regedit' in the run.
2) Go to the following location,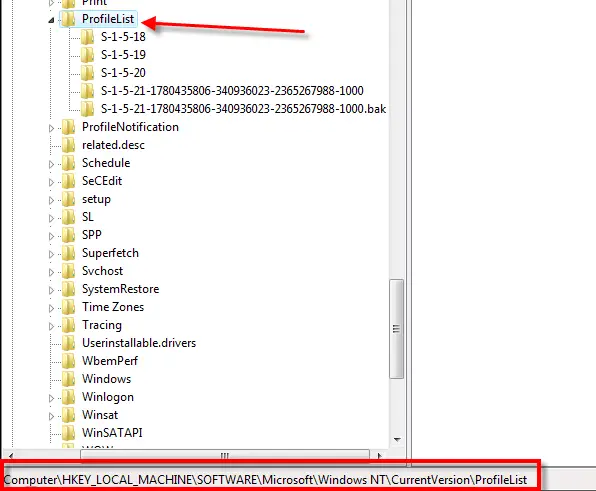 3) You will find the same profile list names, one with .bak. The profile list which is having .bak is your correct profile, but now it's loaded with the other profile which is like a new profile.

  4) To restore your Windows OS desktop icons and other profile settings, just rename the profile which doesn't have .bak to any other, and remove the .bak from second profile. So it will be like below,

 5) That's it. Just log off and log in with your username and password. It will bring back the desktop icons and other profile settings.
Logging-in back with your correct profile will bring back the missing icons.
All Icons are Missing (Desktop is Blank on Windows 10/8.1/7)
If all icons are missing and the desktop looks blank except the wallpaper, then there is a setting you must look.
Below steps are similar to Windows 10 and 8.1 though it has taken in the older OS.
Right-click on the desktop and select View. 'Show desktop icons' must be selected to show all desktop icons. If it is not there, select it and see whether you are getting back all desktop icons.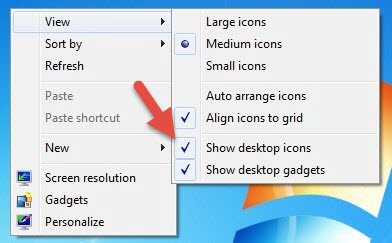 If you still can't find the My Computer or Recycle Bin icons, you must check under personalization which was described clearly in our earlier guide.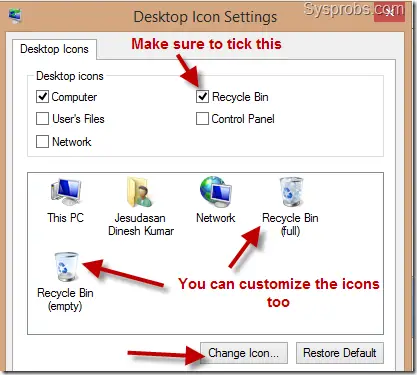 With the above possible steps, you must get back the missing icons.
If still issues in seeing your icons, do not forget to check in;
Recycle Bin – You or someone might have deleted the desktop icons accidentally
C Drive –> User Profile –> Desktop folder.
Share us the way how you fixed this problem.