WiTopia is one of the famous VPN providers for all kind of platforms such as Windows, Mac OS X, iOS and Android. They support most (protocol) type of VPNs and VPN several servers based on geographical location to make the connection secured and faster. Instead of connecting random servers in other VPN services, you can choose the specific server with WiTopia VPN. This guide will be showing you how to setup WiTopia L2TP/IPsec VPN on Windows 10 (Windows 8.1 too) manually. Usually, they have a software that will install WiTopia VPN client on Windows 10 desktop or laptop to make the connection, but here we go with the manual method.
Basically, VPN (Virtual Private Network) helps to protect your network traffic data on the Internet or in-between nodes/locations. This will avoid someone to see your network traffic/data and hijack your personal and confidential information. Also, VPN helps to access websites and the Internet services which are blocked by your local ISP (Internet Service Provider). Let's say if Skype is blocked at your place, by using a personal VPN service like WiTopia you can use Skype on your PC or smartphone. There are several free personal VPN services available in the market, WiTopia is one of the paid version which does the job well.
Setup WiTopia L2TP/IPsec VPN on Windows 10 Manually
Follow these steps to set up a VPN without any third party client installation. This purely works with Windows 10 built-in VPN client. Similar steps can be followed on Windows 8.1 also.
1) Open Network and Sharing Center to create a new VPN connection. Search for 'Network' on Windows 10 search and click on Network and sharing center.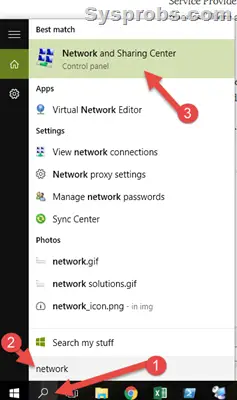 2) To create a new dial-up VPN,  select the below option on your Windows 10 desktop or laptop.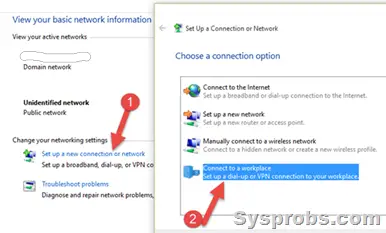 3) You can select the first option as shown below and press Next.

Then select 'Use my Internet connection' option and proceed.
4)  On the next screen, you have to select the server name (location) to dial VPN. You can check available L2TP WiTopia VPN server locations at this official site here.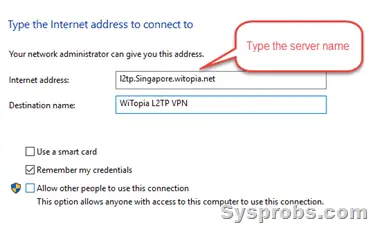 You can select 'Remember my credentials' if you like to save the user name and password on your Windows 10 computer. Click create to configure VPN.
5) Once you have created the VPN, you will see it under network connections on Windows 10 computer.

6) We need to modify a few more settings on this connection to make the WiTopia LT2P VPN works on Windows 10. Right click on the created connection and select Properties. Under security, change the following settings.
2-  Type of VPN – Layer 2 Tunneling….
3- Require encryption…
4- Enable Allow these protocols
5- tick those protocols.
6 – Click on 'Advanced settings' to go to the next option.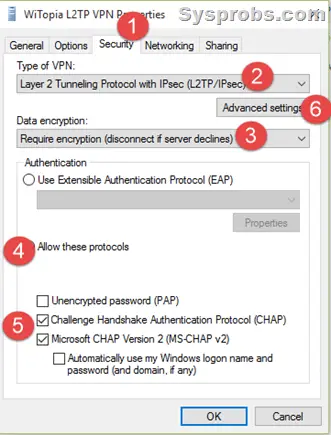 7) After clicking the Advanced settings, select the first option and enter 'witopia1' as key.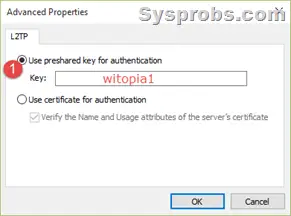 8.) Click on Networking tab and remove IPv6 version as shown below.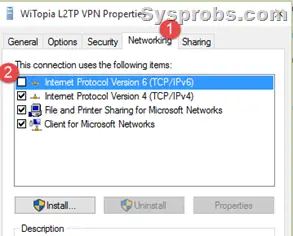 Press OK and complete the WiTopia L2TP VPN settings on Windows 10, these methods can be followed on Windows 8.1 also.
You need to enter the user name and password while trying to connect VPN.  Click on the network icon in the notification area and select the VPN connection you are going to dial.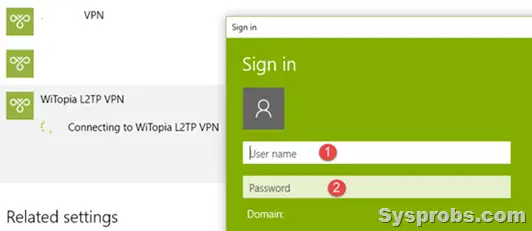 Using the WiTopia VPN user name and password is slightly tricky. It depends on what's your user name is. Is it your personal email or username with WiTopia domain.
If you use your personal email as user name, you should use W\ in front of it, as below.
W\your@email.com (the W \ must be present)
If your user name is as this username@witopia (notice that there are no .net at the end), you can use this directly without typing W\ in front of it.
You can find more information about setting up WiTopia L2TP VPN on Windows 10 and 8.1 here at the official site.
You may need client software to setup IPsec VPN if it doesn't work on your computer as described here.
We hope this guide would be helpful in setting up WiTopia L2TP VPN on Windows 10 or 8.1 computer without installing additional software.