Line and paragraph spacing is a crucial factor to consider for an impressive factor in formatting and presentation of a document. In Microsoft Word, you have the option to either decrease the line spacing in Word 2013/2016 to fit the content within the desired count of pages or increase the line spacing for enhancing readability. In this article, we are going to show you how to change line spacing in Word 2013/2016 or even the Office 365 version. It doesn't matter which Operating System you have, these methods will work on Windows 7, 8.1, Windows 10 and even on Mac OS as long as you have the MS Office.
What is Line spacing in Word Document?
In a word document, the space between two lines is the line spacing and Microsoft Word allows you to add a single spacing, double spacing or any customized spacing of your choice.
Although the words single spacing and double spacing are self-explanatory that does not mean that a font with 12-point height will produce a single spacing of 12-point height and a double spacing would produce a 24-point height. Double spacing is most commonly used in academic or research documents for proofreading.
However, the fact is that irrespective of the point height, different font types have different heights. For example, a 12-point Times New Roman will have a different line spacing than Serif font.The white space between two text lines is also known as the type of typography, "leading".
In single space leading, the height of spacing is between 110% to 120% and for double spacing, the spacing width is 220% to 270% of the size of the font. The heavier fonts require large loadings whereas the thinner fonts need smaller leading.
To counter the ambiguity in line spacing for different fonts, Microsoft Word introduced the new option of default spacing. The default line spacing was set as 1.15 in the Word 2007 to Word 2010 and 1.08 spacing in Word 2013 and Word 2016. The default spacing set by Microsoft is not fixed as you have the option to set the leading height of your choice as default.
The following images highlight the difference between default, single and double spacing.

Single Spacing
Double Spacing
Default Spacing
How to Change Line Spacing in Word 2013 (Applicable for 2016 too)
Line spacing format Word 2016
The first step is to select the paragraph or the section of lines which you need to format.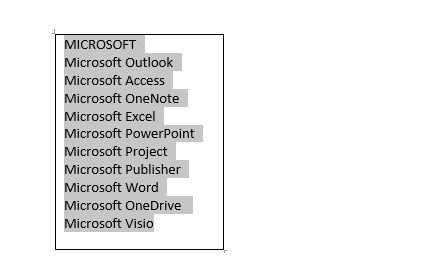 Go to home tab in the top menu in Microsoft Word and click Line and Paragraph Spacing icon.You will have a drop down list appear on the screen.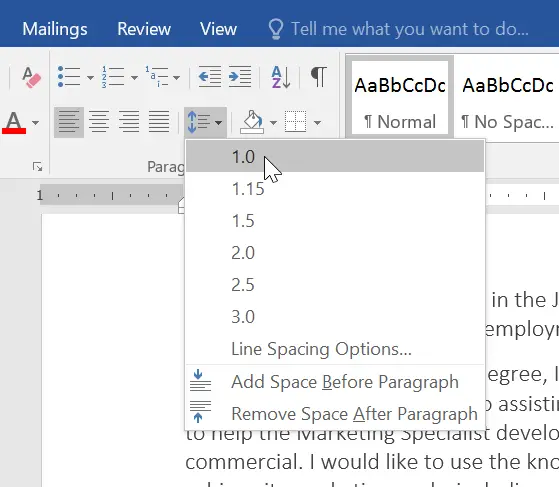 Here you will find various line spacing options. As you hover the mouse cursor over the available options, the selected text will show you the preview of that particular line spacing.

The selected text will be applied with the line spacing that you select from the drop down list.
Additional Leading options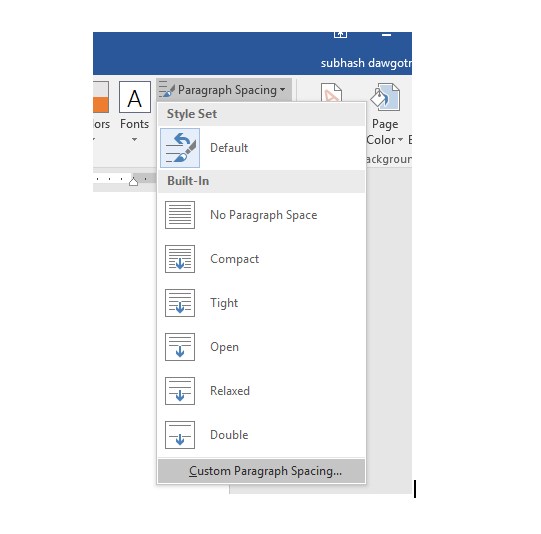 In addition to the above line spacing options, you can select more precise settings in the Design section of the Word menu options. In Design menu, go to the Paragraph Spacing, to manage the paragraph and line spacing styles.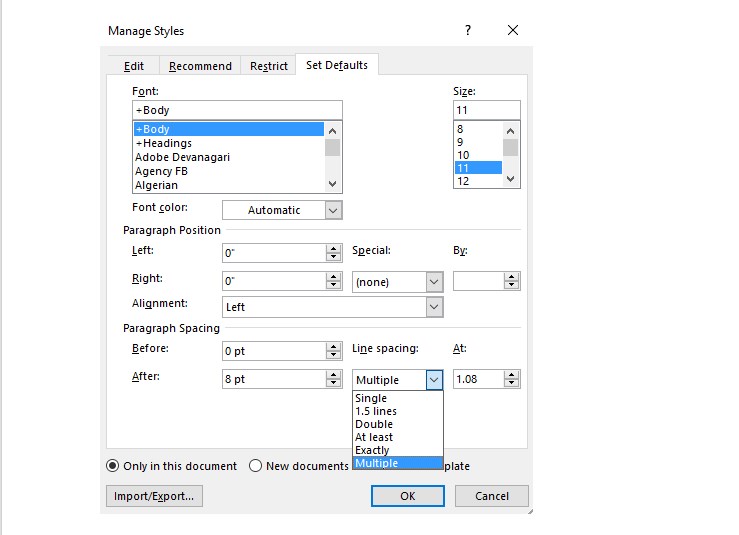 Other than single and double spacing, there are four more commonly used and preferred options "1.5 Lines", "At least", "multiple" and "Exactly". These additional line spacing attributes help you with more precise spacing.
1.5 Lines. The 1.5 lines spacing is self-explanatory and provides a fixed height between the lines At least. This option lets you fix the minimum line spacing and MS Word will automatic accommodate any higher sized text in the line or any special character or drop caps used if any.
Multiple. The multiple options provide you more line intervals other than single, double or 1.5 lines. By selecting the multiple options, you can opt for 3-line spacing, for example.
Exactly. This mode will let you choose fixed height in points. The only thing you need to take care of is that you should select the line spacing greater than the font size. So, if your font size is 10 points, the line spacing should be minimum of 12 points.
Conclusion
Line spacing is not optional if you are planning to write a readable and impressive Word document. Spend enough time to decide for this important aspect before you begin typing your document. A proper line spacing will let your readers decide whether to continue reading or discard. We hope this guide would be useful in finding how to change line spacing in Word 2013, 2016 and Office 365 online or offline versions.