Recently I had a chance to install and configure Microsoft Exchange 2013 on Windows 2012 R2 server in the production environment. It's a single server installation with mailbox and client access roles on the same virtual server, Hyper-v. Installation went smoothly after thorough checking of prerequisites. But after the installation, I faced a few issues in mail flow like receiving internal and external emails. I'm sure everything set correctly according to Microsoft guidelines including send connector, receive connector (installed by default), MX records, firewall, and others.
Update: I installed and worked on Exchange 2016 later. Since some of the settings remain same, if your new Exchange 2016 server is not receiving internal and external emails, you can follow the below same steps.
Here are the simple steps I followed to fix Exchange 2013 not receiving external emails problem, this could be applicable for Exchange 2013 SP1 too.

If you have configured every setting properly to receive internal and external emails on your new Exchange 2013/2016 mail server but still facing issue in receiving emails, that could be possibly related to internal DNS.
The Solution Worked to Fix Internal Email Receiving Issue
Usually, the internal mail flow should work once the Exchange 2013 server installed with minimal settings. Each users should be able to send and receive internal emails among them. Unfortunately, that did not work straight away.  After Googling, I found out that several people faced a similar issue on the fresh Exchange installation.
Make sure your domain local DNS IP ( not 127.0.0.1) is set on NIC of exchange server and nslookup is working fine and resolving. But still, there is a glitch.
1) If you have set up secondary DNS IP in the NIC of Exchange server, remove it and restart Microsoft Exchange transport and Frontend transport service.
2) Configure local DNS server IP on the exchange server's DNS lookups.
To do that, login to the exchange control panel (ecp), go to 'servers'.  Select your exchange server and press Edit as below.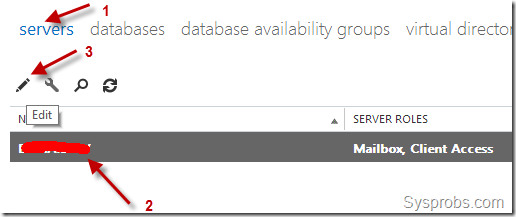 Select DNS Lookups in the left side menu.
In internal DNS lookups, select the Custom settings then add your local DNS server IP. Even though it is already in the NIC settings of exchange server, for some reasons internal email flow started working after manually added below settings.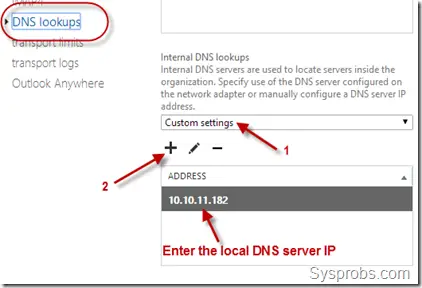 The above solution fixed the internal mail flow.
How I Fixed Exchange 2013 Not Receiving External emails Issue
There was a problem in inbound external emails on newly installed Exchange 2013 server. Microsoft remote connectivity tool showed few errors in incoming SMTP emails test.  You can check your server's incoming SMTP emails status by Microsoft's remote connectivity analyzer site here. It will show an error at last which indicates external emails receiving an issue on Exchange 2013.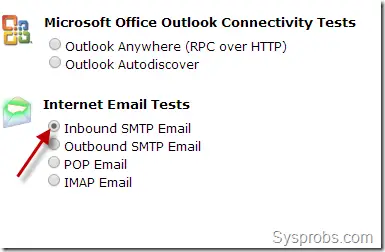 As suggested by some other blogs, checking the transport logs (C:\Program Files\Microsoft\Exchange Server\V15\TransportRoles\Logs\FrontEnd\ProtocolLog\SmtpReceive) gave an idea that incoming emails are reaching mail server but rejected by the server for some reasons. That helped me to make sure that other all external settings are correct.
Here are the solutions you can try first if the new or upgraded Exchange 2013/2016 not receiving external emails.
3) As we did for internal emails (on step 2), set the local DNS server in external DNS lookups.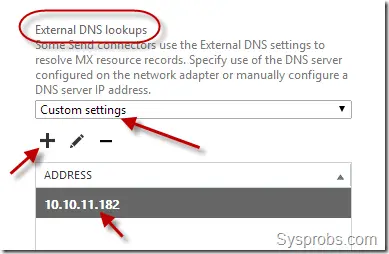 It can be found under 'servers' settings and insert the local DNS server IP for external DNS lookups.
Restart Microsoft Exchange transport and Frontend transport service.
4) Host file modification, this is a strange fix but worked for me, I found out it from one of the MS forums as suggested by Microsoft tech team.
Open the host file of Exchange 2013 server and add below host entries.
10.10.10.100         mailserver
10.10.10.100         mailserver.yourdomain.com
Believe me, it started working after modifying the host file and restarting exchange transport services.
As I said earlier, if other all settings including MX records, firewall and receive connectors are set correctly, mostly with above fixes your Exchange 2013 or 2016 server will start receiving external emails.
If you still face the same issue, checking the transport logs, Microsoft remote connectivity analyzer, Exchange server event viewer and Firewall logs will give more hints to fix exchange 2013 not receiving external emails issue.