Though the purpose of Windows update is to enhance the system performance, speed and fix security bugs, sometimes that can hurt your computer too. It is very important to identify which updates were installed recently if you face issue with Windows OS or applications on your computer. When you work in the server environment, you must take extra care while installing Windows updates. Some updates may cause the issue with the installed applications or server setup with clients. This guide explains where and how to view the installed updates on your Windows 10 PC and Windows 2012 R2 (and latest servers).
Checking the installed Windows update is not a tough task, but you may miss or confuse with the place you must check since each interface on every Windows Operating System is different.
How Check Installed Windows Update on Windows 10
It can be checked in the control panel. That will show the details of updates with its KB number and date of installation.
1. To go to 'Windows Update' settings, type 'Update' in the search. This will take you to the settings app on Windows 10. Click on 'Windows Update settings' as below.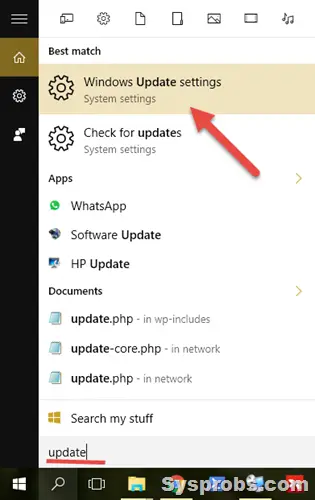 2) On the next screen, click on Advanced options to see the history of installed updates.

3) Click on 'View your update history'.

Here it will show the installed updates on your Windows 10 desktop or laptop computer.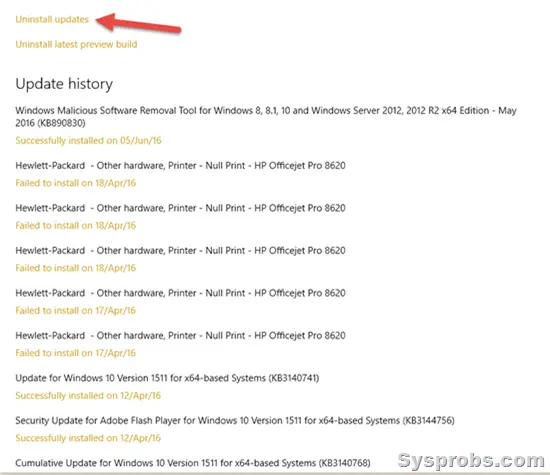 Few Drawbacks in this Method
Unfortunately, this will not show all the updates on your computer. It shows the recent success or failure updates only.
You can't directly uninstall a specific update from this settings app, you have to click on 'Uninstall updates' which will take to classic control panel settings.
Better Way to Check Installed Updates on Windows 10/2012 R2/2016/2019
Go to classic (we call it 'normal') control panel and click on 'Programs and Features'.

Here you can view the installed updates on the server or client Operating System with the installed date. It is easy to select individual installed update and uninstall them (if you think that particular update is causing the issue on your computer or server).
We hope this small guide would be useful to find out the installed Windows updates on a Windows 10 or 2012 R2 server computers.