Are you planning to buy a computer? I'm sure you must be looking for an Intel processor, though some come with AMD chips, and the latest Macs come with an M1/M2 processor. However, in this post, we will look at different Intel naming schemes and how to select the suitable type for you. 
The information in this post will help you determine which Intel CPU processor you must go for and if it is worth spending money on the newer-generation Intel processor. You can buy the next computer confidently since you can understand the jargon manufacturers and retailers use. 
Intel's naming scheme is a system of naming conventions used to identify Intel processors. It is essential because it helps users to easily recognize and compare the performance of Intel processors. The naming scheme also helps manufacturers and retailers to differentiate their products and provide better customer service.
Intel Naming Scheme – How are they Named?
Learning Intel's naming scheme, at a glance, appears impossible. Compared to AMD, you will find more random numbers stapled to each other. But, in reality, it is not bad.
Intel's naming scheme consists of four main components: processor family, brand, model number, and generation. Each component provides information about the processor's features, performance, and compatibility with other hardware components. This makes it easier for users to make informed decisions when selecting a processor for their system or application.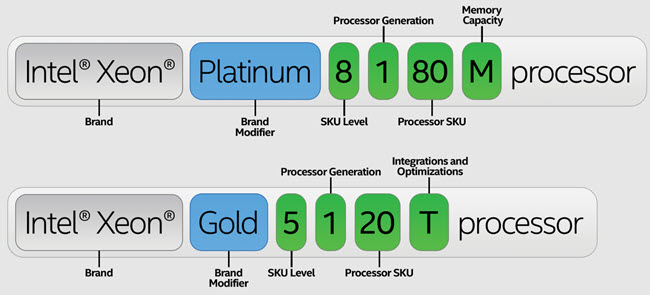 Brand Name
Intel has many brands in the CPU selection, all made for various things, and to name popular ones that you will encounter today:
The core is at the mainstream desktop computer, whether gaming computers or workstations.
Xeon includes the most powerful CPUs in the market with unmatched core & thread counts, planned for heavy-duty workstations & servers.
Pentium and budget-friendly CPUs are suited for casual computer users.
Celeron and entry-level solutions are perfect for people on a tight budget.
Atom and power-efficient CPU processors are best for mobile devices with minimal battery life.
Besides these listed five, Intel is selling Movidius VPUs & Quark microcontrollers. They had many other brands before that have been retired.
Brand Modifier
Intel Core Generation i3, i5, i7 and i9
We can distinguish Intel processors as per the overall performance and cost. When we look at the Intel Core brand models, we can find they are available in four categories:
Intel Core i3 processors provide a fantastic mix of performance and price. Though not the best for colossal multi-tasking and challenging tasks like editing videos, they provide noticeable performance from the Pentium processors without spending more; you can find them on laptops. 
Intel Core i5 processors are also the best choice for a computer to perform plenty of tasks simultaneously and delve into video and photo editing work. They do not cost much as Core i7 processors, but they provide performance that is not very far off. It is the specification we suggest to many people and can get in the laptop.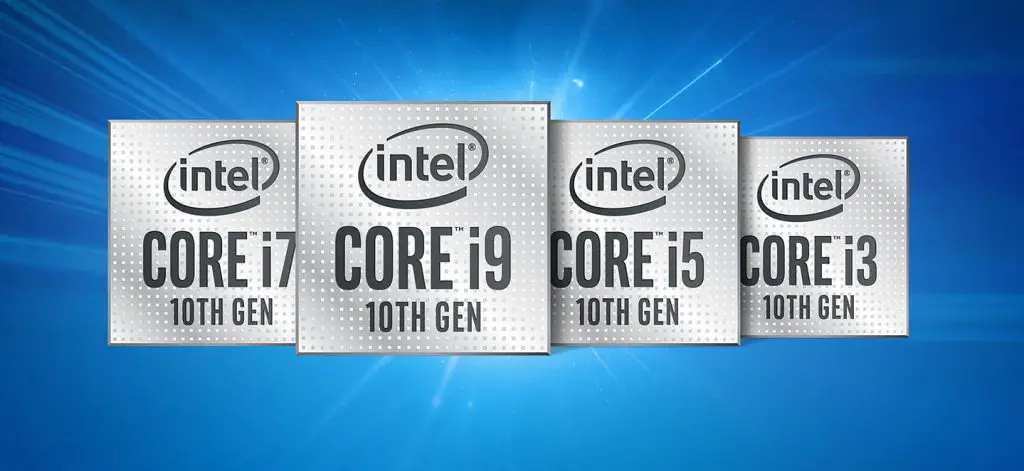 Intel Core i7 processor is one step up from Core i5, with extra performance to make challenging tasks quicker and easier. You pay a premium for that, and suppose you do not have any specific need for the speed, then you might not have to pay any extra. 
Intel Core i9 chips will be reserved for the specialist computers working on challenging tasks, generally editing big videos. These will be overkill for many people, though if you get a chance to use just one surely, you will notice its scintillating speed.
The naming convention of the Intel Xeon CPU is a bit different from Intel Core processors. Intel Core I-series comes with i3, i5, i7 & i9 but Intel Xeon processors come with E, E3, E5 & E7. 
Intel Xeon E comes as the Quad-Core or Hexa-Core.
Intel Xeon E3 is a Quad-Core processor having four cores.
Intel Xeon E5 comes in 4 – 22 Cores and has cores 4 – 22.
Intel Xeon E7 will have 8 – 24 Cores.
All of these mentioned Intel Processors have high processing with better clock speeds. They will run demanding tasks for a longer duration of time. 
The final piece of a puzzle is a letter at its end. To understand it briefly, this is tacked on the CPU name and signifies a specific function.
The standard processor will not have any letters at all;
"K" will mean that processor's clock speed is higher than usual
"G" indicates the in-built graphics processor (onboard GPU)
"T" shows shallow power consumption
"F" in 11700F means the model needs a discrete graphics card to run correctly because of the higher performance of a chip. 
There're more models, letters, and numbers; these are pretty common. You may look up others on Intel's website to learn more about the chipset. Understanding the CPU letters is critical to learning about the Intel naming scheme.
You can find more information about the Intel CPU letters in the below video:
Model or SKU Number
Intel Processors 9th Gen 
This model or SKU number generally includes three digits, and it's the generic number that does not say anything about the CPU's specifications and capabilities; it indicates the position in a hierarchy in the generation it belongs to.

For instance, you have i3-10100, i5-10600, i7-10700, and i9-10900. Every CPU is more powerful than its last. So, models with the higher numbers pack have higher processing power and might have access to some essential features missing from their cheaper alternatives.
But, these numbers do not necessarily mean anything if you compare the processors over many generations. That means the cheapest i3 model that came this year can outperform what was the top-of-line i7 processor many years before.
Intel Core Processor 
The Intel Core processors Generation indicates quality, performance, and speed. The newest generation of processors will perform faster than previous generation Core Processors.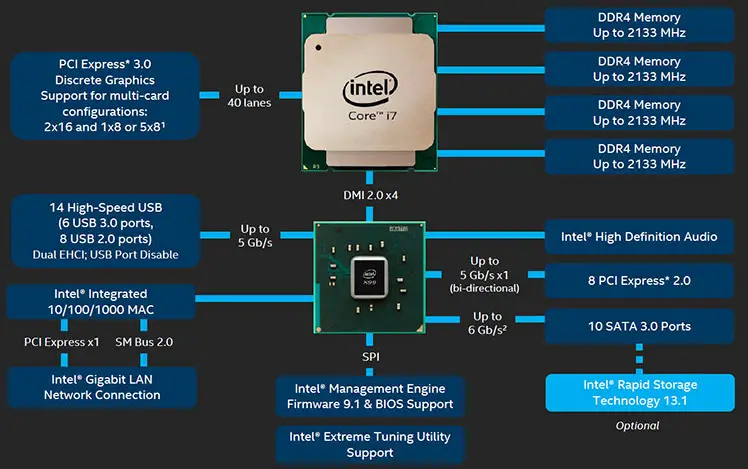 For example – Intel i7-9700K will be 6 percent faster than its previous generation of Intel Core i7-8700K. Looking for the latest generation processor when buying a new computer would be best. However, how will you do that?
If you buy a computer online, you can find the generation mentioned in the Specifications sheet. Suppose you do not find any generation then you will find this in another way mentioned here.
Each Intel Core processor comes with four numbers, as mentioned earlier. The first Digit in a four-number sequence will represent the Generation of an Intel Processor.
The Intel naming scheme may have changed by the time you read this guide. Therefore, it is advisable to check the official website for current information and updates on the various indicators and readings introduced by Intel.
What are F and K in Intel Processors?
The 'K' letter indicates that the Intel process is unlocked. So, it supports overclocking to a certain speed than the standard speed. It will be helpful in certain cases like playing games or using the higher CPU needed software. Also, they support integrated graphics.
The 'F' letter denotes that the CPU doesn't support integrated GPU. Your PC should have a dedicated display card with these types of processors.
What is the difference between K and KF?
The 'KF' letter indicates the CPU is the combination of the K & F. The Intel KF denotes it is unlocked for overclocking but lacks the integrated graphics processor.
The Difference Between Desktop & Mobile Processors
Desktop and mobile processors are similar in many ways, but there are also some key differences that make them suited for different kinds of applications.
Desktop processors generally have higher clock speeds, larger caches, and more cores than mobile processors. This makes them better for tasks such as gaming and video editing.
Mobile processors are designed to be more power efficient and have lower power consumption, making them better suited for laptops and other portable devices.
Both desktop and mobile processors have their own unique strengths and weaknesses, so it is important to know the difference between the two when choosing a processor for your device.
Read Also: How to check the CPU cache in Windows OS
Conclusion: Make Sure You Have the Right Processor for Your Needs
Intel's processor naming scheme is a great way to make sure that you get the right processor for your needs. With Intel's various levels of CPUs ranging from the low-end Celeron to the high-end Core i9, there is something for everyone.
Whether you are looking for a budget gaming processor or a high-end workstation CPU, Intel has something that will fit your needs and budget. With so many options, it can be difficult to decide which one is best for you.
Fortunately, Intel's naming scheme makes it easy to understand what each of their processors offers and how they compare. Understanding Intel's processor naming scheme ensures you get the suitable processor for your needs.