CPU plays a vital role in the computer, and it is one of the main parts on which lots of another component relies on. Having an issue with a CPU or malfunction can create lots of trouble for the end-user. There are times when CPU temp increases, and the end-user is not very aware of why. There are many tools available in the market to monitor CPU performance and resolve pertaining issues. This article will talk in detail about the 10 best CPU temp monitor tools for Windows 10 and Windows 11.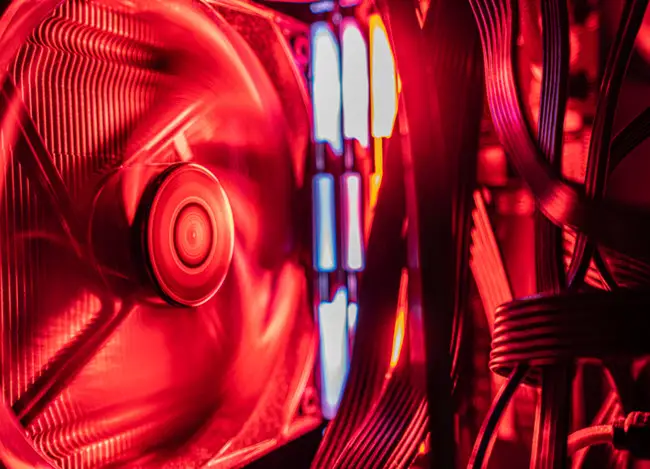 Why is a CPU Temp Monitor needed?
Before we deep dive into different CPU monitoring tools and their usage, it is crucial to understand why we need them in the first place.
By default, on a Windows-based PC, in Task Manager -> Performance -> CPU, we can see basic information about CPU performance and other details. However, this info is not very sufficient to find and fix any issues when they occur.
In such a scenario, we have different basic to advanced-level CPU monitoring tools to scan CPU performance and provide real-time information about it.
Situations like CPU bottlenecking, system freeze, malware attack, slow performance issues with computers can be diagnosed and resolved.
The standard CPU temperature should be between 40-65 oC, the average CPU temperature ranges from 65-70 oC, and the maximum in extreme cases goes beyond 80-90 oC.
Reason to Monitor CPU Performance:
By default, the CPU is designed so that it adjusts CPU performance based on the temperature. It drops down the CPU performance when CPU temperature increases and can cause a bottleneck.
Also, in case of heavy CPU usage, there are high chances of CPU temperature fluctuation, and in some cases, it may damage other PC components.
Hence, keeping a tab on the CPU performance will help end-users with regular CPU maintenance wherein the cleaning of different parts and CPU thermal replacement is required.
Standard Features available in the CPU Monitoring tool are:
It offers a great degree of customisation of CPU settings
CPU utilisation and bandwidth can be examined and tweaked
It provides in-depth information about different hardware
Users can see the CPU's real-time temperature and core wise performance
List of Best CPU Temp Monitor tools for Windows
In this list, we have gathered all top & best CPU temp monitoring tools sorted by easy to use and level of information it can provide to the end-user.
Based on the usage, users can pick the one that suits their requirements.
1) CPU-Z: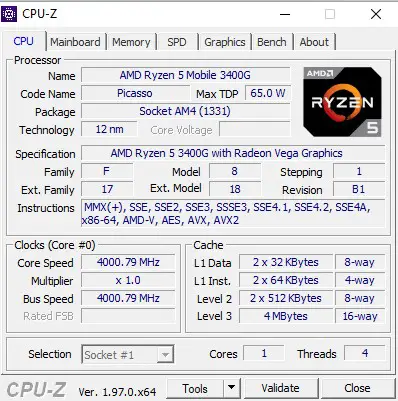 CPU-Z is one of the easy to use and beginner-friendly CPU temp monitoring tools. It offers details about CPU, motherboard, memory, GPU and benchmark option for single and multi-thread CPUs.
The CPU tab offers details about the CPU currently installed, the current Temp of different CPU cores, its max TDP, chip technology on which it is built, clock speed and cache information.
The motherboard, memory, and GPU tab offer the end-user a gist of all currently plugged components into the PC. These details are very useful in device troubleshooting and to resolve issues that may have occurred due to a device connected to the board.
CPU-Z is compatible with Windows 10/11 and can be downloaded from the official product link here.
2) Core Temp: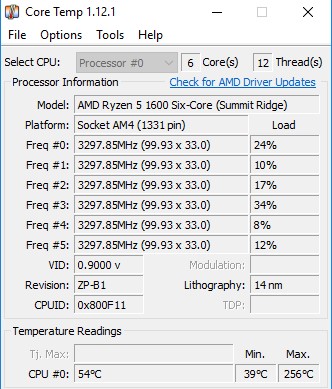 Core Temp is the second most popular and easy to use CPU Temp monitoring tool after CPU-Z. Core Temp's user interface and options are limited but cover all required details to monitor CPU performance.
It offers CPU details on the launch screen, along with the platform on which it is built, frequency on which it works, max TDP and core-wise temperature details are available.
The core-wise temperature details offer the min and max temperature of each specific core and the current load. This detail is helpful in case of CPU bottlenecking issues.
Core Temp also offers widgets for Windows and Android OS. It comes in handy to stack the widget on the home screen when a user needs to observe CPU performance rather than launching the app and look for high-level details.
Core-Temp is compatible with Windows 10/11 and supports Intel/AMD processors. The official build can be downloaded from here.
3) Open Hardware Monitor: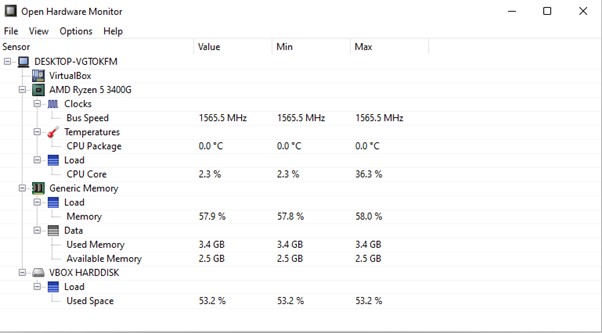 Open Hardware Monitor is a no-nonsense tool. It offers a basic UI that only displays CPU information like clock speed, temperature, memory load and hard disk performance.
Some hidden features can be accessed via the options menu, like plot CPU performance as a graph, log sensor information. CSV format, monitor remote webserver etc.
Open Hardware Monitor is freeware and is available for download for Windows 10/11 here. 
4) SpeedFan: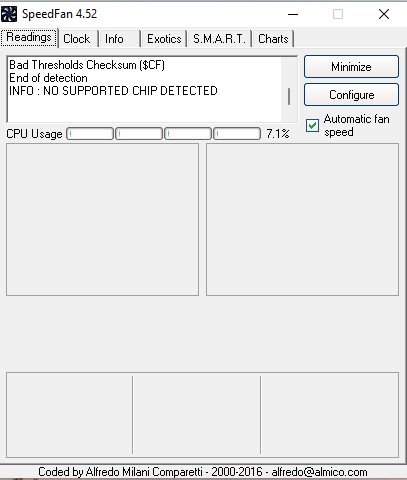 SpeedFan is an intermediate level hardware monitoring application that can modify fan speeds in response to system temperatures.  On launch, it scans the system for all connected peripherals & devices and brings in all vital information on the home screen
SpeedFan can read SMART readings and temperatures from hard discs and modify the FSB speed. It also allows an end-user to overclock the CPU clock from the application itself. The exotic tab offers real-time auto-refresh CPU load, time and frequency information. 
SpeedFan is a compact size that offers many exciting features, and it can be used by those looking for more features than CPU-Z or Core Temp. 
SpeedFan can be downloaded from here.
5) Real Temp: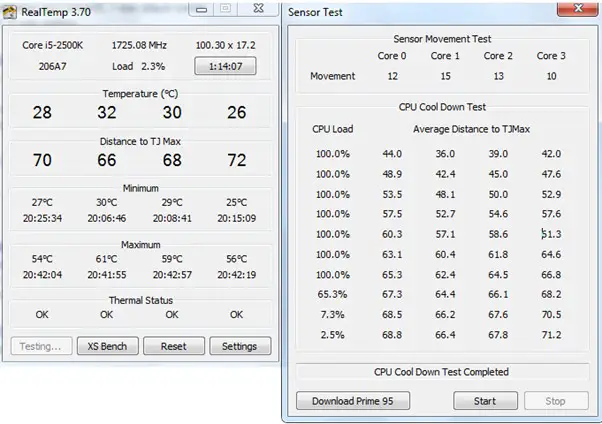 Real Temp is a temperature monitoring software developed solely for Intel-based processors. It is one of the finest PC temperature monitoring software since it allows you to control the temperature of each CPU core individually.
The easy-to-use interface and no-nonsense layout offer direct yet consequential information that comes in handy for users looking for limited system information.
Apart from CPU temperature, Real Temp also measures GPU temperature and its performance.
Real Temp is compatible with Windows 10/11 and can be downloaded from here. 
6) RainMeter

RainMeter is among the tools available to help you customise your Windows PC. It has a robust and adaptable collection of functions, and we are constantly surprised by the new and different ways in which those features are used.
RainMeter is a different tool altogether when compared to all other CPU temp monitoring tools. After installation and on the first launch, it displays information like skin type that can be used to customise the RainMeter application.
The application displays system information as a widget on the right side of the screen, which can be further customised based on the end-user preference.
Basic information related to CPU temp monitor; disk usage is available without any extra effort. The application is tested for all Windows versions available in the market and Windows 11 and can be downloaded from the official page.
7) NZXT Cam: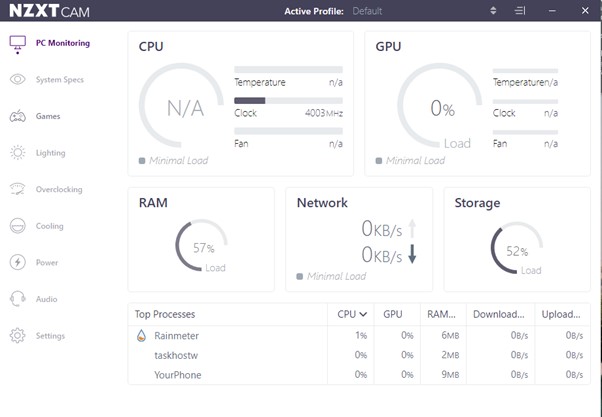 NZXT Cam is one of the most user-friendly and easy to use the tool available in the market. This tool is built by NZXT firm and is used to track computer performance.
The tool displays the CPU load, temperature, clock, and fan information on the launch screen. The other information like GPU load, temperature, clock speed, fan details is also available.
The information available on the home screen is enough for a beginner user; however, those with more expertise can look into other options like games playtime detail, light setting option, overclocking, cooling and many more.
NZXT Cam is available for free download here and is compatible with Windows 10/11.
8) Speccy: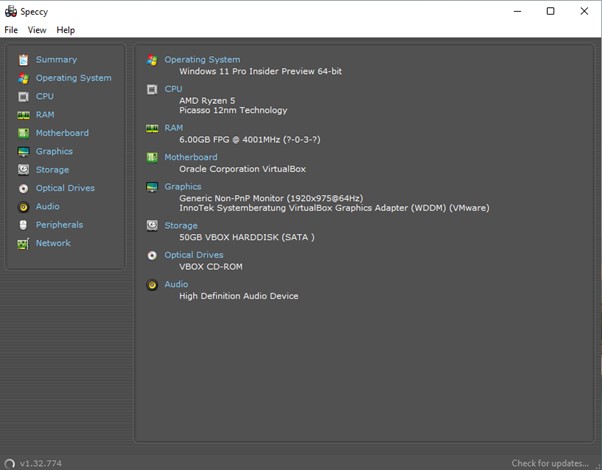 Speccy is next on our list, and this tool offers many other advanced features that Core Temp and CPU-ID lacks.
The landing screen displays system summary, and users can click on different tabs to get detailed information about the operating system, CPU, RAM, motherboard, GPU, storage and many more.
The best part of Speccy is that it allows users to save those detailed system reports as a snapshot or exported as XML and offers not just hardware-level details but also provides operating system information.
Speccy is a download and launch type application and is compatible with Windows 10/11 OS. The official download link is located here.
9) HWiNFO: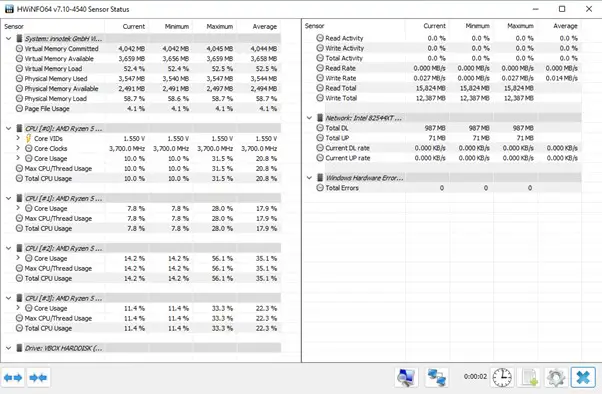 HWiNFO is the next CPU temp monitoring tool on our list. This is a more advanced level tool that offers end-user will basic and advanced level information.
Users can select the information they are looking for on the launch screen, and the tool will display related information.
The summary level settings display just the vital information that is required to track CPU performance.  On the other hand, the sensors-only option displays each CPU core information in detail, core temp, ranging from current & peak load.
Other remarkable features in HWiNFO are virtual and physical memory, core-wise clock, temp and usage details.
Information about all connected hardware's like reset min/max/average values and timer, performance logging, hard disk type, read-write activity, network info and many more.
The best and most attractive feature of this tool is managed network connection for remote monitoring, which allows to connect multiple remote computers and manage them from a single HWiNFO tool.
HWiNFO is tested for Windows 10/11, and the official version can be downloaded from here.
10) AIDA64: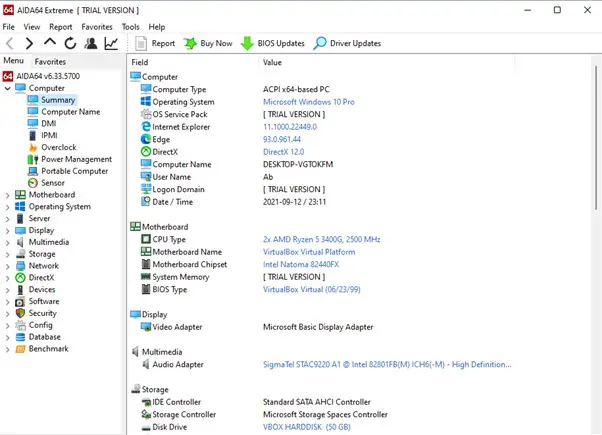 AIDA64 is an advanced PC monitoring tool that offers system-wide information. AIDA64 features are restricted to CPU performance, but users can get details about other PC components like OS, display, storage, Direct X, Database and Benchmark options.
The CPU detail page under the motherboard sub-menu offers all types of information available for a CPU.
Ranging from CPU basic info like type, cache and core, it offers other features like supported instruction set, CPUID properties, security, virtualisation and power management features.
The benchmark option allows end-user to benchmark their CPU against all other CPU's available in the market, and the result can be seen in the tool itself.  This feature is also available to test memory performance and comes in handy in memory or CPU related troubleshooting.
AIDA64 is a paid program as it offers many advanced features that the home user does not primarily use. However, the trial version of AIDA64 can be used for evaluation purposes.
Users can get an idea about all its features after using it and later upgrade to the full version.
AIDA64 is available for a wide range of operating systems and is now available for Windows 11 and can be downloaded from here.
Conclusion:
The Task Manager on a Windows-based PC provides enough information for beginner level users. In case of any system related issue, one can look after different system monitoring tools listed above and pick the one based on their requirement and track system behaviour.
These tools provide more information and alert the end-user before a system-wide problem occurs.
Please let us know which is the best CPU temp monitoring tool you liked and why in the comment section below.