Let's think about a scenario, your Windows 10 or 8.1/7 PC crashed and you have some important data on the computer. How to recover your important data without removing the hard disk and accessing from other computer or repairing the existing OS? You can use most of Linux Live CDs, DVDs and USBs to boot your computer without installing or overwriting the existing Operating Systems, then transfer the critical data to a USB drive or external USB hard disk.  This small post shows the way how to use Puppy Linux bootable CD  to recover Windows 10/8.1/7 files and folders.
Though there are several Linux Live versions available, I like Puppy Linux (though it is pretty old now) for the following reasons.
1) Very Small file (130 MB only) compare to other Operating Systems, hence it is easy and quick to download.
2) Installation is not required, boot from CD or DVD/USB.
3) Very quick booting.
4) Detects FAT32, NTFS partitions and external USB devices. So, transfer your data in an easy way to removable disks.
How to Use Puppy Linux to Recover Windows 10/8.1 Files and Folders
1) Download the latest version from the official site here.
2) Create a CD/DVD or USB from the ISO file. DO NOT just copy the ISO file.
3) Set CD drive as the first boot device on the Windows computer where you want to recover the data. Boot the computer from CD/DVD/USB drive.
4) Select initial language, keyboard and location options. We are running from live CD, so nothing will be saved on hard disk.
See Also
How to use Knoppix Live CD to recover Windows data
5) You will land on a beautiful desktop within seconds.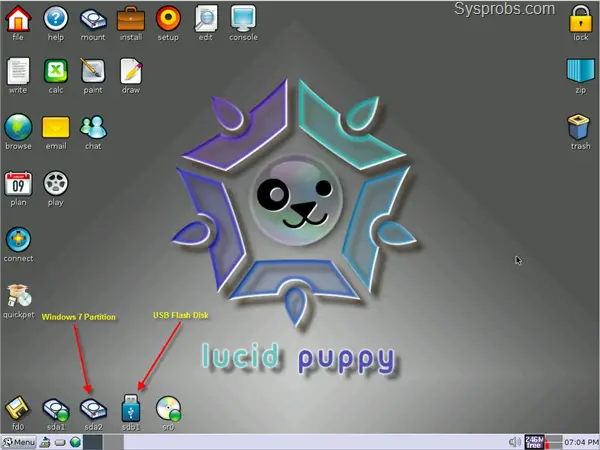 It detected my Windows partitions and USB drive, So I can transfer important files and folders to the USB disk.
6) Accessing files and folders is not an issue. Below is root partition of Windows 7. You will see a similar experience like Window Explorer.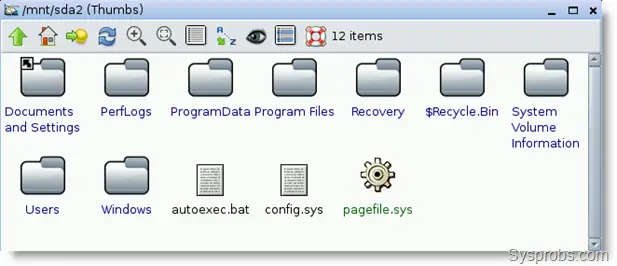 7) If you think copying is difficult then use drag and drop. It's easy and worked well.
So, that's it. Without breaking your head or asking any IT guy's (like me) help, you can backup your documents in minutes with Puppy Linux live CD. I still remember people remove the physical hard drive and connect to other working computers to copy their files before doing format or repair of the corrupted Windows OS. This method should be useful for many computer users.
If you have similar products works better than this, share in the comments area