What should be the configuration of a laptop for hacking or network security? How much will it cost? Can I buy it online? This article is written to answer all such queries. For hacking or IT security, you need better network cards and hardware that can run heavy software tools or crack hashes. The best laptop for hacking needs to boot to Kali from a USB drive, or alternatively, the laptop should also be capable of booting dual operating systems. Hackers and IT security professionals might want to run single or multiple VMs on their laptops.
Other features you will need to focus are to include  good battery life, powerful CP and GPU for coding, better resolution and an FHD screen. Considering all these important factors, we have shortlisted top 10 laptops that are best for hackers or IT security professionals. If you are an IT professional or network and security administrator, definitely the below laptops will match your requirements.  You are the one going to secure and protect your company's network and systems against hackers, so you must have the same or better laptop than hacker 😉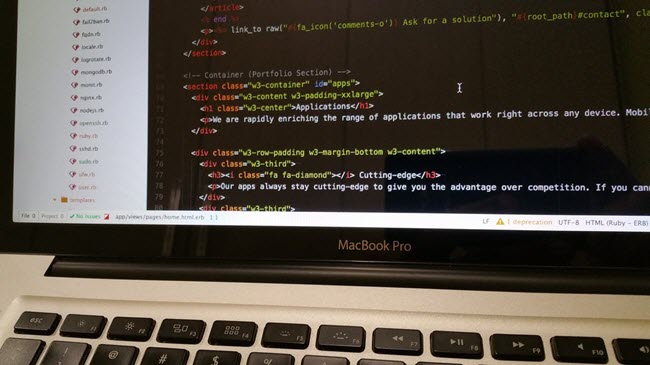 10 Best Laptops Hacking – Suitable for IT Security Professionals Too
1) Acer Aspire E 15 – Cheap and Best Laptop for Hacking in 2019
If you are an IT security professional and looking for a budget laptop under $600, Acer Aspire E15 is a capable laptop for coding and running hacking tools. The laptop comes with 8th Generation Intel i5 processor and 8GB of DDR4 RAM. The operating system Windows10 which is bundled free with laptop boots at lightning speed with 256GB SSD. Talking about the GPU, this budget laptop has a dedicated NVIDIA graphic card with 2GB video memory that is more than needful to run coding or CAD applications smoothly.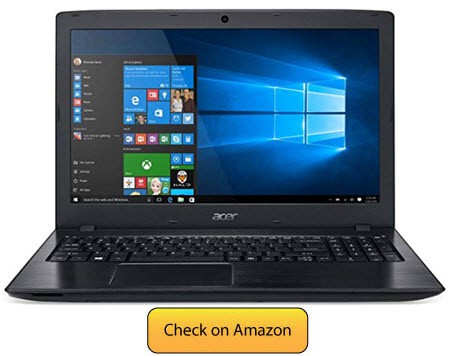 At such a low price, you get a 15.6" full HD (1920×1080) display. Although it does not provide as crisp graphics as IPS display since TN display consumes less power, the laptop offers a whopping 15 hours of battery life. The looks and body construction are simple but meet all specifications needed in a laptop designed for hacking and programming.
2) Alienware Gaming AW17R5 7405SLV-PUS
This beast has all the ingredients to make it as one of the best laptops for hacking. The processing power is provided by Intel 8th Gen i7 processor with a 9MB cache that can be boosted up to 3.9GHz and high-end graphics by NVIDIA GeForce GTX 1060 chipset. The laptop has a large 17.3 Inches FHD-IPS screen for better viewing. The Alienware has a robust casing made from anodized aluminum, and this laptop undergoes strenuous tests for durability. It comes with the Hybrid disk (8GB SSD and 1TB HDD) for a faster and larger disk. It allows hackers or security professional to collect and store more data while analyzing.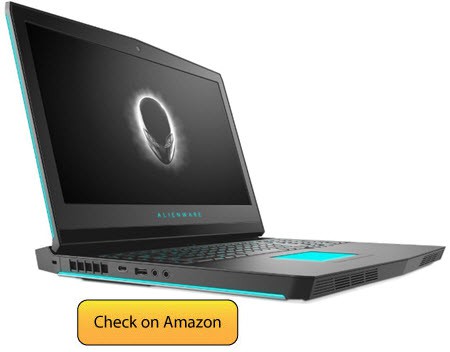 You can crack tons of hashes for 24-hours without the laptop getting heated up since both CPU and GPU are protected with copper thermal pipes for maximum cooling effects. Other premium features include 2 Megapixel HD web-camera, rich audio by creative X-Fi technology, Type-C USB for booting to Kali and 9-in-one card reader. Highly recommended for IT professionals, hackers and gamers, if budget is not a constraint.
3) ASUS VivoBook S Thin & Light Laptop
The Asus VivoBook is best for cybersecurity professionals who are on the move for most of the time. The Vivobook is a lightweight Ultrabook with 14 Full HD screen. Look-wise, the Vivobook body has the shiny spun metal finish on all-aluminum chassis. Apart from looks, performance-wise this is a powerhouse. It comes with recommended SSD with 256 GB capacity. It has Intel i7 processor and 8GB of RAM for multitasking and fast processing.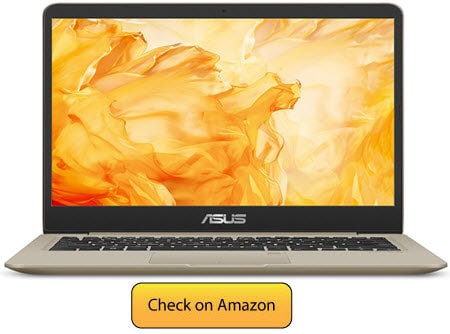 Whether you use this laptop for coding, designing or hacking, the inbuilt NVIDIA GPU makes all these heavy applications run easily. Even you are working on late night projects; the backlit keyboard is there to help you. Overall the best Ultrabook for mobility and performance.
4) MSI GL63 8RD-067
The reasons why MSI GL63 is in our list of top 10 laptops for IT professionals are many. Even the reasonable price of this amazing laptop will surprise you considering the premium specs and performance. The laptop comes with 128GB SSD + 1TB HDD, 16GB RAM and NVIDIA GeForce GTX 1050 graphics with 4GB GDDR5 VRAM.
With the higher capacity of RAM and disk, you can easily host multiple VMs to run security and hacking tools simultaneously.  Hosting several VMs will help you to run specific tools such as password cracking tools, DDOS testing, and SQL injection.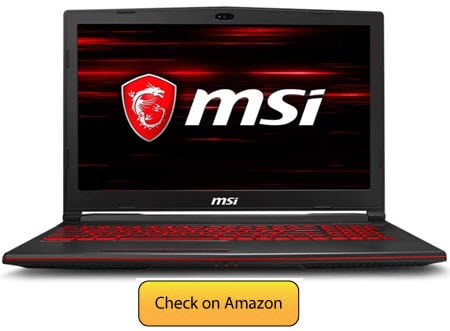 The laptop is best for fast booting and downloading. If you are facing lag issues while running large files, it is time to buy MSI GL63. The laptop is lightweight, but that does not mean it is built from cheap plastic. This robust laptop is an exciting option for developers and hackers. You can find more MSI laptops here. Since it has all the features of being the best laptop for gaming, you can do the computer games coding also with your hacking/network security activities.
5) Premium Lenovo ThinkPad T480
This powerful ThinkPad from Lenovo is another expert's choice for hardcore hackers and security professionals. You can use this laptop for virtualization. Most security experts are successfully running multiple VMware workstations on ThinkPad. Lenovo T480 is available in different configurations but this model, we are recommending comes with powerful Intel i7 processor with 6MB cache, 32GB RAM, and storage is comprised of a combo of 128GB SSD and 1 TB HDD(5400rpm).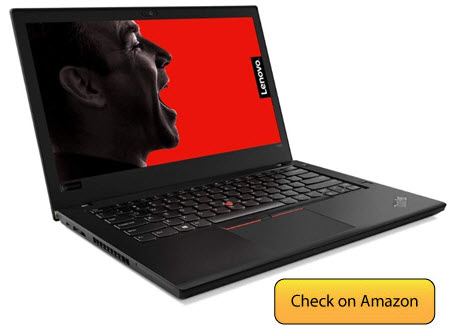 If Lenovo T480 is making waves among IT people, it is only because of its astonishing features to reckon with. The initial cost of this ThinkPad might look on the higher side but consider the functionality and performance it delivers; it is worth spending money. The look is really professional without a fancy case since it is made for the business purpose. Whether you do personal or corporate level network auditing and security tests, Lenovo T480 is highly recommended.
6) ASUS VivoBook Pro Thin & Light Laptop, 17.3-inch Laptop for hacking
If you are planning to run multiple tools and VMs on the larger screen, Asus VivoBook 17.3 is the best and the cheapest choice to consider buying. The laptop comes with plenty of premium features that will tempt you to grab this machine. The laptop is equipped with a powerful 8th Gen i7 Processor with a 4.0GHz turbo in addition to 16GB DDR4 RAM, 256GB SSD+1TB HDD and powerful NVIDIA GeForce GTX 1050M graphic card.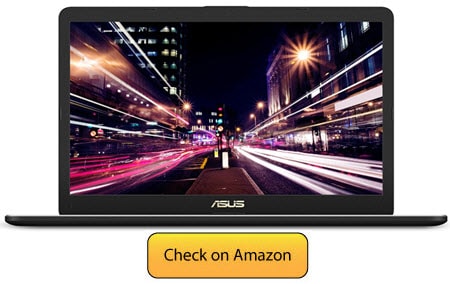 The backlit keyboard that lets you continue your development task even in the low-light environment. The larger screen with powerful resources can allow you to run multiple hacking and network security venerability scanning tools at the same time. The laptop has all the required hardware to convert it into a workstation. Buy this without giving a second thought, if you are into software development. This model is one of the best laptops for hacking that ethical hackers can buy and use.
7) Dell Gaming Laptop- G3579-7989BLK-PUS
This is again a budget laptop that is equipped with all the specifications, a programmer or a hacker is looking for. Dell has made this model specifically for gaming. This model comes with latest 8th generation i7 Intel processor, NVidia GTX 1050 GPU, 1TB SATA HDD, and 256 GB SSD for fast booting. It has a RAM of 16GB and an anti-glare FHD 15.6" screen.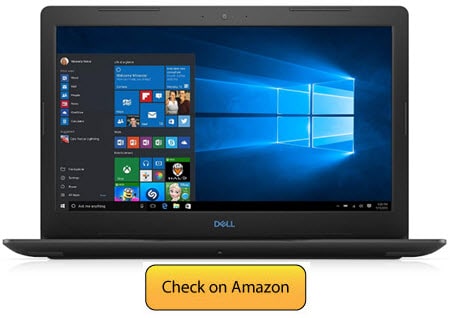 Having enough threads in the processor, RAM, and hard disk capacity, this laptop also can handle multiple Virtual machines and several tools simultaneously. You can easily use the Metasploit, Nmap and Wireshark hacking tools on the laptops without any lags. The SSD going to respond very well to any data reading and writing related to hacking. It is a slim and stylish laptop with great portability. Gigabit Ethernet port and USB 3.1 are available to get maximum data transfer.  As it remains below 1000 dollars, I can call this one of the best laptop for hacking under 1000 dollars in 2019.
8) Acer Predator Helios 300

(Best Windows Laptop for Hacking and Gaming)
You would see the Acer Predator Helios 300 in many reviews and top lists, because of the price and amazing hardware specification it got.  We can't leave this model without mentioning hacking and network security professionals.  It is equipped with Intel 6-Cores 8th Gen i7 processor and 16GB DDR4 RAM. Surprisingly, it has 6GB display VRAM on GeForce GTX 1060 to cater the video/graphics processing requirements.  The faster 6-cores processor, 2666MHz DDR4 and 256GB SSD should be able to crack plenty of hashes in quick time when you do hacking or complex tasks.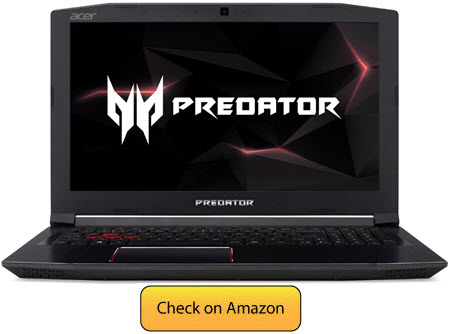 As an IT professional I can understand the need for a full-size keyboard. Acer Predator Helios 300 has a numeric keypad that is helpful to use keyboard shortcuts for coding. It got Gigabit Wi-Fi for faster wireless connection. The cooling system of the laptop taken care well by Acer, that is going to help you when you run high complex processing tasks on this laptop.
9) Apple 15 Inch MacBook Pro Laptop
Most of the hackers like to code on Mac OS X rather than Windows OS. There is no doubt that MacBooks are gaining popularity among hackers and programmers today. But there are a lot of models available in MacBook series that can confuse you while finalizing the best MacBook for you. The latest MacBook Pro with 16GB RAM is a professional model with all the necessary features required for coding or running graphics applications.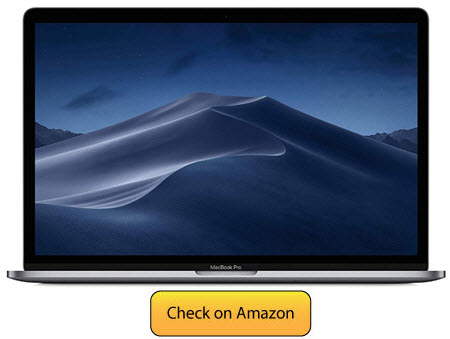 If you want to run UNIX based hacking and security tools, you can get a MacBook laptop. Its faster processor, higher capacity RAM, best I/O SSD storage and macOS going to work together tremendously. Also, you can host virtual machines easily on this hardware platform. Whether you need a Windows client or Kali Linux on MacBook laptop, it can be done by virtualization.  This new MacBook by Apple is powered by a 2.2GHz Intel Core i7 6-Core processor and 16 GB RAM. The retina display provides a much needed vibrant and crisp display for graphics designers. The hackers can work in dimly light areas with the help of backlit keyboard.
10) Acer Aspire 7 Casual Gaming Laptop
If you are looking for a supercomputer and that too under $1000, we would definitely recommend you to look at the features of Acer Aspire 7. The laptop comes with Intel i7 (8th Generation) processor, 8 GB DDR4 RAM and NVidia GTX 1050 graphics with 4GBvideo memory. Isn't this amazing! The storage section comprises 128 GB SSD and 1TB mechanical HDD. Since the memory is upgradable, you can increase it to 16 or 32GB if needed. It has twin wireless connection to make the Wi-Fi connection stable and faster. If you run network scanning and auditing tools through the wireless network, it is going to help in a better way with this feature.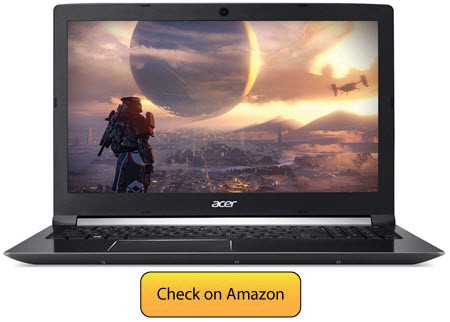 The laptop can be used for virtualization, coding and hacking and that too at a budget price. The laptop is sleek and stylish with textile texture on the outer cover. Other amazing features include a backlit keyboard, USB Type-C ports, 15.6" FHD screen producing enticing colors and longer battery life of 12 hours. Pre-loaded with Windows 10, it is a full powerhouse for high-level coders. As it has many good reviews from existing customers, I suggest you have a look at this laptop before selecting your best laptop for hacking in 2019.
Conclusion on Selecting the Best Laptop for Hacking
So the 10 laptops mentioned in this article are best for both amateur or seasoned hackers and IT security professionals. If you do programming or even playing games, these laptops going to work well for you. These machines are dependable since you can run multiple OS, VMs and run any tool that requires heavy computational processing without any lag on these laptops.