Computers are available at a wide range of prices. If you start at a very low price, you will get a very simple laptop with the most emphasis on running daily tasks. If you keep going higher, you will get much better options for multitasking, gaming, and carrying out professional work like photo editing, video editing, 3D designing, rendering, etc. Have you thought about knowing the most expensive laptops in the world in 2023? Here is the list of laptops meeting these criteria on Amazon that can play the latest computer games and run business and high-spec programs.
When you have decided you need a laptop, your next question will be – Which is the best laptop company? It can be said that there is healthy competition in the market today because top companies are constantly upgrading their products to meet the latest market trends. A few top-rated companies are Lenovo, Acer, Dell, Apple, HP, etc. These companies can offer you reasonable as well as the most expensive laptops.
After this, your next question can be – Budget? Determine your budget based on your needs. We want to say that don't copy your friends or relatives. No one can decide about your needs on your behalf. This article might be useful if your needs are related to your business or gaming. In this article, we are not discussing the budgeted laptop, but we will talk about the most costly laptops in the world.
Dell, Lenovo, and MSI make the most popular, powerful, and expensive laptops. Apple can also be added to this list as its high-end MacBook Pro is priced similarly.  Following are some of the selected top laptops; of course, you will find more different models than those listed below.
List of 10 Most Expensive Laptops In the World in 2023
1) ASUS ROG G703 Desktop Replacement Gaming Laptop
When you spend a lot of money on a laptop, it should have extraordinary features in the market. The ASUS ROG G703 falls into this category. ASUS claims this model is a desktop replacement gaming laptop; you will be amazed by its hardware configuration. It is powered with the latest 8th Gen i9 unlocked Core processor that can be overclocked up to 4.8 GHz. The I9 processor is something you can excite about compared to other models in this list and the market.
To convince the money you will spend on this expensive laptop, this laptop comes with  32GB DDR4 RAM, 2x256GB SSD, and 2TB FireCuda SSHD. You can't ask for anything more on a single laptop. With a price of more than a couple of thousand dollars, it can easily be termed one of the costlier laptops.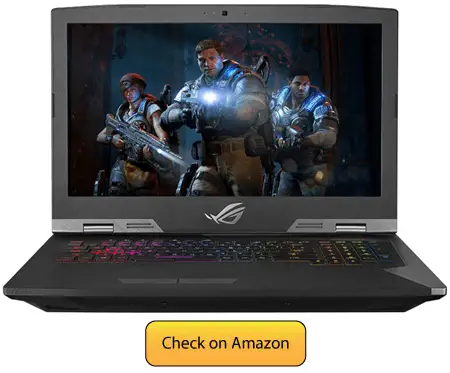 Technical specifications:
RAM  is 32 GB DDR4
Processor – i9 Processor up to 4.8GHz
2 x 256GB SSD + 2TB SSHD storage
Graphics memory – 8 GB
Cooling system – Copper tunnel and dual fan
Another remarkable gaming feature is its display card. An Overclocked GTX 1080 card with dedicated 8GB display memory can handle any games you throw on this laptop. It has a copper tunnel cooling system for the CPU and GPU with dual fans to manage all high-end hardware components. Additionally, it has all the required high-speed and the latest ports such as Thunderbolt 3, Gigabit Wi-Fi, and HDMI 2.0.
2) Alienware Area 51 M15X
The Alienware Area 51 M15X is a top-of-the-line gaming laptop with exceptional performance and reliability. It is powered by a 9th Gen 2.8GHz (up to 4.9GHz) Intel Core-2 Extreme X9700K processor, 16GB of RAM, and 256GB SSD &  1TB SSHD storage. It has a remarkable 17.3″ full HD screen display. This combination of hardware makes it one of the most powerful gaming laptops on the market today. The graphics are also top-notch, with NVIDIA GeForce RTX 2070 with an 8GB DDR6  graphics card providing excellent visuals for gaming and other multimedia applications.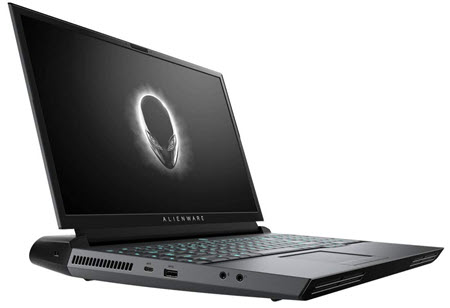 For those with the budget to spare, the Alienware Area 51 M15X is an excellent choice for gamers looking for a reliable and powerful laptop that can handle any game they throw. With its high price tag of around $4,000, it may be out of reach for some people, but if you're serious about gaming, this laptop will give you an unbeatable experience.
Product Features:
9th Generation Intel Core i7-9700K
17.3″ FHD (1920 x 1080) 144Hz
NVIDIA GeForce RTX 2070 8GB GDDR6 (OC Ready).
16GB (2x8GB) 2400MHz DDR4 Memory
256GB PCIe Solid State Drive + 1TB (+ 8GB SSHD) Hybrid Drive.
Illuminated Keyboard for low-light scenarios and deeper immersion in games.
2 upgradable Graphics Card Slots for future upgrades or additional power when needed.
 Killer 1550 802 11ac 2×2 WiFi and Gigabit Ethernet LAN network connection
3) Omen 15 Gaming Laptop
The Omen 15 from HP is the pinnacle of raw power and performance. Running a Core i7 10th gen processor under its helm, the laptop is powerful enough to perform any task you throw at it. The graphics department of the Omen 15 is taken care of by NVIDIA's RTX 2070.
A benefit you get with this expensive laptop is free to crank up the settings. Whatever game you're playing, whether it's the older AAA game, you wanted to play. Or it's some newer game, and the laptop is perfect for all.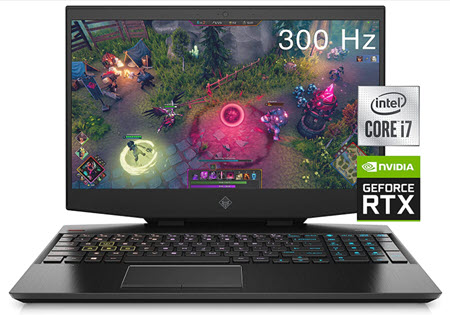 Omen 15 has an ultra-thin and sleek design. HP's best engineers have designed it. The laptop's cooling department has an advanced cooling solution. The OMEN Tempest Cooling system takes care of the cooling problems and performs exceptionally well.
Specifications:
Intel Core i7-10th gen Processor.
NVIDIA GeForce RTX 2070 SUPER.
32 GB DDR4 16×2 RAM.
512 GB PCIe NVMe SSD Storage.
OMEN Tempest Cooling Technology.
25 pounds weight.
This laptop comes with 32 GB DDR4 RAM with a 16×2 configuration. Whereas for storage, it has a 512 GB PCIe NVMe SSD. The RAM and storage in this laptop are upgradeable. However, 32 GB DDR4 is the maximum RAM you can choose. Whereas for storage, it has space for up to 2 M.2 drives.
Although the Omen 15 is a bang-for-buck laptop. But its poor battery life places it well behind the expensive laptops. If you have 24/7 access to the power socket, this laptop is for you.
4)  Lenovo Legion 7 Gaming Laptop
Lenovo has a variety of products that make it one of the masters of the computer world. Their Legion range is proof of their expertise in the high-end laptop world. The Legion series is a well-known series that every enthusiast wants to own. It is one of the few laptop series worthy of being called the most expensive laptop, which is remarkable.
The Legion 7 runs a Core i7-10th gen processor. The processor is powerful enough to run everything you throw at it. Lenovo wasn't satisfied with the performance and added an RTX 2060.
It comes with different storage and RAM configurations. The laptop has all configurations to satisfy its customers, from 16 GB DDR 4 RAM to 64 GB DDR 4. Whereas storage has configurations from 1 TB SSD to 1 TB SSD + 2 TB SSD.
The laptop can run all of the latest AAA games regarding performance. If you're not into gaming, this beast of a machine is powerful enough to run the toughest programs.
Specs:
Intel Core-i7 10th Gen.
NVIDIA RTX 2060.
64 GB RAM.
3 TB SSD Storage.
6" full HD 144Hz display.
Underneath its aluminum body, it has a 4-call 80Wh battery. But its battery falls short on the runtime. The Lenovo 7's battery lasts 2.5 hours before it needs to be charged.
That is after low-end usage, with office applications, etc., only. If you plan on using it for gaming, always keep the charging brick with you. That way, you won't have to worry about charging it again.
Lenovo Legion 7 Gaming Laptop, 15.6" Full HD 144Hz Screen, Intel...
【Memory & Storage】Memory is 64GB high-bandwidth RAM to smoothly run multiple applications and browser tabs all at once. Hard Drive is 1TB PCIe NVMe M.2 Solid State Drive which allows to fast bootup and data transfer + 2TB PCIe NVMe M.2 Solid State Drive for ample storage space
5) Lenovo Thinkpad P17 Mobile Workstation
Lenovo is known for its remarkable computers. ThinkPad series is one of their series that focuses only on providing its users with the best configuration. The ThinkPad P17 Mobile Workstation is an expensive laptop with a high price tag.
Core-i7 10th gen CPU is powering this machine. On the Graphics side, it has NVIDIA's Quadro T2000. What's special about the T2000 is that it is the first GPU that uses NVIDIA's ray tracing technology. From this card came the RTX series.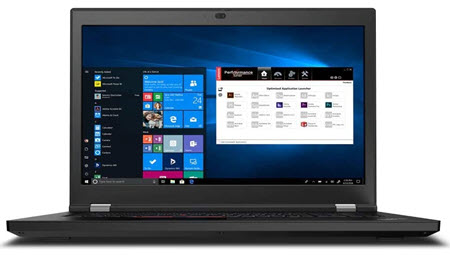 So, the pinnacle of innovation is installed in this laptop. This configuration makes the laptop powerful enough to run the latest and greatest game titles. If gaming isn't your thing, then don't worry. The laptop is fully equipped for everything. The laptop is perfect whether you want to do video editing or programming.
Other specifications include the RAM and storage. It has 32 GB of DDR 4 RAM and a 1TB PCIe SSD. The 32 GB RAM is more than enough for all types of multitasking. The ports department has several ports that allow it to connect with almost anything you want. An HDMI port is useful if you present it on a larger screen.
Specs:
Core-i7 10th Gen processor.
NVIDIA Quadro T2000
32 GB DDR4 RAM
1 TB PCIe SSD
3-inch screen FHD display.
Under the helm, it has a 6-cell 94Wh lithium-ion polymer battery. Although Lenovo claims a longer battery life, it doesn't seem to be the case. The laptop lasts for roughly 5 to 7 hours on one charge. And that includes using both low-power and high-power applications.
Sale
6) Razer Blade 15 Gaming Laptop
The Razer Blade 15 Gaming Laptop is one of the most expensive laptops in the world. It is powered by a 12th Gen Intel 14-Core i9 CPU and an NVIDIA GeForce RTX 3080 Ti GPU, making it one of the most powerful gaming laptops available.
This laptop combines all the necessary features with an attractive price tag that makes it worthy of consideration.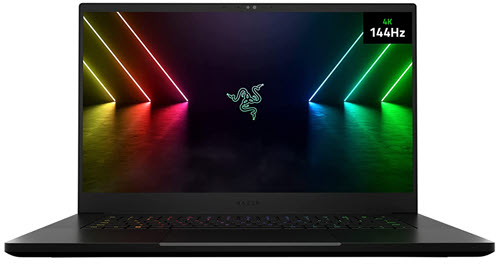 The laptop features a 15.6" 4K UHD 144Hz display, 32GB DDR5 RAM, 1TB PCIe SSD storage, Windows 11 operating system, CNC aluminum construction for durability, and a Chroma RGB lighting system for customization. Additionally, it has Thunderbolt 4 connectivity for fast data transfer speeds.
The laptop also has advanced cooling technology to keep your system running at optimal temperatures during intense gaming sessions. With these hardware configurations, you can easily do the designing, modeling, and rendering work without lagging. It also has an anti-ghosting keyboard with per-key RGB lighting and individually programmable keys for maximum control over your gaming experience. Furthermore, it has a large trackpad with multi-touch gestures support and an HD webcam for video conferencing or streaming.
Overall, the Razer Blade 15 Gaming Laptop is one of the best laptops money can buy. With its powerful hardware and advanced features, you can be sure that you will get the best performance out of this laptop no matter your task.
7) Asus Rog Zephyrus Duo Se 15 Gaming Laptop
ASUS calls itself the Republic of Gamers and doesn't fall short of that name. ASUS's laptops are known for their hardcore performance. That's why gamers often prefer these laptops over others. Gamers and content creators prefer these laptops over others for their tasks.
The laptop is powered by AMD's powerful Ryzen 5900X. This CPU provides a top clock speed of 4.6 GHz. It isn't only equipped with a powerful CPU. The graphics unit inside is as powerful as it gets. NVIDIA's RTX 3080 takes care of graphics-intensive tasks and performs exceptionally. The 3080 is equipped with 16 GB of GDDR6 RAM.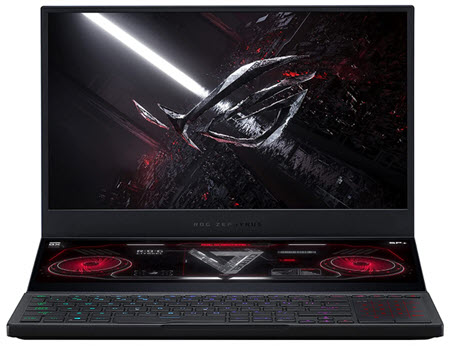 If you are amazed by this, then hold your horses. We haven't even gotten to the good things. And that is the secondary screen of this laptop. Yes, that's right, aside from its 15-inch display. This screen is useful for multi-tasking and other tasks of such sorts.
For cooling, the laptop uses the AAS Plus approach. This includes two fans that cool the laptop. It uses liquid metal compounds for thermals. The price is above 4500$, making this model one of the most expensive laptops in the world.
Specs:
AMD RYZEN 5900X processor.
NVIDIA RTX 3080 16-GB GDDR6.
32 GB DDR4 RAM
1 TB PCIe SSD storage + 1 SSD Slot.
AAS cooling technology.
15" primary FHD display with 300 Hz.
1" wide secondary with touch support.
The laptop has 32 GB of RAM. With that, it has 1TB PCIe SSD storage. It has an additional SSD slot available for upgrading storage. Both the RAM and storage on this laptop are upgradeable.
It has several ports that allow you to connect with external devices. For charging, it uses USB 3.2 Gen-2 Type-C with rapid charging. This port also acts as an ultrafast data transfer and display port.
8) Alienware X15 R1
Where others fail comes Dell's Alienware. The Alienware X15 R1 is one hell of a laptop. The laptop is truly an Alienware as it fits almost everything but still performs well in other departments. You can game on this machine and perform your day-to-day tasks easily.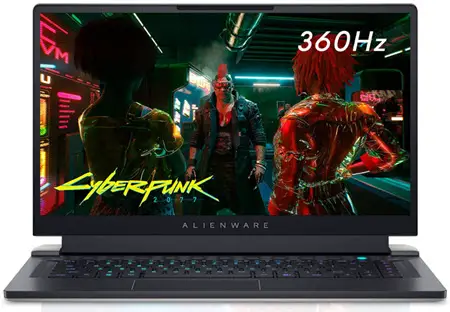 Intel's 11th-gen Core-i9, combined with NVIDIA's RTX 3070, can handle everything. The laptop is powerful enough to perform whatever tasks you require from it. Its processor can get up to 4.9 GHz clock speed. At the same time, its GPU has 8GB GDDR6 VRAM. Whether it's the latest AAA games or video editing, it does that exceptionally well.
The case is thinner. It's thinner than a coin with a 20.9 mm thickness. The laptop weighs 5.2 lbs. You can use it on your lap easily. But make sure you're not using it for the long term. The laptop's bottom will get hot enough to harm you if you're gaming.
Specs:
Intel Core-i7 11th Gen CPU.
NVIDIA RTX 3070 GPU with 8GB GDDR6 VRAM.
16-GB DDR 4 RAM.
1 TB PCIe SSD.
6-inch interchangeable display: QHD with 240 Hz or FHD with 360 Hz.
The display on this laptop is a 15.6-inch QHD display with 2650 x 1440 LCD. One good thing about this laptop is its display switches. You can go for a QHD display with a 240 Hz 2ms refresh rate. Or, if it's performance you want, the FHD display is available with a 360 Hz 1ms refresh rate.
Like all gaming laptops, the battery on this laptop isn't any good. In contrast, hardcore gaming lasts hardly 2 hours before it needs to be plugged in.
9) Apple MacBook Pro Latest Model
Apple's MacBooks have been a huge success due to their unique design, build quality, and performance as a true mobile computer. The MacBook Pro has been the first choice for people of various professions like musicians, graphic designers, video editors and producers, developers, and iOS developers. Being a unique laptop, the Apple MacBook Pro delivers an experience even the other expensive Windows Ultrabook can't deliver.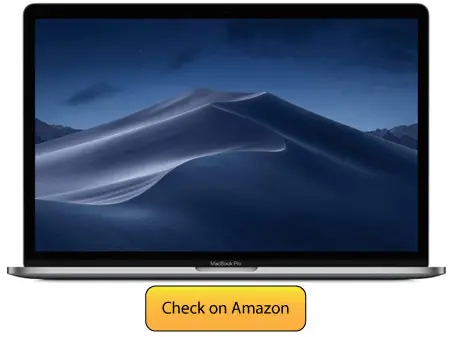 This MacBook Pro (Latest Model) includes:
Intel 6-Core Core i7 Processor
16GB DDR3 RAM
512GB PCIe Solid State Drive
Intel UHD Graphics 630
15.4-inch Retina Display screen
Watch the below video before buying a MacBook laptop.
Apple's products are all premium products, meaning you will get the best build and the guarantee that you will get the same great performance every time you use it. This does not come cheap. The MacBook is a very expensive laptop that is not even for gaming and is also not a complete mobile workstation, which leads many Windows fans and Mac fans into heated discussions, just like Android vs iOS. But once you get going with a MacBook, you will feel why it is a very successful product and its price is so high. The higher configuration you select with Apple, the cost becomes more expensive.
10) Razer Blade 15 Old Model:
The list of expensive laptops that can perform every task will be incomplete without the mention of Razer. Razer has proven itself over the years as one of the giants in the expensive laptops category. Their laptops aren't only expensive. These laptops speak for their value.
The Razer Blade 15 Gaming Laptop is powered by an 11th Gen Core-i7. This latest processor provides it with the necessary power for day-to-day tasks. The laptop has NVIDIA's RTX 30 series GPUs to support the processor.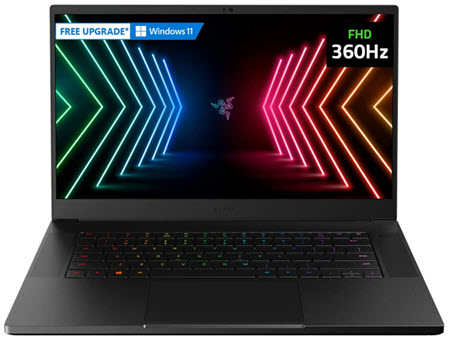 The 15-inch laptop comes in various configurations for its GPU and display. It is available with RTX 3060, 3070, and 3080. If you have a specific request with the display, the laptop is available in multiple configurations. It has support for QHD 240Hz, QHD 165Hz, and FHD 360Hz.
The laptop is extremely thin, with a 15.88mm thickness. This is thanks to its CNC Aluminum unibody. Even then, it fits several ports. It has 2x thunderbolt 4, HDMI 2.1, USB Type-A, Type-C, and USB-C for charging.
Specs:
Intel Core-i7 11th Gen CPU.
NVIDIA RTX 30 series GPU.
16 GB – 32 GB DDR4 RAM.
1TB SSD Storage.
6" display with several options.
The laptop performs exceptionally well in every department but the battery. That's where the laptop lacks a little bit. Even during video playback, the laptop lasts 4 hours before running out of charge. Although it is similar to most laptops, they perform better than Razer Blade 15.
Advantages of Having High Spec Expensive Laptops
Investing well in a laptop is always recommended if you wish to buy a high-spec gaming laptop that lasts long. Here we have listed the advantages:
High-spec expensive gaming laptops have large storage capacities for storing important files, folders, images, and videos.
The powerful and efficient processor ensures fast browsing and lag-free, high performance.
The high-quality graphics card allows you to enjoy an immersive and life-like gaming experience.
The models are lightweight and easily portable.
You can edit images and videos and do more with ease.
The fan and the cooling system prevent the laptop from overheating during extensive gameplay.
They come with a good battery life that keeps you going for hours.
These laptops are durable and reliable.
The ample RAM enables you to multitask and transfer files at a lightning-fast speed.
The Disadvantages:
Expensive laptops may not be suitable for all classes of society. These laptops are recommended who do not have a price restraint.
Laptops are prone to damage. Repair and maintenance costs will lead to bigger expenses in the future.
Certain expensive gaming laptops have high specifications but poor battery life.
Which laptop brand is best for gaming?
The best laptop brands for gaming are:
MSI
Razor Blade
Asus
Lenovo
Alienware
Eluktronics
What is the most expensive laptop in the world?
Here we have reviewed the top models. Please go through the list to make an informed purchase. Some of the expensive gaming laptops are as follows:
Apple Macbook Pro
Alienware 17 R5
Asus ROG G703
Razer gaming laptop
Why are Macs so expensive?
Macs are costlier because of their high specifications. They have no low-end hardware. Also, Macs get regular software updates to make them more efficient and powerful over time. Macbooks are expensive, but they offer value for their high price.
Is MSI better than Asus?
MSI and Asus are Taiwanese companies, with MSI being a year older than the latter. Asus is more popular in the manufacture of everyday laptops than MSI. However, MSI is better known in the gaming world. So, if you are looking for a high-performance gaming laptop, go for an MSI laptop.
Most expensive laptop on Amazon?
The most expensive laptop on Amazon is the ASUS ROG Zephyrus Duo 15 GX550LWS-XS79 gaming laptop, which has a price tag of $3,499.99.
Is Alienware better than Razer?
Both Razer and Alienware laptops offer high specifications for their price. However, Razer laptops are more expensive compared to Alienware. Also, Razer laptops are designed using innovative technology, giving them more edge.
Talking about the most costlier laptops in the world, you cannot ignore the above list of 8 expensive laptops. These trusted laptops allow you to enjoy gaming and effectively carry out office activities. While looking for expensive laptops, you need to consider a few things: gaming, graphical competence, price, operating system, retina display, battery life, speed, etc.
If you are looking for a useful, powerful, and expensive laptop, select any of the above or similar models. You will probably be paying a higher price for a laptop if you want it for your professional career or if you are a gamer and want to best laptop to replace your desktop computer.