Laptops are superior to desktops because they run on batteries in a standalone mode. But batteries, too, need proper care so they can continue running for a long time.
You can charge these batteries using a charger up to its max charging capacity. But if your charger has gone bad or your charging port is not functioning, you can manually charge your machine.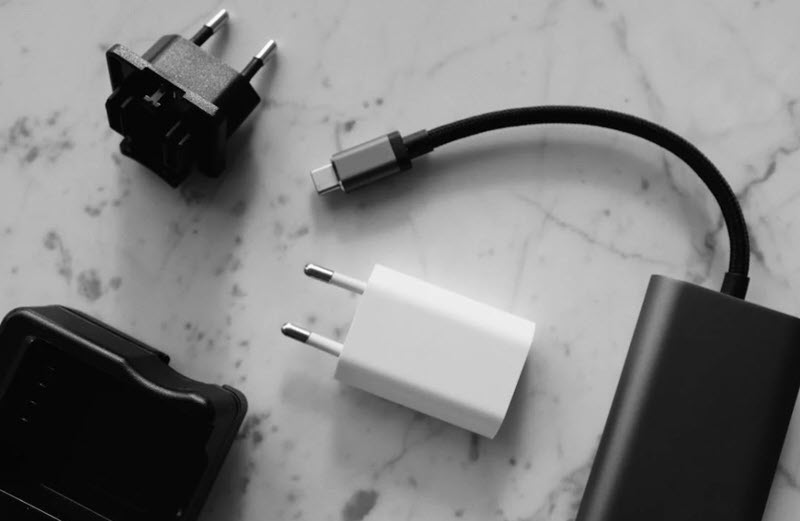 There are various ways for charging laptop battery externally. So yeah, that is possible! And we will discuss some of the easiest and safest methods in our guide here. So, give it a read and find out how you can do it.
Is Charging Laptop Battery Externally Possible?
Yes, charging your laptop battery is possible. But of course, there are a few limitations that you need to consider, and these are as follows:
What are the Limitations?
The first thing that you need to keep in mind is that these laptop batteries are not designed in the way that you can charge them externally.
Moreover, you are charging your laptop battery using an artificial source or power storage, so the charging speed will be slower than when you directly plug it into an outlet.
Charging a Laptop Battery Externally
1) Using an AC adapter
To change your battery externally, you will have to connect your laptop to a power source with the help of an AC adapter. As soon as your laptop is connected with power, push the power button to turn it on.
Once it is turned on, let the battery icon appear on your screen. And as soon as it does, press the Fn and F2 keys simultaneously. As a result, your computer screen will show the battery settings menu. In this menu, you will have to select "Charging" and "On."
2) Using different USB ports
These systems are for a range of different professional and personal purposes. But in terms of versatility, laptops are always preferred over desktops.
The batteries that are within these laptops can last up to 4 hours. But you need to charge them properly to ensure they last long. There are different USB ports that you can plug into your laptop for recharging it.
3) Using a universal power adapter (solar charging)
You can always use a universal power adapter if your laptop doesn't come with a charger. You can create a solar charging kit on your own. Recently the price of these kits has reduced dramatically, and people are becoming increasingly aware of how to recharge them.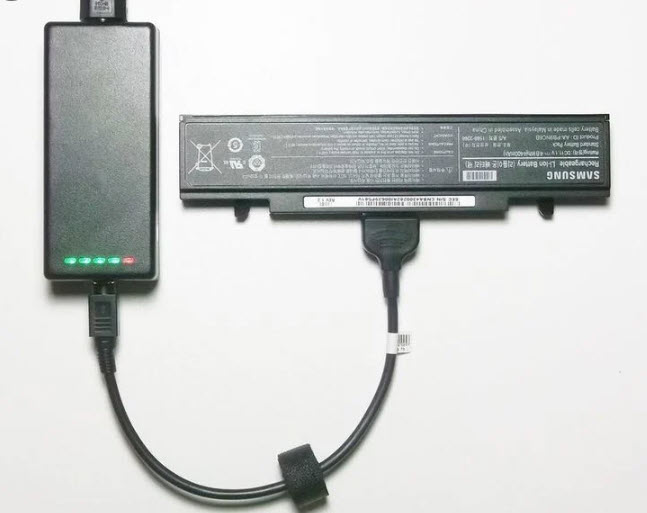 You must check those external battery and cell connectors to ensure they function well. If you can remove the battery from your laptop, you can use your solar kit.
These battery-equipped laptops are slim and lightweight, so you can replace your detachable battery conveniently. But you need to remember that you shouldn't remove the internal batteries of a laptop because if it gets exposed to sunlight, it might explode.
4) Using a 3rd party external adapter
You can even charge your laptop using a 3rd-party external adapter if you don't have access to a Type-C USB charger. Moreover, you can use a car battery to charge your laptop and a pure sine wave inverter.
But keep in mind that you can't charge your laptop using an HDMI cable as it doesn't feature any circuit to transfer current. So, solar charging kits are becoming more popular.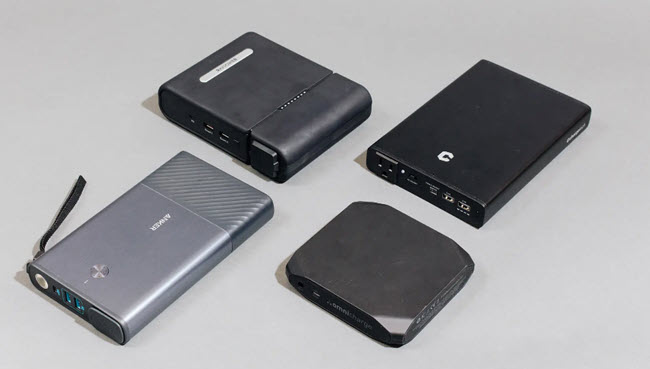 5) Using an external battery charger
Another way to externally charge your battery is using an external battery charger. These chargers are available on the market, and you can use them to power up your laptop in no time. Just look for the right specs before you buy it.
Best External Battery Chargers
1. Baseus External Laptop Battery Charger
This portable laptop battery charger comes with an overall capacity of 30,000 mAh. And it comes with a 65W fast charging USB-C port. It is a highly versatile power bank that can work with various laptops, including MacBook, HP, Dell, Notebook, and Samsung.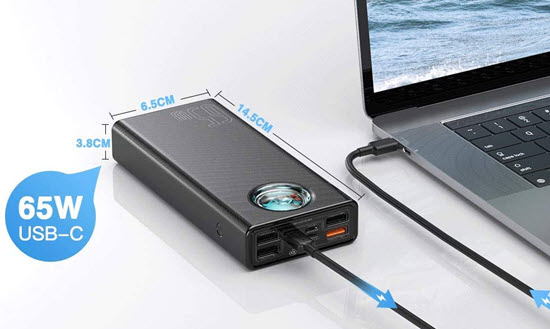 It can charge other devices such as iPads, iPhones, Switch, etc. Moreover, it can power up your Macbook from 0 percent to 50 percent within 50 minutes. You can charge multiple devices simultaneously.
It also features an intelligent LED display that comes with three different modes. It is equipped with various features such as inbuilt overheat and overcurrent protection, shortcut protection, over-voltage protection, and an 18-months warranty. 
2. SinKeu External Laptop Battery Charger
This portable travel charger works well with brands including Macbooks, Notebooks, HP, Dell, and others. The unit has a 24,000 mAh capacity, and you can also charge your phone.
It ensures high-speed charging and can recharge within 4 hours with high-speed input. You can monitor its remaining charging capacity with its display.
Sale
SinKeu 88.8Wh|65Watts Portable Laptop Charger with AC Outlet, A...
Remarkably Compact & Power: One of the smallest and lightest 24000mAh 88.8Wh portable power bank with 110V/65W AC outlet, a great solution to AC power supply. Provides enough power to most of your devices such as smartphone, tablet, and laptop. It's perfect for your travel and business trip.
The charger comes with accessories to make you recharge your system in the car. This unit is extremely capable and can charge your laptop from 0 percent to 50 percent within an hour.
3. DenGaWa External Laptop Battery Charger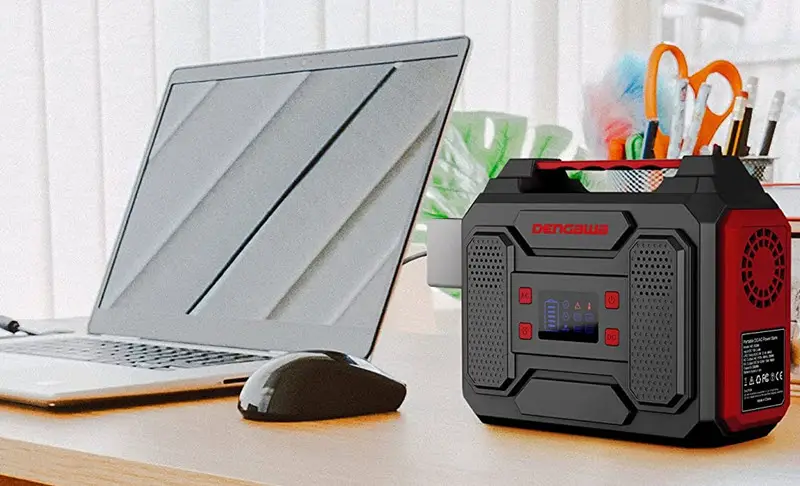 If you are looking to upgrade, consider going for the 67,500 mAh battery charger, the DenGaWa. It features a pure sine wave AC outlet and is suitable for outdoors. You can even use it for traveling, camping, and in your RV. It is much more versatile than just charging your laptop.
It runs on its power and solar power. This 250W unit has multiple charging outlets, and your laptop will never run out of juice. There are multiple ways to recharge a range of different devices. However, you will have to purchase those solar panels for this charger separately.
Sale
DenGaWa Portable Power Bank with AC Outlet, 250Wh/67500mAh,...
【Portable Size with High Capacity】DenGaWa portable power station has a large capacity of 67,500mAh (250Wh, 3.7V) and 7 outputs. It can easily power most of your devices with rated power less than 250W anytime and anywhere. With a weight of 5.1lb and soft handle, very portable size like a small handbag, easy to store and carry. Just take it to your trip and enjoy your relaxing outdoor life!
There are more than one ways that you can use for charging the laptop battery externally. But the most convenient one is the external battery charger. These chargers are available in different shapes and sizes and come in various capacities. Some of them can even power up using solar kits.
However, you must remember that these laptop batteries are not designed to charge externally, and your laptop will charge slowly compared to connecting it with an outlet. But you will undoubtedly have more juice to work with.