Linux Community Enterprise Operating System is a community-driven open Linux distribution project that provides all Red Hat Enterprise Linux (RHEL) features without cost. Most data centers, web hosting companies, web developers, and business owners rely on CentOS for their day-to-day work. It provides all the RHEL features without branding the RHEL license.
CentOS is popular in the community as the superior community support backs it with the latest packages and software. The version of CentOS 8.0, which we mention in this guide, came with all the packages and libraries from RHEL 8.
Below you can find the CentOS pre-installed VDI images for VirtualBox to download. You can download them free from the faster network and attach them to VirtualBox to make it work. We have simplified the installation and update process with this pre-installed image.
About CentOS
Initially, CentOS was developed to provide the RHEL features without additional cost or license purchase. By 2010, it surpassed Debian and became the most popular Linux distribution. It is now one of the most popular Linux distros, with a 15.81% market share being a community-supported OS. CentOS 8 is built on the 4.18 Linux kernel, far from the latest Linux kernel.
CentOS is best known for the stability of production systems. Yum package manager is now a Dandified yum based on the DNF.
What Comes with CentOS?
For Developers, besides Git 2.18, you will get the version control systems viz., Mercurial 4.8 and Subversion 1.10. The default python implementation on the CentOS 8 is Python 3.6, but you will have to install it externally. Other languages & platforms include Node.js 10.1, PHP 7.2, Ruby 2.5, Perl 5.26, and SWIG 3.0.
CentOS 8 also includes server basic programs like MariaDB 10.3, MySQL 8.0, PostgreSQL 10, PostgreSQL 9.6, and Redis 5. It also includes Apache HTTP server 2.4 and Nginx server 1.14 too. For Desktop users, the GNOME Shell interface was updated to version 3.28 with Wayland as a default display server. You can opt-out of the conventional X.org as your display server.
For server admins, the most significant change is the replacement of iptables with nftables, and the proper back end for your firewalld daemon will be nftables. There are no significant changes as you're upgrading from CentOS 7.x to 8, but make sure to use the correct syntaxes as iptables are replaced with the nftables.
Read Also: How to fix Ubuntu Software Center not loading issue
Summary:
Overall, CentOS 8 will have something that most Linux distro lovers were looking for, but we recommend safety as you will be on your own if upgrading from CentOS 7.x to 8. Don't forget to take a complete backup of your production server. Create an inventory of the installed applications. Make fresh CentOS 8 installations and import all your data from the backup to the live production server, as it will ensure the safety of your server and stability.
Working Screenshots on VirtualBox
Here is the working pre-installed image of CentOS 8 – Server with GUI.
You need to assign 8GB RAM to have CentOS 8 (server with GUI version) on VirtualBox.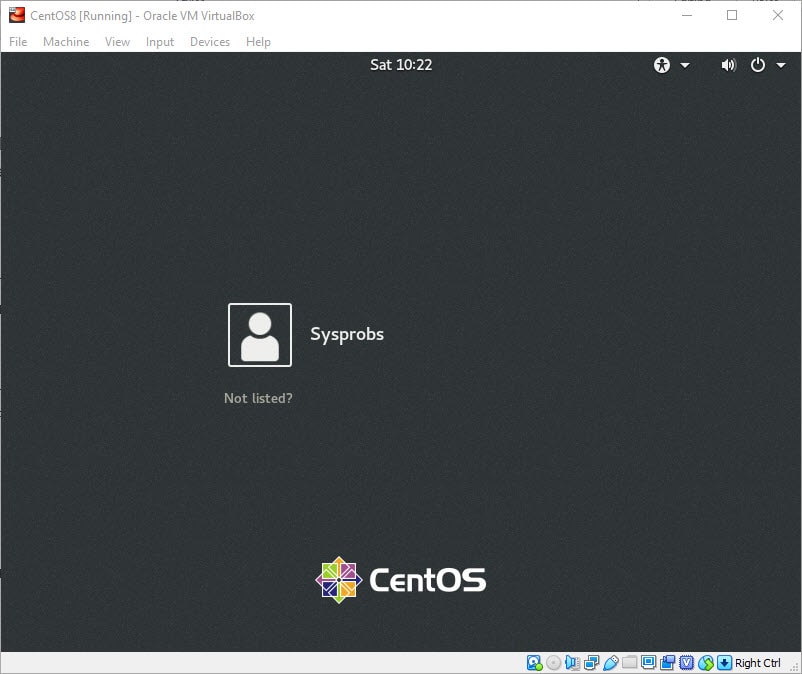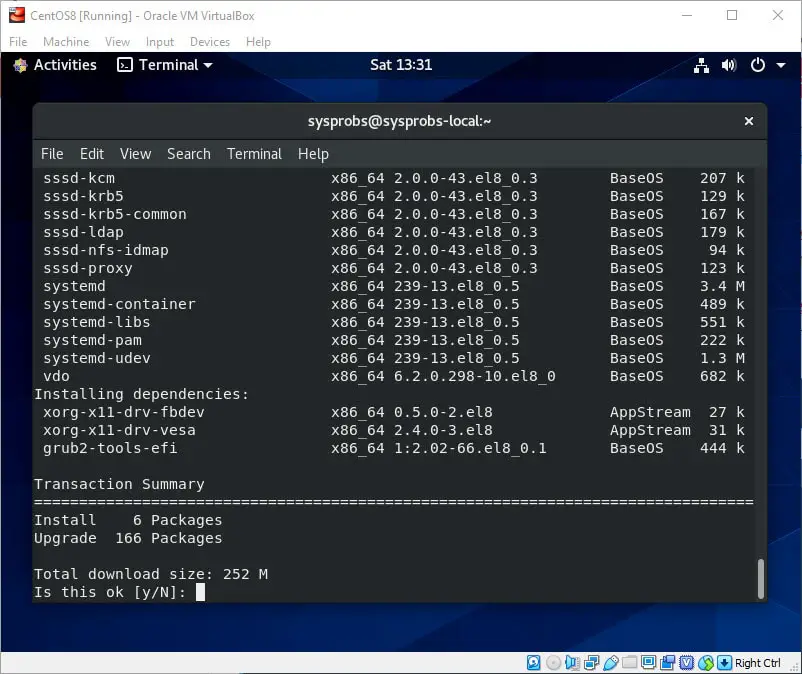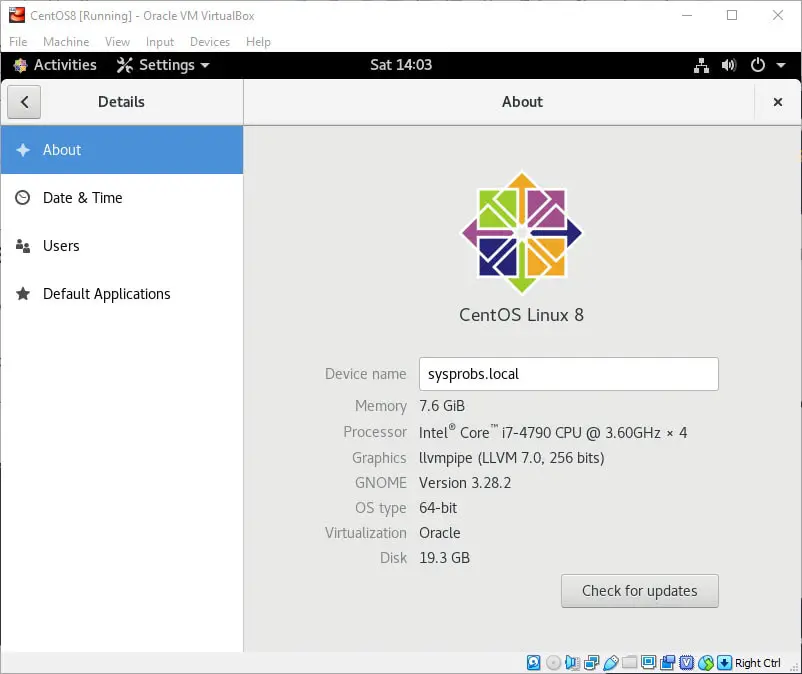 Download CentOS Server Pre-Installed Images (64Bit only)
Username: sysprobs
Password: sysprobs123
Platform: 64Bit
OS Update: Installed (as of 17/11/2019)
VB Guest Additions Tools: Not Installed
Minimum VM Config: 2 VCPU, 8GB RAM
Language: US English