Here is the VectorLinux VDI download page. What sets VectorLinux different from a variety of other Linux distributions are stability, performance, and speed. VectorLinux is a fast LINUX operating system that is meant for Intel-AMD x 86 compatible systems and is designed upon Slackware –  which is one of the authentic Linux distributions.
With the help of VectorLinux, Slackware has been improved significantly and is now creating bloat-free, easy-to-install, easy-to-maintain and easy-to-configure operating systems. Thus, VectorLinux is considered to be one of the quicker, open-source Linux distributions available across the globe.
The developers of VectorLinux work with a single objective – 'to keep it simple and small.' It allows the end-users to decide how their operating system is going to be. So, if you have a casual computer system, VectorLinux can make your desktop lightning fast with several graphical programs to handle your daily activities, be it surfing on the web or running an advanced server.
Installation of VectorLinux
By keeping the convenience of users in mind, VectorLinux is released in different editions – Standard, SOHO, Deluxe, Live, and Light. All of these editions require different specifications for a successful installation.
Apart from this, you will also require a compatible mouse, keyboard, and a CDROM drive. Additional hardware components, like modem, network card, DVD, sound, printer, CD-writer, and more are optional.
Every addition has been distributed in the form of an ISO (.iso) "image" file.  So, for installation, follow the below-mentioned steps: 
Finalize the edition of VectorLinux  that you want
Download both the ISO image file (.iso) and the subsequent md5 checksum file (.md5)
Cross-check the image file before beginning the process of burning to a CD; for this, you would need to do a "md5sum check", which means making a comparison between the "fingerprint" of your image file (.iso) and the fingerprint stored in the checksum file (.md5).
Keep in mind that VL lets you install the .iso file without burning it onto a CD, so you can even ignore this step. In case you burn the image onto a CD, make sure that you burn the .iso image not as a data file but as an IMAGE.
Specific Display Card Settings
When you use this pre-installed VDI image, the graphics controller type should be set up correctly. As we produce only the hard disk file, you need to create a new Linux virtual machine and attach this pre-installed VDI file. After creating the virtual machine, make sure that the Graphics Controller is set to the 'VBoxVGA' type as shown below.

If this option is not selected, the VectorLinux GUI server will not start properly; hence the graphical user interface will not work inside the VM.
Advantages of VectorLinux
Not just VectorLinux has kept its credo as 'keep it simple, keep it small,' but has also managed the same thing with significant effect. It lets users mould the distro to cater to almost any objective. VL is a lightning-fast desktop for users working at home and can just as quickly be utilized as a gateway for office computers or running services.
Its ultra-efficient IceWM for the desktop environment is what makes it light and quick.  Moreover, it can also help in the smooth running of GTK+ apps.
Summary
Substantial support is one of the essential factors that differentiates VectorLinux from other distros. Right from the beginning, you are going to notice that its website is extremely appealing and makes it easier to look for help.
Furthermore, there are several forums with an abundance of registered members to help you 24/7. So, if you are looking for an easy-to-use, speedy, distro with a complete set of apps, VL is definitely for you. 
Working Screenshots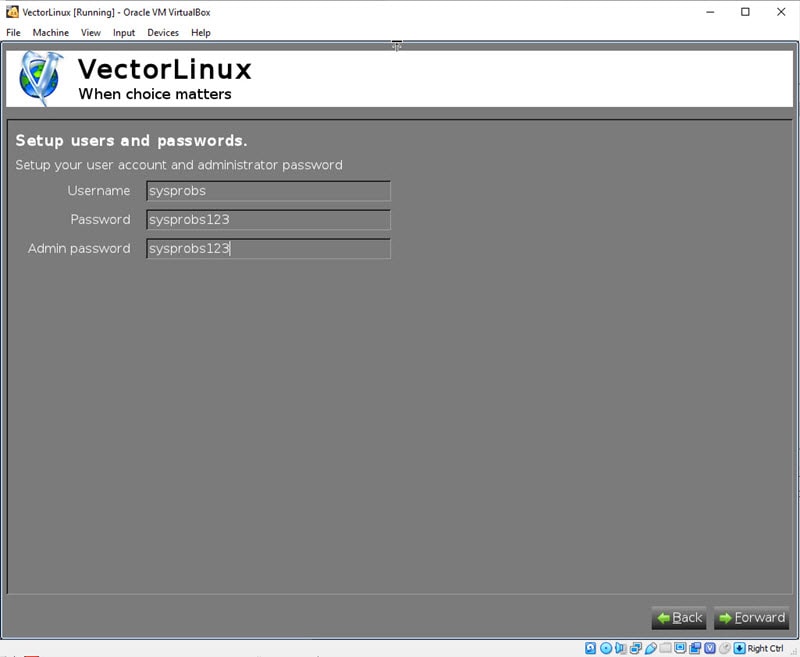 Download VectorLinux VDI Image
Username: sysprobs
Password: sysprobs123
Platform: 64Bit
Graphics Controller: VBoxVGA
​VB Guest Additions Tools: Not Installed
Minimum VM Config: 2 VCPU, 2GB RAM
Language: US English