Things in the world that gets adopted quickly are the one that spreads like wildfire, and the same saying goes in the information technology space. Here we are talking about programs & games that gets popular, and if it is a premium or paid program then users start looking for a way out to get them, and this is where the existence of websites like Softonic comes into play.
In this article, we will talk more about the "Softonic" website and will try to understand whether Softonic is safe to download programs and games?
What is Softonic?
Softonic is an online website that distributes freeware software's & games, they copy the original software or games from its source or developer website and host them on their website. They also host previous releases and make them available to the end-user who are looking for the same.
Softonic was launched in 1997 when there was a huge demand for many popular programs and games for a specific operating system called Windows.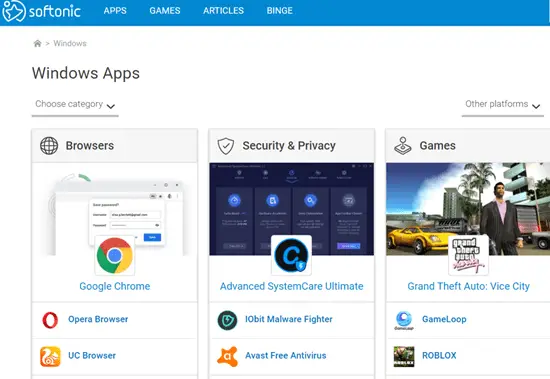 Since the company is in business for the past 23 years, they have made expansions in different verticals. They have started providing other services as well apart from offering freeware to other operating systems like Android, iOS, Mac etc., copyrighted software's, blog services, paid promotion, jobs, developers hub and many more.
Their primary revenue source is from advertisement, they add advertisement banners in different places on the site to make money, and sometimes it makes it very hard for the user to find the real download button for the application for which they came on the site.
Why does the user think Softonic is not safe?
As we now understand what is Softonic and how they make money, now the question arises why do users think Softonic is safe or not?
This is because the site has moved one step forward and started offering its downloader. This software is called Softonic downloader, which will get downloaded in place of the original program or games and gets installed on the site.
Then it will offer you an option to download the software for which the user came on the site, this downloader itself is malware, and it infects all program files and folders including personal data. Apart from downloading the application, it will silently install other malware, trojan programs and hence affects and take control of the computer.
This downloader caused a massive panic in the freeware community, and many users raised their voices to burst their anger against Softonic.
Hence, they decided to withdraw it partially and rolled back to its previous way of offering programs and games. Still, it does pop up randomly, and the worst part is new users won't even recognize it and will end up downloading the same and making the same mistake again.
Pros of Softonic: (Is Softonic Safe in 2022?)
Let's talk about pros that would help us to understand some positive factors in Softonic that are can consider while evaluating the website.
1) The authenticity of the website is checked by many top scanning websites like Google Safety, WOT, Kaspersky, Norton security They check for any type of vulnerability present on the site.
a) Sites like Google safety or Google safe browsing check for any infected links on the site, it can be checked using their scanning website here. Users are required to input the site URL that they want to evaluate, and it will scan and tell us whether the site is safe or not.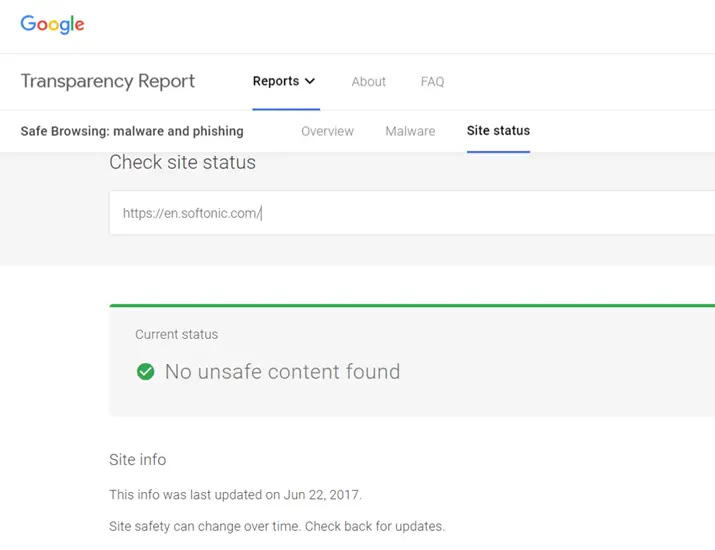 b) The second popular option to find the authenticity of Softonic is Web of Trust or WOT; it checks site authenticity based on different parameters like inbound-outbound links, security status on the browser (HTTP or HTTPS), invasive ads and many more. To verify site authenticity in WOT users can type the site URL like this, and it will show the authenticity of the site.
c) Kaspersky and Norton security are other most popular options to check the site authenticity of a website. Users can verify site authenticity by going to Norton's website and searching for the site to find information about the site.
In the above example, we have searched for Softonic to check its authenticity and the site appears to be safe.
The other way to find Softonic authenticity is via user review: Many users have reviewed it on different web 2.0 and social media websites, and they have shared some positive reviews about the same.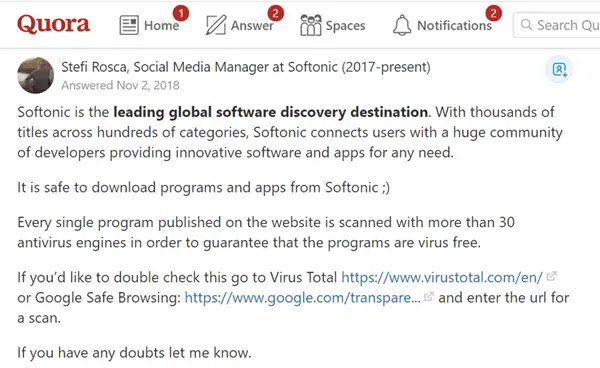 There are sites like URLVOID that scans website using different scanners and gives us a report to see the result about site authenticity, as shown below: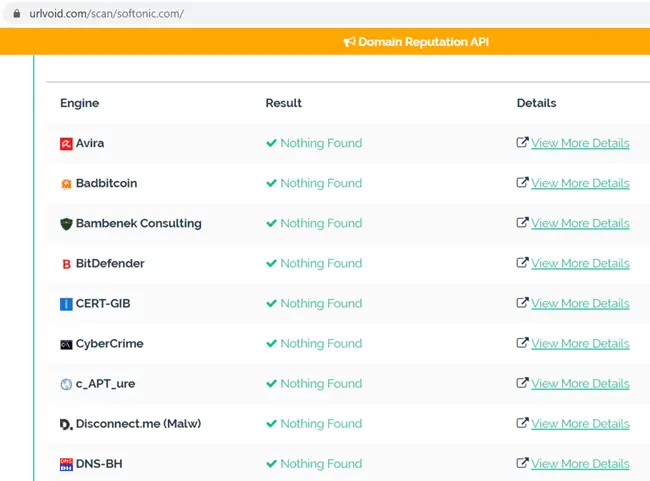 As shown in the above screenshot, it indicates there is no known thread present on the Softonic site. Also, the user can view detail about any scan executed on the website using the "view more details" link.
Cons of Softonic:
1) The first reason why Softonic is not considered safe is the ad placement on the site is very annoying. And there are high chances of users clicking on those "download" button that appears to be the same and will either land on a phishing website or end up navigating on some other site which was never the intention of the end-user.
Ads placed on Softonic are ad blocker resistant hence even users who are using ad blockers plugin to block those annoying pop-up banners and widgets will end up seeing those ads and unintentionally clicking on them.
For example, let us take VLC a popular open-source application for example and let's do an in-depth analysis about the page on Softonic and try to understand the information available on the site.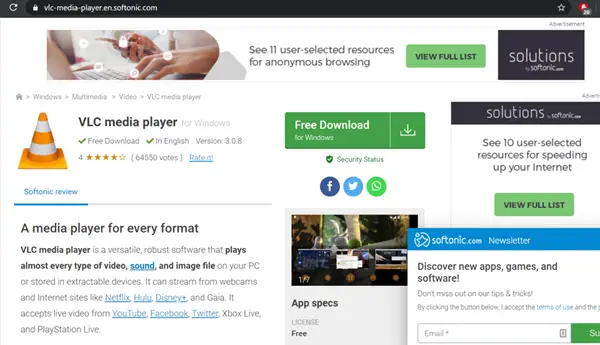 In the above image, we can see there is an ad blocker installed in the browser even though the ads are still visible on the site. There is also a fly out banner at the bottom right-hand side, and the download button placement is at the wrong location.
When we end up clicking the download button, we are greeted with another full pop up banner which offered us to download Avast antivirus.
On click on exit, we landed on the download page where it didn't provide us with the VLC player file but with another pop-up banner and the same download button to get the VLC player. And the exciting part is, in the end, Softonic added a link to the source download page. It would be beneficial if the site would have been provided with easy access to get the software download link.
If we compare this experience with other freeware sites like CNET, Filehippo, MajorGeek and many more, finding games and programs and finally having them at the end is much easier as compared to Softonic. As Softonic have loaded the complete site with lots of advertisement hence even using an ad blocker won't make much difference.
This user experience makes the Softonic site questionable and hence question about its legitimacy arises.
2) There are many cases of issues reported by users on different popular websites like Quora, Reddit, Facebook etc. about Softonic.
The downloader provided by the site contains malware that has infected the user's computer. And, after downloading programs and games from Softonic, they have started facing other issues with PC like slow performance, system crash and many more.  Many famous antivirus programs have flagged these issues, and after the security program removes these files after a full computer scan, the Softonic downloader stops working.
3) The version of software's listed on Softonic are mostly outdated, using outdated software on the computer is not considered safe as they contain lots of bugs that may be exploited by hackers to steal information from the computer.
Hence, it is always advised to get the latest version of the software from their developer website and only in case of unavailability of such link user should consider sites like Softonic.
Another reason for avoiding freeware sites is they package programs or games with malware which takes control of complete hard disk space and hence slows down the performance of the computer. The only way out left in case of such a scenario is to format the PC, which is again a big no-no.
How to safely download programs and games from Softonic?
As we now understand the site and how they place an advertisement that affects user experience.
Now, if the user wants to download programs and games only from Softonic, then they must take precautionary measures while doing that and know what they are clicking on. Let's understand more about this with an example of a VLC media player website below.
When a user lands on the Softonic website, they will either land on the home page or a software (program or game-specific page, in this example it is VLC hence landing page will be https://vlc-media-player.en.softonic.com/ ).
Now, the VLC landing page contains lots of information clustered together (seems like the site is running out of space to place banners or data).
Finding a download button for a user will be confusing. If you consider the above screenshot, it is visible that a lot of the "download now" option is there with the same colour-coding, which means finding the actual button will be tough.
Hence, it is always advised to find the actual button by hovering the mouse on each button on the site in case of doubts and looking for URL's to which it is pointing before clicking on it.
After finding and clicking on the right download button, Softonic may again show another pop-up banner before landing on the next page as shown below; users can click on "No thanks, continue to download VLC media player."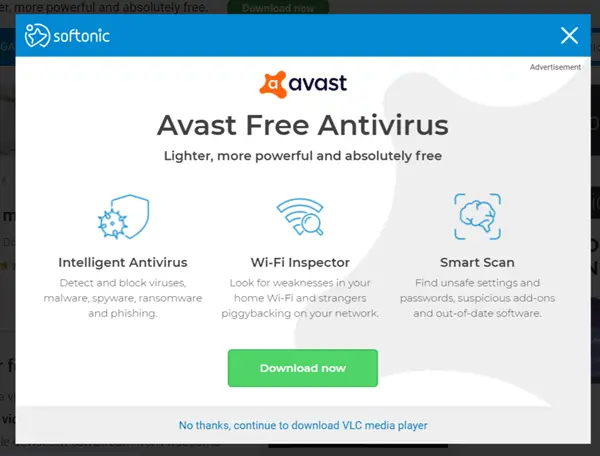 On this page users are not supposed to hit any button as the download will start automatically however in case, it doesn't then clicking on the green "Free downloads for Windows" would not be a good idea. In place of that, the alternative VLC media player download option would be much easier to complete the download process.
In the early days of Softonic, they used to provide clean and easy to navigate but as we progressed they started adding more advertisements, pop up banners & malware-infected programs which started annoying users who just came to get an installer file for a program or games.
Do let us know what you think about Softonic, do you consider "is Softonic safe"  and what are the other sites that you prefer for downloads in your comment section below.