Many people feel it quite boring to have the same old Android ringtones on the phone. Do you want to change your ringtone to the latest song you heard another day? Alternatively, do you want to customize it to your style and mood? If yes, then you need to check these ten websites that are suited best to download ringtones for your Android. The best thing about them is that they let you download for free without any cost.
All you need to do is to search for your favorite ringtone and then open your mobile and download what you want. Having your favorite ringtone on your phone is fascinating. You can get rid of all the mainstream tones of your phones now.
Websites to Download Free Ringtones for Android
Getting free ringtones for Android has become easier since websites like zedge.net have come into existence. The site started its operation ten years ago. It has more than 9 million images and ringtones on it. You can easily choose the best one for yourself and download them to have fun.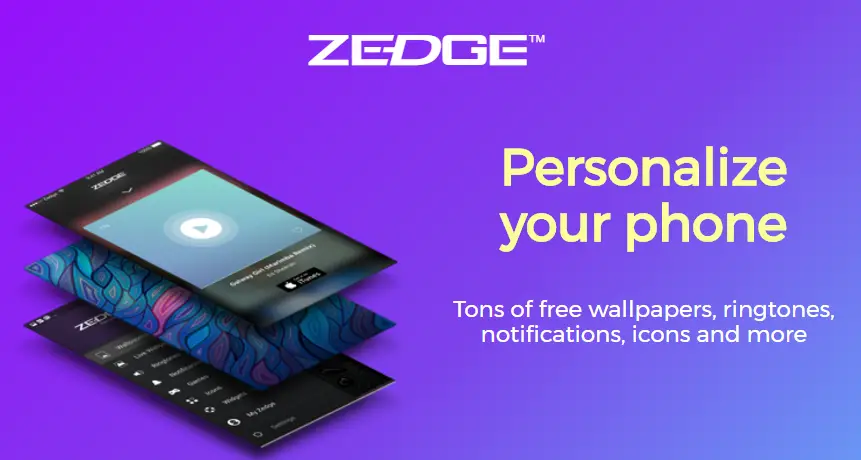 You need to open zedge.com on your computer's browser. The next step is of registering. You can download ringtones easily if they have made a Login ID.
To log in add in your email and set up a username and password. Once this step is done now, you have to mention the device that you are using, for that click the button labelled as "Select Your Device" that's located in the upper right corner.
Use the search bar to enter the ringtone that you need, select a tone from the drop-down menu first. Click on the selected choice, and press "Get Ringtone," save the ringtone to your computer. Now you have an mp3 ringtone on your computer, just plug your phone into the computer and transfer the downloaded ringtone.
Tonetweet is a very vast site that contains many genres of songs which you are using as a ringtone for your Android mobile phone. This website is by far very much user-friendly. It contains all the detailed genres mentioned on the left bar.
Every website has its way of how can you download and add them to your phone. In some cases, the ringtones can simply be downloaded into your phone, and that is by far the easiest way because only then you do not have to connect your mobile phone to the computer.
To start off with the procedure, you have to open tonetweet.com on your desktop. Once it has been opened and loaded, then you can search for the type of ringtone you need. Either choose from the latest collection they have, or you can type in the search bar.
Once you have made your choice, click on that ringtone to listen to it. Either click on the "Download Ringtone" at the bottom, or you can simply copy the link and email it to yourself. Open that link on your mobile, and there you have the ringtone on your mobile.
Another useful website is mobile9. It contains a series of wallpapers and many ringtones to choose from. It has so many mobile phones to choose from, and then you can see which ringtone is compatible with your phone, so no difficulty occurs.
To start downloading some free tunes, mobile9.com first. Once you have opened it up, then you will see a startup page which will ask you either to log in or simply a search bar is seen from where you can type in the mobile company you own.
For user simplicity, the list contains some mobile phones along with their model names and pictures. Choose your Android mobile, and that will open the list of ringtones that will be downloaded on your device. Make your way through to the best tone that you require and select it. You can simply press the download button on the right side and then plug your mobile data cable into the USB port to transfer it from the laptop to your smartphone.
Mobiles24 website is well-known as it contains more than 136,000 free ringtones for Android which is a huge number to choose. You will simply not get tired of having a new ringtone for your smartphone every single day. Moreover, all the ringtones are free of cost.

The method is simple yet very quick to download. As with all others, the very first step is always visiting the website mobiles24.com. After you have visited the site, you will see a vertical bar on the top of the page, you can simply select "Free Ringtones," or you can write in the search bar.
That will open the ringtones page, and you can hear it and download this item by seeing the icon at the bottom that says "download" which will only save the file on your computer. Later you can put it on your mobile phone.
Tones7 is a site that is solely based on a free variety of ringtones for Android. You can download it anywhere or anytime needed. It provides many songs that you can use to add to your mobile phone.
Ways to download the free ringtone:
To download, simply visit tones7.com. In the right-hand corner, you will find different genres that will help you in the search for the perfect ringtone that you want to use. It also contains two separate columns one which has all the popular ringtones available and others that have the new ones.
If you do not like any of these, you can use the search bar on the top. By typing in the tone that you require, it will help you download it. Tones7.com is different from other websites as it helps you make a ring tone as well. Upload an mp3 file, and that will create a 30 seconds MP3 file for your Android phone. Then download the ringtone and add it to your mobile.
This website is quite colorful and pleasing from a user's point of view. They list the top 100 ringtones as well. So, if you are not sure which one you should download, you may simply choose one from the latest hits.
From audiko.net you can download different free ringtones for your mobile phone. It contains SMS tones along with some Pakistani artists' songs. So, there is an elementary step to download a ringtone, search for the one you want and click on it to get it saved on your device.
Alternatively, you can either upload a song which is your favorite one or selects the best fragment that will be good for you as a ringtone. Press get a ringtone, and there you have it. Attach your mobile and transfer it.
We can easily search for the tones on prokerala.com. It contains a very versatile variety of different ringtones for your calls and SMS; it also provides you with alarm ringtones. A variety starting from Bollywood songs to the normal tones, it has everything for free.
Visit prokerala.com from your laptop. You can search out different ringtones it depends on which one you need, either SMS, alarm, or caller tune. For your ease and feasibility, this website has a drop-down menu from which you can select various options, and select "Ringtone" from this menu.
Once you have selected this, it will show a variety of tones whether it is Hindi/Bollywood songs or any different music. Not only can you download them, but you can also upload your favorite ringtone so other people can enjoy it too. You need to sign in to upload your ringtone for others.
Mytinyphone is a website that helps you track down all the favorite ringtones that you want to have on your handset. Most often people get bored with having to listen to the same ringtone again and again. Therefore, it is a great way of finding out something different for yourself.

This website contains a lot of the various entertaining things for your Android phone. What we are looking for is the ringtone for your mobile phone. Visit mytinyphone.com and see for yourself what your needs are.  You are a Guest at the start, to enjoy full services and receive updates it's better to sign in by making your ID.
Once you have done this step, then you can see different sorts of featured ringtones. There are different categories mentioned on this site. Clicking on the ringtone tab, will give you three categories popular, new and upload. There is a variety of different tones that you can then select for your smartphone. Simply select it, and then you can download the tone for your Android mobile.
Oringz.com has all kinds of free ringtones for Android. It has a vast category from which you can thoroughly search and find the suitable thing that is desirable to you. Ringtones are a great way for one's pleasure, so you would always want to have the best one that would lighten up your mood.
The best thing that this website has to offer is that you can search by tags. If you are in need of a nice ringtone and cannot call out the name in the head, then simply visit the tag bar and chose from what looks nice to you. Every day is a new day, and therefore this site has to offer you a notification of a day. Visit oringz.com and make your day a happy day by simply selecting the category or the tag and downloading the ringtone that you want. It has three different kinds of songs either it is MP3, M4R or Ogg.
Many users have used this site and have always found a good collection of free ringtones. It has so many sounds to select from that one can easily have different tones every day.
Method to get a free ringtone on madringstones.org:
You have 370606 ringtones to choose from on this site. It has a massive variety of tones. Visit madringtones.com and use the search bar to type in your favorite songs name or some featured tone that you like. It also shows Eurovision ringtones; these are some of the tunes that are very popular in Europe, and it contains different songs on the list.
Some people upload their ringtones by adding up their favorite songs on the website. Recent tones are also uploaded every single day so you can choose from them as well. Simply select the tone and download it on your desktop later add it on your phone.
Conclusion:
To have the same old ringtone is very frustrating that is why we bring you these top 10 websites that provide you with free ringtones for Android. You can thoroughly read which site works well for you. Maybe one ringtone is found on one of the sites but not on the other. Therefore, look out for different sites until you find what you desire. If you are much of a choosy person, then simply you can add up your song and select the specific fragment to create your very own tone.