This article lists the 5 best apps/websites that allow free music downloads for Android cell phones and play your favorite songs online. Smartphones are replacing walkman and dedicated mp3 players. Since the beginning of our race, music has been one strong version of defining our emotions and feelings.
Music is a medium for expressing our perceptions, art, and culture. Whether it is vocal, instrumental, or in another form, music has been a part of expressing what we are. These free music download apps for Android will let you download music tracks, mp3, and mixtapes from the internet and listen to them offline or online.
Android is a very famous and user-friendly operating system. This operating system has become so much easier for us to download music from different sites and clouds. A vast number of apps are out there through which we can download any kind of music we want to listen to and save it in our storage.
5 Apps For Free Music Downloads for Android Cell Phones
It is one of the best apps for music lovers to download free music for Android. Having a gigantic music library, you can even search the vast database of 4shared. This app mostly has more music tracks to download for free on the planet. Just type your song and tap the search button, and thousands of results will be shown, handcrafted for your needs.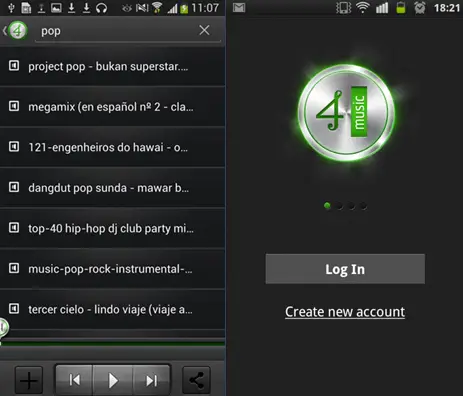 Their user-friendly interface will make your life easy. It is one of the famous music download apps among Android users based on user reviews and feedback from Google Play. Since it's having good reactions from users and the number of installs crossed over 50,000,000, you can safely think this is one of the best options for Android users.
Whenever you download any songs, it is automatically saved to the 15GB 4Shared cloud storage, which you can listen to offline. The catch would be when you want to keep more than a 15GB size of songs; you might then need to pay.
You can create and categorize your folders in this 15GB free cloud storage. This method comes in handy if you are a user who frequently changes your smartphone because your downloaded songs will synchronize back to the new phone through cloud storage.
This is another top music download app for Android provided by Google itself. It offers both music streaming and download options for users. Though it mainly works in the paid subscription model, it offers free mp3 music downloads regularly. Believe it or not, you might even find your favorite music album with Google Play free music app.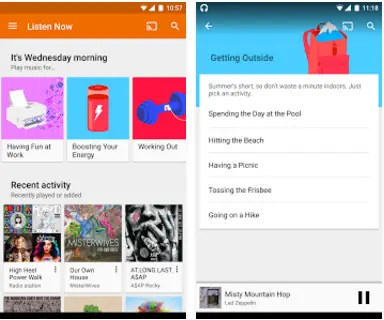 You can also use its cloud storage service to listen to music offline. A user can get an access catalog for a subscription fee of 9.99$ per month. There is also another feature in this app which is called "Online music locker." In this service, a user has the chance to upload music online. There are more than 50k songs in the locker.
This app is more suitable for people who listen to music during workouts and exercises. It offers plenty of songs and options, including its DJ mix. Using this DJ mix, you can mix your songs and playlists and listen to DJ music during the workout. You can use this app to download or temporarily cache the music files for free and listen to them offline later.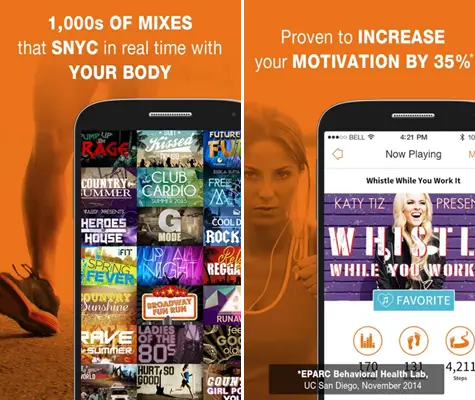 The best part is it can read your BPM (beats per minute) and mixes the DJ recordings to it or increase/reduce the track size based on it. Also, it has pre-created DJ tracks from famous DJs. If you are looking for the best Android music download app for your workout and exercise, this is the app you must download.
This is for mixtape music lovers. It provides unlimited mixtapes and allows you to stream them online and listen.  Even you can download your favorite mixtape music and listen offline. The app offers more features to search and find the songs you are looking for. Their app search will run through multiple songs, artists, and groups to find what you want.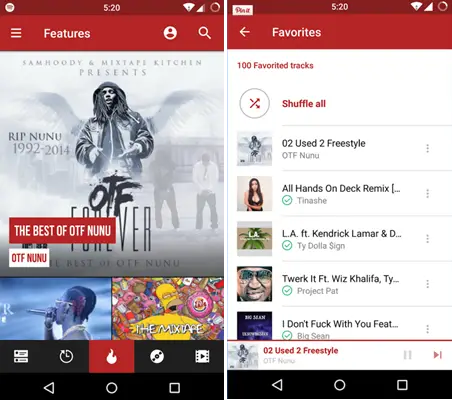 With more than 5,000,000 downloads from Google Play, this app has outstanding user feedback. The user-friendly app interface will allow you to share your favorite music tracks on social networks easily and find your friend's favorite. Worth to list it here as one of the best free mp3 downloader apps for Android phones.
They are famous in the music industry, especially in the premium version. Since they recently started allowing free music for smartphones and tablets, you can use this app to listen to songs for free. They have a massive collection of mp3 songs for Android.
There are a few limitations on this app when you use it as a music download app for Android, such as ads will come in-between songs, you can't play songs on-demand, and offline music listening is unavailable. You can read more about the difference here about whether Spotify Music is free or not.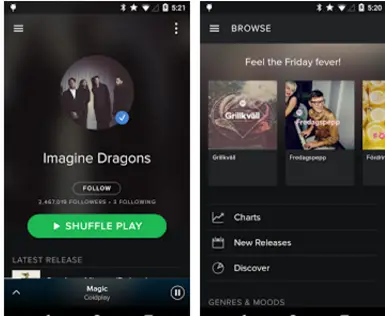 But as a music lover, you can think about the paid version once you start liking this app and its song collection. The app allows creating your own playlist based on your favorite songs. If you are unhappy with the other 4 free music download apps for Android, it's worth looking at this app and trying it someday.
Music is formed in which we express ourselves, find our deeper souls, and re-organize our feelings. It is not too hard nowadays to find the best place to get your favorite music if you are a music lover.
These free music downloads for Android smartphones and tablets will help to find your mp3 song online, stream them and even download and listen offline. For Android users, it is a matter of a click to find the best app from the play store and make life rhymed with great music.