Are you unable to update the Android System Webview? You've seen this app on your phone since you bought it. You've been using it often(without even knowing what it is, perhaps).
But suddenly, something happened, and Android System Webview won't update.
Perhaps you don't know what's going wrong because of this issue. But sometimes, you're facing crashes and bugs(especially Google apps) when you try to open links.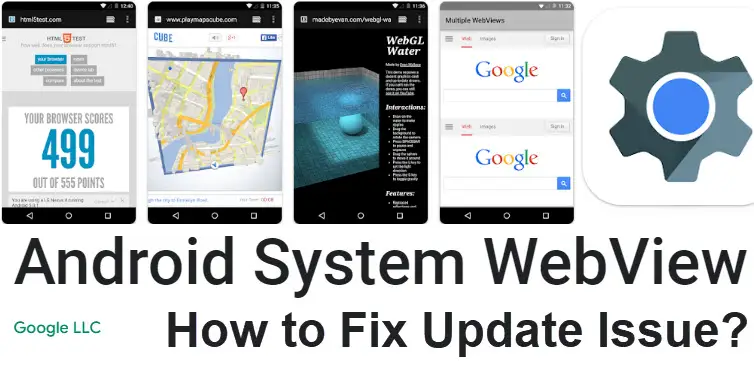 So how to fix this?
Stay with us because we're going to cover every possible fix to Android System Webview not updating or update pending.
For demonstration purposes, we'll be using a Samsung phone with Android 11. However, that won't be an issue since all the fixes we show are general solutions that will work on all devices.
Now then, let's fix your Android System Webview!
So What Is Android System Webview, Anyway?
You're scrolling Instagram, Facebook, or any social app. And suddenly, you see a link. You eagerly tap on it.
You expect the link to open on your browser. But instead, a new window opens right inside that app. You see the link loading. After a while, the webpage opens as if you're seeing it inside a web browser.
What is this magic?
Well, that is the Android System Webview.
With Android System Webview, you can open links and view webpages within an app without opening the link in a different web browser. Very intuitive, right?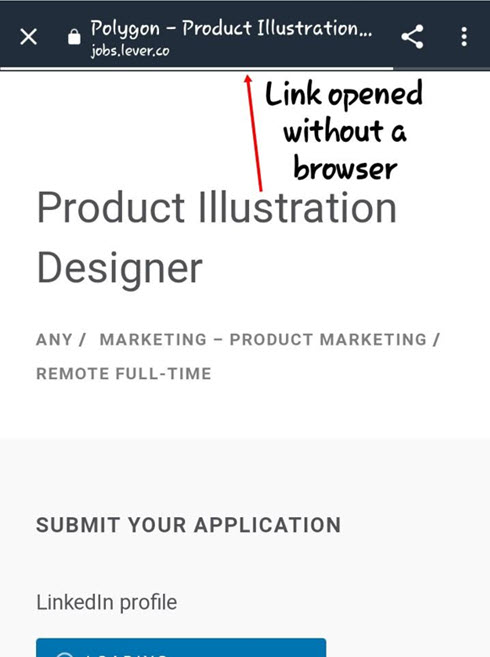 It saves you from opening your browser because having multiple apps opened at the same time will make your phone laggy.
Read Also: Best Google Play Gift Card Earning Apps you must use
Where to find Android System Webview
Android System Webview is a system app. So you can find it in the apps section. However, you won't find it in the app drawer.
To find Android System Webview, go to Settings → Apps. The apps are organized alphabetically. So scroll down a little, and you will find it there.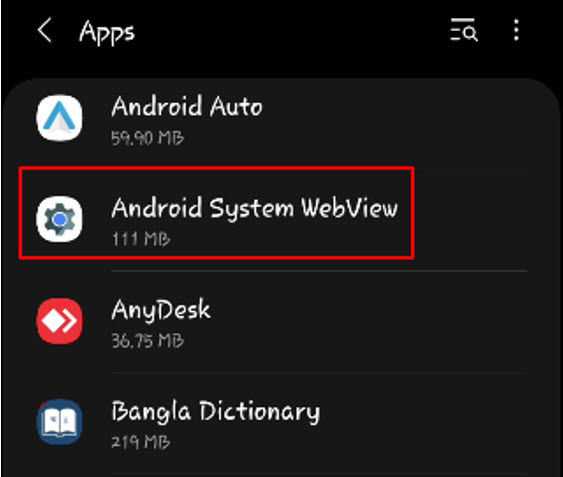 Now that you know what the Android System Webview is and where to find it let's see how you can update it.
5 Fixes To Solve The "Android System Webview Won't Update" Issue
If your Android System Webview app is not updating, it can cause issues for other apps like Outlook, Teams, Gmail, and others. So it's important to get it fixed. Here we listed the top 5 ways to fix this problem.
Fix-1: Clear Google Play Store Cache and Storage
This is by far the most effective method to fix the problem.
Tap and hold on to the Google Play Store icon on the home screen. Now, you should see some kind of settings icon/button pop out with other options. Tap on that.
Alternatively, you can go to Settings → Apps → Google Play Store.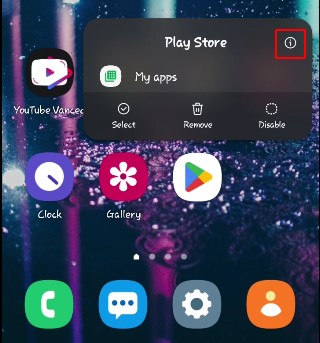 Tap on Storage.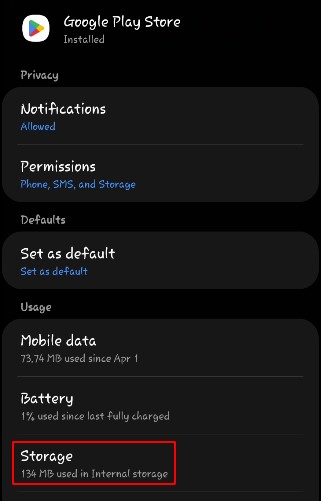 Tap Clear data and Clear cache. When clearing data, you'll be asked for confirmation. Tap Ok. If your Clear Cache button is greyed out, it means there is no cache.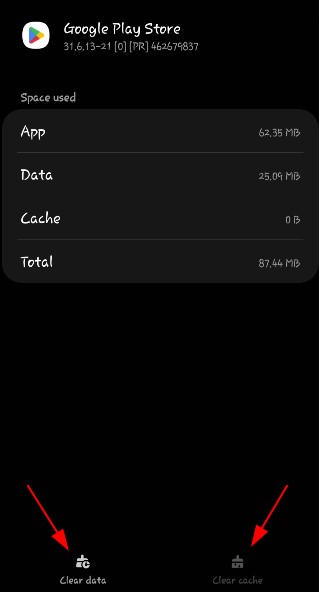 Now go back and try to update Android System Webview. It should update without issues.
Fix-2: Update All Apps From Google Play Store
Another way to fix this issue is to update all apps on your phone that require an update. If Android System Webview is not updating due to some other apps, updating that first can solve the issue.
Go to Google Play Store
Tap on your Google avatar. A window should pop up
Go to Manage apps & device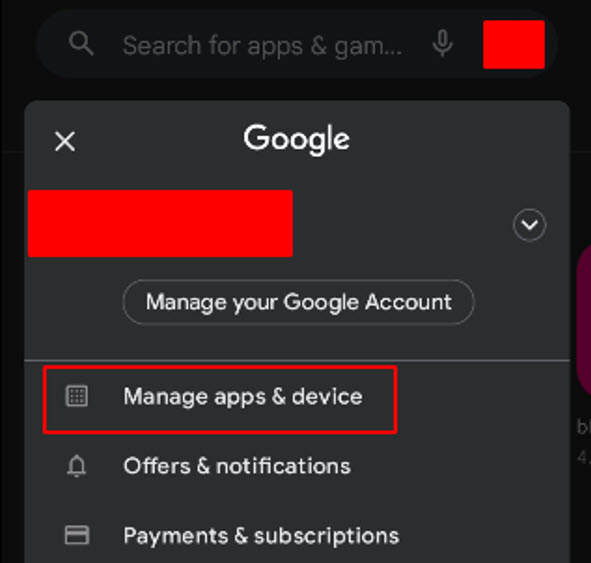 Tap Update all.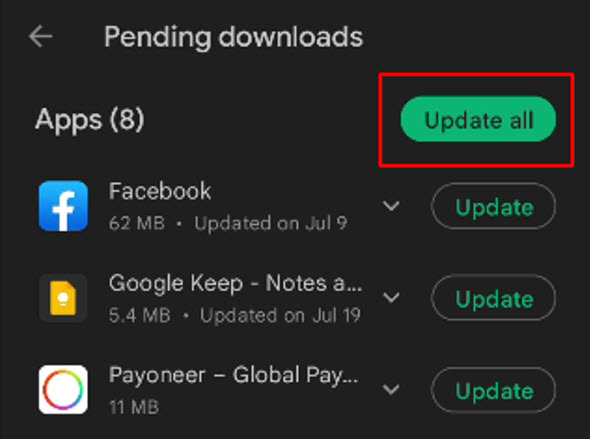 If Android System Webview is on the list, it should get updated along with the other apps.
Note: Some websites may tell you to stop auto-updating or not to update all apps. This is terrible advice. The fix we have listed here is tried, tested, or reported by real users.
Fix-3: Uninstall and Manually Update Android System Webview
Sometimes, Android System Webview may not update because of some other apps updating(or not updating). If that is the case, you need to update it by yourself.
Go to Google Play Store.
Search Android System Webview on the search bar. Tap on the app.
Tap Uninstall.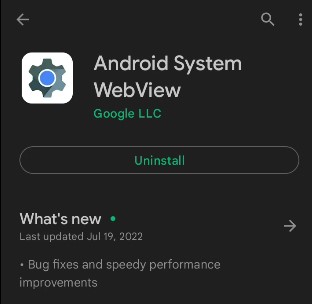 After it gets uninstalled, tap Update. Hopefully, it will get updated successfully.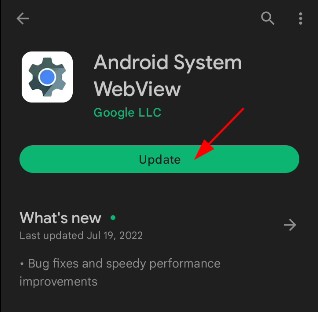 Fix-4: Clear Android System Webview Cache
Clearing the app cache may resolve the issue. Sometimes too much saved cache can create bugs and errors.
Go to Settings → All Apps
Find Android System Webview. Tap on it.
Go to Storage
Tap Clear data and Clear cache(might be greyed out).
Go back and try to update the app and see if this resolved it.
Fix-5: Force Stop Android System Webview
Besides clearing data and cache, you may also try force stopping the app. Force Stop kills the app processes running in the foreground and background. So if there was an update issue, force stopping the app may resolve it.
Go to Settings → All Apps
Find Android System Webview. Tap on it.
At the bottom, press Force Stop.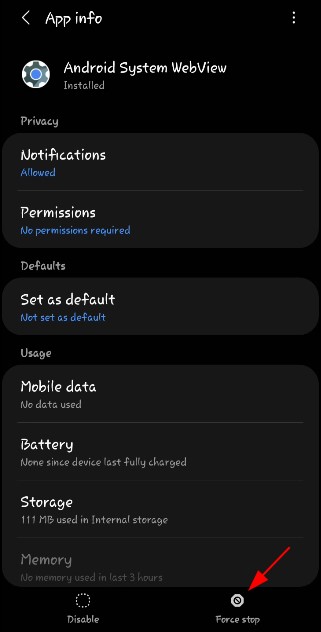 You will get a confirmation pop-up. Tap Ok to confirm.
Other Minor Fixes
If none of the above fixes worked for you, try some trivial fixes. No guarantee they will surely work, but it's worth a shot.
Reboot your phone
Sometimes a quick restart is all you need to fix many Android phone bugs. It's good to restart your phone once in a while
Check your internet connection.
Have you checked your internet connection? Is it stable? Is it even working? If you answered "No" to either question, wait for your internet connection to get fixed first.
Switch between data and Wi-Fi
Again, it could just be a simple internet issue. If your Wi-Fi isn't working well, try switching to mobile data and vice versa.
Uninstall Chrome along with Android System Webview
Remember Fix-3? You may want to repeat it with Google Chrome in the process as well. So uninstall both apps and then update(reinstall) them.
Conclusion
The Android System Webview app is definitely a fantastic app to have when you want to view links and webpages quickly from within another app.
If your Android System Webview app is not updating, it creates crashes and bugs, which in return causes a problem for other apps.
This article explores the solutions when your Android System Webview won't update or if the update keeps pending. Every solution we've covered has worked for users who faced such a problem.
We hope one of the solutions will fix your problem as well. If it does, don't forget to let us know which solution worked for you.
Have any alternative solutions worked for you? Let us know in the comments.