The integrated Gmail client is a great built-in application for email lovers in Android OS. I'm enjoying this feature with my Samsung Galaxy Y Pro Duos (pretty old model while updating this post in the year 2018). This guide is applicable for any Andoird OS version and smartphone to fix when the Gmail app stopped receiving emails automatically. Recently in my Samsung Galaxy phone, the Gmail stopped receiving new emails and giving notifications suddenly. It worked well initially, so I'm sure that one of the recent changes I did on this phone caused the issue.
Whenever I remember or expect emails on Gmail, I have to open the app and refresh manually to get new emails. But that is weird and not practical always when you have a smartphone with a proper email client and the Internet connection and notification feature.
I have done 3 software updates on this phone after the purchase, that could cause this issue. But after checking a few blogs and comparing the changes I did recently, I managed to find out the reason for not receiving Gmail emails automatically on Android phone.
Power Control/Power Saver Settings/App
I have added power control widget in my home screen and disabled the application auto sync to save power. I never knew this will affect the auto Gmail sync too. To save the power/battery, this app stops all the background app/data sync including the Gmail app auto sync with the mail server. Obviously, when a new email arrives your email account at Gmail server, your phone is not going to see it because the auto sync disabled by this widget. Manually opening the Gmail app and syncing it worked as said earlier.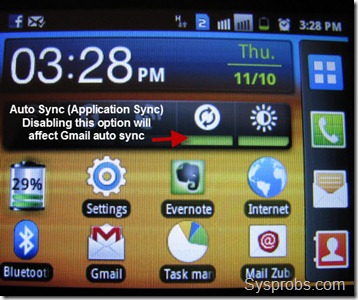 How to Fix?
Like other configured sync accounts such as MS Exchange, Facebook or Twitter, Gmail sync options will not appear under 'Manage Accounts' in 'Accounts and Sync Settings' option (what I'm seeing in my Samsung galaxy y duos pro). I think because Gmail is well-integrated email client app in Android, Gmail client is treated with 'Application sync' in Android.
So, if your Android phone is not receiving new emails and giving mail notification on Gmail, enable the 'Auto Sync' under 'Accounts and Sync Settings'.
Press 'Settings' on the home screen and select 'Accounts and sync'. Enable the tick for 'Auto sync' (Applications sync data automatically). By default 'Background data' tick should be enabled.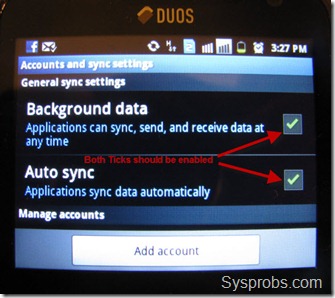 Disabling/ re-enabling above ticks and restarting the device should fix Gmail issue normally. If this step doesn't help in fixing the issue, you may need to reset the account and reconfigure.
Enabling 'Auto Sync' under settings or in the power control widget from home screen fixed the issue for me. Now the Gmail app is receiving new emails automatically and giving notifications without any issues on my Samsung galaxy y duos pro. Hope you will find this simple step useful to fix the Gmail app email receiving auto sync and notification issue on Samsung Galaxy or any other Android Phones.