Here is the way to get back the traditional start menu and start button back in Windows 2012 or 2012 R2 server operating systems. Like Windows 8, Windows 2012 and R2 servers also come without the start button and menu. Therefore you may feel uneasy while using this OS initially. If you like to get the start button/menu back, you can follow the below steps. It works well on Windows 2012 standard and data centre versions.
Read Also: How to show my computer icon on Windows 2012/2012R2 Server.
We will be using a third-party utility to get the classic start menu/buttons. Therefore, before trying this method on your production Windows 2012 server, do confirm whether really you want this feature by installing third-party software.
A small start button application that was built for Windows 8 desktop version can work for Server 2012 too.
Get Back the Start Button/Menu in Windows 2012, 2012 R2 Server
You can download Classic Shell and install it on the server. I recommend selecting 'Custom installation' as shown below.
With this custom installation method, we can avoid unwanted extra programs during the installation. The below screenshot was taken from a similar tool built on the classic shell, but applicable for the original classic shell version also.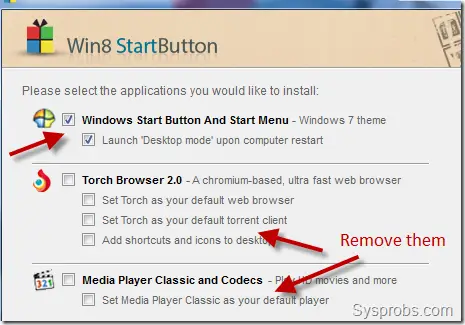 A restart may require after the installation. Once rebooted, you can see the familiar start button and start menu in Windows 2012/R2 server.
To customize this start button and menu, we have to use the particular application settings only. Do not look for the usual Windows appearance settings for it.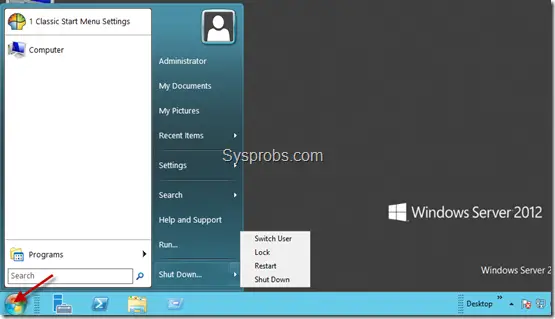 If you are looking for a similar Windows 8 start button application, you can find them here at cnet.com, but I'm not sure how they will work on Windows 2012 servers.
As the latest Windows server updates and major versions come with the start menu, we can avoid these tools on the latest Windows Server Operating systems.