Building a home media server for multimedia purposes is excellent for many reasons. Reasons include having some old computer hardware in your home that you want to use and access your files remotely or you wish to experiment with servers. Even playing multimedia and movies from the network share is fun and convenient.
Finding hardware for a simple home server is no big deal. You want a casing with good cooling options, a processor and motherboard, reliable storage, and good internet. The most challenging thing is probably deciding which server OS you should use.
With the vast array of options available, selecting the correct Operating System for your home server can be daunting. However, by carefully weighing out your specific requirements, you can make an informed decision and choose the OS that perfectly meets your needs and provides the best experience.
Hardware compatibility should be your primary concern when deciding what OS to use for your home server. Some operating systems require specific hardware that could be incompatible with older systems.
Also, a good OS should provide reliable performance, an easy-to-navigate interface, and the capability to support various media file formats if you use the server for a media center.
Linux and Windows are two commonly used operating systems on servers. Linux is especially renowned for its ability to be customized, high-level security, and stability, making it an excellent choice for people who wish to have greater control of their media server. Moreover, even the latest Linux server or client distors can work on low-configuration hardware. But that is not the case with the latest Windows servers, which are resource hungry.
Here are some of the best options for a home server OS, including Linux-based and Windows-based servers.
12 Best Home Server OS in 2023 for Media Lovers
OSMC (Open Source Media Center) is a unique and innovative media server OS designed for media lovers and tech enthusiasts. Since it is an open-source platform, it provides a comprehensive set of features for managing, organizing, and streaming multimedia content at your home. OSMC offers a unique solution when compared to other media server operating systems. It is created based on Kodi, which is well-known for its wide selection of add-ons, skins, and plugins that can be used to improve the user experience.
The main feature we like about OSMC is its user-friendly interface, which makes it easy for even novice users to set up and manage their media library. Featuring an easy-to-use interface and a customizable layout, users can access their desired media content like music, films, TV series, and images in no time.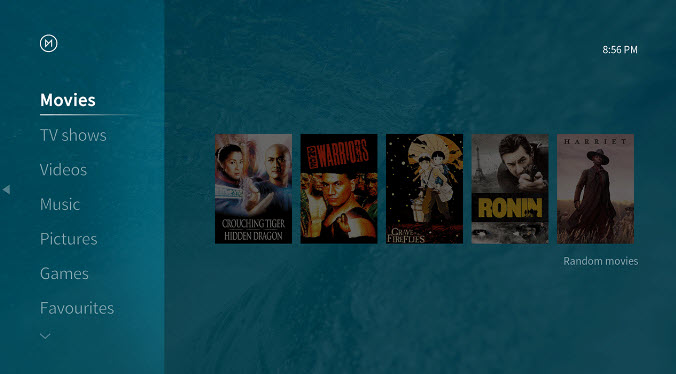 As we mentioned, your new home server OS should support most of the latest audio and video formats. You will get that with OSMC since it supports many multimedia formats, including high-definition video, lossless audio, and even 3D content. This makes the OSMC one of the best home server OS in 2023, allowing playing your media on different devices and platforms, including smart TVs, game consoles, and mobile devices.
This OS also has robust network and security features, making it a secure and reliable choice for managing and streaming media content. With its built-in VPN support, you can access your media libraries from anywhere in the world
OpenMediaVault is the best and most lightweight home server OS built using PHP-AJAX. OpenMediaVault is a network-attached storage (NAS) solution built on Debian Linux with a very interesting modular design. The modular design means that its features can be extended through plugins, just like how you would add plugins to your web browser.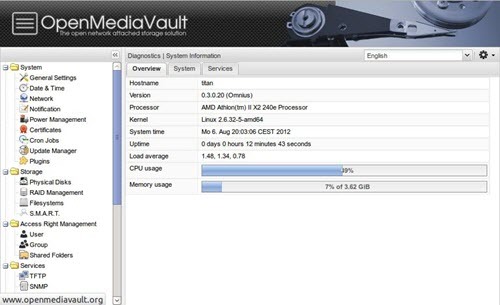 OpenMediaVault has a web-based administration that is easy to understand with support for multiple languages and scheduled jobs. Networking support includes IPv6 support and Wake On LAN.
OpenMediaVault can support hard drives with GPT partitions, EXT file system, and its different types and multiple features for volume management. Being a server OS, it supports SSH, FTP, TFTP, SMB, CIFS, Rsync, and BitTorrent services and protocols, which can be expanded with plugins.
FreeNAS is the first recommendation for the Linux home server OS by many people with experience with home and small-scale servers. FreeNAS is the most popular server OS focused on power users, so this may not be recommended for people making a home server for the first time.
FreeNAS' latest version supports the ZFS file system with support for different RAID configurations but requires a lot of RAM. For every terabyte of storage, FreeNAS requires 1 GB of RAM. Because of this, you will need newer hardware to make a server.

FreeNAS is recommended if you make an enterprise-grade server for your home or small office. FreeNAS supports plugins like Plex, Transmission, and Subsonic FreeNAS also supports backup services like PC-BSD Life Preserver, Windows Backup, rsync and can encrypt and take snapshots of your entire storage. FreeNAS, which is called TrueNAS, is based on FreeBSD.
Based on Linux, Unraid is a proprietary OS with a primary objective to allowing quick and easy access to all files on NAS or Network Attached Storage devices. You can also use this operating system for hosting various virtual servers for applications like multimedia or games within a single network.
This operating system comes with a fee-based (one-time) pricing structure, which entirely depends on how many storage devices you will be linking to your network. With their basic package, you can hold up to 6 physical storage devices. Their Plus package allows you to hold 12, and the Pro package has no limits.
With this operating system, you have the ultimate control over your data, desktops, applications, and media without worrying about what combination of hardware you want to use. It's an excellent choice for all gamers, multimedia aficionados, and heavy data users.
XigmaNAS (previously called 'NAS4Free') is very similar to the FreeNAS server OS if you want to make a server with low-powered hardware. It is a lightweight OS highly recommended for people who want to make a home server with old components.

XigmaNAS is essentially a modified and customized build of FreeNAS, which is being developed, maintained, and supported by the community. XigmaNAS supports both simple and advanced file systems for file servers.
The only thing not in XigmaNAS is the support for plugins, like FreeNAS and Amahi server OS, which can be very useful if you want a home server.
Proxmox is another Linux home server you can use for free. Of course, there is a paid version available for additional support. It allows you to link your virtual machines along with storage devices conveniently. The best part is that this operating system supports all OS methods and major storage devices.
Setting it up is pretty simple for basic home usage. However, you will notice it is missing some desirable features, like a specific web portal for managing all the devices.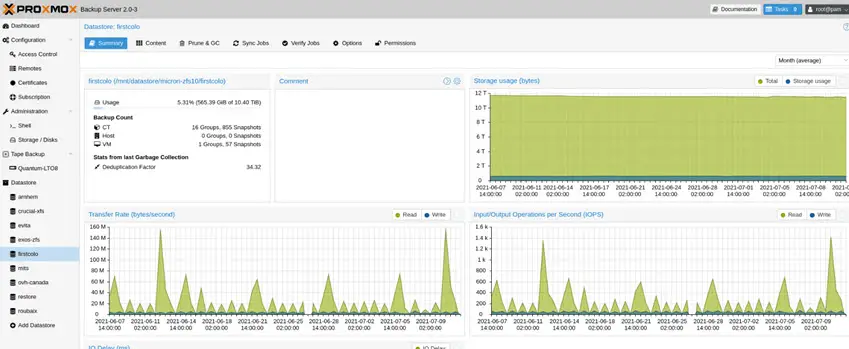 If you want to run a repository of software programs that can work in some app store or something, you can use their premium support option for a nominal fee.
With the increase in support you need, the price of the packages will go up. So, premium packages are available based on your business size and CPU sockets running under the software programs.
Plex Media Server is another excellent home server OS designed for media lovers. It offers a comprehensive and organized way of managing, organizing, and streaming multimedia content from one place in an effective manner.
One of the main advantages of Plex Media Server is its user-friendly interface and intuitive navigation. You can easily set up and manage your media library via great GUI. It provides personalized recommendations of the platform so that you can locate and access media content such as music, films, TV series, and photographs.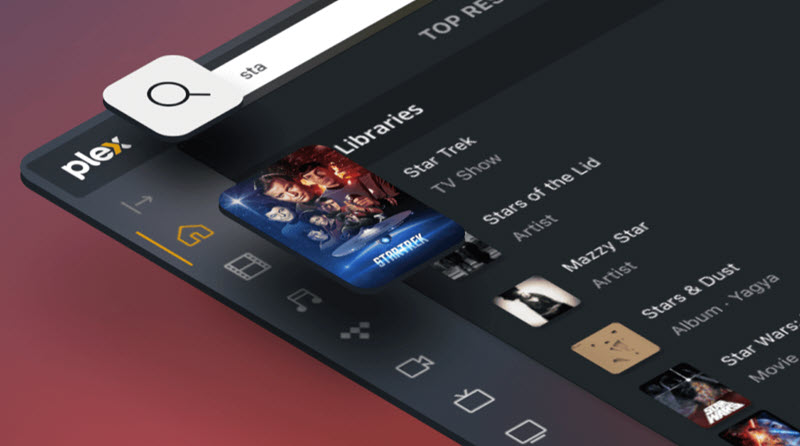 Like other home server Operating Systems mentioned in this list, Plex Media Server also supports many formats and devices, including 4K and HDR video, lossless audio, and even virtual reality content. Because of multi-format support, you can easily stream/play your media files from different devices and platforms, including smart TVs, game consoles, mobile devices, and web browsers.
Don't forget; this OS has a built-in VPN feature to protect your network devices while connected to the internet. Altogether, Plex Media Server offers a vast library of plugins and add-ons, allowing you to customize media servers and enhance their overall experience.
Amahi is the most stable and simple home server OS for people starting to build their home servers. Amahi is built on the Fedora Linux distribution with a web-based interface and is regarded as the best free home server OS next to FreeNAS.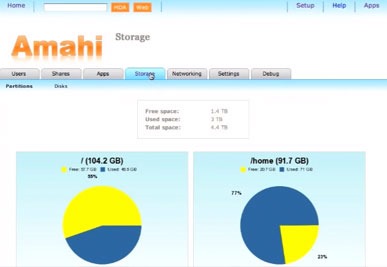 Amahi can do what a Linux Server distribution can do but with a much simpler and easier user interface designed for newbies. Amahi supports multiple apps and plugins like Plex, Crashplan, Transmission, OpenVPN, Sick Beard, and Couch Potato. Some plugins may not be free, but Amahi OS is one of the best choices for new or experienced in-home servers for media lovers.
Most of the server OSs in this list are based on Linux distributions, and also Linux Server distributions are the most used server OS for servers that provide hosting for many websites. Suppose you have used Ubuntu or Debian before. In that case, Ubuntu Server is also a very nice option for your home server, whether you are a developer, a graphic designer, or a video editor.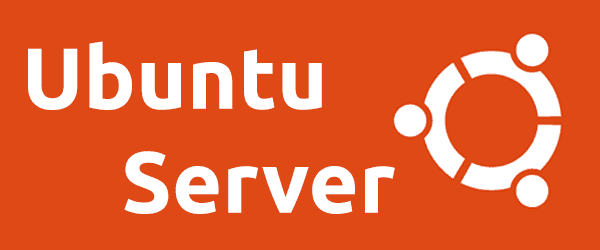 Ubuntu Server is simple for Linux users who are comfortable with command-line interfaces. Since this does not have a proper GUI, your home server won't have to waste resources on rendering a GUI.
You could also try Debian or Xubuntu, which are very lightweight and have a GUI that you can access through remote desktop software like TeamViewer and use like any other computer.
Windows Server 2019 is the current flagship server by Microsoft that you can use for various purposes. You will have to use it with a terminal, so it goes headless.
Therefore, you will need something like a command line or PowerShell. But there is a brighter side: You have much more memory to work with no graphic user interface.
This file server uses a storage model that is defined by your software. So, it's pretty unique yet extremely powerful. For paid users, Microsoft Azure's cloud can be used to develop an off and on-site model for storage if you wish.
Microsoft's pricing for this file server is pretty complex, but if you only need access to about 25 storage devices, there is a one-time fee to access all.
ClearOS is a community-developed home server OS that targets home users, hobbyists, and developers. ClearOS is available as a free community edition and paid professional edition. ClearOS provides a minimal web-based interface with support for some apps like Plex.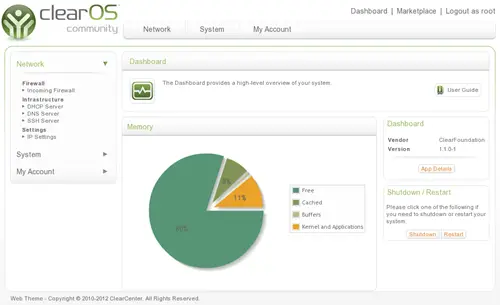 ClearOS does not provide as many functions as the above-mentioned OS, but it is good for a simple file storage server. It would only be recommended for developers and not a top recommendation for people new to home servers. You can try out an online demo of ClearOS on their website to find out if it suits you.
OpenFiler is a good home server OS for making a NAS or IP storage gateway. It is suitable for making a server with large storage needs and support for different protocols and filesystems. Some of the protocols and filesystems it supports are NFS, HTTP, FTP, rsync, different configurations of RAID, and journaling file systems with 8TB and more storage.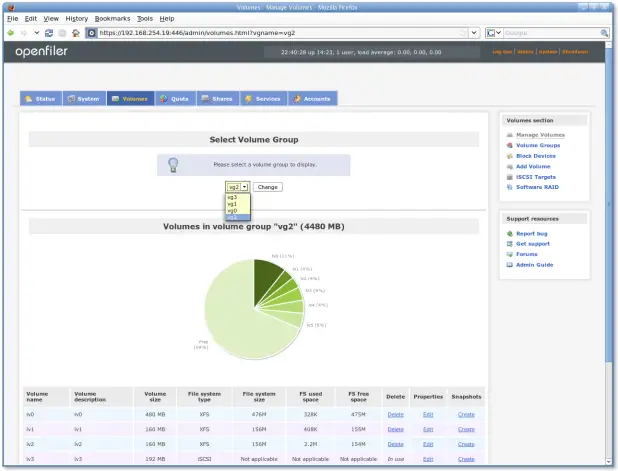 OpenFiler has an easy-to-use web interface suitable for a server OS. It is available as an open-source, free, commercial edition for business.
What's a Home Server?
For those who are still looking for more information on what's a home server anyway, it's not a huge enterprise server that you get to use at your home. It can be any computing machine you can use for cloud storage, serving media files, backups, and surveillance within the home environment.
Some people use home servers for playing media files on their television. You can use it as a central storage space for all your family members. The benefit of centrally storing these files is that everyone within your family can access them.
And the best part is that you will only have to back up one device and don't need to subscribe to any monthly cloud storage packages. IT experts use home servers to hone their skills and expertise.
If you are an IT professional, you might have to run different programs or scripts in a safe environment that has nothing to do with production. Therefore, you need a home server because it allows you to deploy your VMs and create a small domain//network to test your programs and learn different skills.
Uses of Home Server
You can use a home server for a variety of different purposes. We have already gone through a couple of the above, but let's look deeper into the matter and see what good home servers can bring you.
Accessing central storage with a home cloud server
With time, files and programs are getting larger and need more storage. Of course, we want to keep all those files, videos, and photos as long as possible. With a home server, you can conveniently store all that data on the central server. And anybody with access to the main server can conveniently access those files.
It is a convenient way of managing all the scattered data across different devices throughout your home, so you are essentially consolidating all of that into one location, which is your home file server. This way, you can protect your data much more easily.
It works just like any cloud storage system, and you can access all your files from any device and anywhere sound the globe as long as you have the internet. But the only difference is that with home servers, you will have your storage at your disposal.
Running a local file server has advantages over going for the cloud solution. For instance, you can access your files much faster, and no one will sniff your data. Moreover, you have total control over who's accessing what on the storage.
The most common use for home servers is to stream media. Using your library, you can conveniently watch movies on your Smart TV, computer, or mobile phone. Apart from movies, you can listen to music using the same methods.
There are various options you can go for when it comes to creating your own home media server for multimedia. Install the software and add your library of music and movies. And from there, everyone with your access can go through these files and enjoy them.
There is no arguing that you must create a safe backup of all your essential data. Hard drives tend to fail, files can get deleted, and ransomware can encrypt your data. These things are pretty common occurrences, and they can happen to anyone.
But it would help if you weren't doing your backups manually because sometimes you forget it, and something will always happen when you haven't gone for the recent backup.
With a home server, you can conveniently automate this backup issue. So, you are 100 percent sure that all your data is fully backed up regularly and that various solutions are available.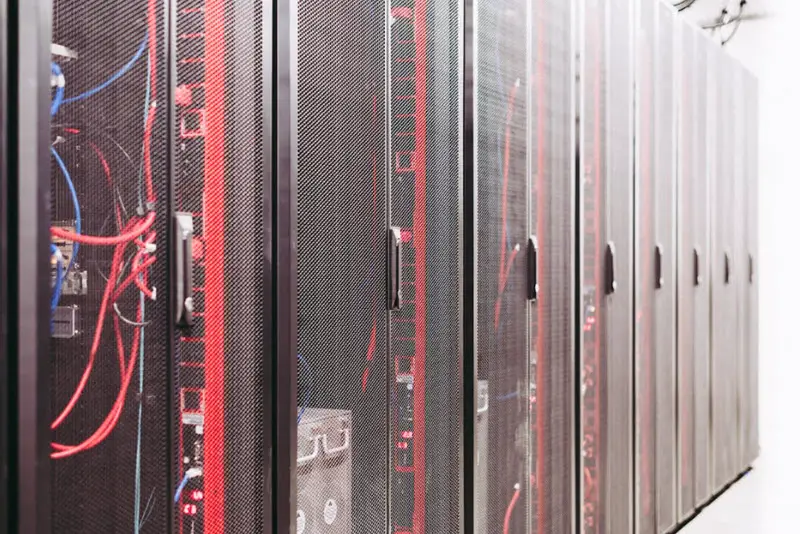 A platform for home automation
When looking to create a smart home, you will need a central place where you can easily manage all your devices located in your home. You can always purchase a Smart Home Hub for this purpose.
You can repeat if you have a home server, enabling you to install your home automation platform. For instance, you can install your Home Assistant as it can be installed on any platform, and it's pretty well documented too.
An excellent option as your home security system
Apart from home automation, you also use it for home security. This is because network cameras are pretty affordable nowadays, and they also have a pretty decent recording quality. Therefore, you can use them to secure your home and keep trespassing under control.
Manage all your passwords.
Creating those strong and unique passwords is always important in today's world. There have been many data breaches and cyberattacks, even with the biggest data-managing corporations across the globe.
Therefore, securing those passwords for all your accounts is highly critical to protect your data online and your identity. And you can do so with a powerful password manager.
With the help of a home server, you can conveniently run your password manager and make it available to everyone who has access to your home server. So that's another important use right there.
You can host your website.
With the help of your home server, you can conveniently set up and host your website or blog pretty easily. Hosting is not that difficult or expensive these days.
But if you own a small website or are learning the ropes of how these blogs and websites work, then a quality home server can help you with it.
However, it would be best if you remembered that you should have a fast internet connection. It's because the upload speeds of your internet connections play a critical role in running a website effectively.
Running your gaming server is possible.
Gaming servers have recently gained popularity as they allow you to host your server for a particular game. Doing so will enable you to increase your gaming server's overall performance and stability. Moreover, you can conveniently customize your gameplay with it.
But just like you need a powerful internet connection to run your website effectively, you will need a powerful internet connection to run your gaming server. You also need enough bandwidth to do so.
How to Build a Home Server?
There are a couple of ways that you can choose from when setting up your home server. You can purchase an old -enterprise-level server online but make sure that it has enough RAM capacity and processing power and can support RAID configurations.
A drawback of these servers is that they tend to make a lot of noise and consume a lot of power. And for that, you should replace the older fans with the new and quarter ones.
However, these machines work pretty well for your home server setup. You can use an old desktop or a laptop to begin the process. If you are looking to build your home servers, then there are a few things that you must keep in mind.
Power consumption.
Storage capacity needed.
Various mounting options.
Minimum system requirements for a low-powered home server
As the name goes, it is designed to consume less energy, and when idle, it should come to around 10W, and when running a couple of servers, it will consume 20W. Hard drives tend to consume the most energy, so the setup will consume more energy if you increase the number of hard drives.
A system with an Intel Core i3 processor chip, 240W 20A 12V AC/DC power, SSD NVMe, and a 2TB HDD can work pretty well for a low-powered home server. Of course, if you want to add more hard drives, you will need more power and should go for more powerful components.
FAQs
Is it worth it to have a server at home?
There are many benefits of having a server at home. You can use it for file sharing, device synchronization, authorizing access control to your household members, hosting your website or gaming server, managing your passwords, running your smart home network, and so much more.
What type of home server is suitable for a small business?
Of course, you will need your home server to store your data and communicate with your small team. It means you will need a strong internet connection and decent RAM.
With more data storage, you will require more hard drives and power. So, a basic Intel Core i3 with a 2TB HDD and SSD NVMe is a pretty good choice for your small business at a minimum.
What is required for a home server?
The most important component of running a home server is to have a powerful internet connection. Therefore, you will need a network router with a CAT5 Ethernet cable. And the rest is a basic minimum system required, as we have mentioned above.
Conclusion on Best Home Server OS
These were some of the best Linux and Windows home server OS for media lovers and tech enthusiasts in 2023. A home server for storing movies and other media is best if you want to store files you want to access from anywhere you want, and you don't want to rely on cloud storage services that require subscription charges.
You can set up your server at home pretty conveniently. And a bunch of programs are available for Linux and Windows for you to do that conveniently. Just make sure you meet the minimum system requirements. Plus, have a powerful local and internet connection to succeed in your setup.