For several reasons, you may want to find out the saved password of the wireless networks on your Windows 10 or Windows 11 laptop. In this post, you will learn how to view passwords (security key) of the Wi-Fi which is currently connected or not connected (out of range). Usually, you will be having many saved wireless networks such as home, office, coffee shops and your friend's home on your laptop. In case you want to see the Wi-Fi security key to connect a new device or transfer the saved Wi-Fi networks to a new computer or even to find your friend's house (who hid it from you) Wi-Fi password, just simply follow the below steps.
Finding the password of the wireless network that you are connected at the moment is simple and straightforward. But seeing it for the networks which are out of range, but previously saved and connected is a bit tricky.
How to View Wi-Fi Password – Not Connected or Out of Range
We will start with the tricky and useful part now in finding the password of the Wi-Fi networks that are not connected currently. Also, this step can be used to find the key of the currently connected network as well.
1)  Open the command prompt and type;
netsh wlan show profile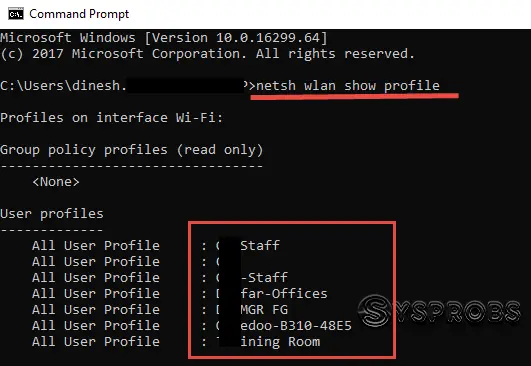 That will show all wireless network profiles stored on your computer under all user profiles.
2) Once you identified the Wi-Fi name that you want to see the saved password or key, type the below command.
netsh wlan show profile "Wi-Fi NAME" key=clear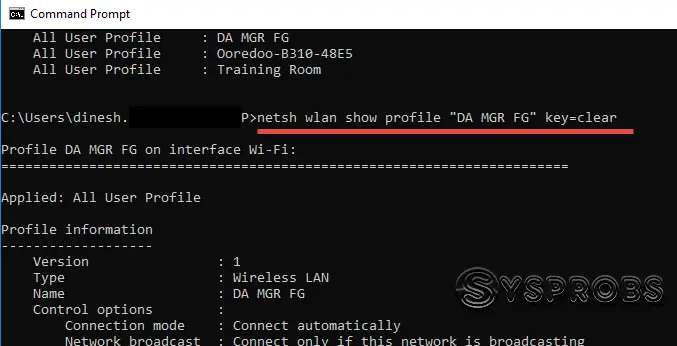 It will bring up more details about the network.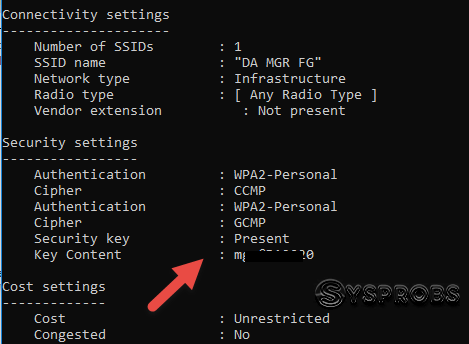 The 'Key Content' under Security Settings will show the Wi-Fi password of a network that is not connected now or out of range on your Windows 10, 8.1 and Windows 11 computer/laptop. I'm sure this method would be handy in many situations.
Read Also: Wi-Fi is showing Limited connectivity and not connecting to the Internet
Method for the Connected Wireless Networks
Finding the Wi-Fi password of the connected network can be done quickly by checking the network settings.
Make sure you have connected to the wireless network that you need to find out the security key.
1) Go to Network and Sharing Center in Control panel. Double click on the Wi-Fi adapter (Assuming it is already connected to the particular wireless network).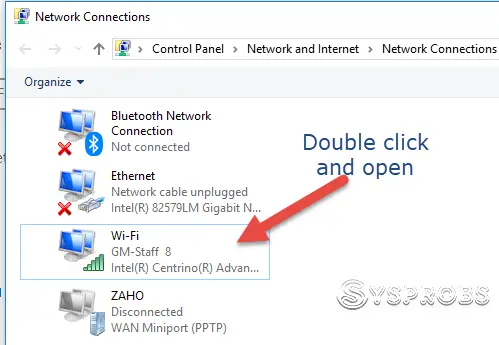 2) On the General Tab, click 'Wireless Properties."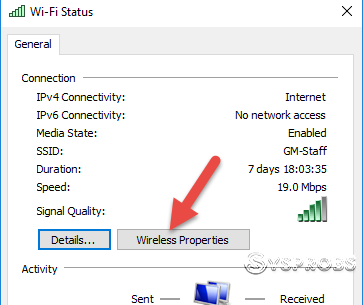 3) Go to the 'Security' Tab and check 'Show Characters' to view the saved password/security key of the particular connected Wi-Fi network.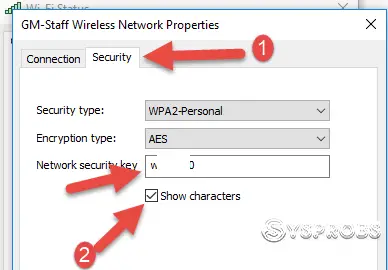 That's it; you must be knowing the Wireless password of your friends home or office Wi-Fi network. This will help in connecting your other devices such as smartphones, tablets or new laptops to the same network without asking the owner.