If you love making music and you have an iOS device, then you must be familiar with the GarageBand app. It is considered to be one of the best music creation app available on iOS devices. It is also available on macOS, but if you're using a PC which has Windows OS, then there might be a slight issue because there's no official version of GarageBand for Windows users.
GarageBand can be used to record and layer up to eight tracks of loop, instruments and vocals to create original songs and soundscapes.
There are various features about this app which makes it stand out from others like:
A pool of virtual Smart Instruments with pre-programmed chord progressions, scales, and rhythmic riffs.
Pre-recorded drum grooves.
Music production tools.
Sharing features which let the user share songs.
Organize virtual jamming sessions.
User can also record vocals or live instruments using a microphone.
Users can also connect an external microphone and plug an instrument into their devices using any particular kind of adapters for professional-quality live recording in GarageBand.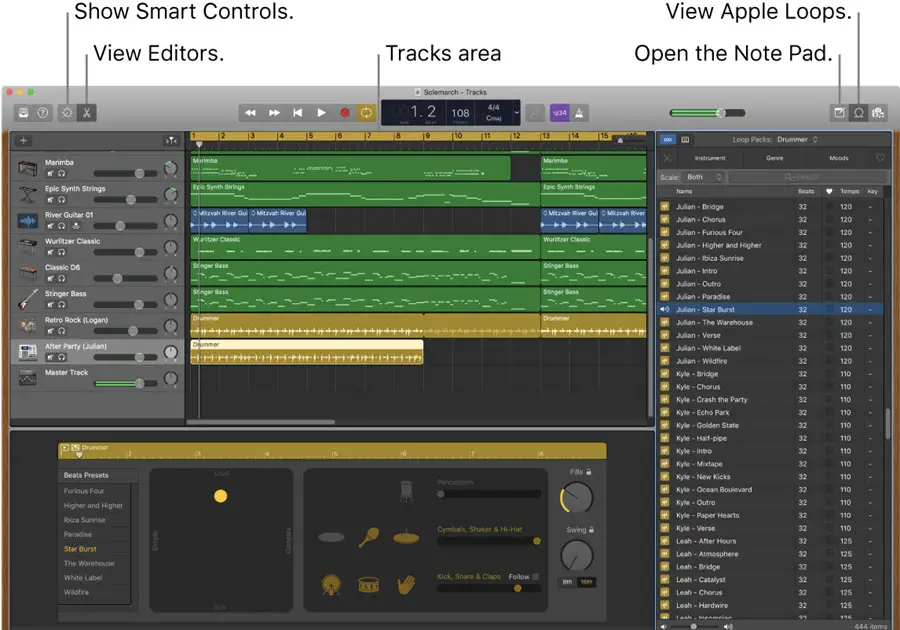 If you're serious about making music, then GarageBand is the best choice, imagine being able to write, record, and share your own music which is of a professional standard, that too just with a few taps of a screen. It is a powerful digital audio terminal for multitrack recording with impressive, on-board loops and production and top of the line editing tools. The app's user-friendly controls and graphic interface help users see their music, so it easily explains how songs are put together and recorded.
In Summary:
In the article below, we're going to guide you through the process by which you can use GarageBand on a Windows PC. People have a problem in installing it on Windows OS because there isn't any official way and many times untrusted software gets installed which can be viruses. Here we will not only guide you through installing it in Windows PC but also give you alternatives which can be helpful while making your own music.
We will use macOS as a virtual machine on Windows physical computer and then install the GarageBand from Apple App store.
GarageBand for Windows as Virtual Machine
You can follow any of the guides we mentioned here to install and use macOS with VMware or VirtualBox.
1) Follow this guide to download pre-installed Mac OS X 10.9 VMware image and use it on Windows 10. Even you can try the latest macOS 11 Big Sur as described in this guide.
Now you will be having a working macOS as a virtual machine on the PC.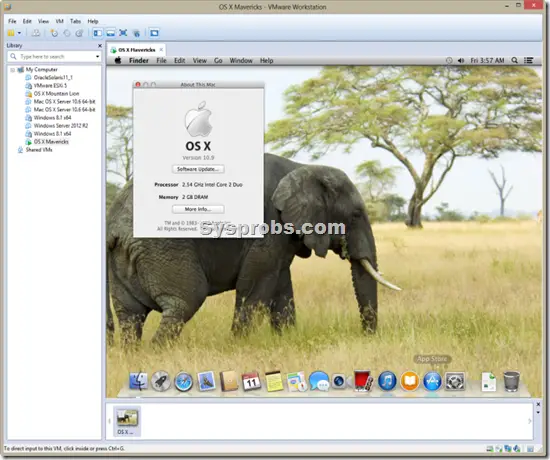 2) Open the Apple App Store and search for GarageBand.  Make sure your Apple ID can download this app. I prefer to use macOS VM on VMware workstation than Oracle VirtualBox because of the working sound and display quality.
It is recommended to check the sound of virtual machine (the sound should be playing through the speaker/headphone which connected to your physical computer).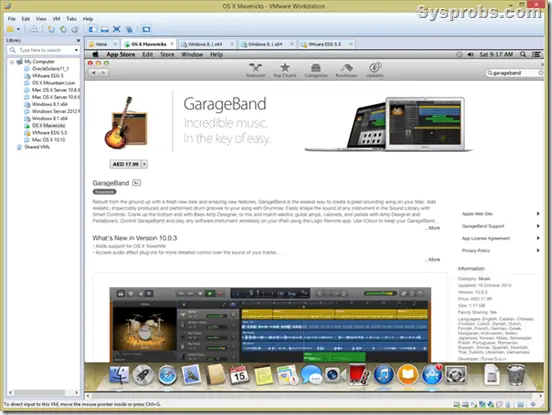 Read Also: How to use Xcode on Windows PC
Alternatives for GarageBand for PC
Garageband is an excellent software for a beginner, but it is not the best music production software out there. There are plenty of other tools used by professional artists which offer an official Windows version and other useful functionalities. We have picked the four most recommended software to make music, and they are official too.
LMMS is an abbreviation for Linux Multimedia Studio; it has a version which is supported by Windows OS since quite a while. LMMS is a free and open-source sound generation software, MIDI control system, beat/baseline editor and synthesizer.
If you compare LMSS with GarageBand, then you'll realize that it lacks an appealing UI, but that can be understood as LMSS is open-source software. But UI isn't everything; if your work is done with efficiency, then one can compromise on UI.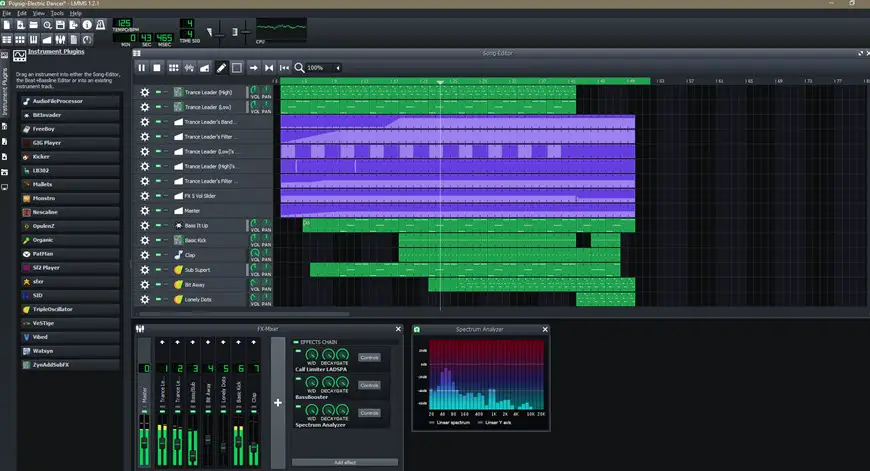 When we talk about functionality and completing the task, LMSS is a no brainer; it is very helpful in editing and making of music. LMMS comes with a good range of pre-loaded software functionality, which includes samples and effects that will get you started. All these samples are open source too. So you can use the samples in whichever way you like.
FL Studio is a very famous and one of the earliest music-making software. It is like the big brother of LMMS, which is not a freeware. It looks like the developers of LMMS considered from FL Studio while making their software, even the User interface is quite similar.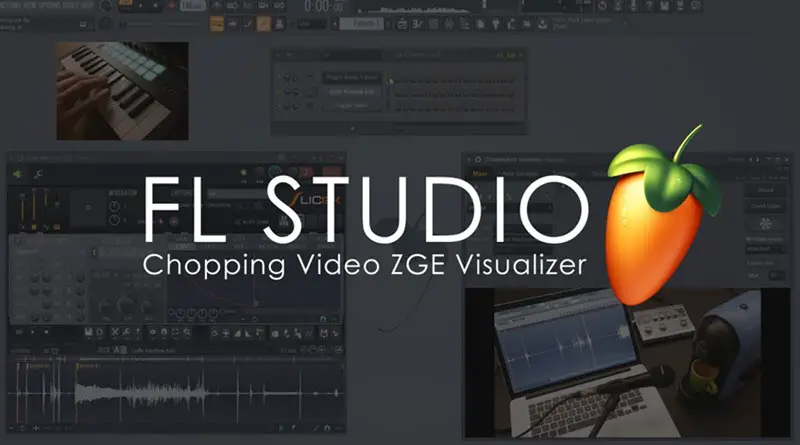 FL Studio offers a wide range of functionality to get you started. While LMSS is free and open-source software, so it lacks documentation, comes with trivial bugs and problems, and whenever the user faces a problem, there is no customer support. Apart from that, FL Studio offers much better support for plugins which can make a key difference for a particular project.
FL studio has an official app for Windows 10/8.1, and it comes at a price of around € 89 for the elementary edition named as fruity which does not support audio recording, so be mindful of that.
Reaper is a fantastic music production software, but it is a bit complex compared to the other professional software present in the market. With reaper, you can do layering of the already recorded tracks, edit the tracks and also add effects to your recordings.
With reaper, you also get 300 free plugins which give you enough functionality to produce fantastic professional level music. Reaper is priced at just $60, so it is a much cheaper alternative to other professional apps like FL Studio, and it also has a highly customizable user-interface. It requires less system power and comes with many great inbuilt features.
The last alternative to GarageBand on our list is Mixcraft which is another fantastic music production tool for Windows users which is easy to upgrade whenever you feel like it.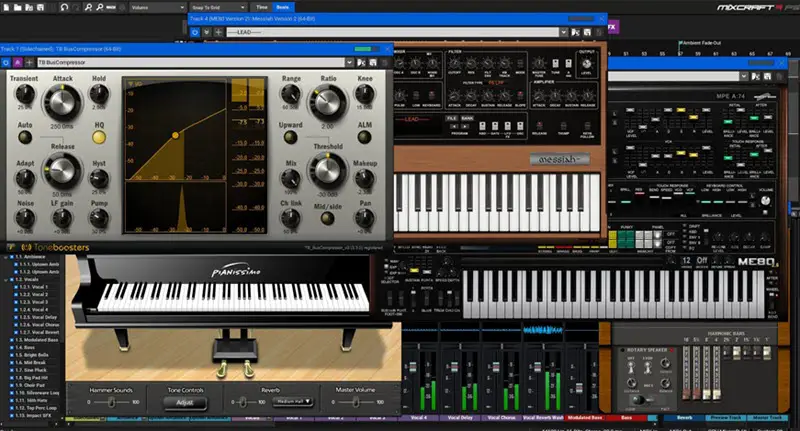 The GarageBand is mostly known for its massive library of loops, Mixcraft 9 is no less, it has a broad selection of loops which is as large as GarageBand's. This library makes it easy to quickly produce soundtracks. Apart from this, Mixcraft also has a live recording feature, which makes it a serious competitor to GarageBand.
It is not only limited to a huge library, but in the Pro version, the automation functionality has been enhanced, and the sound engine has been made more advanced. The suite of plugins will give you access to any instrument you wish for, and the bundled high-quality sounds help in giving you enough of a base to make music of professional standards.
Final Verdict:
Music production in Windows OS is easily possible even if you don't use GarageBand on your Windows PC. Setting it up might be a little complicated task, you can try any other alternative from the list above as per your choice.