GarageBand is one of the famous Mac OS X and iOS app from Apple which allows users to create music, podcasts, record audio tracks and even learn music. It is loved by most of the music, podcast creators because of it's  features including virtual music instruments, pre made loops and voice recording.  Even you can learn music from this app if you have a Apple computer, iPhone or iPad. But how to get this great app on Windows Operating System environment? Follow this guide to know how to install GarageBand for Windows 8.1, Windows 7 and 8.
Since the original GarageBand made by Apple for their devices only, installing it on Windows 8.1 or 7 is not straight forward. The main method we will be using is, install Mac OS X as virtual machine in Windows OS physical computer and then install the original GarageBand from Apple App store. The second method with the GarageBand for Windows which created by raresoftware.org.
GarageBand for Windows as Virtual Machine
As we said earlier, the installation is not straight forward, but following this guide will ensure that GarageBand works fine on your Windows computer.
Firstly we need to setup a virtual machine of Mac OS X. VMware or VirtualBox is suitable for this task. This guide goes with VMware workstation and the easy method to have working Mavericks Mac OS X 10.9 Windows OS computer with pre-installed VMware image.
1) Follow this guide to download pre-installed Mac OS X 10.9 VMware image which can be imported and used easily.
Now you would be having a working Mavericks OS X as below on your Windows computer.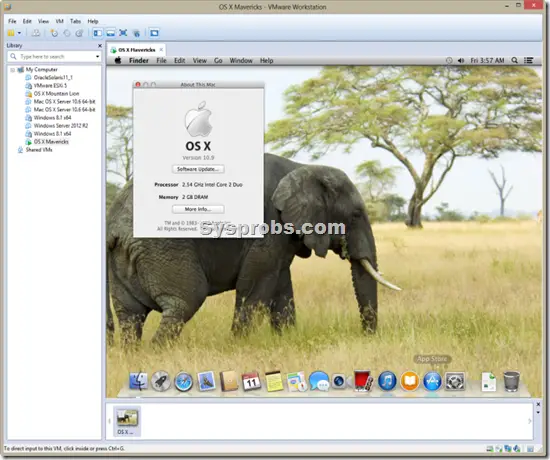 2) Open the Apple App store and search for GarageBand.  You may need to pay before downloading the app with your Apple ID inside virtual machine. I prefer VMware workstation virtual machine because of the sound and display quality in Mac VM better than other virtualization products like Oracle VirtualBox.
You can upgrade the Mavericks OS on VMware to latest Yosemite as shown in this guide.
It is recommended to check the sound of virtual machine (the sound should be playing through the speaker/headphone which connected to your physical computer).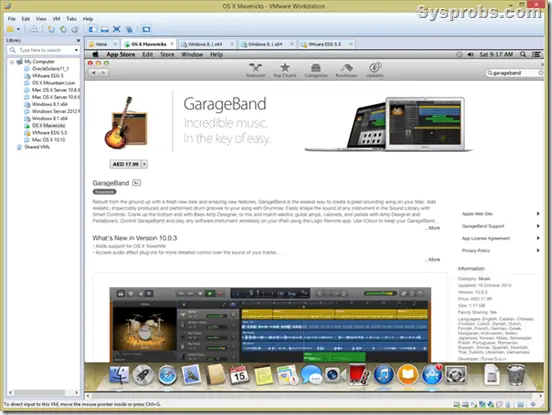 If you really need to use original GarageBand from Apple on your Windows computer, this above method would be the ideal way to use the original app. Though it will not look like using it on real Apple hardware, at least you will get some ideas and working experience with this app.
Alternatives for GarageBand for Windows
There are few similar products like GarageBand which can be installed on Windows Operating System computers. You can mix, compose and record your own sound tracks with these products on Windows 8.1 or Windows 7.  Mixcraft and StageLight are the best alternatives GarageBand for Windows. Both are paid and professional sound mixing/editing programs which fully compatible for Windows operating systems.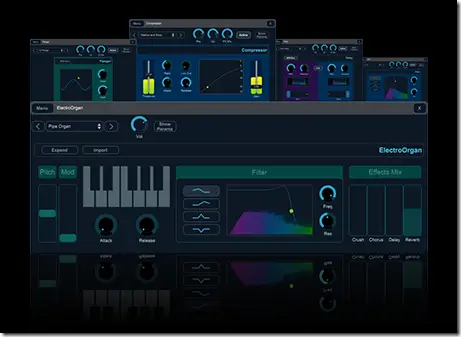 Read Also: Best HD Wallpapers for Mac Computers
Another Method – GarageBand 6.0.5 For Windows
To get this program work on the Windows computer, go to raresoftware.org and click download. You will be needing to fill a survey before downloading the file. The file name would be GarageBand_605_windows_raresoftwareorg.rar . It is not easy to open the file and install the program. You need to have another program called Bitser which required to unzip the file and continue the installation.
You can follow other steps to get working GarageBand on your Windows 8.1 or Windows 7 computer by visiting this link.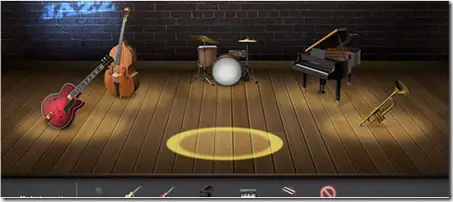 By following one of the above methods, you will be having the GarageBand on Windows desktop or laptop computer. Even you can try other alternative programs if you think those 2 methods are difficult and complicated to install.
If you are a professional sound track editor/creator, it is always recommended to use this great app on Apple hardware.