About a decade ago, music was composed and produced in special studios that were equipped with the latest hardware to record at the highest quality possible. But these days, anyone can compose and produce music on laptops. All they have to do is to find the right mix of specs and find a laptop in their budget. Here, we are going to summarize the top 10 best laptops for music production and recording in 2019. You will find Windows and Mac OS laptops with the range of price you are looking for. You can choose between them by looking at their specs and prices to see if they fit your budget.
Do check our review of best laptops under 700 here. Also, if you are a Mac user, find out these best wireless printers for Mac OS X.  Selecting the correct laptop is always tricky. It's a one-time investment because you can't upgrade or modify the hardware specs later as you like (it's limited). Always think about using the same laptop for the next 3-5 years to meet the upcoming new Operating Systems and programs you are going to use. Therefore, allow your budget to expand while purchasing a laptop and buy the best laptop in the category you are looking for.
Top 10 Best Laptops For Music Production in 2019
1. Apple 15″ MacBook Pro, Retina, Touch Bar (Latest Model) – Best Mac for Music Production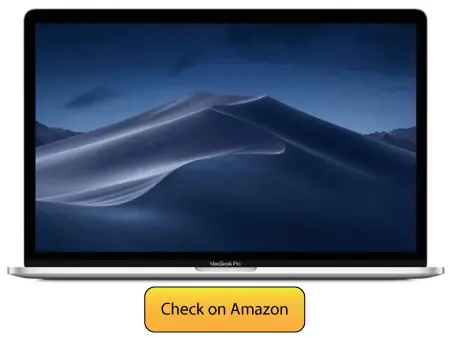 A latest model MacBook Pro from Apple. Expensive but high powerful for music editing and processing. Apple MacBook Pro is currently the best laptop available for music production and recording. Based on Apple's macOS, MacBook Pro provides the highest level of performance needed to compose music without any delay in rendering or production. MacBook Pro latest version has the 6-Core i7 Processor running at 2.2 GHz (Turbo Boost up to 4.1GHz), 16GB of RAM and 256GB or 512GB SSD storage. SSDs are the fastest storage units available in the markets right now. With this, you can make the whole music composing, recording and editing process a lot quicker and better.
Sporting a 15-inch IPS Retina display, the laptop has a 2880 x 1800 resolution which is more than enough to fit more than one music composing software on the screen. Also, the battery backup of MacBook Pro is said to be 10 hours which gives you plenty of time to create music on the go. Moreover, you will find plenty of free and paid apps from the Apple App Store for audio/music editing and recording, for example, GarageBand is one of them. This is one of the expensive laptops for music production and editing, but you can't have any better laptop than MacBook Pro if you are looking for a professional laptop for music recording.
The display card Intel UHD Graphics 630 with 4GB display RAM adds extra value for this laptop. With music editing and production, if you have an idea for animation or graphic design, this laptop is the all-in-one best choice for you.
2. 

MSI GV62 8RD-200 with OPTANE Memory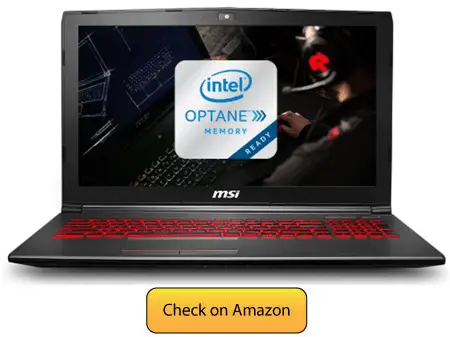 With the latest 8th Generation i5 processor, this is the best Windows-based laptop available for music composing and production with reasonable price from MSI. If you want a machine which can deliver you the highest level of performance under any load and which can do your tasks fast and without any problems, this is the laptop to buy. It comes with a beautiful 15.6 inches Full HD display. Though the Full HD and screen size is not going to make much difference for the music editors, these all features show the power and up-to-date hardware specs in the market.
MSI GV62 8RD-200 features an 8th Gen Core i5 Processor 2.3-4.0GHz speed, 8GB DDR4 RAM. It comes with 1TB HD and 16GB Intel Optane memory to give a boost for OS and music editing programs. This will allow you to install the Operating System and other core programs on the Optane memory and use the traditional 1 TB hard drive for other storing purpose like music and audio files. Also, the display card is the latest NVIDIA GTX 1050Ti with dedicated 4GB DDR5 display memory. The high-class configuration can match any music editing or mixing programs on Windows OS environment. This laptop is suitable for people who will use it in one place without much carrying because of slight heavy.
3. Apple MacBook Air 13-inch (Latest Model)– Mac laptop for Music Production Under 1000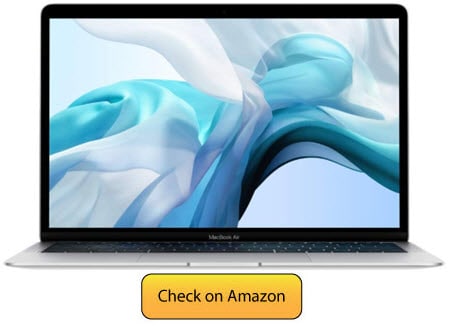 If you are still looking for a Mac laptop for your music work, here is another option around 1000 Dollars for music production and recording. Not as powerful as MacBook Pro but for people who are on a tight budget but still want the best laptop for music production can opt for the MacBook Air. MacBook Air is best for people who want light and often end up traveling a lot due to the nature of their job. It features a 13.3 Inch display with 2560 x 1600 display resolution. Intel 1.6 GHz Intel dual-core i5 processor (Turbo Boost up to 3.6GHz), 8GB of RAM (1600MHz) and 128GB fast SSD storage.
MacBook Air's battery lasts for up to 12 hours making it ideal for people who don't have access to a power source all the time. As said earlier, having a Mac laptop for music production will be an added advantage of because of suitable pre-installed and app store apps. With the 2 Thunderbolt (USB-C) type ports, it should give the freedom to connect all type or audio mixers and inputs with MacBook Air.
4. Lenovo Legion Y520 – Best and Cheap for Music Recording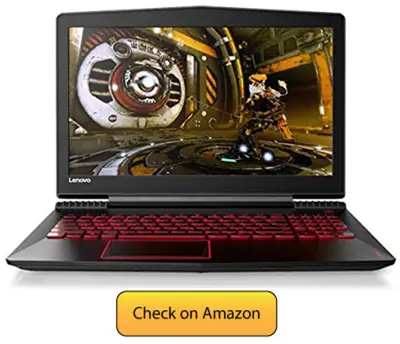 Listed as a gaming laptop, but it will be suitable for music composing and production too.  Lenovo Y520 is similar to the MSI GS70 mentioned above except for the fact that this one is more lightweight, cheaper and has a backlit keyboard. It also has the latest NVIDIA GTX 1050 Ti graphics card with dedicated 4GB Display which can deliver you more performance. It has the powerful 7th generation processor i5 and 8GB RAM by default. You have the option to upgrade the RAM to 12 or 16GB while purchasing it. This is one of the cheap Windows 10 laptops in our list of best laptops for music production and recording any beginner can get in the year 2019.
Though it comes with 256 GB SSD hard drive for faster disk access.  It is still a great laptop for its price considering its full HD 15.6-inch display, USB 3.0 ports and Lenovo Energy Management software which can significantly help increase the battery life of the laptop. The sound and display quality will make this laptop more suitable for music editing. As usual, the built quality of Lenovo is always best compared to other laptop brands.
5.

Acer Predator Helios 300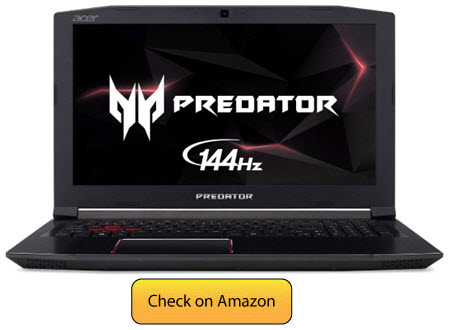 Acer produces some of the best laptops for the unbelievable price, and this model falls into the same category. A Full HD IPS 15.6" screen, latest 8th generation i7 Processor and DDR4 16GB RAM make this laptop super powerful for the reasonable price. Several options are available to customize the laptop while purchasing. Specifically made for gaming, but it has all features to fulfill and manage all audio and music editing tasks.
This model comes with 256GB SSD that allows running music editing software with higher speed without any I/O issues. Also, the additional hard disk socket allows you to expand the storage whenever wanted with another SSD or normal HDD. Surprisingly this laptop comes with dedicated 6GB display RAM that would be useful when you run several music recording programs at the same time. Also, the display card becomes handy if you want to do the video editing as well as on the same laptop. The Acer TruHarmony and Dolby Audi Premium Plus Sound System are super powerful and useful for music lovers/editors like you. It has USB 3.1, Gigabit Wi-Fi and other all required ports where you can connect other music equipment and record sound.
6. 2019 

Surface Pro 6 SP6 12.3″ Touchscreen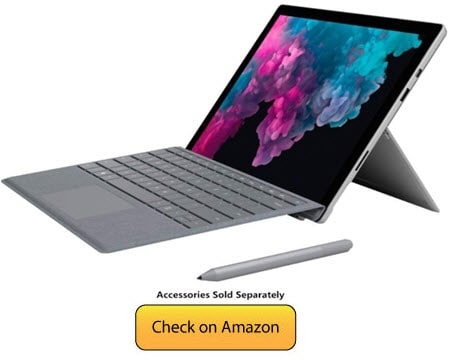 Here is the laptop from Microsoft for music production and recording. With the high-end hardware specification and reasonable price, the latest Surface Pro 6 takes place on this list. It is just under 900 Dollars but with the 8th Gen i5 Processor and 8GB RAM, you can get maximum multimedia experience out of this touchscreen convertible laptop. Another major advantage is, it comes with 128/256GB SSD storage for faster read and write on disk. This will improve the music recording or editing work on this laptop.
It doesn't have many connectivity options. You may need a USB 3.1 hub to connect more devices. Surface Pro 6 gives the best portability and convertibility from laptop to tablet when you do editing tasks from Coffeeshop to a multimedia studio. The 12.3 inches screen may not be enough to run the editing software, but easily connecting to a monitor via Mini display port or docking station can throw the display on bigger screens. Surface Pro 6 is one of the best options as the best Windows 10 laptop with higher portability for music recording.
7. ASUS ZenBook 15 Ultra-Slim Compact Laptop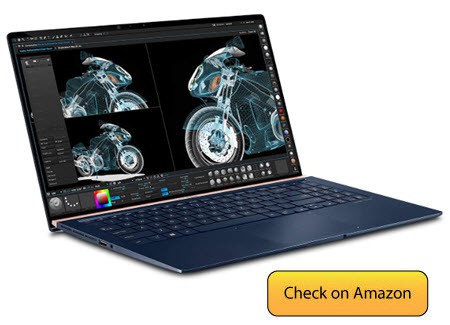 The latest Asus ZenBook 15 Ultra Slim laptop is another good option on our list. Its powerful 8th Generation i7 Quad-core processor and 512GB SSD disk match the hardware requirements for music editing and processing software. As usual, Asus make solid and superb build quality laptops that can be seen in this model.
It is another stylish Windows OS laptop with a great Nano-edge display technology. HArdware configuration is up to the mark with the 16GB DDR4 RAM and dedicated display card. This configuration should be enough to handle any software or tools for music recording. It is having all other features and ports to be one of the professional Windows 10 laptops for music production. Portability and style of this laptop make this laptop extraordinary in this list. USB Type C port and Bluetooth 5.0 are available to connect any music/audio devices. Gigabit Wi-Fi is another great feature when you stream or edit music on the wireless network.
8. HP Spectre x360
Another latest and powerful laptop in this list of best laptops for music production is from HP. HP Spectre x360 is a convertible laptop with powerful hardware specification. As required by other laptops, you need to connect the MIDI controller or external sound cards for additional sound or music production quality, but this laptop has only one USB 3.0, USB Type-C and Thunderbolt ports. It comes with 7th gen the ration i7 processor and 16GB DDR 4 memory.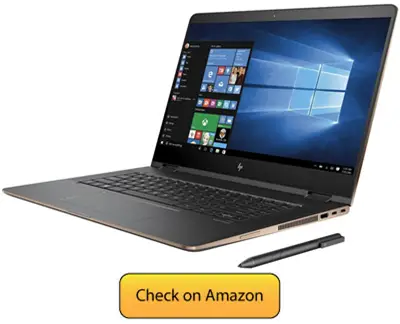 512GB SSD storage is part of the laptop. The touchscreen, stylus and tablet mode on this great hardware configuration laptop with a reasonable price is a good choice for music lovers and producers.  It is recommended to have a USB 3.0 hub with you to connect more devices to this laptop during the music editing or mixing. Suitable for the people who travel and move frequently due to its compact size and convertibility.
9. ASUS ROG STRIX Scar II – Best Asus laptop for music production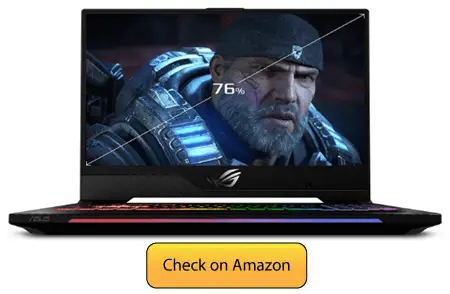 We can't have a list of laptops without including multiple Asus laptops. Their superior build quality and hardware specification make the Asus as one of the best laptop brands. ASUS ROG Strix Scar II is one of the new laptops for music recording. If you are not familiar with macOS, then you can think about this laptop as best Windows laptop for music production and editing. Its powerful latest 8th Generation Intel Core i7 Hexa-Core processor can do all music/audio mixing easily with its 16GB RAM and 512GB SSD.
If you are looking for the best laptop for music recording and gaming, this laptop is for you. Its NVIDIA GeForce RTX 2070 gaming graphics card with 8GB dedicated VRAM is super enough for gaming too. This laptop may look expensive compared to other models, but worth to consider as it packed with the maximum configuration you can get on a laptop. Asus has taken extra care on the cooling system that allows you to do music production/editing for a long time without any heating issues. It keeps the laptop cool and increases processing power.
10. Razer Blade – World's Smallest 15.6″ Gaming Laptop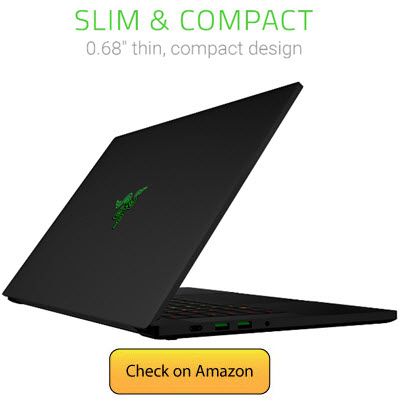 Razer is one of the best gaming laptop brands you can find in the market. Its hardware specification may match the requirement for music production. You can treat this as the best Windows laptop for music production in 2019. As one of the expensive laptop on this list, but it provides an impressive hardware configuration.
The Razer Blade 15" comes with the 8th Generation 6 Core i7 processor, 16GB DDR4 RAM to handle any load of sound editing or production software and 512GB SSD for quick I/O. As it built for gaming, you get the 6GB GDDR5 NVIDIA GeForce GTX 1070.
The faster sound card supports music production very well. Also, it comes with FL Studio 12 producer edition on it to cater to the music editing requirement on a Windows laptop.
So there you have it, a small review of 10 best laptops for music production and recording in 2019 ranging from Windows 7 to Mac OS X. Though you can find plenty of laptops on Amazon with high specification and the latest hardware, they are definitely going to cost more. We have combined and selected all range of models for all kind of budget you are looking for. Making this list involved reading the reviews on the internet, personalized user experiences and also some knowledge about the exclusive features available on each laptop. So, go ahead and pick one for yourself. If you are looking for gaming laptops with the latest generation 7 Intel processor, you must check this list of laptops.