About a decade ago, music was composed and produced in special studios that were equipped with the latest hardware to record at the highest quality possible. But these days, anyone can compose and produce music on laptops. All they have to do is to find the right mix of specs and find a laptop in their budget.
Here, we are summarizing the top 10 best laptops for music production and recording in the year 2021. You will find Windows and Mac OS laptops with the range of prices you are looking for. You can choose between them by looking at their specs and prices to see if they fit your budget.
Selecting the correct laptop is always tricky. It's a one-time investment because you can't upgrade or modify the hardware specs later as you like (it's limited). Always think about using the same laptop for the next 3-5 years to meet the upcoming new Operating Systems and programs you are going to use. Therefore, allow your budget to expand while purchasing a laptop and buy the best laptop in the category you are looking for.
10 Best Laptops For Music Production
1. New Apple MacBook Pro
The latest model MacBook Pro from Apple. Expensive but extremely powerful for music editing and processing. Based on Apple's macOS, MacBook Pro provides the highest level of performance needed to compose music without any delay in rendering or production. The base MacBook Pro comes with a 6-Core i7 processor. But by spending around 400 bucks extra, you can get the 8-core i9 processor.
16GB of RAM and 512GB SSD storage is part of both models. It is a GDDR6 memory type to work much faster than you can imagine. SSDs are the fastest storage units available in the markets right now. With this, you can make the whole music composing, recording and editing process a lot quicker and better.
Sporting a 16-inch Retina display, the laptop has a 3072 x 1920 resolution which is more than enough to fit more than one sound mixing software on the screen. Also, the battery backup of the MacBook Pro is said to be 10 hours which gives you plenty of time to create music on the go. Moreover, you will find plenty of free and paid apps from the Apple App Store for audio/music editing and recording, for example, GarageBand is one of them.
This is one of the expensive laptops on this list, but you can't have any better laptop than MacBook Pro if you are looking for a professional laptop for this purpose. This MacBook Pro has a powerful six-speaker sound system and studio-quality 3-mic array to rivals other third-party microphones. You can easily create podcasts and voice/music recordings with the built-in mic on the go.
The display card Radeon Pro 5300MX with 4GB display RAM adds extra value for this laptop. With music editing and production, if you have an idea for animation or graphic design, this laptop is the all-in-one best choice for you.
2. MSI GF63 Thin Laptop
With the latest 9th Generation i7 processor, this is the best Windows-based laptop available for music composing and production at a reasonable price from MSI. If you want a machine which can deliver you the highest level of performance under any load and which can do your tasks fast and without any problems, this is the laptop to buy. It comes with a beautiful 15.6 inches Full HD display. Though the Full HD and screen size is not going to make much difference for the music editors, these all features show the power and up-to-date hardware specs in the market.
MSI GF63 features a 9th Gen Core i7 Processor 2.6-4.5 GHz speed, 8GB DDR4 RAM. It comes with a 256GB SSD to give a boost for OS and editing tools. Also, the display card is the latest NVIDIA GTX 1050Ti with dedicated 4GB DDR5 display memory. The high-class configuration can match any music editing or mixing programs on the Windows OS environment. This laptop is suitable for people who will use it in one place without much carrying because of slight heavy. The motherboard can support up to 64GB RAM which can be useful in future use.
3. MacBook Air 13-inch (Latest Model) – Under 1000 Dollars
If you are still looking for a Mac laptop, here is another option around 1000 Dollars to get. Not as powerful as MacBook Pro but people who are on a tight budget but still want the best laptop for music production can opt for the MacBook Air. MacBook Air is best for people who want light and often end up travelling a lot due to the nature of their job. It features a 13.3 Inch display with 2560 x 1600 display resolution. Intel 1.6 GHz Intel dual-core i5 processor (Turbo Boost up to 3.6GHz), 8GB of RAM and 128GB fast SSD storage.
MacBook Air's battery lasts for up to 12 hours making it ideal for people who don't have access to a power source all the time. As said earlier, having a Mac laptop sound editing will be an added advantage because of suitable pre-installed and app store apps. With the 2 Thunderbolt (USB-C) type ports, it should give the freedom to connect all types of audio mixers and inputs with MacBook Air.
4. XPS 13 by Dell
The XPS 13 by Dell comes with a 13.3-inch FHD screen and an Intel Core chip. The laptop is powered by 8GB RAM and a 256GB SSD. It is, therefore, the most powerful 13-inch machine in its category. This model has an 8th generation processor that offers great speed and performance. So, it works wonderfully well for you for music development.
It has four cores, all of which are in a slim form and handle various music software effortlessly. Another advantage you get by using this machine is its durability because Dell has cut it out from a single piece of aluminum. There are no joints and the design is highly inspired by aerospace engineering.
The laptop also features a tiny camera which is one of the smallest by the company. Due to its minute size, the camera fits well inside the bezel. It is Energy-Star certified as well, so you don't have to worry about energy consumption. The audio quality of this machine is superb and it can produce some high-quality sound that will prove to be very helpful when you are creating your music.
5. Acer Predator Helios 300 (New Model)
Acer produces some of the best laptops for an unbelievable price, and this model falls into the same category. A Full HD 144Hz IPS 15.6" screen, the latest 9th generation i7 Processor and 2666MHz 16GB RAM make this laptop super powerful for a reasonable price. Several options are available to customize the laptop while purchasing. Specifically made for gaming, but it has all features to fulfil and manage all audio and music editing tasks.
This model comes with a 256GB SSD that allows running any audio mixing software with higher speed without any I/O issues. Also, the additional hard disk socket allows you to expand the storage whenever wanted with another SSD or normal HDD. Surprisingly this laptop comes with dedicated 6GB display RAM. Also, the display card becomes handy if you want to do the video editing as well as on the same laptop.
The Acer TruHarmony and Dolby Audi Premium Plus Sound System are super powerful and useful for music lovers/editors like you. It has a USB 3.1, Gigabit Wi-Fi and all required ports where you can connect to other music equipment and record sound.
6.

Surface Pro 7 by Microsoft
The Surface Series by Microsoft has been creating some vibes recently and has been one of the best bets to put your money on. The Pro 7 belongs to this series and features a 12.3-inch touchscreen that is highly intuitive.
The laptop features a 10th generation Intel chip Core i7 backed up by 16GB memory. The latest version of this laptop boasts a 256GB SSD. You get ample space to work with these large music files. The matte black finishing looks great as well and you also get a black-type cover to go with it.
With this machine, you will get the versatility of a tablet and a studio so you can type, draw, play, and create some awesome tunes with it. One of the best features of this laptop is its extreme lightweight so you can carry it around with ease. If creating music on the go is a choice for you, you need to invest in this laptop for sure.
The gadget also provides you with several connectivity options to share your large files securely across different platforms with other devices. It comes with a port for USB-A and USB-C to connect with other displays. Accessory charging is made easy and it also features very fast Wi-Fi and Bluetooth capabilities.
7. Zenbook 15 by Asus
Whether you are into creating music or drawing, this is a machine that you need to own. The ultra-slim laptop boasts a large 15.6-inch screen that has FHD features. This screen features a NanoEdge bezel that is very thin and gives the laptop its sleek and stylish look.
It also has a Core i7 chip fully backed up by 16GB RAM and a 1TB SSD PCIe. Hence, it can handle heavy music creating software and programs with ease. There is a GTX GeForce 1650 graphics card installed in this machine so you can smoothly create your music video without any pain.
Another feature that sets it apart from other machines on the market is its Innovative Screenpad. With this screen pad, you can easily control everything without using the keyboard. All the controls are in one place waiting for your one tap only. Playing your music back and forth and going through different tunes using this screen pad is a breeze.
The machine comes with Windows 10 Pro version so all the latest applications and programs associated with music and video creation are easily accessible. It also has an IR camera to recognize you by face and integrate Windows Hello. There are several connectivity options like HDMI, USB Type C, Wi-Fi 6 (802. 11ax), Bluetooth 5. 0 and an SD card reader is available too.
8. Microsoft  Surface Laptop 3
If you are a DJ who has to travel around the world playing your beautiful music for crowds, you need to have a lightweight and sturdy machine that is fast and capable. This Microsoft Surface Laptop 3 is merely 2.76 pounds and has a screen size of 13.5-inches. The maximum resolution can be set at 2256 by 1504 pixels. The only colour option this laptop comes in is Platinum which gives the laptop a sleek and minimalistic look.
The Surface 3 laptop by Microsoft comes with a 13.5-inch touchscreen and a Core i5 chip by Intel. Powered by 8GB memory and a 256GB SSD this laptop is a good choice for an entry-level music-producing machine. You can upgrade to 16GB RAM and 512GB SSD or a 1TB SSD if you have a rough budget to inject. But the entry-level laptop is good enough to meet most of your needs as a music producer.
It has a very elegant design and pretty lightweight as well, so carrying it around won't be a problem for you. With improved performance and speed, it can handle most of the latest music creation programs and software, as it is powered by the latest processors. If you have owned a Surface 2 before; this laptop is two times faster than its predecessor.
Connectivity is not an issue with this laptop as you can connect it with other displays using USB-C and USB-A. With these ports, you can also connect with other docking stations and accessory charging becomes simple. It can provide you with a battery time of eleven and a half hours so you can comfortably create your tunes without having to recharge it again and again.
9. ASUS ROG STRIX Scar II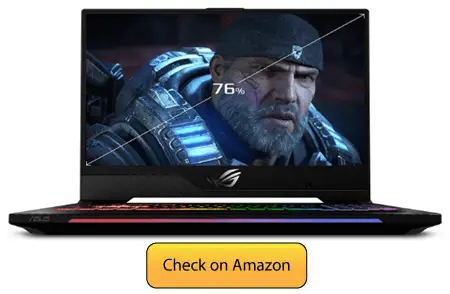 We can't have a list of laptops without including multiple Asus laptops. Their superior build quality and hardware specification make the Asus one of the best laptop brands. If you are not familiar with macOS, then you can think about this laptop as the best choice. It has a powerful 8th Generation Intel Core i7 Hexa-Core processor that can do all music/audio mixing easily with its 16GB RAM and 512GB SSD.
If you are looking for a suitable laptop for music recording and gaming, this laptop is for you. The NVIDIA GeForce RTX 2070 gaming graphics card with 8GB dedicated VRAM is super enough for gaming too. This laptop may look expensive compared to other models, but worth considering as it is packed with the maximum configuration you can get on a laptop. Asus has taken extra care on the cooling system that allows you to do give more stress on this laptop for a long time without any heating issues. It keeps the laptop cool and increases processing power.
10. Blade 15  by Razor
Razer is one of the best gaming laptop brands you can find in the market. Its hardware specification may match the requirement to be on this list. As one of the expensive laptops on this list, but it provides an impressive hardware configuration.
The Razer Blade 15" comes with the 8th Generation 6 Core i7 processor, 16GB DDR4 RAM to handle any load of sound editing or production software and 512GB SSD for quick I/O. As it is built for gaming, you get the 6GB GDDR5 NVIDIA GeForce GTX 1070.
The faster sound card supports the editing process very well. Also, it comes with FL Studio 12 producer edition on it to cater to the music editing requirement on a Windows laptop.
Factors to consider before buying a music production laptop
When you are in search of a machine for music production there are some important points that you must keep in mind. In this guide, we are going to highlight some of them for your consideration.
DAW Compatibility
The most important point to keep in mind when buying a machine for music production is the DAW or digital audio workstation that you use to create your music. It is software with which you can do all kinds of stuff with your music files. Therefore, you need to check whether your DAW runs on Windows or Mac. Can you easily work on it with a smaller or a larger screen? Will it use more CPU or memory? All these things need to be considered before you finalize your decision.
Operating System
Of course, with DAW compatibility comes the operating system. Choosing an OS is highly subjective. Some people like to work on Mac while others prefer Windows. You just need to make sure your OS runs the software you are using for music generation. Some programs only work on a single OS while others work on multiple. So decide according to your preferences and requirements.
Audio plugins
When working with your digital audio workstation, you have to deal with multiple audio plugins as well. You might already have several plugins in your mind that you would prefer.
Therefore, you have to consider them as well. If these plugins are graphics-heavy, you will need a powerful processor with high memory. Some plugins need more power from your system and the benefit of using them is to get better audio results. If this is your priority, you must choose a machine that can handle such plugins effortlessly.
Music mixing
If you prefer to work with a range of different plugins for better signal chains, you like to work a lot on mixing. Even if you don't use more plugins to create your music, that's fine. It's just a matter of how detailed you want your final product to be and how do you like it to sound.
If you like to work with a variety of audio tracks and mix them to create a final tune, you will need better processing power that can handle the mixing at an advanced level. Otherwise, an entry-level machine can work for you as well if you don't use too many plugins. It will also allow you to be a lot more vigilant about your future projects. If they need your files to have more mixing of different plugins, you will need better processing power.
Working space
The size of the space you are using to create your audio matters a lot too. The machine needs to be able to produce powerful sound or needs to have enough connectivity options. You can explore and create a sound that works well in your space. Are you going to work in a professional studio or inside your bedroom? Choose a machine that goes well with the space you are working in.
Find out more about the hardware requirements to have music production software on a laptop below video.
Frequently Asked Questsions
So there you have it, a small review of the best laptops for music production/recording ranging from Windows 10 to macOS. Though you can find plenty of laptops on Amazon with high specifications and the latest hardware, they are definitely going to cost more. We have combined and selected a range of models for all kinds of budgets you are looking for.
Making this list involved reading the reviews on the internet, personalized user experiences and also some knowledge about the exclusive features available on each laptop. So, go ahead and pick one for yourself.