About a decade ago, music was composed and produced in special studios equipped with the latest hardware to record at the highest quality possible. But these days, anyone can compose and produce music on laptops. All they have to do is find the right mix of specs and a laptop in their budget.
Here, we summarize the best laptops for music production and recording in 2023; we also listed a few laptops that are under 1000$. You will find Windows and Mac OS laptops at the range of prices you are looking for. You can choose between them by looking at their specs and prices to see if they fit your budget.
Selecting the correct laptop is always tricky. It's a one-time investment because you can't upgrade or modify the hardware specs later as you like (it's limited). Always consider using the same laptop for the next 3-5 years to meet the upcoming new Operating Systems and programs you will use. Therefore, allow your budget to expand while purchasing a laptop, and buy the best laptop in the category you are looking for.
Is Windows or Mac for Music Production?
That is a big question that comes into our mind when we research the best laptop for music, video, or graphics editing.
Mac is the clear winner regarding music production in terms of hardware and software. MacBooks are optimized specifically for audio production, and built-in applications like GarageBand and Logic Pro X are widely regarded as some of the best music-production software options available.
However, with those perks comes a hefty price tag. For producers on a budget, Windows laptops offer a more affordable option with the ability to upgrade hardware components as needed.
That being said, if money is no object, investing in a Mac for music production is definitely worth it.
10 Best Laptops For Music Production
1. New Apple MacBook Pro – M2 Chip – 2023 Model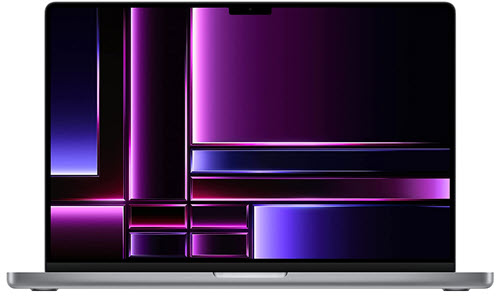 The Apple 2023 MacBook Pro Laptop with M2 Pro chip is an excellent choice for music production in the year 2023. This laptop comes with a 12-core CPU and a 19-core GPU, making it a powerhouse for performance. With this kind of processing power, you can expect the MacBook Pro to handle even the most demanding audio projects easily.
In addition to its powerful hardware, the MacBook Pro will also feature a 16.2-inch Liquid Retina XDR Display, which offers stunning visuals and accurate color reproduction. This display will be perfect for those needing to work with multiple sound mixing software simultaneously.
The MacBook Pro will also come with 16GB of RAM and 1TB of SSD storage, which means that you'll have plenty of space to store your music files and applications. The SSD storage will ensure that your laptop boots up quickly and that all your software runs smoothly.
One great feature of this laptop is its compatibility with iPhone/iPad devices. With this feature, you can easily transfer your music files from your iPhone or iPad directly onto your MacBook Pro without any hassle. Moreover, you will find plenty of free and paid apps from the Apple App Store for audio editing and recording; for example, GarageBand is one of them.
Overall, if you're looking for a professional-grade laptop for music production in 2023 or beyond, the MacBook Pro is definitely worth considering.
2. MSI Pulse GL66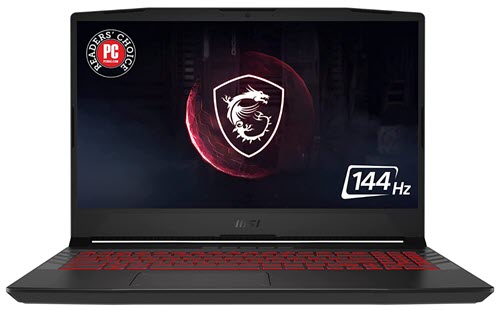 The GL66 by MSI is one of the best machines for gaming. It features a huge 15.6-inch FHD display. It can produce quality visual results and fast refresh rates. 
Under the hood, it comes with an Intel Core i7 processor chip and a powerful NVIDIA GeForce RTX 3070 graphics card to provide you with exceptional visual quality no matter what you are watching.
It comes with 16 GB RAM and a 512 GB SSD. It means that you have plenty of space to save your files and media, which can be accessed quickly.
But one of the best features of this machine is that it comes with a quality sound card that can handle various types of sounds pretty efficiently. In other words, it is an excellent choice for music playing.
As it is a premium-quality gaming machine, you can expect a lot from it in visual and audio performance. It's a pretty incredible system with quality speakers that can handle highs and lows.
So, if you want a laptop that can provide you with an ultimate gaming experience and allow you to enjoy your music truly, then this is the laptop you need to go for.
This laptop also comes with customized keys with which you can receive your in-game status via keyboard lighting. Moreover, these keyboard lights can dance to your favorite tune, which looks amazing.
Sale
3. ASUS ROG Strix Scar 15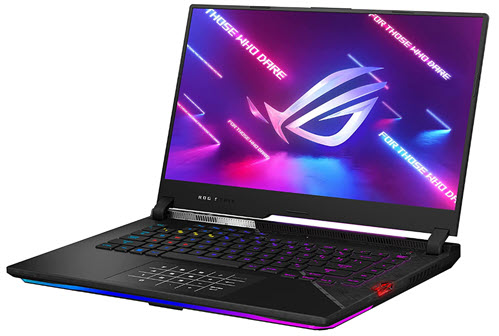 The ASUS ROG Strix Scar 15 is a powerful gaming laptop that also doubles as a great option for music production and editing. Its 15.6-inch FHD display with a refresh rate of 300Hz provides excellent visual clarity, making it easy to work on multiple tracks simultaneously.
Powered by an Intel Core i9 12900H processor and NVIDIA GeForce RTX 3060 graphics card, this laptop can handle complex audio processing tasks with ease. Its 16GB DDR5 memory and 512GB SSD storage ensure quick access to large audio files and software applications.
One of the standout features of the ASUS ROG Strix Scar 15 is its Per-Key RGB Keyboard, which allows for customization of each key's lighting color. This feature can come in handy while working in low-light environments or when trying to differentiate between different keys quickly.
Furthermore, this laptop comes with Windows 11 Home pre-installed, providing users with an intuitive interface that simplifies their workflow.
Overall, the ASUS ROG Strix Scar 15 with Windows 11 is an excellent choice for those looking for a high-performance machine capable of handling demanding music production tasks. Its powerful hardware specifications and customizable keyboard make it a top contender in the music production laptop market.
Depending on your budget and hardware requirements, you can customize and select different models while purchasing this laptop. The configuration varies from RAM to SSD.
Sale
4. Dell XPS 17 Laptop 9710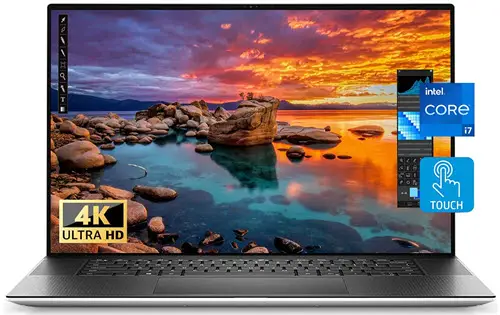 The Newest Dell XPS 17 Laptop 9710 is an ideal choice for music production due to its powerful hardware specifications and advanced features. Its Intel i7-11800H processor provides exceptional processing power, which is essential for running demanding music production software smoothly.
Moreover, the laptop comes equipped with a GeForce RTX 3050 graphics card and a large 17″ UHD+ touch display that offers excellent clarity and color accuracy, making it easy to work on intricate audio arrangements.
The laptop's 32GB RAM and 1TB SSD provide ample storage space for storing large audio files and running multiple applications simultaneously without any lag or slowdown. Additionally, users can choose from various models with up to 64GB RAM and a massive 4TB SSD to meet their budget and system requirements.
One of the standout features of this laptop is its IR camera, fingerprint reader, backlit keyboard, Wi-Fi 6, and Thunderbolt connectivity options. These advanced features make it easier for music producers to work efficiently while maintaining data security.
Also, this laptop is eligible for Windows 11 free support, providing users with access to new features and updates that enhance their workflow.
5. 

Zenbook 15 by Asus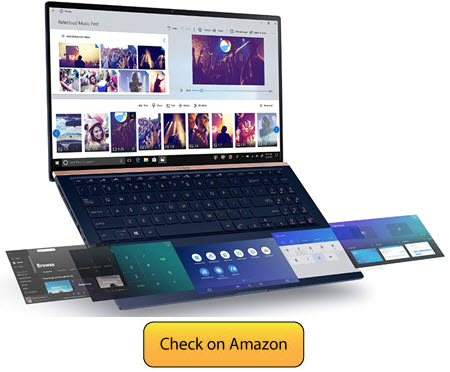 Whether you are into creating music or drawing, this is a machine that you need to own. The ultra-slim laptop boasts a large 15.6-inch screen that has FHD features. This screen features a NanoEdge bezel that is very thin and gives the laptop its sleek and stylish look.
It also has a Core i7 chip fully backed by 16GB RAM and a 1TB SSD PCIe. Hence, it can handle heavy music-creating software and programs with ease. A GTX GeForce 1650 graphics card is installed in this machine so you can smoothly create your music video without any pain.
Another feature that sets it apart from other machines on the market is its Innovative Screenpad. This screen pad lets you easily control everything without using the keyboard. All the controls are in one place, waiting for your one tap only. Playing your music back and forth and going through different tunes using this screen pad is a breeze.
The machine comes with Windows 10 Pro version, so all the latest applications and programs are easily accessible. It also has an IR camera to recognize you by face and integrate Windows Hello. Several connectivity options include HDMI, USB Type C, Wi-Fi 6 (802. 11ax), and Bluetooth 5. 0, and an SD card reader is available too.
If your budget is tight and you are a beginner in music production, auditor editing, or DJing field, let us list the laptops for 1000$.
Top 5 Best laptops for Music Production Under 1000 Dollars
6. MacBook Air 13-inch (M2 Chip)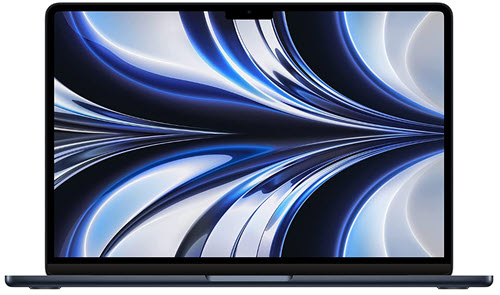 If you are still looking for a Mac laptop, here is another option for around 1000 dollars. Not as powerful as MacBook Pro but people who are on a tight budget but still want the best laptop for music production can opt for the MacBook Air. MacBook Air is best for people who want light and often end up travelling a lot due to the nature of their job.
It comes with the latest M2 Chip, which boosts performance dramatically. It features a 13.6-inch retina display 10-core GPU. The 8-core CPU, 8GB RAM, and 512GB SSD are worth considering under the budget with macOS, which is favorable for music editing.
MacBook Air's battery lasts for up to 18 hours, making it ideal for people who don't have access to a power source all the time. As said earlier, having a Mac laptop sound editing will be an added advantage because of suitable pre-installed and app store apps. With the 2 Thunderbolt (USB-C) type ports, it should give the freedom to connect all types of audio mixers and inputs with the MacBook Air.
7. Microsoft Surface Pro 8-13″ Touchscreen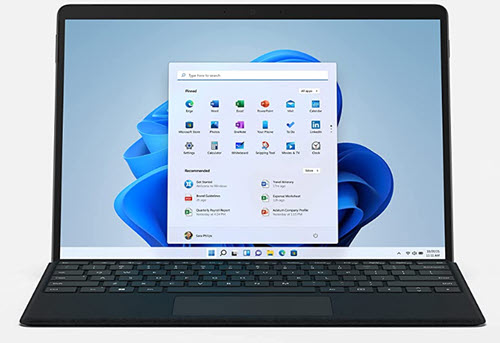 Here is a tablet from Microsoft that can handle the music work decently. It has a decent hardware configuration for a professional tablet and a laptop for music editing. 
The i5 processor with 8GB RAM and well-built Windows 11 should easily handle basic music production tasks. The 13-inch touchscreen display offers excellent clarity, color accuracy, and touch sensitivity, making it easy to work on complex audio arrangements.
The tablet has a decent Intel Iris Xe Graphics card that delivers high-quality visuals and enhances the system's overall performance. The tablet features a built-in kickstand that allows for comfortable viewing angles and can be adjusted to suit the user's needs.
Moreover, the Microsoft Surface Pro 8 offers excellent portability, making it easy for music producers to work on the go. The tablet is lightweight and compact, making it easy to carry in a backpack or briefcase. With the tablet, you can easily surprise your friends and family with your music and audio mixing talents.
One of the standout features of this tablet is its Surface Pen which allows for precise input when editing music files. The pen can be used to draw, write, and take notes, making it an essential tool for music producers who want to make quick edits or jot down ideas on the go.
Sale
8. Acer Swift 3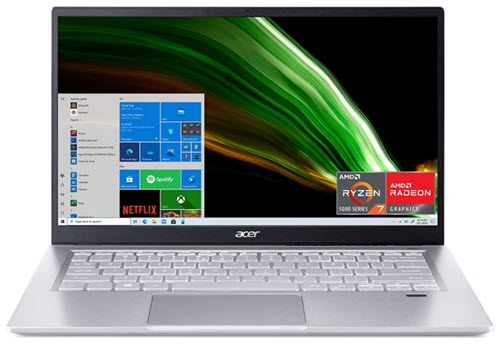 The Swift 3 by Acer is lighter in your pocket and a portable device you can use. It is one of the best options you can consider for using on the go. It comes with a 14-inch screen that is Full HD and features an Octa-Core Ryzen 7 processor chip.
Processing and multitasking are really big features of this laptop that you cannot ignore. This laptop comes with an 8 GB LPDDR4X and a 512 GB SSD. It means this machine can deliver a pretty power-packed performance. This laptop has a wifi 6, a backlit keyboard, and Amazon Alexa.
You can also go for different bundles, such as a dock bundle, backpack bundle, mousepad bundle, and mouse bundle. So, you can pick one according to your requirements and needs.
This laptop is a good option for multimedia, personal, or business use. It comes with a display size of 14 inches and an inbuilt Windows 10 that you can later upgrade to Windows 11.
This laptop is equipped with powerful speakers that can produce pretty extraordinary sound. If you are looking for a laptop that you can use to enjoy multimedia, this is a pretty good option.
9. Latest Lenovo ThinkPad E15 Gen 3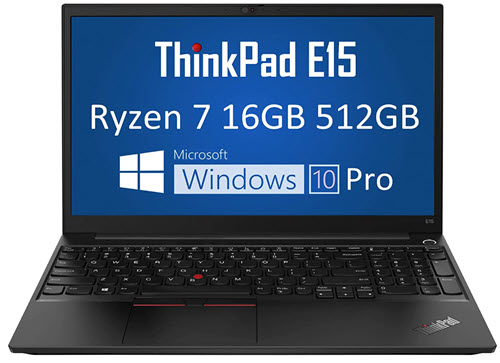 The latest Lenovo ThinkPad with AMD Ryzen 7 is another great laptop under budget for AMD fans. Even though it is categorized as a business laptop, it has all the features to become one of the best laptops for music production under 1000$.
The 8-Core AMD processor can beat the performance of the Intel i7 processor, so it should be a great choice for music production. The 16GB DDR4 RAM and 512GB SSD storage provide ample space to store large music files and run multiple applications simultaneously without any lag.
The laptop has a 15.6-inch Full HD IPS display that offers clear visuals and accurate color reproduction, making editing and mixing audio tracks easier. 
This laptop also has different hardware options; you can pick between disk and RAM sizes. Free upgrade available to Windows 11. Since it comes with most of the required ports like USB-C, USB-A 3.2 Gen, headphone jack, and HDMI, you can easily connect it with other music equipment and peripherals.
10. Dell Inspiron 15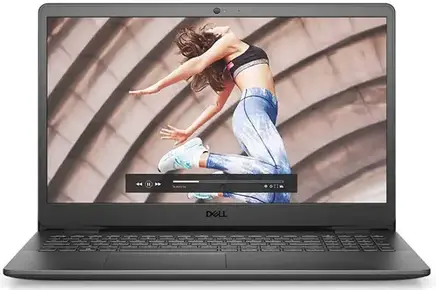 The Inspiron 15 is a pretty powerful laptop by Dell, and it comes with a massive 15.6-inch display that is equipped with FHD capabilities.
This laptop also has an Intel Core i7 processor chip with 16 GB DDR4 RAM and 512 GB SSD. It can handle multitasking pretty well, and you have ample space to save your files and media without any problems.
This laptop might not be the ideal option for gaming. But it certainly is the top choice for multimedia and business and student use. It has an Intel Iris Xe graphics card and shared graphics memory.
So, the laptop does not have too much power in this department. However, it is also not meant for gaming either. This machine is ideally suited for music playing or other tasks that you would normally do on your laptop.
The machine is equipped with solid wifi and Bluetooth, and you can use these technologies to share files with other devices. The screen of this laptop is pretty powerful, and it features Anti-glare backlight properties, which makes it pretty unique.
The laptop might not be on the portable side, but it will certainly make you dance and jump to your favorite tunes. It is equipped with powerful speakers that can handle bass and treble very well.
These speakers are pretty accurately responsive to all those highs and lows, and they will significantly improve your overall listening experience.
11. Microsoft  Surface Laptop 3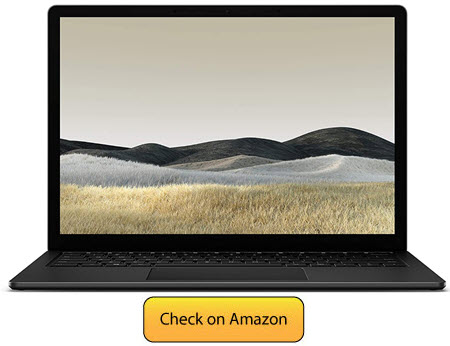 If you are a DJ who has to travel around the world playing your beautiful music for crowds, you need to have a lightweight and sturdy machine that is fast and capable. This Microsoft Surface Laptop 3 is merely 2.76 pounds and has a screen size of 13.5 inches. The maximum resolution can be set at 2256 by 1504 pixels. The only colour option this laptop comes in is Platinum which gives the laptop a sleek and minimalistic look.
The Surface 3 laptop by Microsoft comes with a 13.5-inch touchscreen and a Core i5 chip by Intel. Powered by 8GB memory and a 256GB SSD, this laptop is a good choice for an entry-level. You can upgrade to 16GB RAM and 512GB SSD or a 1TB SSD if you have a rough budget to inject. But the entry-level laptop is good enough to meet most of your needs as a music producer.
It has a very elegant design and is pretty lightweight as well, so carrying it around won't be a problem for you. With improved performance and speed, it can handle most of the latest music creation programs and software, as it is powered by the latest processors. If you have owned a Surface 2 before, this laptop is two times faster than its predecessor.
Connectivity is not an issue with this laptop, as you can connect it to other displays using USB-C and USB-A. With these ports, you can also connect with other docking stations, and accessory charging becomes simple. It can provide you with a battery time of eleven and a half hours, so you can comfortably create your tunes without having to recharge it repeatedly.
Sale
12) HP Pavilion 17.3 inch IPS FHD Laptop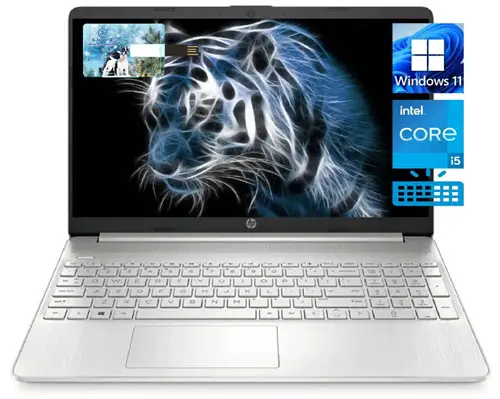 Just under 1000 dollars, but you will be surprised by the hardware configuration of this 17-Inch HP laptop. With the latest 11th Gen processor and 32GB RAM, you can though any heavy music production or composing, and this laptop will handle it like a pro. The Intel Core i5-1135G7 processor can easily beat the performance of an older i7 processor, and Intel Iris Xe graphics back it up.
The laptop has a 17.3-inch Full HD IPS display definitely going to give an advantage here. The 1Tb NVMe M.2 slot storage should be able to store all your music files and projects without running out of space.
One of the best features of this laptop is its long battery life. You can work on your music projects for hours without needing to charge it again. The backlit keyboard makes it easy to work in low light conditions, and the Windows 11 Pro operating system provides a smooth user experience.
The laptop also has several connectivity options like USB Type-C, HDMI, Wi-Fi 5, Bluetooth 5.0, and an SD card reader. Overall, this is a great option for those who need a larger screen and more power for their music production needs.
Factors to Consider:
In this guide, we will highlight some important points for your consideration.
DAW Compatibility
The most important point to remember when buying a machine for music production is the DAW or digital audio workstation you use to create your music. It is software with which you can do all kinds of stuff with your music files. Therefore, you need to check whether your DAW runs on Windows or Mac. Can you easily work on it with a smaller or a larger screen? Will it use more CPU or memory? All these things need to be considered before you finalize your decision.
Operating System
Of course, with DAW compatibility comes the operating system. Choosing an OS is highly subjective. Some people like to work on Mac, while others prefer Windows. You just need to ensure your OS runs the software you use for music generation. Some programs only work on a single OS, while others work on multiple. So decide according to your preferences and requirements.
Audio plugins
When working with your digital audio workstation, you must also deal with multiple audio plugins. You might already have several plugins in your mind that you would prefer.
Therefore, you have to consider them as well. If these plugins are graphics-heavy, you will need a powerful processor with high memory. Some plugins need more power from your system, and the benefit of using them is to get better audio results. If this is your priority, you must choose a machine that can handle such plugins effortlessly.
Music mixing
If you prefer to work with various plugins for better signal chains, you like to work a lot on mixing. Even if you don't use more plugins to create your music, that's fine. It's just a matter of how detailed you want your final product to be and how you like it to sound.
If you like to work with various audio tracks and mix them to create a final tune, you will need better processing power to handle the mixing at an advanced level. Otherwise, an entry-level machine can also work for you if you don't use too many plugins. It will also allow you to be more vigilant about future projects. If they need your files to have more mixing of different plugins, you will need better processing power.
Working space
The size of the space you use to create your audio matters too. The machine needs to be able to produce powerful sound or needs to have enough connectivity options. You can explore and create a sound that works well in your space. Are you going to work in a professional studio or inside your bedroom? Choose a machine that goes well with the space you are working in.
Find out more about the hardware requirements to have music production software on a laptop below video.
Frequently Asked Questions
Is the MS Surface Laptop 3 suitable for music production?
You can consider three things. Ample memory, a quad-core for speed for better performance, and a touch screen that will enable you to move around on the screen conveniently without the hassle of using a mouse or even carrying an additional accessory.
MS Surface Laptop 3 has a solid Intel UHD Graphic 620 card, 8 GB LPDDR3 RAM, and a 3:2 aspect, 10-point multi-touch, convenient 13.5-inch screen. It also has 256GB SSD storage.
Which Lenovo laptops are good for music and DJing?
Lenovo ThinkPad T460 is one of the best laptops money can buy for music editing and DJing. With a 3GHz Turbo Boost, dual-core processor, and 8GB RAM, this machine gives you the best results when you are editing, producing music, or DJing.
In addition to this, a 14-inch screen and HD resolution display provide you with enough space for tabs and tools to move back and forth. This laptop also has many ports that come in handy for plugging in different types of equipment. They include 3 3.0 USB ports, an SD card slot, Ethernet, HDMI, and mini-DisplayPort.
Is 256GB SSD space enough for music production?
256 GB SSD memory space is large enough to hold software used for music editing and some virtual instruments you use. Depending on the amount of memory each song takes, 256 GBs is enough for you for a while. If you plan to have large music libraries, you should also carry an additional hard drive.
Is 8GB RAM Laptop Enough?
It is usually recommended that people mustn't spend too much money on installing beyond 32GB RAM. An 8 GB RAM is enough in this case. Spending money on accessories like video cards, plug-ins, and the CPU is best. Extra slots are available inside the laptop, so if you ever need to upgrade the RAM, you may do it easily.
Why are Razer laptops good for music production?
The Razer laptop series is recommended for gaming, but they also have the correct specifications regarding our scope. They use high-quality NVIDIA graphic cards and have 16 GB RAM. The space in the hard drive is never-ending at 2 TB. The processor is the best one of its generation i.e. i7. With touchscreen options, these are the best specifications you can get at a reasonable price.
So there you have it, a small review of the best laptops for music production/recording ranging from Windows 11/10 to macOS. Though you can find plenty of laptops on Amazon with high specifications and the latest hardware, they are going to cost more. We have combined and selected a range of models for all kinds of budgets you are looking for.
Making this list involved reading the reviews on the internet, personalized user experiences, and also some knowledge about the exclusive features available on each laptop. So, go ahead and pick one for yourself.