About a decade ago, music was composed and produced in special studios that were equipped with the latest hardware to record at the highest quality possible. But these days, anyone can compose and produce music on laptops. All they have to do is to find the right mix of specs and find a laptop in their budget. Here, we are going to summarize the top 10 best laptops for music production and recording in 2020. You will find Windows and Mac OS laptops with the range of price you are looking for. You can choose between them by looking at their specs and prices to see if they fit your budget.
Do check our review of best laptops under 700 here. Also, if you are a Mac user, find out these best wireless printers for Mac OS X.  Selecting the correct laptop is always tricky. It's a one-time investment because you can't upgrade or modify the hardware specs later as you like (it's limited). Always think about using the same laptop for the next 3-5 years to meet the upcoming new Operating Systems and programs you are going to use. Therefore, allow your budget to expand while purchasing a laptop and buy the best laptop in the category you are looking for.
Top 10 Best Laptops For Music Production in 2020
1. New Apple 15″ MacBook Pro (Latest Model) – Best Mac for Music Production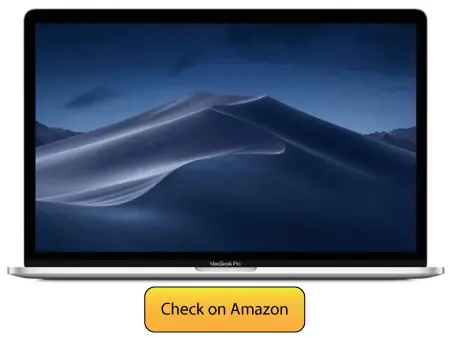 A latest model MacBook Pro from Apple. Expensive but extremely powerful for music editing and processing. Based on Apple's macOS, MacBook Pro provides the highest level of performance needed to compose music without any delay in rendering or production. MacBook Pro latest version has the 9th Gen 8-Core i9 Processor running at 2.6 GHz (Turbo Boost up to 4.5GHz), 16GB of RAM and 512GB SSD storage. SSDs are the fastest storage units available in the markets right now. With this, you can make the whole music composing, recording and editing process a lot quicker and better.
Sporting a 15-inch IPS Retina display, the laptop has a 2880 x 1800 resolution which is more than enough to fit more than one music composing software on the screen. Also, the battery backup of MacBook Pro is said to be 10 hours which gives you plenty of time to create music on the go. Moreover, you will find plenty of free and paid apps from the Apple App Store for audio/music editing and recording, for example, GarageBand is one of them. This is one of the expensive laptops in this list, but you can't have any better laptop than MacBook Pro if you are looking for a professional laptop for music recording.
The display card Radeon Pro 560X with 4GB display RAM adds extra value for this laptop. With music editing and production, if you have an idea for animation or graphic design, this laptop is the all-in-one best choice for you.
2. 
MSI GF63 Thin Laptop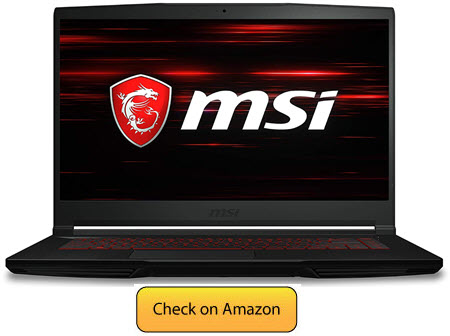 With the latest 9th Generation i7 processor, this is the best Windows-based laptop available for music composing and production with reasonable price from MSI. If you want a machine which can deliver you the highest level of performance under any load and which can do your tasks fast and without any problems, this is the laptop to buy. It comes with a beautiful 15.6 inches Full HD display. Though the Full HD and screen size is not going to make much difference for the music editors, these all features show the power and up-to-date hardware specs in the market.
MSI GF63 features a 9th Gen Core i7 Processor 2.6-4.5 GHz speed, 8GB DDR4 RAM. It comes with 256GB SSD to give a boost for OS and music editing programs. Also, the display card is the latest NVIDIA GTX 1050Ti with dedicated 4GB DDR5 display memory. The high-class configuration can match any music editing or mixing programs on Windows OS environment. This laptop is suitable for people who will use it in one place without much carrying because of slight heavy. The motherboard can support up to 64GB RAM which can be useful in future use.
3. MacBook Air 13-inch (Latest Model) – Under 1000 Dollars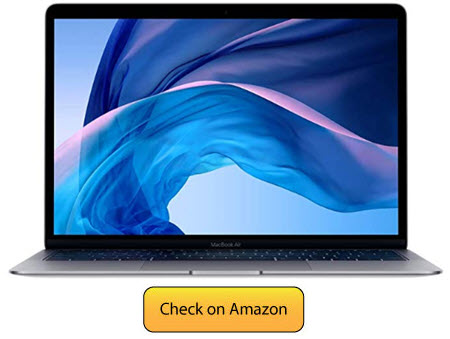 If you are still looking for a Mac laptop for your music work, here is another option around 1000 Dollars to get in the year 2020. Not as powerful as MacBook Pro but for people who are on a tight budget but still want the best laptop for music production can opt for the MacBook Air. MacBook Air is best for people who want light and often end up travelling a lot due to the nature of their job. It features a 13.3 Inch display with 2560 x 1600 display resolution. Intel 1.6 GHz Intel dual-core i5 processor (Turbo Boost up to 3.6GHz), 8GB of RAM and 128GB fast SSD storage.
MacBook Air's battery lasts for up to 12 hours making it ideal for people who don't have access to a power source all the time. As said earlier, having a Mac laptop sound editing will be an added advantage of because of suitable pre-installed and app store apps. With the 2 Thunderbolt (USB-C) type ports, it should give the freedom to connect all type of audio mixers and inputs with MacBook Air.
4. 
Dell XPS 13 9360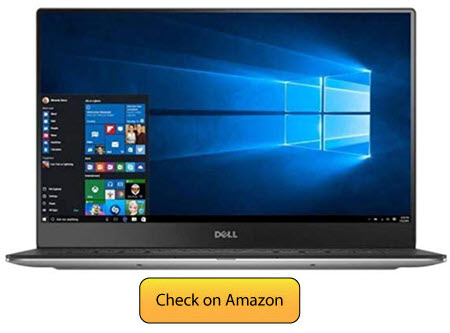 Dell XPS 13 9360 has impressive specifications when it comes to music production and editing. The screen resolution is the standard 1920 x 1080. It comes in two color-ways; Silver and Carbon Fiber. Both give a trendy and modern look.
The laptop has in-built Windows 10 and has a DDR3 SDRAM memory type. It has a 2.5 GHz Intel Core i5 processor which is significantly fast for supporting different editing processes. It has an 8 GB DDR3 SDRAM that enables you to run several programs and software for music editing and much more at the same time. With an eSATA hard drive interface, you won't have to worry about how slow an attached hard drive transfer rate would be. Previous models that used USB 2.0 or FireWire had a very slow transfer and functioning rate but eSATA eliminates that and gives a higher functioning.
The graphic card used is Intel HD Graphics 620 which is powerful and efficient. It gives a better render speed one you have finished editing. The laptop has 8 2.0 USB and 8 3.0 USB ports. This is an impressive number and allows you maximum external support. The flash memory size is a bit on the lesser wide with 256GB. But the eSATA and the number of USB ports for plugging in external hard drives option makes it up for it.
The screen is touch-enabled. It weighs about 3.7 pounds with 13.3-inches display size. The laptop slightly falls on the heavy side and is best for those who don't need to move around with it.
5.
Acer Predator Helios 300 (New Model)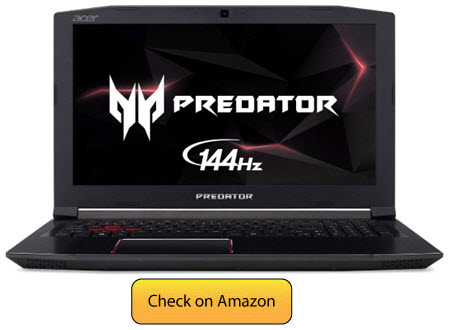 Acer produces some of the best laptops for the unbelievable price, and this model falls into the same category. A Full HD 144Hz IPS 15.6" screen, latest 9th generation i7 Processor and 2666MHz 16GB RAM make this laptop super powerful for the reasonable price. Several options are available to customize the laptop while purchasing. Specifically made for gaming, but it has all features to fulfil and manage all audio and music editing tasks.
This model comes with 256GB SSD that allows running music editing software with higher speed without any I/O issues. Also, the additional hard disk socket allows you to expand the storage whenever wanted with another SSD or normal HDD. Surprisingly this laptop comes with dedicated 6GB display RAM that would be useful when you run several music recording programs at the same time. Also, the display card becomes handy if you want to do the video editing as well as on the same laptop. The Acer TruHarmony and Dolby Audi Premium Plus Sound System are super powerful and useful for music lovers/editors like you. It has USB 3.1, Gigabit Wi-Fi and other all required ports where you can connect other music equipment and record sound.
6.
Surface Pro 6 (8th Gen Processor)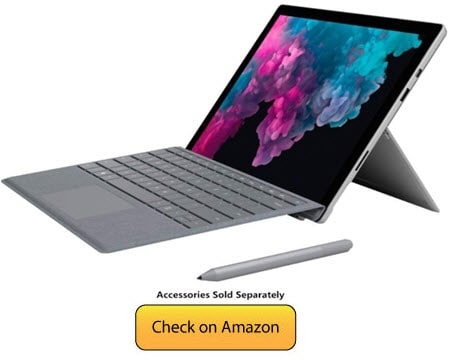 Here is the laptop from Microsoft. With the high-end hardware specification and reasonable price, the latest Surface Pro 6 takes place on this list. It is just under 900 Dollars but with the 8th Gen i5 Processor and 8GB RAM, you can get maximum multimedia experience out of this touchscreen convertible laptop. Another major advantage is, it comes with 128/256GB SSD storage for faster read and write on disk. This will improve the music recording or editing work on this laptop.
It doesn't have many connectivity options. You may need a USB 3.1 hub to connect more devices. Surface Pro 6 gives the best portability and convertibility from laptop to tablet when you do editing tasks from Coffeeshop to a multimedia studio. The 12.3 inches screen may not be enough to run the editing software, but easily connecting to a monitor via Mini display port or docking station can throw the display on bigger screens. Surface Pro 6 is one of the reliable options as the best Windows 10 laptop with higher portability for music recording.
7. ASUS ZenBook 15 Ultra-Slim Compact Laptop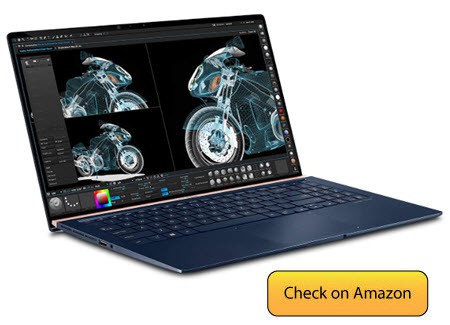 The latest Asus ZenBook 15 Ultra Slim laptop is another good option on our list. Its powerful 8th Generation i7 Quad-core processor and 512GB SSD disk match the hardware requirements for music editing and processing software. As usual, Asus make solid and superb build quality laptops that can be seen in this model.
It is another stylish Windows OS laptop with a great Nano-edge display technology. HArdware configuration is up to the mark with the 16GB DDR4 RAM and dedicated display card. This configuration should be enough to handle any software or tools for music recording. It is having all other features and ports to be one of the professional Windows 10 laptops which can connect most of the music types of equipment. Portability and style of this laptop make this laptop extraordinary in this list. USB Type C port and Bluetooth 5.0 are available to connect any audio devices. Gigabit Wi-Fi is another great feature when you stream or edit music on the wireless network.
8. 
Microsoft  Surface Laptop 2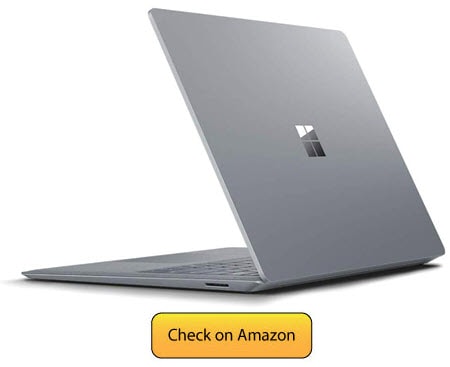 If you are a DJ who has to travel around the world playing your beautiful music for crowds, you need to have a lightweight and sturdy machine that is fast and capable. This Microsoft Surface Laptop 2 is merely 2.76 pounds and has a screen size of 13.5-inches. The maximum resolution can be set at 2256 by 1504 pixels. The only colour option this laptop comes in is Platinum which gives the laptop a sleek and minimalistic look.
The operating system is Windows 10 Home. It uses an 8GB LPDDR3 which means that this kind of RAM consumes less energy and gives high performance. This machine has the Flash Memory Solid State hard drive with a Serial ATA interface. It has a rotational speed of 0.01 which is extremely fast and efficient when it comes to running high powered music editing software at the same time.
The Intel-i7 1.3 GHz processor is much faster than its predecessors. It will support all of your speed needs when at a show. The USB 3.0 port offered unfortunately is just one but you can always plug-in a USB box with more ports if required. This needs to be purchased separately. The laptop required a Lithium Polymer battery which is included in the packaging.
9. ASUS ROG STRIX Scar II
We can't have a list of laptops without including multiple Asus laptops. Their superior build quality and hardware specification make the Asus as one of the best laptop brands. If you are not familiar with macOS, then you can think about this laptop as the best choice. Its powerful latest  8th Generation Intel Core i7 Hexa-Core processor can do all music/audio mixing easily with its 16GB RAM and 512GB SSD.
If you are looking for the best laptop for music recording and gaming, this laptop is for you. Its NVIDIA GeForce RTX 2070 gaming graphics card with 8GB dedicated VRAM is super enough for gaming too. This laptop may look expensive compared to other models, but worth to consider as it packed with the maximum configuration you can get on a laptop. Asus has taken extra care on the cooling system that allows you to do give more stress on this laptop for a long time without any heating issues. It keeps the laptop cool and increases processing power.
10. Razer Blade – World's Smallest 15.6″ Gaming Laptop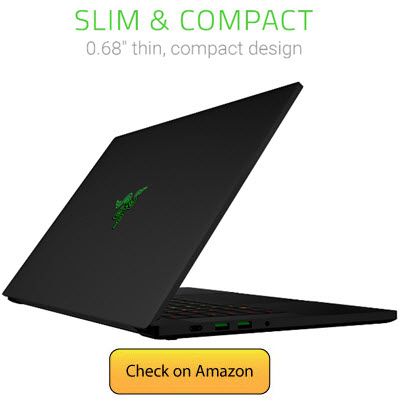 Razer is one of the best gaming laptop brands you can find in the market. Its hardware specification may match the requirement to be in this list. You can treat this as the best Windows laptop for music production in 2020. As one of the expensive laptop on this list, but it provides an impressive hardware configuration.
The Razer Blade 15" comes with the 8th Generation 6 Core i7 processor, 16GB DDR4 RAM to handle any load of sound editing or production software and 512GB SSD for quick I/O. As it built for gaming, you get the 6GB GDDR5 NVIDIA GeForce GTX 1070.
The faster sound card supports editing process very well. Also, it comes with FL Studio 12 producer edition on it to cater to the music editing requirement on a Windows laptop.
FAQs
1. Is the MS Surface Laptop 2 good for music production?
You can consider three things. Ample memory, a quad-core for speed for better performance and a touch screen which will enable you to move around on the screen conveniently without the hassle of using a mouse or even carrying an additional accessory.
MS Surface Laptop 2 has a solid Intel UHD Graphic 620 card, 8 GB LPDDR3 RAM and a 3:2 aspect, 10-point multi-touch, convenient 13.5-inch screen. It also has 256GB SSD storage. All these specifications are perfect for music production.
2. Which Lenovo laptops good for music and DJing?
Lenovo ThinkPad T460 is one of the best laptops money can buy for music editing and DJing. With a 3GHz Turbo Boost and dual-core processor and 8GB RAM, this machine gives you the best results when you are in the middle of a session of editing, producing music of DJing.
In addition to this, a 14-inch screen and HD resolution display provide you with enough space for tabs and tools to move back and forth. This laptop also has a large variety of ports which come in handy for plugging in different types of equipment. They include 3 3.0 USB port, an SD card slot, Ethernet, HDMI, and mini-DisplayPort.
3. Is 256GB SSD space enough for music production?
256 GB SSD memory space is large enough to hold software used for music editing as well and some virtual instruments that you use. Depending on the amount of memory each song takes, 256 GBs is enough for you for a while. If you plan to have large music libraries then it is recommended that you also carry an additional hard drive.
4. Is 8GB RAM LAptop Enough?
It is usually recommended that people mustn't spend too much money on installing beyond 32GB RAM. An 8 GB RAM is enough in this case. It is best to spend money on accessories like video cards, plug-ins, and the CPU. There are extra slots available inside the laptop, so if ever you feel the need of upgrading the RAM you may do it easily.
5. Why Razer laptops good for music production?
Razer laptop series is recommended for gaming but they also have the correct specifications when it comes to our scope. They use high-quality NVIDIA graphic cards and have a 16 GB RAM. The space in the hard drive is never-ending 2 TB. The processor is the best one of its generation i.e. i7. With touch screen options these are the best specifications you can get at a reasonable price.
So there you have it, a small review of 10 best laptops for music production and recording in 2020 ranging from Windows 10 to Mac OS X. Though you can find plenty of laptops on Amazon with high specification and the latest hardware, they are definitely going to cost more. We have combined and selected all range of models for all kind of budget you are looking for. Making this list involved reading the reviews on the internet, personalized user experiences and also some knowledge about the exclusive features available on each laptop. So, go ahead and pick one for yourself. If you are looking for gaming laptops with the latest generation 7 Intel processor, you must check this list of laptops.