For an artist, it is of utmost importance to be able to draw and modify his/her work efficiently for an enjoyable drawing experience. And this depends, a lot on the device on which you are drawing if you are a next-generation digital artist. Hence, I decided to help you out on this and provide you with some popular suggestions on selecting the best tablet for artists and designers like you.
Having a professional tablet will make your job or hobby easy if you like drawing electronically. The below list has basics to advanced tablets that suitable for professionals to children designers. Some can be connected to Windows PC and some can be on macOS.  These tablets will allow you to draw, paint, write and upload your drawings quickly. You could check our earlier list of best laptops for graphic design. On the basis of several reviews and customer feedback, I am able to name these below ten tablets.
List of Best Drawing Tablet for Artists/Designers
1) 
Wacom Intuos Drawing Tablet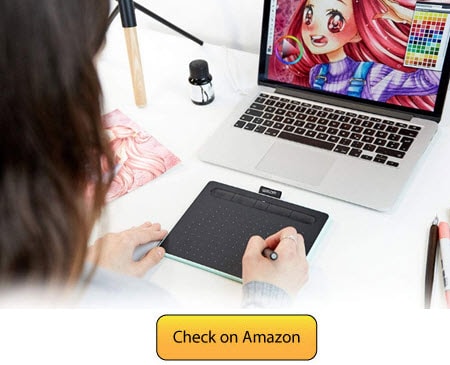 Wacom is a nailing brand in the tablet industry and needs no exaggeration. This particular latest Wacom model offers convenience and smoothness in drawing with its HD display and user-friendly menus. It supports all the main operating systems and editing software such as Adobe Photoshop.
It also features a battery-free pen for drawing which makes it even easier to maintain. Apart from this,  you also enjoy a free drawing pack that includes drawing tutorials and ArtRage software, along with the box. This one is great for beginners and extremely efficient for pros. It can be connected to Windows or Mac to draw, color and design your artwork.
Sale
2) 
Huion Inspiroy H640P Graphics Drawing Tablet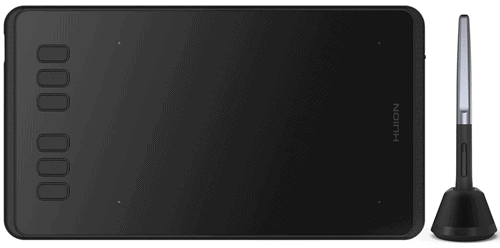 Like all the Huion tabs, this one too hits the expectations fruitfully and provides yet another proficient drawing experience to its users with its 8192 levels of Pen pressure sensitivity. It comes with Android 6.0 which is compatible with Windows, Mac and Chromebook operating systems, this tablet features a rechargeable pen for all those who forget to carry extra batteries every time. The user-friendly menus and high-quality display along with all the above features make it a prudent choice among the tabs of its competitive range.
Since it is based on Android OS, even you can easily connect with your Android tab or smartphones to draw or take notes. With excellent customer feedback and the features it carries for a lower price (Less than $50 as of writing this review), you must consider this option.
Sale
Drawing Tablet HUION Inspiroy H640P Graphics Tablet with...
[Customize Your Workflow]: The 6 easy accessable press keys on the drawing tablet H640P can be customized to your favorite shortcut so that your creative work become smoother and more efficient. You also can change the shortcut setting for different apps in Huion driver.
3) 
Wacom DTH1320AK0 Cintiq Pro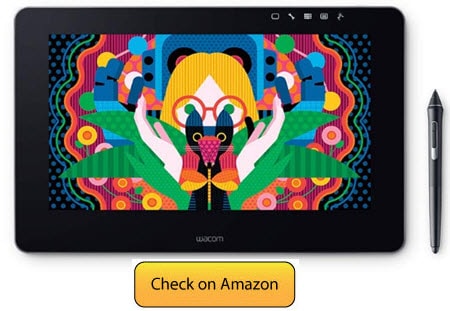 Again the brand needs no introduction. So all I can say about this model is that if you are attuned with the budget, this is the cleverest choice. No other tablet will provide you with the sensitivity of drawing tablets and interactivity of a PC, both at the same time, for the most magnificent drawing experience, that every artist dreams for. Its high-quality 13-inch display and 4x greater accuracy pressure sensitivity are the attraction and with it, you will feel like you are actually drawing on paper. It also features customizable keys that can be left or right-handed. It supports Windows 7 later and Mac OS X 10.10 versions for your drawing and artwork.
4) 
New Apple iPad Pro (4th Gen)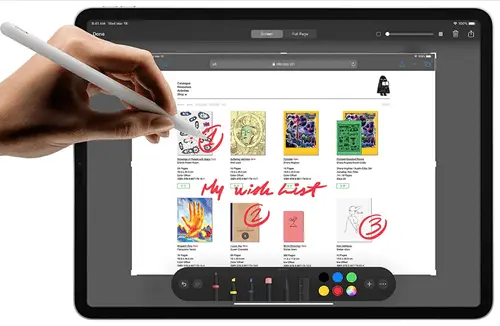 This one was actually invented for digital artists and if you are looking for a perfect balance of an efficient drawing tab and a laptop, this one is just for you. This complete set of the Apple-Tab and the Apple Pencil easily transforms to help you as a drawing tab or a laptop whenever and wherever you desire. On this device, you are also facilitated to download drawing apps from the app store to enhance your experience.
Other than for only drawing, this device can act as a suitable tablet for entertainment and multi-purposes for single or family use with the other gadgets.
5) Microsoft Surface Book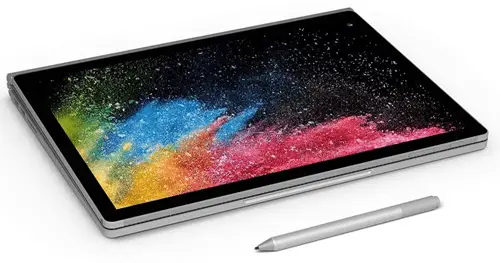 Another option for a Laptop-tablet combination device. Built by Microsoft, this one runs the Windows 10 operating system. Hence you can install software such as Adobe Photoshop, easily, without any ado. The USB here is at high processing speed and a high-quality interactive display. You can reliably opt for the latest Surface Book if you are looking for a Laptop that can actually work as a drawing tablet for you. With the Surface Dial and Pen which are sold separately, your drawing becomes easy on this Windows 10 tablet for artists.
6) 
Samsung Galaxy Tab A 8.0″ 32 GB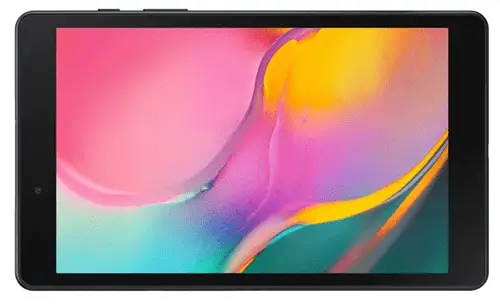 This is an Android-based Tablet for you and is much cheaper than its competitive device, i.e. Apple iPad pro. It features a large screen display and Wacom digitizer to provide you with proficient drawing experience. And with the facility to access Google Play Store, you can easily install and run desired apps all the time.
It comes with 32GB built-in storage, but if you think it is not enough for your art/graphical work, you can expand the storage up to 512GB. That is the main advantage of having Android devices when it comes to storage.
7) 
XP-PEN Artist15.6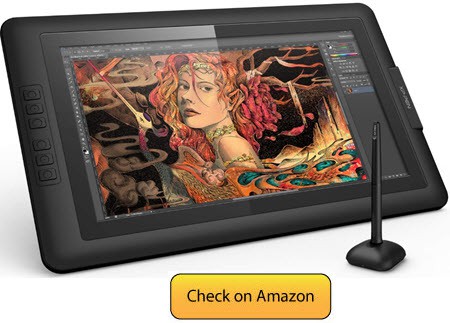 An excellent tab for artists with 15.6 inches IPS drawing monitor and a high level of pressure. The 8192 levels pressure provide groundbreaking sensitivity while drawing on the tab, it will almost make you like drawing on the paper. The stylus does not require charging. As it remains Amazon's choice while writing this review because of its high configuration, reasonable price, and customer feedback, don't miss this great device on your wish list.
Works great with Windows 10, 8 and Windows 7, also the Mac OS X version later than 10.8. The connectivity can be made by USB-C type, hence it is easy to plugin and use.
Sale
XPPen 15.6 Inch Drawing Tablet with Screen Artist 15.6 Pro Tilt...
【8 customized express keys】the Artist 15.6 Pro drawing tablet with screen features 8 fully customizable shortcut keys and puts more customization options at your fingertips to suit you preferred work style, allowing you to capture and express your ideas easier and faster for optimized workflow.
8) Microsoft Surface Pro 7 – Best Windows Tablet for Artists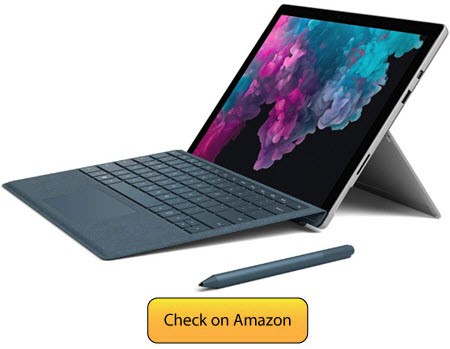 After the successful release of several Microsoft Surface Pro series, Pro 7 is yet another improved version for artists and students to go for. This one is a two-in-one laptop cum tablet which has been designed keeping in mind the needs and necessities of digital artists who also desire a laptop. This one again is a Microsoft device that supports Windows 10 and the related software smoothly. With the high-end hardware configuration Gen 10 i5 (or i7) processor, 256GB SSD, and 8GB RAM, the Surface Pro 7 is a must-get Windows OS laptop/tablet for artists (but slightly expensive in this list).
Based on your budget you can select different hardware variables during the purchase. The Surface pen should be bought separately.
9) 
Huion KAMVAS GT-191 Digital Graphics Drawing Monitor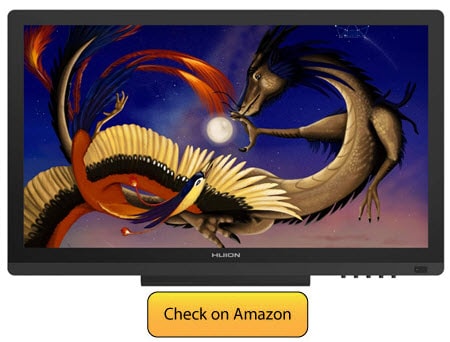 A highly interactive, professional drawing tablet at an affordable price for all those who are looking for an interactive drawing experience under the budget. This tab also has the higher Pen pressure which is 8192 to capture your every move and pressure on the tablet while drawing. With a large 19.5" screen and 1920×1080 HD display, this tablet stands out as a smart choice among all the other tablets of its competitive range.
It has HDMI, VGA and DVI ports to match all user needs to connect with the different type of devices. Like other tablets, it can work with Windows 10/8.1/7 and Mac OS X 10.11 later.
Huion KAMVAS GT-191 Drawing Tablets with IPS Screen 19.5 Inch...
[Warm Reminder: Huion KAMVAS GT-191 must be worked with the computer] 8192 Levels Pen Pressure Sensitivity: 4 times increased from 2048 to 8192 which provide better performance in drawing lines. Finer and thicker lines are all in your control by how hard you press the pen on the tablet
10) Yiynova MVP 22 U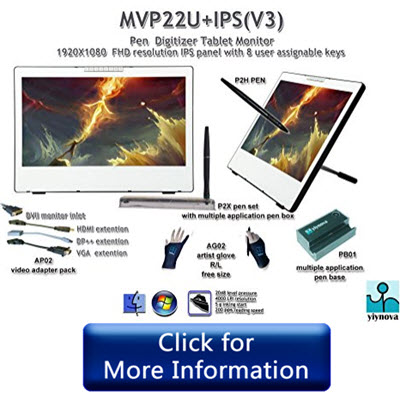 This one is a cheaper alternative to Cintiq 13 HD and offers all major features of many other flagship brands. Along with a large screen display with a DVI cable for good picture quality, it comes with two pens in the box, each with different pressure sensitivity and curve. It supports the Linux Operating system and offers a wide range of versatile adapters making it compatible with several modern monitors. The only limitation is its low popularity making it less reliable than other brands.
I hope that the reviews cited above for artists and designers are helpful to pick the right tablet for drawing work. Happy drawing !!