Back in the day, gaming chairs used to be pretty rare commodities, and they also had pretty hefty price tags on them. These days they are still costly, but you can find some budget-friendly options out there. So, you can conveniently find the best gaming chair under budget. And the best part is that you don't have to compromise on your overall gaming experience.
These chairs are still not that easy to find. However, you will find a lot of online discussions on various platforms where gamers talk about the great gaming chairs without breaking your wallet.
To make things easier for you, we have developed this guide and reviewed the affordable gaming chairs below 100 dollars.
List of Best Gaming Chairs Under 100 in 2022
1. Homall Gaming Chair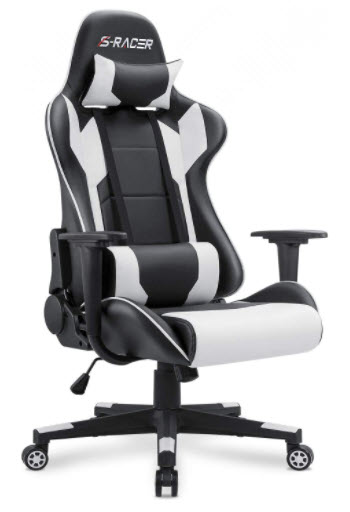 The Homall gaming chair comes with a high back and is made of leather, and its racing style makes it look unique. The ergonomic chair comes with an adjustable swivel, and it also features a headrest and proper lumbar support.
This chair is available in a range of different colors, and it has high-density shaping foam in it. This foam contours well according to your body and keeps your muscles relaxed for as long as sitting in it. The chair features a sturdier steel frame construction. Moreover, PU leather is wear-resistant and skin-friendly.
This chair comes with a max weight capacity of up to 300 lbs. Plus, there are rubber casters tested for up to 1000 miles of testing. This chair also comes with plenty of back and head support to make you feel comfortable while sitting in the chair enjoying your games.
It also comes with recline functions that range from 90-degree to 180-degree. You can comfortably use this chair to play games, watch movies, do work, or even rest.
Pros
Features high-density shaping foam.
Comes with wear-resistant and skin-friendly PU leather.
Weight capacity of 300 lbs.
Smooth-rolling casters.
360-degree swivel and reclining function.
Cons
A small base can result in the chair tipping over if the center is out.
Sale
2. Devoko Gaming Chair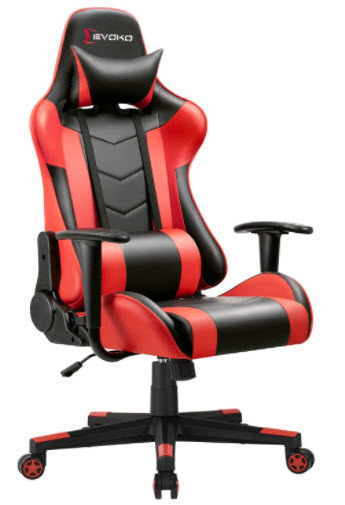 This ergonomic gaming chair is available in different colors, and it looks pretty nice with its racing style. It comes with adjustable height features and boasts a headrest and lumbar support.
The chair comes with a premium quality leather cover that is highly breathable. It has an ergonomic design that features adequate lumbar support that you can adjust, and there is a headrest pillow protects your neck and spine.
This chair also features 360-degree swivel rotation with rolling wheels that don't make any surface scratching on your floor. You can comfortably move around the desk or in your space on this chair.
The heavy-duty gaming chair is made of quality materials and features a strong metal frame designed to take some serious toll. Moreover, this chair comes with lock tilt adjustment along with recline angle adjuster. It will enable you to get some much-needed rest after a long tiring playing session.
Pros
Heavy-duty steel construction.
Maximum adjustability.
300 pounds max weight capacity.
360-degree swivel rotation.
Cons
The chair does tend to lean a bit too much forward.
3. X Rocker Gaming Chair
This rocking gaming chair has a different style and has a foldable design. It is only available in two different colors, and you can use it for reading, relaxing, or gaming. The chairs have a vinyl covering, and it looks pretty nice.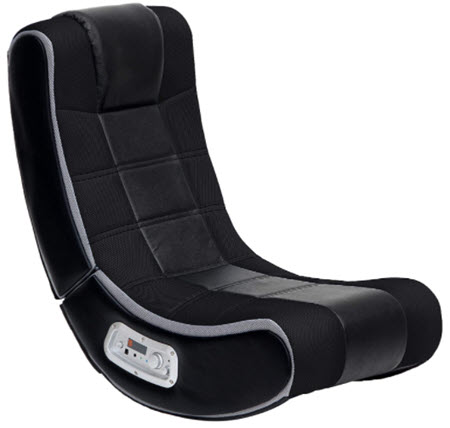 The all-purpose gaming chair is an excellent choice for lounging, and you can use it for watching TV and movies. You can enjoy an immersive media experience. It comes with an incorporated audio transmission with a couple of speakers placed near the headrest. They work pretty well for any bass-heavy sounds.
Due to the oversized design, this chair features highly breathable foam with mesh, and there is padding in the headrest region. You can sit in this chair for long hours or for as long as you want. The chair also comes with an audio jack and adjustable volume control.
Furthermore, you can connect with your Xbox, Gameboy, PlayStation, DVD, CD, MP3 Player, and even home theatre systems. The max load capacity of this chair is 275 lbs.
Pros
Inbuilt speakers.
Various audio connectivity options are available.
Oversized design for added comfort.
Immersive audio experience with an inbuilt audio jack.
Versatile all-purpose gaming chair.
Cons
Not suitable for taller individuals.
4. BestOffice Gaming Chair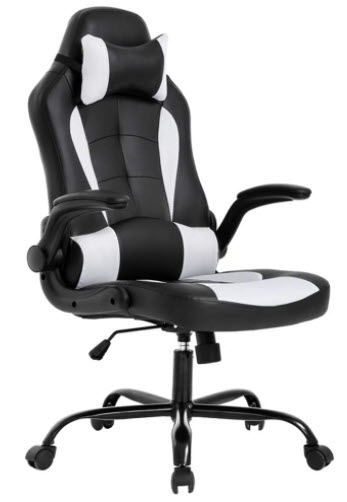 This PC gaming chair has an ergonomic design, and it comes with lumbar support and flip-up armrests. It also features a headrest and quality PU leather construction. The chair is available in different color options, and it is not prone to any deformations in the long run.
The gaming chair is wider than any other regular desk chair, and it is pretty comfortable to sit for long hours. You can comfortably adjust your height and sit for long hours due to its breathable construction.
This chair is easy to assemble, and you won't have to go through a lot to get the job done. The entire assembly time ranges between 1- to 15 minutes, and you don't need to be tool-savvy for that either.
This chair comes with a total laid capacity of 250 pounds, and it is pretty comfortable to sit in for long hours. You can comfortably adjust the height and move around the space with solid and smooth wheel casters.
Pros
Effortless to assemble.
Max load capacity of 250 lbs.
The ergonomic design is pretty comfortable for long-hour usage.
Available in different colors.
Made of PU leather that is smooth on the skin and wear-resistant.
Cons
The headrest pillow needs frequent adjustment.
Sale
5. DualThunder Gaming Chair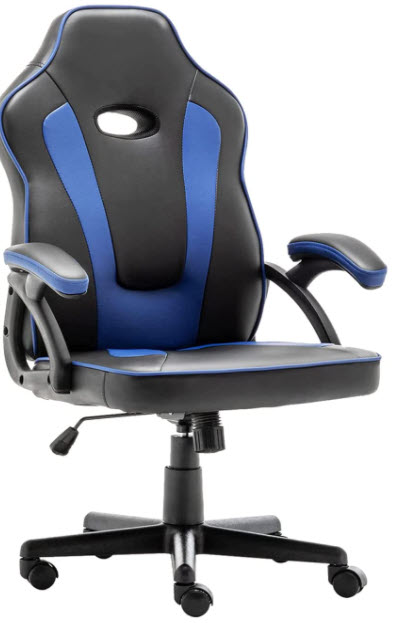 The DualThunder gaming chair is all about simplicity, and it is an ideal choice for teens and adults. The ergonomic design of this chair features reclining and allows you to relax for long hours while playing games or doing work.  
It is available in four different colors and is made of faux leather. The ergonomic design allows the user to comfortably adjust to the chair's recline, tilt, and height. You can comfortably sit in the chair for as many hours as you want.
The armrests of this chair are fully padded, and you can adjust them according to your requirements. Therefore, your arms and hands will receive the necessary support throughout the time you are sitting in the chair.
The cushion back of this chair provides support to your back and keeps it in a correct posture. Therefore, you won't have to deal with any issues associated with the back or aches no matter how long you sit in your chair.
Pros
Available in four different colors.
Features a strong base for maximum stability.
Cushioned back and armrest for increased comfort.
Premium quality materials that are wear-resistant.
Ergonomic design with maximum adjustability.
Cons
It doesn't need a headrest.
Things to Consider Before Buying the Gaming Chair Under 100
You have to consider some critical factors before pulling the trigger and going for your best gaming chair under 100. It will allow you to get the best value for your money even if you have a limited budget. Still, you will be able to meet your needs and requirements.
When making our list of recommendations, we considered these factors the major contributors to anyone's decisions when looking for the computer gaming chair for around 100 dollars. So, here are the factors to consider.
● Comfort
Even if you are looking for a budget-friendly gaming chair, the most important factor is comfort. People tend to spend hours and hours sitting in chairs when playing games. Therefore, for maintaining better body posture and proper back support, you need to go for an extremely comfortable chair.
There are various comfort features you can consider. You should look for ergonomics, padding as well as adjustability. These are the three main aspects directly related to a chair's comfort. You can also look for other features like the adjustable armrest, footrest, headrest, and backrest.
● Adjustability
Adjustability is important for your gaming chair. It should be ergonomic, and you should be able to adjust the footrest, backrest, head, and armrest according to your liking. Height adjustment is another feature that enables you to keep your chair according to your comfort level at all times.
With adjustability, your gaming chair will remain comfortable for you to sit in and enjoy your games. But you will have to keep in mind that such a budget-friendly alternative will only come with limited adjustability options. 
● Weight capacity
In most cases, people tend to forget about the overall weight capacity of a gaming chair. Sitting in a chair for long hours and playing games, your chair will take a lot of beating. But you need to go for the weight capacity of your chair according to your body weight, and everything will be fine. Chairs with higher weight capacity are generally more durable.
● Type and looks
There are two main types of these gaming chairs. You can either go for an office-style gaming chair or a racing-type gaming chair. But the thing is that office-style chairs are more comfortable, but they are limited in styling. Gaming chairs are great for style, but they are not very comfortable.
● Size
Ergonomic chairs for gaming come in all sizes and shapes. Of course, size and style should always go hand in hand. For instance, racing-style chairs are smaller and more slender than office-style gaming chairs. You must consider how much room you have and your size and then go for the right gaming chair size.
● Design
The design of a gaming chair is important too. It needs good looks, various adjustability features, and quality materials. Of course, they also come in different shapes and sizes. Just make sure that you look for a more ergonomic design.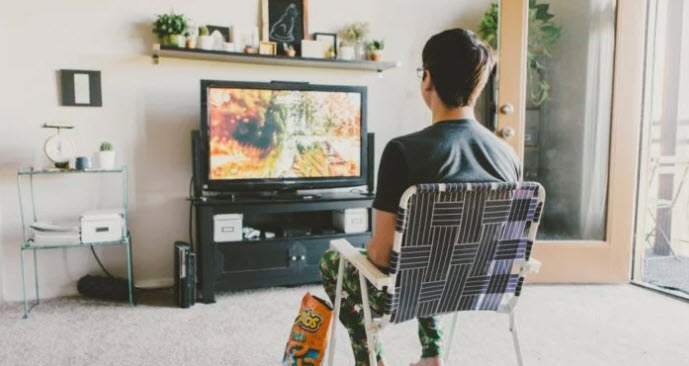 ● Materials used
These gaming chairs are available in a range of different materials. But you don't expect any experience here as you are looking for the best gaming chair under 100. Still, you will find an overwhelming number of options for materials used in the construction.
PU leather is the most common and most comfortable, along with synthetic leather and polyester. In general, you should go for breathable fabric.
FAQs
Can I use my gaming chair as my office chair?
Of course, you can use your gaming chair as your office chair. You don't need to buy any expensive swivel chairs for your office. Gaming chairs have better style aspects, and they are designed for people who spend long hours sitting.
Are gaming chairs more comfortable than office chairs?
Gaming chairs are much more comfortable than office chairs because they are designed to sit in for long hours. They also come with various adjustment features and ergonomic designs that users can use according to their preferences and requirements.
How long should these gaming chairs last?
Gaming chairs can last from anywhere between 12 months to 18 months. If you don't use your chair regularly, you can expect it to last way more than that.
Final Word
You might not find multiple options when discussing the best gaming chair under 100. But the market certainly has some options available now because these chairs are in demand. You will have to make sure you go for the right chair based on your needs and preferences.
These chairs need to be made of quality materials and an ergonomic design. Of course, you will have to compromise on some features, but they still provide you with plenty of options.