Selecting the best gaming laptop under 1200 dollars is not that hard nowadays since your budget is fair enough to get the correct hardware piece you want. So you've been saving up for a long time. You picked up some summer jobs, part-time paper routes and God knows how many other odd jobs to save up for that brand new gaming laptop you want to buy. You've dreamed about your shiny new toy for months on end and have already listed down the titles you want to play. And when finally that day comes and you start searching for your perfect laptop, you find that you don't have the money to afford your dream device. So you start thinking of going towards the cheaper options but you don't want to compromise on performance or the titles you want to play. And that's where you get stuck. Which is the best gaming laptop you can buy under 1200 dollars that can play almost all games in 2019?
But worry not, for we have your back. We've compiled a list of the top 10 best gaming laptops under 1200 dollars in 2019 it ranges between $900 and $1200. But this price range doesn't mean the laptops aren't as strong as the more expensive ones. We've picked out only the best devices from best laptop brands for the price range which offer performance that is on par with the latest and greatest of today's devices. Do you have more money to invest? try our list with gaming laptops under 1500 dollars.
10 Best Gaming Laptops Under 1200 Dollars that will Meet Your Gaming Expectation
1. 

CUK ROG Strix Scar GL703GE Gaming Laptop 

Let's start with a powerful laptop with various configurations. It is hard to place this laptop at number three even though it has so much more to offer us in the specifications sector. This machine is offered in six different configurations, that means six different price ranges. However, even in our mid-range here is what it offers. Running the core processes is a beautifully revamped six-core i7-8750H by Intel. On the sides where we need the speed for virtual memory, we have a 16GB DDR4 RAM with NVMe 500GB SSD+ 1TB tradition disk.
It is easy to say that the necessity of speed is quite real if you understand the reference! Apart from the amazing components, it also offers a 17.3 inches FHD screen that brightens up the graphics that your NVIDIA GTX 1050 Ti 4GB display. In stores, this laptop is selling like fire, and with a high customer rating, it is sure to please you with all your gaming needs. It comes with 3 years CUK limited warranty. Top of computer gaming you can throw any higher processing required applications on the laptop without any hesitation.
2. Acer Predator Helios 300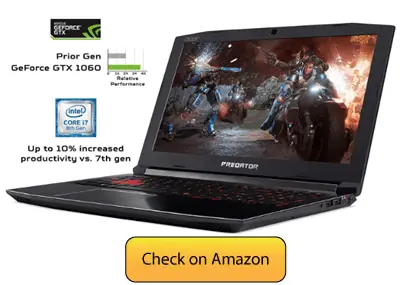 The best laptop on our list is the latest version of Helios 300 Acer Predator. Under the budget but with so much more to offer us in the specifications sector, this mid-range machine is built for the avid gamer and his virtual needs.
Leading as number 1 new release in Amazon category and it already gained good customer feedback and stars.  The processor is 6-Core Intel 8th Generation i7-8750H which can be boosted up to 4.1GHz (Superspeed). The reason why this laptop is one of the best gaming laptops under 1200 dollars in 2019 is that of its video card. NVIDIA GeForce GTX 1060 with 6GB dedicated GDDR5 VRAM to give extreme video quality while playing the games. 16GB RAM and 256GB SSD with full HD 15.6 screen size are other great factors you could see on this laptop. It is well below the 1100 dollars mark and great contestant in our list. If you think that the 256GB SSD is not enough (Obviously not enough for this powerful computer), there is a free 2.5-inch slot to add another SSD or normal hard disk depending on your need and budget.
3. Alienware AW17R5 Gaming Laptop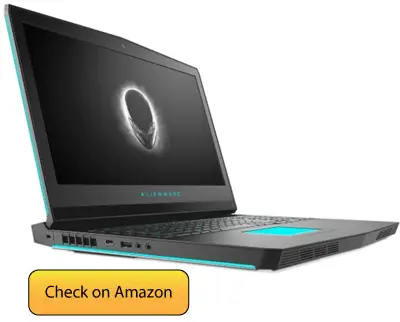 If you have been a gamer long enough to know the basis of all technology, then you have been here long enough to be one of the fans of the marvelous Alienware series by Dell. The price of the laptop is slight above 1200 dollars, but under 1300 dollars as on day this review written. We decided to include this laptop in our current best gaming laptop under 1200 dollars in 2019 review list. This machine takes portable gaming to another level because it is made for gamers, designed for action and the components of a beast.
Forget about broken FPS rates and unintentional lag spikes with the all-new 8th Generation 6-Core Intel Core i7 running the threads within. To match up the price, the starting model of the laptop comes with 8GB RAM, 1TB Hybrid hard disk and separate 8GB SSD for OS installation. You have the option to select 16GB RAM and higher capacity SSD storage which purchasing. Almighty NVIDIA GTX 1060 series display card with dedicated video RAM included. With an 8GB (upgradeable RAM), and a 15.6 inches FHD screen, you can be sure that all upcoming games for the next two years will bend to the might of the Alienware. It is not just a laptop; it is so much more.
4. 

Dell 2019 Premium Flagship G7 15 7588 15.6 Inch FHD IPS Gaming Laptop

Exactly under 1200 dollars with the all demanded hardware specifications to make this as one of the best gaming laptops. The latest Dell 2019 Flagship G7 is offering us a sleek design loaded with gaming parts. Coming in strong, Dell offers us a notebook for gaming. Apart from the new 8th Gen Intel Core i7 running the processes within and the high RAM and SSD+HDD hybrid storage facilities, it is not even surprising that a GTX 1060 with dedicated 6GB display RAM resides within. What is a marvel is the cooling and ventilation facility provided? Using innovative technology, Dell uses a brilliant method to ensure the laptop runs at the optimal temperature and also offers an UPGRADE DOOR! Though the surprises are constantly raining down on us, the design itself makes you want to buy that laptop and get to gaming.
Few options are available to select the storage to meet your requirements. As it has the 2nd storage space to add another hard disk, you can upgrade and expand the storage anytime without disturbing the Operating System on the 1st main disk. One Thunderbolt port is available if you have any additional external storage or required this specific connectivity. The design itself makes you want to buy that laptop and get to gaming.
5. ASUS ROG Strix Scar Edition

We hate to say this, but it seems ROG is back at number five and ASUS has no plans on stopping their domination upon the gamer market. The steel chassis with aluminum finishing makes you reminiscence and compare the body to the praetor suit found in HALO. Running an Intel Core i7 8th generation, the laptop is offered in different packages where you either buff up your VRAM (graphic card memory) or upgrade your normal HDD to a hybrid one, which ultimately dishes out super-fast bootup sequences.
This steel machine is sure to fulfill all your gaming needs one at a time, provided you take care of it. A must buy with a high user satisfaction; ASUS takes your stride and guides you to the righteous ways of gaming on portable computers.
6. MSI GP63 

Leopard-041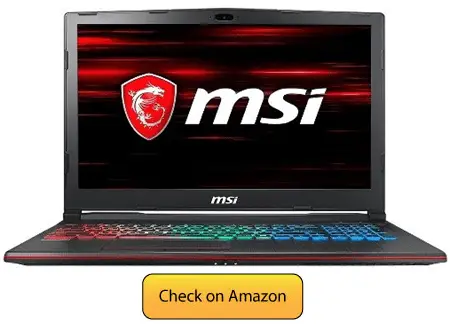 If you were sweating and wondering if MSI did not produce any good laptops for this year, then we are here to prove you wrong. They did the exact opposite of what you expected. Under a mid-range budget, MSI has produced the awe-inspiring GP63 Performance Gaming laptop. It means that the machine is built to produce efficient and smooth graphics without any lag or spikes in your gaming moments.
With a 6-Core 8th Gen Intel Core i7-8750HQ running the headquarters, the graphics card is your typical GTX 1050Ti with an infused 16GB RAM running the seams. Be it DOTA2 or PAYDAY2 this laptop will give you your desired 60FPS, and if you were particularly frisky, it might even give you 120FPS if you want to test out its capabilities. Due to their recent advances in graphics card production, MSI is a highly trusted member of the gaming community to the extent that many events are hosted using their technology as their benchmark.
7. Lenovo Y7000 Gaming Laptop

The biggest surprise of last year that still runs through this year is the Lenovo Y7000 Gaming Laptop. The Legion from Lenovo specifically build for the game; this laptop has been a successful contender for the market. Still being sold at a high rate but under our price range, the Intel Core i7-8750H is good enough for all upcoming games.
With a built-in 16GB DDR4 RAM and a NVIDIA GTX 1060, this laptop fulfills more than enough need of the casual gamer and even for those that are addicted to video games. Lenovo brings out the best in their products, and this one is one tremendous marvel that everyone has been and still is talking about. 128GB SSD and 1TB normal hard disk is part of the laptop. Powerful gaming laptop built by Lenovo with considering the price, configuration, and portability.
8. Razer Blade Stealth 13.3″ (

Above Budget but worth it!

)

Let's be clear, this laptop is above 1200 dollars. It costs around 1600$ as of writing this review. But we decided to include on the list because you should not miss this famous and great gaming laptop for an extra 400 dollars.  Computer gaming is the mainstream of Razer, and you can get the all configurations in this tiny gaming laptop from Razer.
Running a top of the line 8th Gen Intel Core i7-8565U with 16GB RAM running the seams, the Razer Blader Stealth is out to hunt down and take over every possible market in this price range.
With a 13.3 fifteen-inch screen powered by a new graphics NVIDIA MX150, the laptop is set to run on crazy speed with a pre-installed 256 SSD. What do you have to say? All this power in such a small device for better mobility? If I were you, I would be running to the store right now to book myself one of these bad boys.
9. ASUS FX502VM-AS73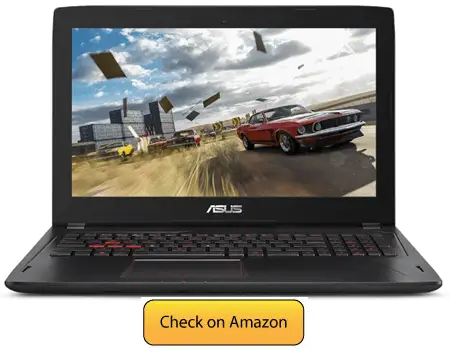 It seems that ASUS wants to dominate the gamer market for here we have them once more at number two. Simplistic design for a laptop, but with the hunger for gaming residing within, the FX502 is one insane laptop. With just the right price quoting its standard, this laptop offers you a 15.6 FHD screen with the all-new Intel Core i7-7700HQ running within.
Though a slightly lower case GTX 1060 at 3GB is offered for the graphics card, all your hard-core gaming face no threats with the addition of 16GB of RAM with a hybrid SSD storage installed. With its capability of boost-clocking itself to 3.8GHz, you can play most games at ease, especially Witcher 3. We all know you are itching to play that one.
10. 

2019 New ASUS TUF Gaming Flagship FX705GM 

Another Asus laptop on the list next to next due to the perfect match of the budget and high-quality configuration. The best part of this laptop is 512GB SSD. Other configurations such as a 6-Core i7 processor, 16GB RAM and GeForce GTX1060 (with 3GB DDR5 dedicated VRAM) remain same with outer laptops on the list.
Relatively new laptop in the market, but you can trust and go ahead with this model because it is from Asus. You get more than what you pay. Multitasking and high-end computer gaming can be handled smoothly by this model. Though it is placed last on the list, you must give importance when you buy a gaming laptop under 1200 dollars in 2019.
That is all we have about the best 10 gaming laptops you can buy under $1200 in 2019. You must select the powerful and latest processor, enough RAM to meet the game requires you are going to play and dedicated good display card. It is optional to go with traditional hard disk or SSD, but SSD is always preferable for faster disk access. Most of the laptops in this list have the same specifications, but each and every laptop is different in either its features list or its price point.