Overwatch is a creation of Blizzard Entertainment, and it is a 1st-person shooter multiplayer team-based game. The game is popularly described as a hero shooter; it features two teams containing 6 members each. As a player, you can select from the roster of more than 30 characters, and they are called heroes. Each of these characters has a unique style of play.
According to their style, they are assigned 3 general roles within a team. Each team defends and secures various control points on a particular map. They also have to carry a payload from one point to another in a limited time. Some of the elements of this game, along with assets, are loaned from Titan.
The narrative is based on an optimistic Earth in the near future after an epic crisis. You get to spend a lot of time where you can adjust the balance of all the characters in your team. It ensures that the new players can have fun while the skilled ones can present each other with a challenge. By any chance, if you are looking for alternatives and games like Overwatch, we have a list of 8 games that can satisfy you.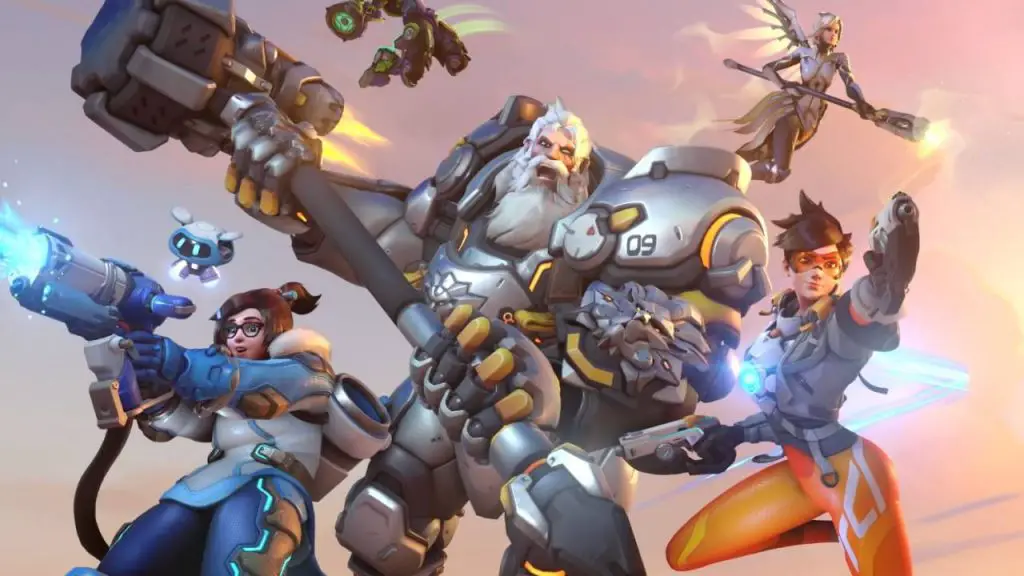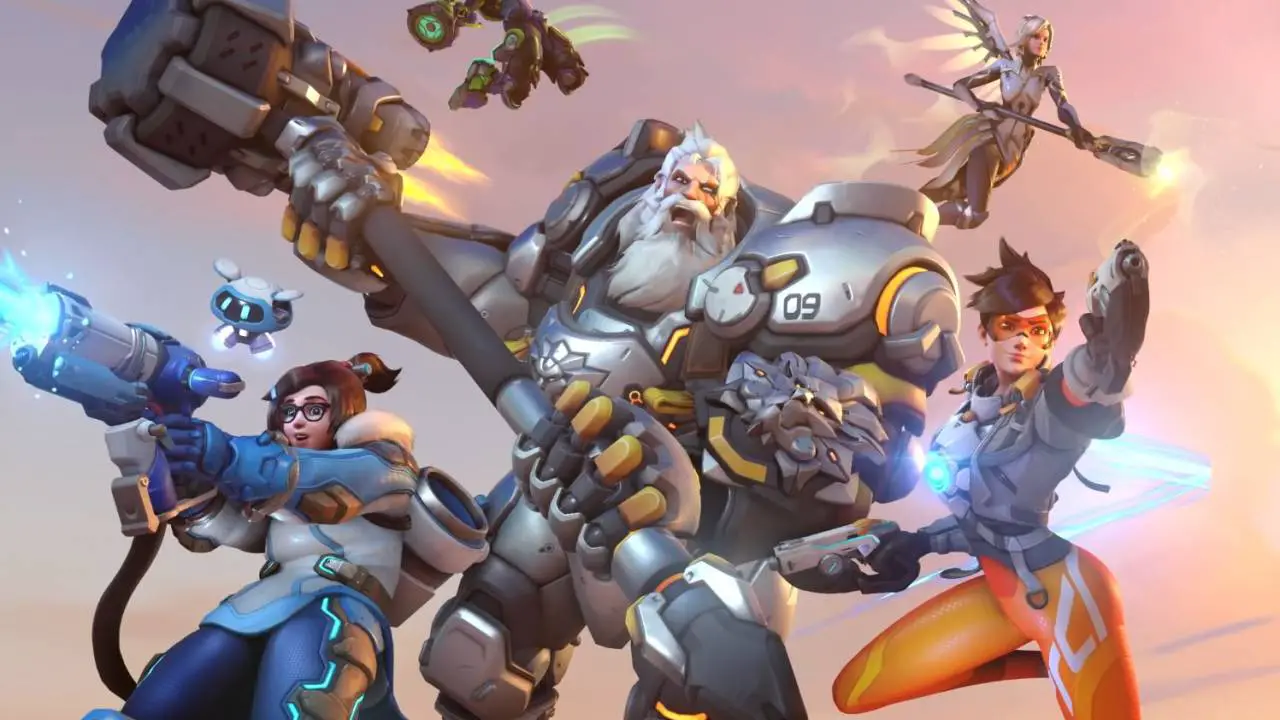 Brief Background
Overwatch was initially released with casual play. But arcade modes, competitive mode, and player customization server were all added later on. Since the initial release, Blizzard has also added more characters, game modes, and maps. And you don't have to pay for anything except the loot boxes to get those cosmetic items. Overwatch was released back in May 2016 on Xbox One, Windows, and PlayStation 4. In October 2019, it was released on Nintendo Switch.
It is the 4th major franchise by the company right after the cancellation of an online role-playing multiplayer game called Titan in 2014. There was a portion of the Titan team that came up with the Overwatch concept. It relied on the success of the 1st person shooter team-based games such as Team Fortress 2 along with the popularity of the online battle arenas featuring multiple players. It developed a hero-based shooter game with a primary focus on teamwork.
The game was unveiled at BlizzCon 2014 and remained closed beta from 2015 to 2016. Almost 10 million game players drew in globally at the initial release. The game received plenty of praise from critics for its very enjoyable gameplay. In 2019, Overwatch 2 was announced, and the sequel will feature a PvE (player versus environment)
Why Choose Overwatch Alternatives?
Overwatch was the Game of the Year in 2016. And it has won many hearts since the time it has been released. But the biggest problem with this game is that the objectives remain the same (no spoilers).
You play the game with close attention, and then it gets a hold. You play again and again till the point when you come to realize that you need to do something else because the repetition is getting boring.
It is very common with almost all the games, and Overwatch is no exception. But the good thing is that there are several Overwatch alternatives that you can use for a change. Therefore, if you are tired of playing this game, let's have a look at the 8 best games like Overwatch.
8 Games Similar to Overwatch
1. Paladins
Platform: Microsoft Windows, Sony PlayStation 4, Xbox One, and Nintendo Switch.
Price: Free.
Key Features: Strategy-focused, different characters, 4 game modes, in-app purchases.
Paladins is another hero-shooter that you can play online, and it is published by Hi-Rez Studios. This game closely matched Overwatch in terms of gameplay. But there are some visible differences between these games.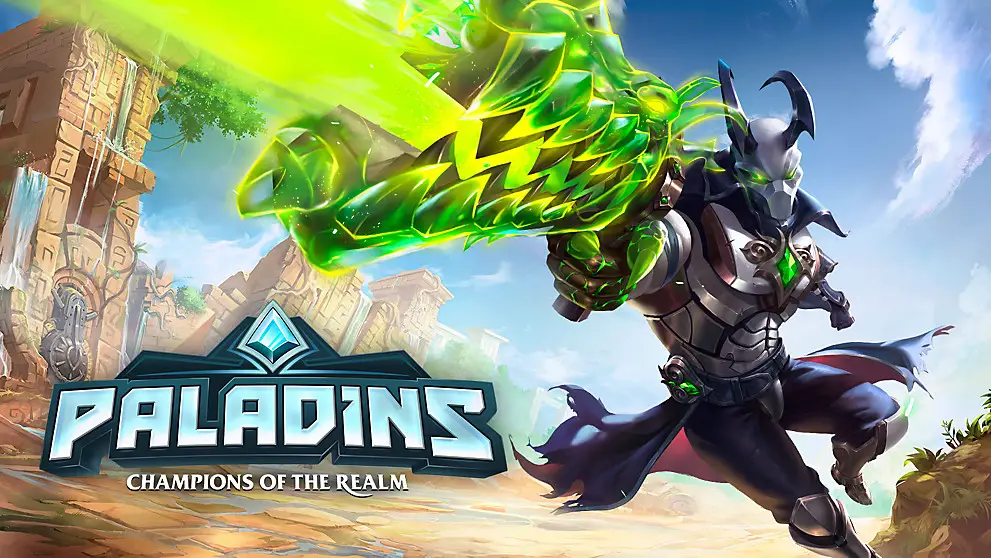 Paladins allow you to customize your character using its Card system. This game has a much larger map than Overwatch, and if you love cartoon graphics, then you will love it. It takes place in an imaginary world called Dungenponk.
You can change your characters during your gaming session and recruit champions to reduce the foot soldier victim damage. These champions are your special enforcers. But not all of these champions are committed. Therefore, the story revolves around Paladins.
2. Dirty Bomb
Platform: Microsoft Windows
Price: Free
Key Features: Realistic graphics, different characters with ranging skills and abilities, 3 game modes, player levels up with experience and other credentials.
Dirty Bomb is quite similar to Overwatch if you compare the two in terms of style and gameplay. The game was published by Splash Damage, but the developer support has come to an end. There are some special features in this game to attract you. The game relies heavily on communication and teamwork. But the Dirty Bomb has a more realistic theme than Overwatch.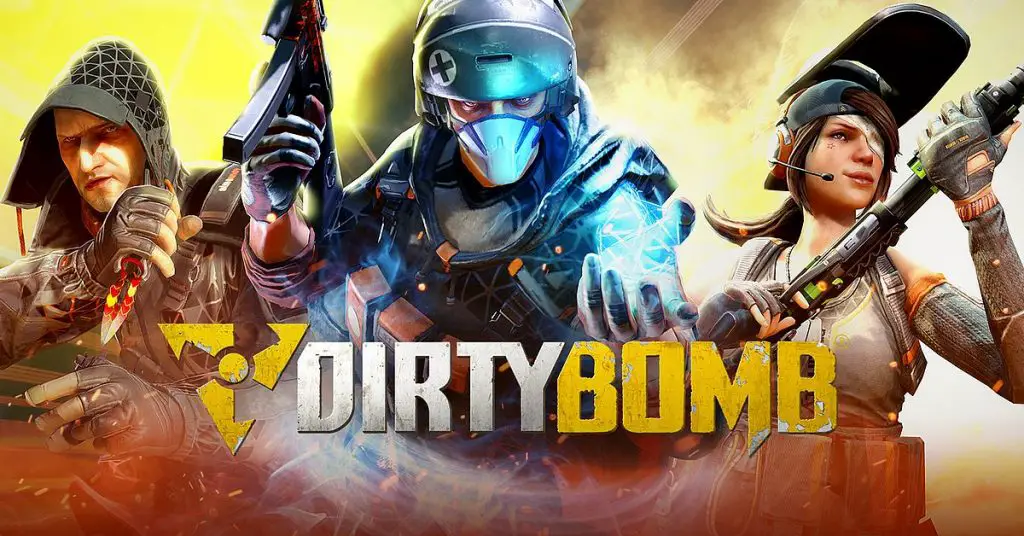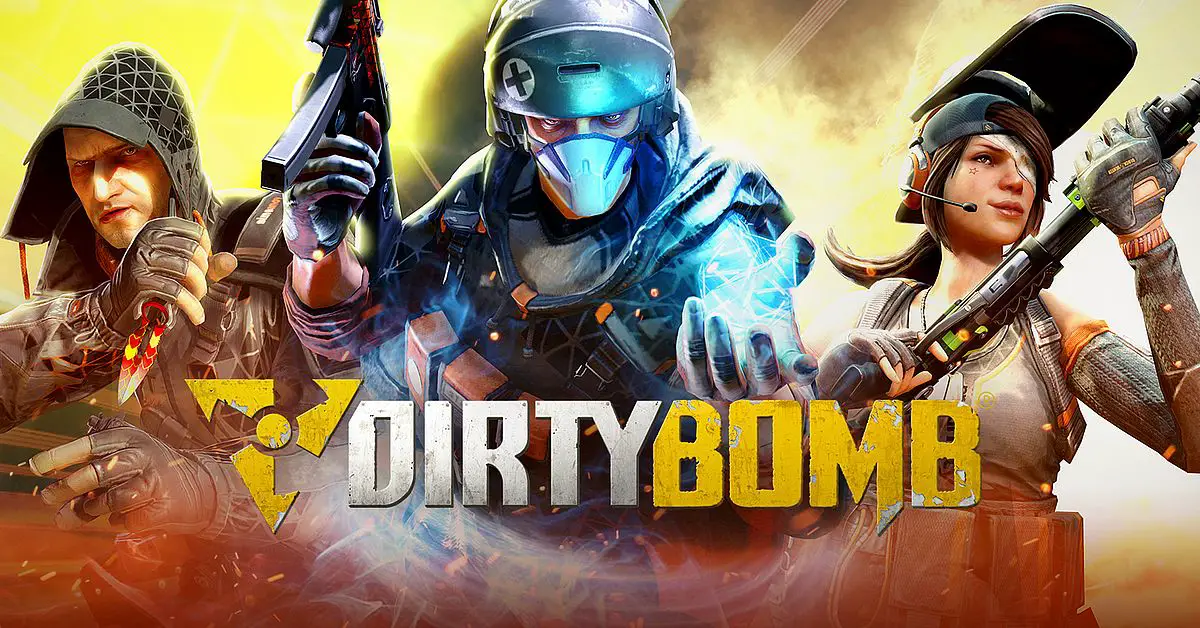 It takes place in ruined London, the city struck by a radiological attack. The characters (called Mercs) must complete their missions, and each of them has some unique properties and abilities that allow the character to be in a role. It is something very similar to Overwatch. You get to choose from 20 different characters. However, you'll notice that Dirty Bomb is a bit slower than Overwatch
3. Team Fortress 2
Platform: Mac OS, Microsoft Windows, Sony PlayStation 3, Xbox 360, and Linux.
Price: Free.
Key Features: Strategic gameplay, competitive game modes, communication with team members, and variety of characters.
This game is an online team-based multi-player that comes from Valve Corp. This game has nine different characters, and you can pick anyone based on your preferences and skill level with the game. The Sniper character in Team Fortress 2 is very similar to Hanzo of Overwatch, whereas Scout is much like Tracer. Therefore, you'll find some similarities between these two games.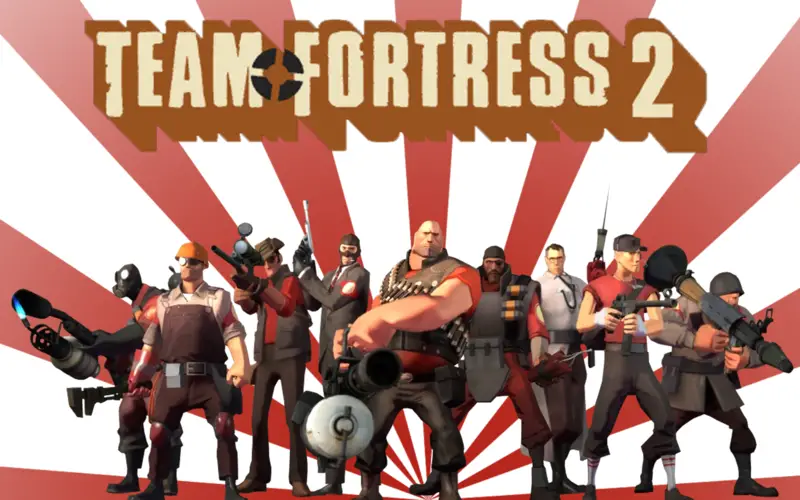 The game is about coordination and teamwork. You have to select one of the characters and compete with another team. Again this is something very similar to Overwatch. The nine characters here, including Demoman, Spy, Heavy, Medic, Engineer, Pyro, Soldier, Sniper, and Scout all have different abilities. The game has a real cult following among the players of team-based FPS fans.
4. Brink
Platform: Xbox One, Sony PlayStation 3, and Microsoft Windows.
Price: Free.
Key Features: Various player abilities can be acquired via XP, good weapon and character customization, smooth movement over random terrain for a unique experience.
The FPS game comes from Bethesda Softworks, and its focus is on Parkour style. This game also has integration with Steamworks, a game distribution platform developed by Valve Corp. the game can support 16 players on its server. You can play in competition or cooperation, or you can fight the AI bots.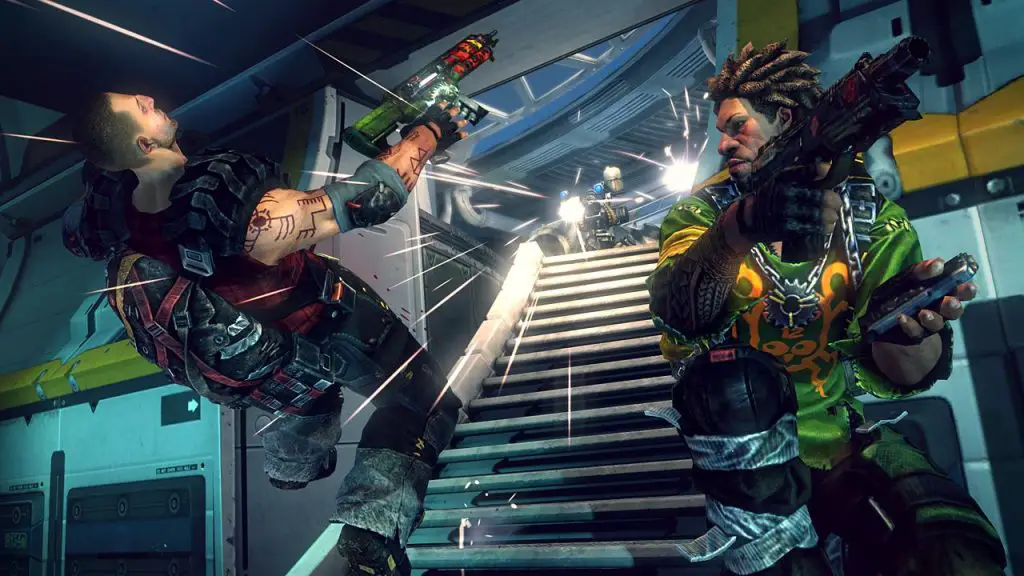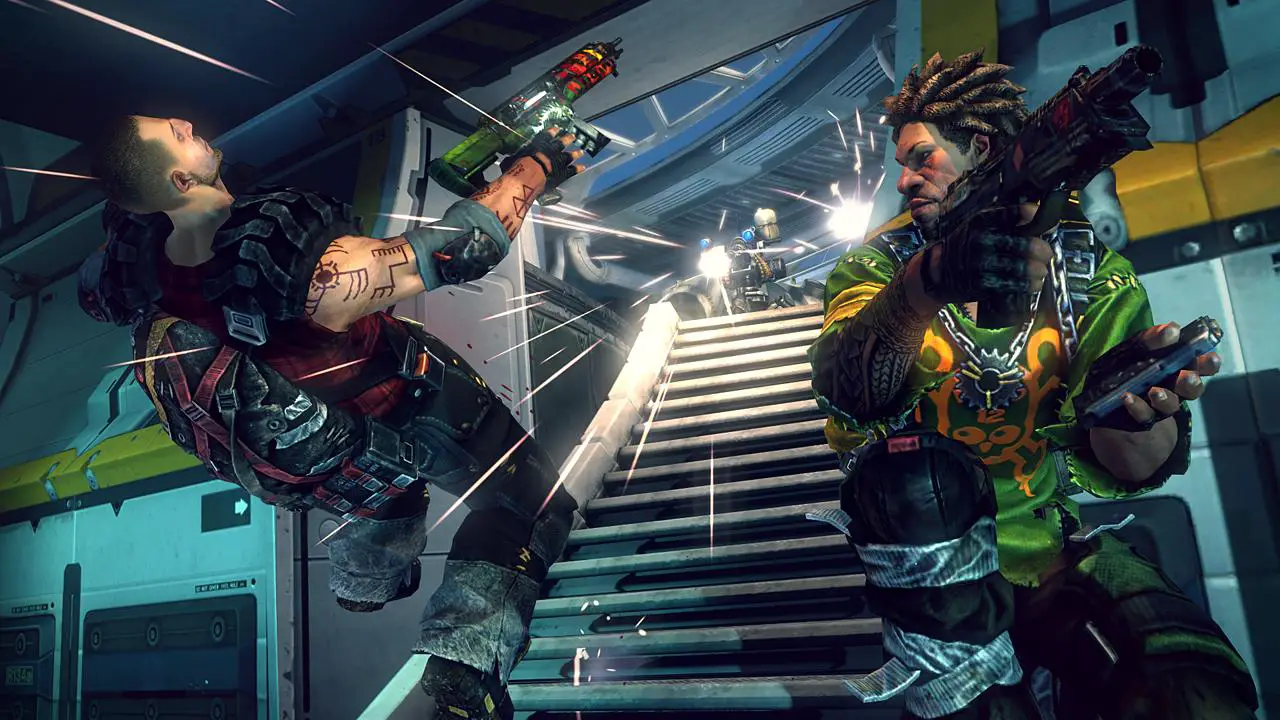 You can choose from different character classes, and they have a unique role to play in the team. The game is based on factions and defines the era of the mid-21st Century. The environment is a man-made island called Ark, which is economically and environmentally sustainable.
Decades later, the Ark has lost all contact with the outside world because of global warming. The Ark security gets an additional water ration, and it has caused a war between the Ark security and the resistance.
5. Battleborn
Platform: Sony PlayStation 4, Mac OS, Microsoft Windows Laptop or Desktop, and Xbox One.
Price: Xbox One ($6.99), PS4 ($6.47), PC ($3.99).
Key Features: 4 game modes, 5v5 multiplayer, unique weapon and power for each hero, 2 different story modes, and multiple progressions.
This online FPS (1st person shooter) is again very close to Overwatch. There are 25 pliable hero characters, and each of them possesses a unique weapon and skill. This unique trait allows the character to play a specialized role in a team. There is a battle arena mode, which is mind-blowing.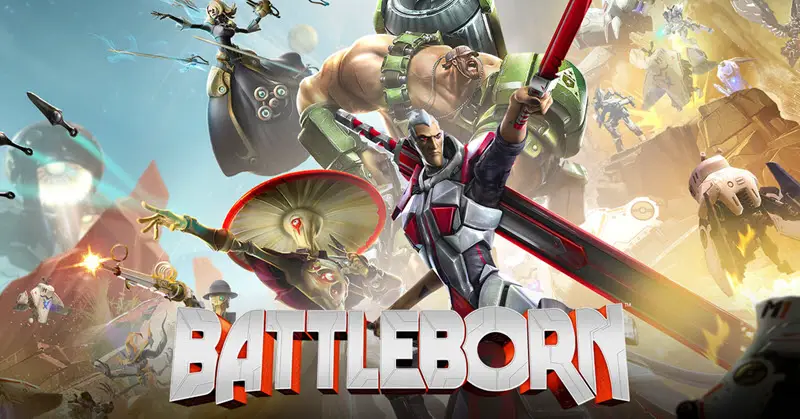 There is a close resemblance in the gameplay of Battleborn with Overwatch. Each character in this game will gain experience and power after completing objectives and defeating enemies. And the addition counts to the singles mode as well as the multiplayer mode.
The story begins with Lothar Rendain, the antagonist, destroying all the stars in the universe while the UPR captain allied to protect the last one. The story develops from there as you complete various objectives.
6. Apex Legends
Platform: Xbox One, Microsoft Windows, and Sony PlayStation 4.
Price: Free.
Key Features: exceptional graphics, innovative combat, strategic battle royale, different characters with unique abilities, no fall damage, multiple maps, different modes, more XP during Happy Hour.
This battle royale multiplayer game is from Respawn Entertainment and distributed by EA. The game features a lot of teamwork and coordination, and this is a feature that makes the game very close to Overwatch. The characters in this game are called Legends. And they have a unique ability to fill a role in their squad, which is again similar to Overwatch. The graphics are insane in this FPS.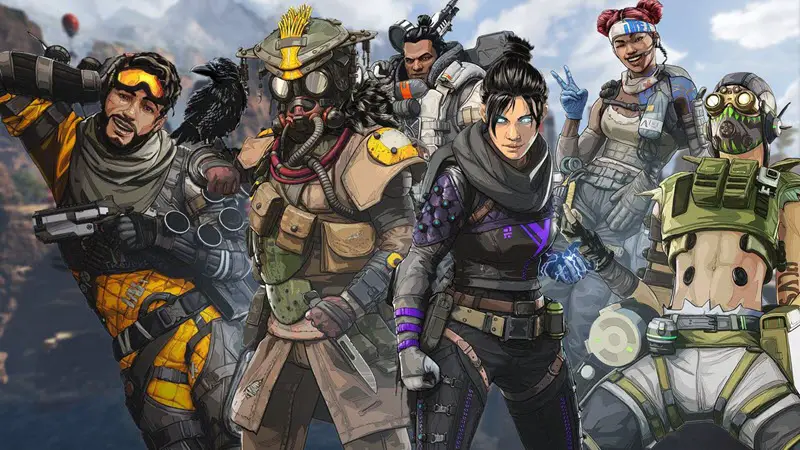 There are 60 different characters, and they are landed on an island in three squads. The leaders of the squads decided where to land. Players must search for supplies and weapons to fight with others. And the play area continues to shrink during this time. The last-man surviving in the battle will win the game for his squad. It is one of the top choices for you among games like Overwatch.
7. WarFrame
Platform: Sony PlayStation 4, Xbox One, and Microsoft Windows.
Price: Free.
Key Features: Exciting gameplay, high-end graphics, less vibrant colors,
There has been an eternal war that tore the homeland of Tennos soldiers. Now, these soldiers have one goal, and that is to bring peace no matter what. The soldiers are on duty to bring harmony and stability in the world, and you are the one controlling them.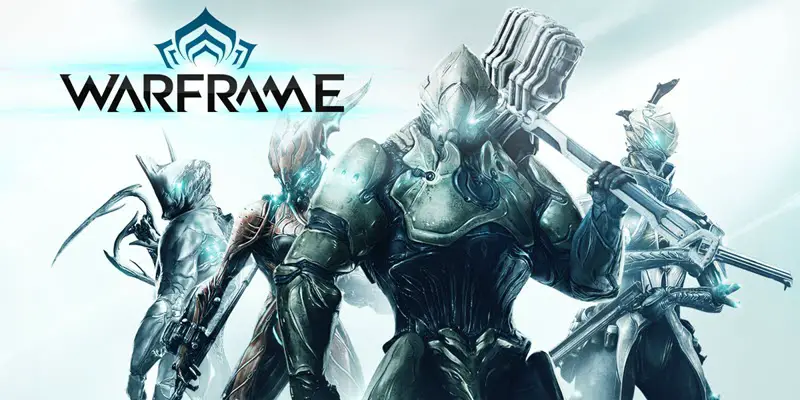 The gritty look of this game is quite different from Overwatch. Still, you need to tackle the stages with tight teamwork with heavy collaboration for better results. The game is very indulging, and it is one of the top choices as Overwatch alternatives. There are in-app purchases available, and each player gets XP, gains power and skills with each battle.
8. Gotham City Imposters
Platform: Xbox 360, Sony PlayStation Portable, Sony PlayStation 3, and Microsoft Windows.
Price: Free.
Key Features: Focuses more on maneuvering and movement, very entertaining, good graphics.
Have you ever thought of playing a game that revolves around Batman but with no caped crusader or any of his allies or foes? Well, now you can imagine and play such a game! The Gotham City Imposters is based on the Batman fans fighting with the Joker fans, and the battle takes place in an arena shooter setup.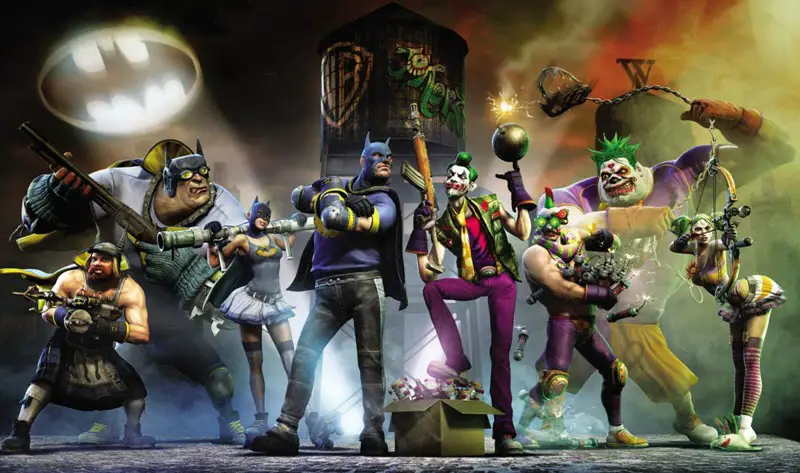 There is no Batman or Joker insight throughout the game, but the entertainment is extraordinary. Just like Overwatch, this game also focuses a lot on manoeuvring and movement. Each of the characters uses various techniques and tools to outsmart their enemy. There is a range of different homemade weapons available at disposal here. If you are looking for quick-paced action and would love to see a fat guy wearing the batman suit, then you will love this game.
Frequently Asked Questions
Is Overwatch overpriced?

Some people will argue that at $60, the game is overpriced for sure. The reason is that there is no other multi-player game that has this kind of price tag. The game doesn't have any story modes, and there is no adventure or campaign either.
The best thing about the game is the roster that features a range of different heroes. The game modes are not unique, and you tend to get bored very quickly after completing the same objective repetitively. So you might have to agree with the people who think that this game is overpriced.
How different will be Overwatch 2 from the original Overwatch?

In 2019, Blizzard announced that Overwatch 2 would be released. But how will these two games differ from each other? The predecessor emphasizes PvP (player versus player) gameplay that was very popular among the masses in recent years.
The successor is more of an expansion of the predecessor's gameplay rather than a new game. There will be some exclusive content, along with all the content from the original game. Overwatch 2 will focus more on PvE (player versus environment) gameplay. There will be a story mode along with hero missions.
Is Fortnite better than Overwatch?

Fortnite is a battle royale survival game, where you don't have to necessarily get in contact with other players and confront them. Therefore, you can easily spend most of your time scavenging around for supplies and weapons. Overwatch is much more indulgent, and it is designed to bring in players.
Therefore, games like Overwatch have a serious fan following. Fortnite has gained a lot of popularity because of its non-confronting nature, very similar to something like PUBG. However, Overwatch lacks a story mode, and there are not many missions to play for, which makes the game very repetitive and boring. And Overwatch 2 addresses this issue.
How are Paladins better than Overwatch?

Most people think that Paladins is a copy of Overwatch. But that is not the case, the game was in development well before Overwatch, but the similarities are very noticeable. Overwatch is a game set in the near future on Earth, so the characters are humans, except they get some weapons to upgrade. Paladins is set in a world that is a mix of fantasy and science fiction.
The characters are not human, so there are endless possibilities in storylines and, of course, their weapons. There are missions and story modes in Paladins, which Overwatch doesn't feature. The gameplay is better with less cluttering on the screen, and the overall community experience in Paladins is far better than Overwatch.
Final Word
Overwatch is quite an interesting and compelling game. But as with most games, at times, you just decide that you have had enough and want to take some break. Fortunately, there is a long list of games like Overwatch. These Overwatch alternatives will allow you to spend a little time away from your favourite game and get back to it when you feel that it's appropriate.
There are quite a few options here for you to explore. And some of them are even better than Overwatch in some aspects. For instance, Overwatch doesn't come with hero missions, or you won't find any story mode in this game. But quite a few Overwatch alternatives have both these features!
There is a good chance that you might fall in love with some other games listed above. So what do you think about the list that we have developed here? Do you have a favourite that deserves to be on this list or not? Have your say by leaving your comments and suggestions in the space given below!